Halloween Food Crafts for Kids or Edible Halloween Crafts acts as an Appetizer or snack and also lets your kiddo stay busy working on some Halloween crafts. The Halloween season brings with it a bag full of entertainment and happiness. More than happiness it's the bag full of excitement which we all look forward to. I have been a huge fan of Halloween since my childhood.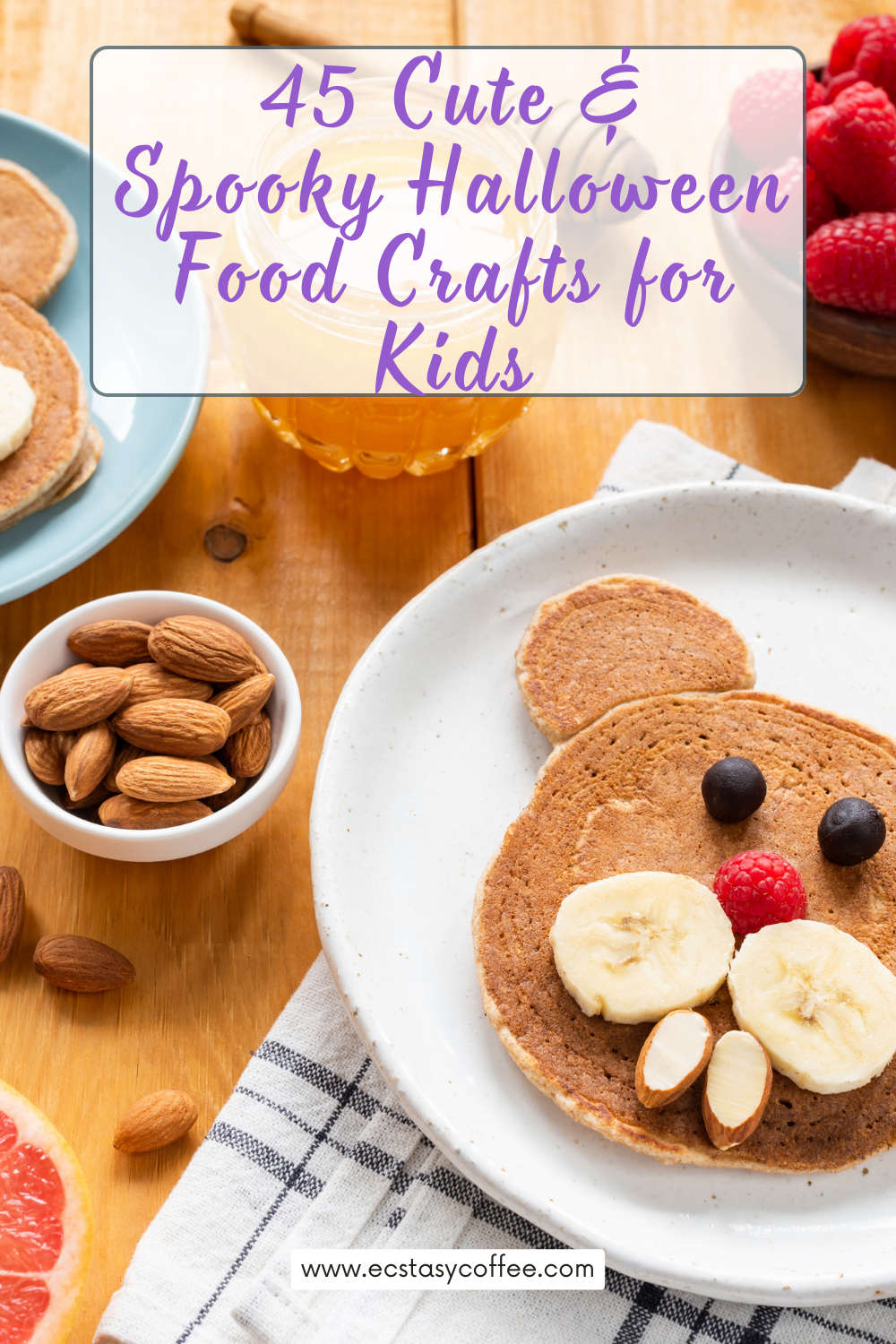 Those spooky Halloween decorations, those funny and clever Halloween costumes, and those Halloween crafts which we get to eat make it the most fun-filled festival. If you are not a Halloween kind of person then no worries. I don't want to force you to like it. But, I like it a lot.
I remember how as a child I had to make Halloween crafts for my school and then days passed by and I grew up. Now my kids have to make Halloween crafts for his school. But I also want to try some Halloween food crafts which I really love.
As you get all set to enjoy the season of Halloween, you must also remember that it is the time for kids as well to enjoy and make the best of the time. You must help them with these creative craft ideas that will help you bond with your kids and spend time with them in the holidays. Indulge in these craft ideas for the kids to have a great time in school and at home as they are all psyched to greet the trick-or-treat season this time.
To view the full instruction for any of these Halloween food craft for kid, please follow the link above the picture.
Halloween Food Crafts for Kids - Create Spooky & Cute Treats!
1. 3-D Pumpkin Cookies
The Three dimension pumpkin cookies are not only delicious and all crispy but exciting and fun too with the surprises in the center. Filled with candies, the recipe is inspired by Glorious Treats. Adorned with rich frosting there are no words to describe its wonders.
2. All Natural Healthy Marshmallow Ghosts
The tender and cute marshmallow ghosts with delectable taste and flavour are an all-new creation by All Natural Healthy Marshmallow Ghosts. Soft and tender marshmallows with spooky eyes and faces are very adorable for the kids to try out!
3. Bewitching Perfectly Poisonous Parfaits
Short and sweet poisonous parfaits with vanilla pudding and flavourful crushed Oreos added in layers. Check out the recipe at Frog Prince Paperie. It is thrilling and gorgeous to enjoy as a fresh drink during the holidays for both adults and little ones.
4. Candy Corn Monster Munch
Munch the candy corns in vibrant and colourful buckets. Check out the recipe at A Pumpkin and A Princess with a crispy texture and sweet flavour. The Halloween popcorn gets ready in just a couple of minutes.
5. Candy Skewers
The Halloween candy kabobs are sweet and delicious so the kids will love to explore this dish for a cheerful Halloween celebration. The candy skewers with spooky and ghost candies are a creation by Your Home Based Mom and they are a great way to surprise the little ones.
6. Caramel Apple Popcorn
The caramel apple popcorn with a sweet touch and refreshing taste of Apple is good to go as a Halloween treat. Ready in just ten minutes, the recipe by Liz on Call with sumptuous flavour.
7. Cheese Stick Ghost Snacks
Creative and spooky, the cheese sticks with apricot fruit bites, Apple bites and bugs. Check out the recipe by Natural Noshing with string cheese and nut butter. Remember that it is packed with the protein of juicy fruits.
8. Chocolate Pumpkin Spider Donuts
Sprinkled with chocolate and edible eyes, chocolate pumpkin spider doughnuts are marvelous for the Halloween treat. Check out the recipe at Inside BruCrew Life drizzled with chocolate on the soft bakes. The chocolate doughnuts with seasonal pumpkin flavour are one of the best sweet dishes for the party.
9. Creepy Peepers Halloween Jell-O Recipe
Spooky and horrifying, the edible candy eyes floating in the green drink is ideal and customized for the season. Check out the recipe at In Katrina's Kitchen, cool and refreshing for the season.
10. Dia De Los Muertos Mini Confetti Cakes
The mini confetti cakes with loads of rainbow sprinkles are prepared by Sweet C's Designs with sugar skulls and tasty syrup on the top. The kids will surely enjoy this dish as a tasty treat to enjoy the holiday season of ghostly Halloween.
11. Donut Broomsticks, Witch Hat Cupcakes and More
The beautiful chocolate cupcakes with a Witch hat on rich icing are fascinating to look at. Both tasteful and customized to the theme of the occasion, the doughnut broomsticks with Witch hat cupcakes are a marvelous food craft idea by Hostess with the Mostess.
12. Franken-Cupcakes
The crispy Franken-cupcakes with a green and colourful look and the rich frosting in the centre are a delightful choice of craft they can make for a school project. Here is the recipe by Designs by Megan Turnidge that you may use if you need help.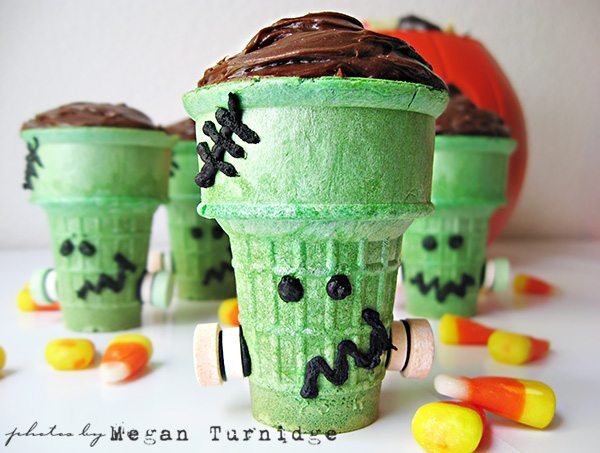 13. Frankenstein Cupcakes
The classic Frankenstein cupcakes with the chocolate mix are rich in flavour and well-suited for the theme of the occasion. Check out the recipe at Your Cup of Cake to nibble on something yummy this weekend!
14. Frankenstein Pudding Cups
Super easy and great to make for the kids, they will love to help you out in this project of decorating the vanilla puddings. Make batches of these Frankenstein pudding cups by A Turtle's Life for Me as one or two simply will not be enough.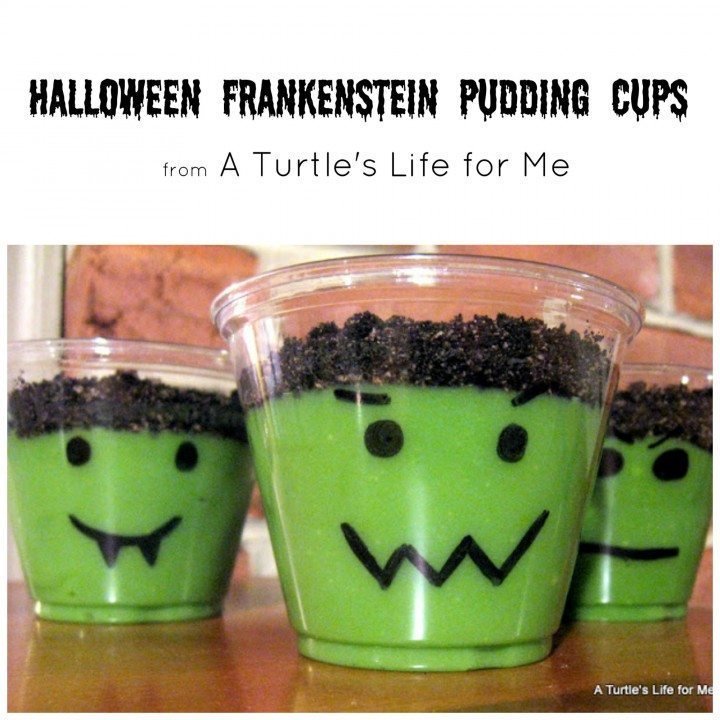 15. Frankenstein Rice Krispie Pops
Crispy and coloured in green, and dipped in chocolate syrup, the faces of the Frankenstein's rice Krispie pops are flavours and tasteful to enjoy by Clena & Scentsible. Do not forget the marshmallow hands and the evil laugh!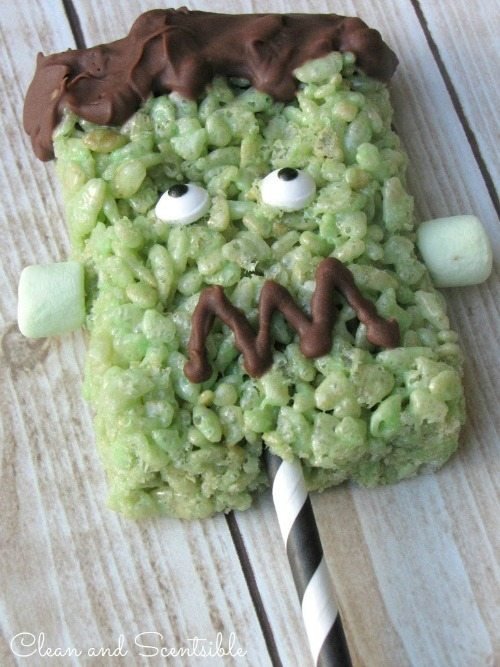 16. Fruit Platter Jack-O-Lantern
The healthy and colourful fruit platter in the shape of a Jack-o-lantern is full of flavour and refreshing for the season. Check out the recipe by Clean & Scentsible with incredible flavour and cute look for the autumnal occasion.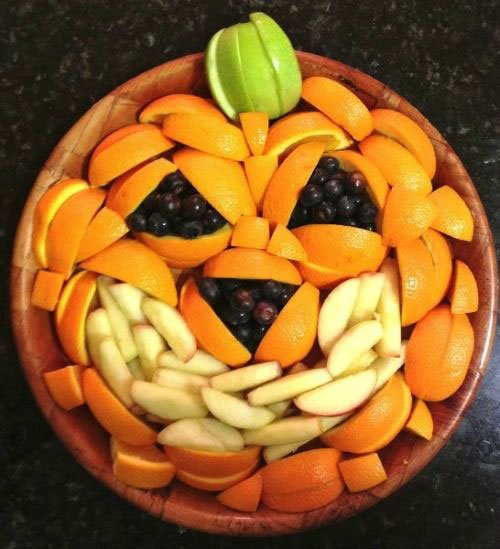 17. Ghost Cupcake Cones
The crispy and edible cones with vanilla cream in swirls is a recipe created by Confessions of a Cookbook Queen for the Halloween season. The kids will certainly enjoy the ghost cupcake cones with a cute smiles on the face of the spooky ghosts.
18. Halloween Bark
This crispy and flavourful Halloween bark is tasteful and yummy to enjoy for the season. Check out the recipe at Family Fresh Meals if you wish to teach your kids to enjoy the treat of the season with milk chocolate and vanilla melts.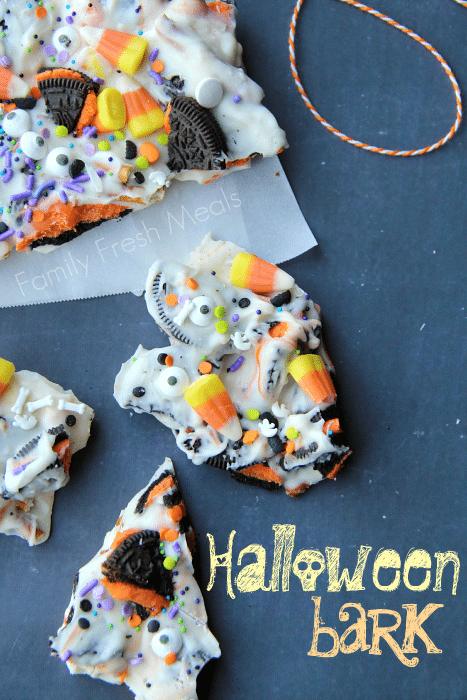 19. Halloween Candy Bark
The Halloween candy barks are crispy and tasteful for the season. Packed with colourful candies embedded in the chocolate bar, the recipe is a creation by Just A Taste. Celebrating the Halloween season just got more exciting with the ghoulish candy bark!
20. Halloween Lunch Ideas
Favourite as Halloween lunch, this tasty treat is awesome for the season. Check out the recipe at A Pumpkin and a Princess broccoli ghosts and so much more for a hearty lunch meal. Thank us later for this incredible recipe this Halloween season.
21. Halloween Mini Pizzas
The mini pizzas with muffin cuts and pizza sauce are tasteful and amazing for a Halloween treat. Shredded mozzarella cheese with minced pepperoni and cheddar cheese is fascinating with the recipe by CBC Parents with black olives, carrots and green pepper.
22. Halloween Monster Treats
These one-minute Halloween monster treat pops are ready in a couple of minutes. Check out the recipe at The 36th Avenue with a rich chocolatey flavour that you can not resist at all with a cute face and happy smile.
23. Halloween Witch Hats Treats
The Halloween Witch Hats with Hershey's kisses and rich icing for decoration. Check out the recipe at Cincy Shopper with fascinating taste and flavor. The Halloween witch hats are extremely adorable for the kids to enjoy. You will be obsessed with the Witch hats.
24. Haunted Gingerbread House
The huge gingerbread house looks haunted and scary when displayed on the table. Adorned with icing and candies, the recipe by No. 2 Pencil is so fascinating to decorate the giant gingerbread house with flavour and glee.
25. Itty Bitty Bat Cupcakes
The Itty Bitty bat cupcakes with delicious chocolate wings and a purple face give a sinister look to the party. The recipe is by Bakerella with chocolate cookie bat wings in a moon shape that are very intricate designs and baked for the weekends!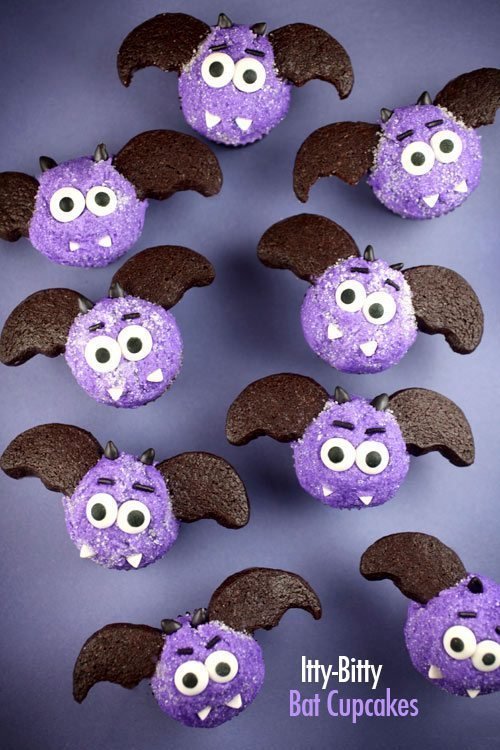 26. Jack Skellington Cake
The Jack Skellington cake with layers of chocolate and vanilla icing by Bombshell Bling is customized to the theme of the occasion. The impressive feature came with flavors so divine they are hard to resist and will be hogged down in no time.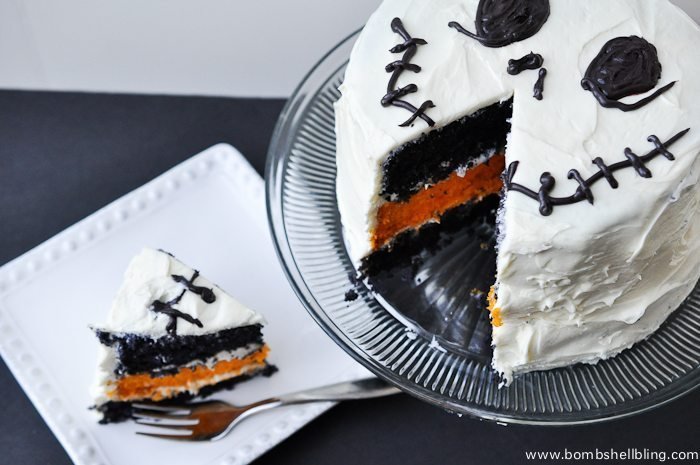 27. Jack-O-Lantern Stuffed Peppers
We have got you the right mini-pumpkins with bell peppers shaped like the classic Jack-o-lanterns. The peppers are stuffed with shredded chicken and rice to enhance the taste of the dish. Here is a recipe by Everyday Jenny made in a crockpot that you must give a try!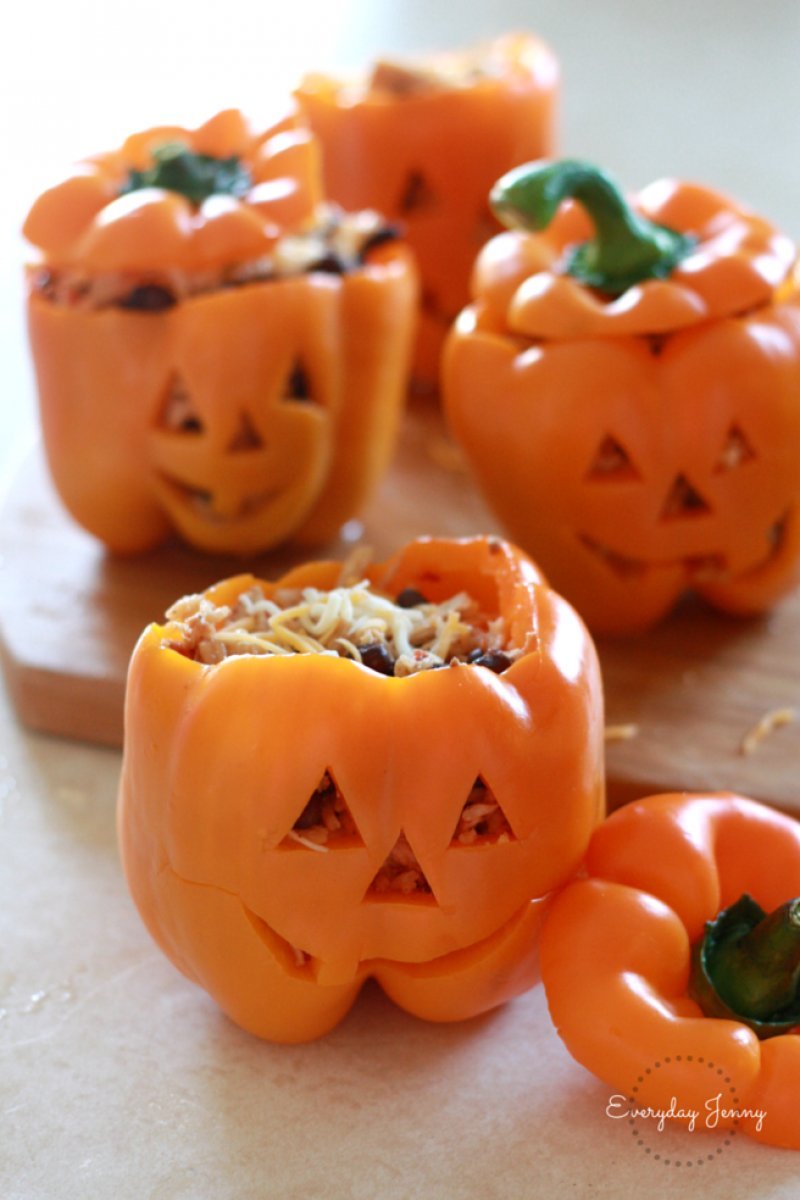 28. Jalapeño Popper Mummies
This platter of jalapeno popper mummies will win your heart and leave you craving for more. The jalapenos wrapped increscent dough is baked to give a flaky and crispy texture. The recipe is a creation by The Hopeless Housewife.
29. Meringue Ghosts
The Meringue ghosts with tartar cream and egg whites are marvelous and yummy to relish for the season. The cute candy eyes and chocolate chip escalate the taste of these zesty ghosts which are customized to the theme of the occasion. Check out the recipe only at Joy of Baking.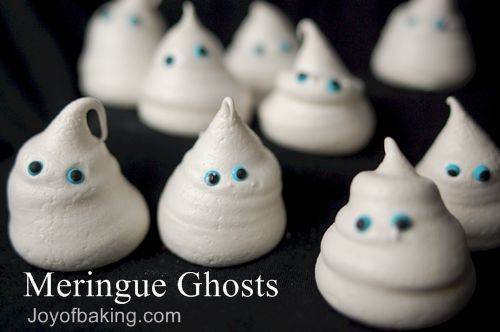 30. Monster Munch Muddy Buddies
The monster munchie treats are served in a packet that you can ask your child to decorate to look like a ghost. The pack contains all sorts of assertive candies, chewy and crispy to the delight of the little ones. Check out the recipe at Sweet C's Designs to draw inspiration.
31. Mr. Bones and Double Dips
The Mr Bones is made with veggies and served with a ranch dip for the Halloween season. You can ask your kid to decorate the cute skeleton with carrots and beans and raw cauliflower. You can take help from Better Homes and Gardens.
32. Mummy Pizzas
The customized mummy pizzas are dipped in flavourful sauces so you can enjoy a wonderful time. The recipe with creamy mozzarella, veggies, and crispy crust is a creation by Giggles Galore.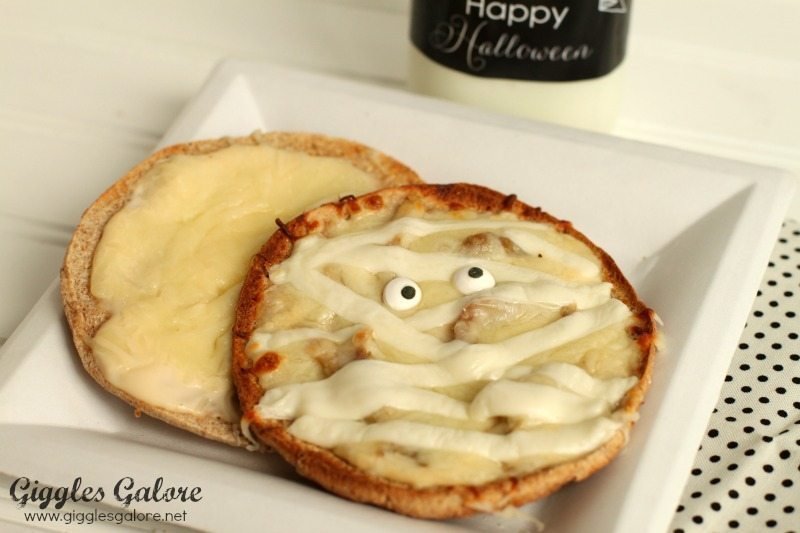 33. No-Bake Pumpkin Cheesecake Truffles
The delicious and sweet pumpkin cheesecake with mummies truffles is tasty and packed with seasonal flavors. Check out the recipe by Creme de la Crumb for a perfect Halloween treat. The jelly eyes are extremely cute and not at all scary.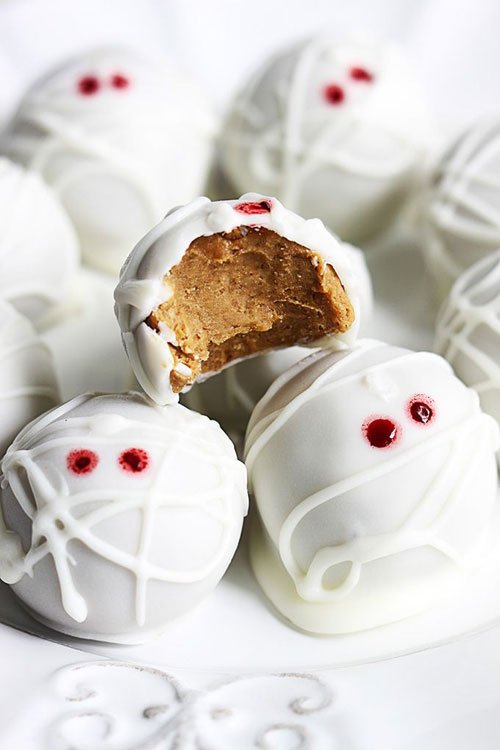 34. Pumpkin Cream Cheese Pie Mummy Cookies
The pumpkin cream cheese pie is loaded with flavors and packed with the goodness of syrup and crispy cookies. Check out the recipe at Life Made Sweet with icing and popping eyes making it look adorable and spooky at the same time.
35. Pumpkin Deviled Eggs
This is a new way of making pumpkin deviled eggs to suit the season holidays. Check out the exclusive recipe at Tadka Pasta and one of the best for egg lovers. This recipe is ideal for a hearty breakfast.
36. Pumpkin Marshmallow Pops
The pumpkin marshmallow pops are cute and sweet with a cheerful smile on the face of the candy pops. The recipe is easy and curated by Yellow Bliss Road and awesome for offering as a small treat to the kids coming to your house for trick or treating.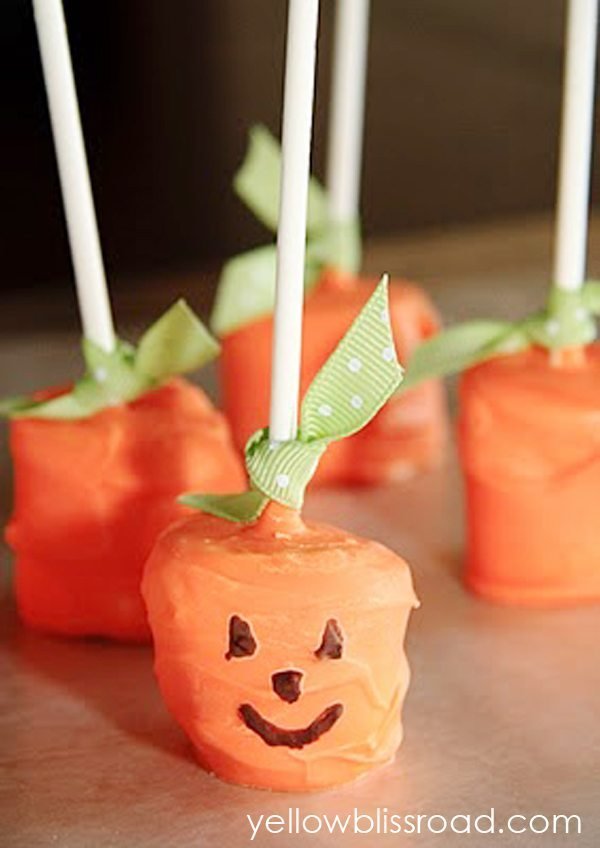 37. Pumpkin Patch Cupcake Poppers
The pumpkin patch cupcakes with white cake mix and vanilla icing are fascinating to relish. The recipe by The Bearfoot Baker with thick royal icing is a fantastic recipe for the little ones to try their hands at!
38. Pumpkin Pops
Sweet and savory, enjoy the autumn months with the cute and fresh pumpkin pops. Here is a wonderful and easy recipe to get these done The Sweet Adventures of Sugarbelle. These pops can be served with hot chocolate to the little ones.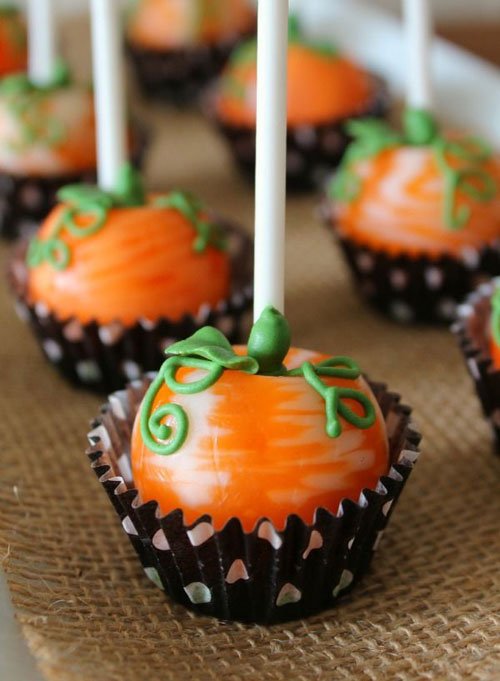 39. Pumpkin Rice Krispie Treats
The pumpkin rice Krispers are a wonderful choice for a crunchy and sweet treat in the Halloween season. Here is the recipe to get these pum9kin Krispies with perfection, Cincy Shopper for the holidays. Quick and easy they require hardly any time for preparation.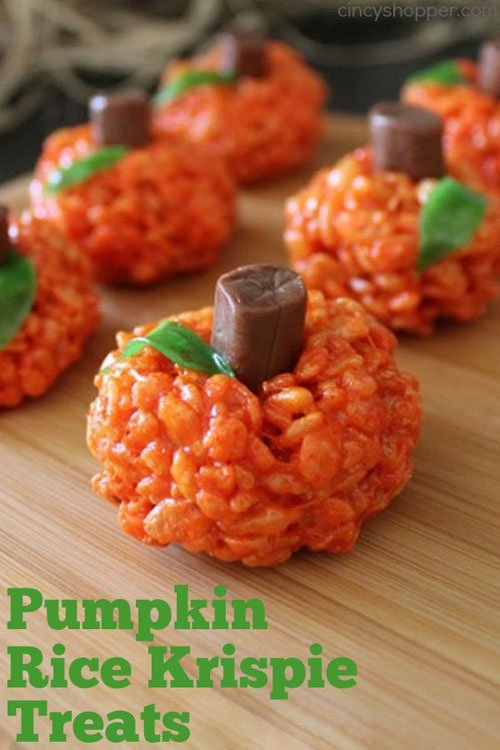 40. Spider Cookies
The spider Halloween cookies are flavored with rich chocolate cream and drizzled with chocolate syrup, candy eyes, and buttercream cups to your delight. Here is the recipe by Princess Pinky Girl that you can explore. Don't forget it's crispy and chocolatey at the same time, so quite a ravenous option.
41. Spider-Infested Chocolate Chip Cookies
Loaded with chocolate chips, these classic spider cookies are flooded with the flavor of chocolate and shaped in the form of crawly spiders. Here is the recipe that you can follow only at Hungry Happenings.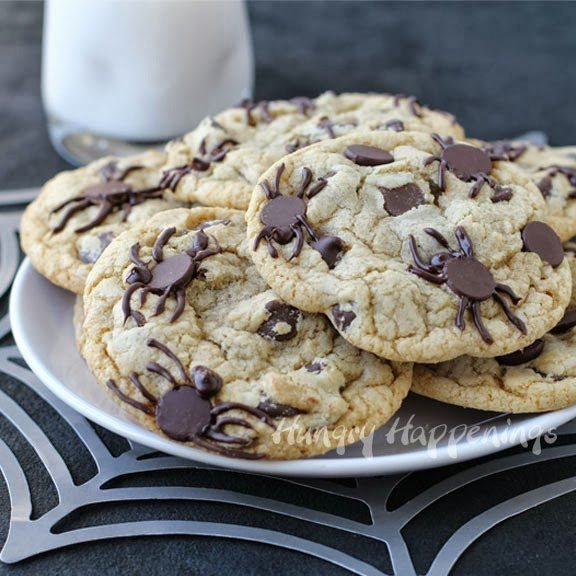 42. Spider Peanut Butter Cup Cookies
The holidays of October just got better with the spider peanut butter cookie cups full of scrumptious taste and flavor. The cookie cups are a recipe by eighteen25 and get done in no time with a refreshing texture!
43. Spooky Spider Cupcakes
Healthy and tempting, the spooky spider cupcakes with creamy swirls and googly eyes are good for the season. Boxed cake mix and seasoned pumpkin make this recipe by Skinny Taste splendid to relish. Suited to the theme of the parties the spooky spider cupcakes are kind to the waistline.
44. Spooky Spider Suckers
Why give ordinary candy pops to the kids on Halloween? The spooky spider pop candies are easy to make and yet so adorably fit for the theme of the occasion. Check out the recipe only at Family Fresh Meals.
45. Witch's Broomstick Snacks
The broomstick stands easy to make and requires little time for preparation. A healthy snack for the evening, with just three ingredients, whipped together in the recipe by Mom Foodie with cheese, pretzel and chives.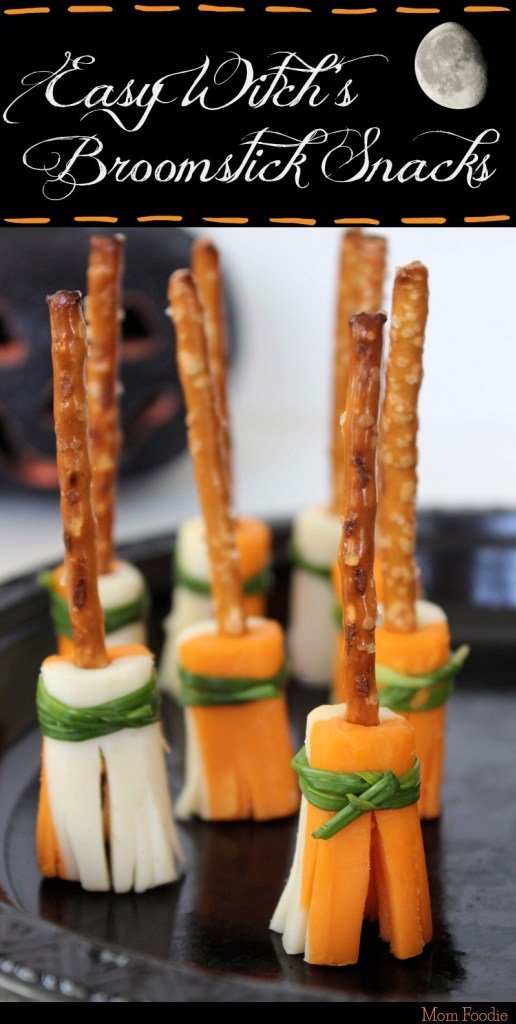 Conclusion:
Halloween is a time for creating magic with your kids, and doing fun food crafts is one way to make it even more special. As we've seen, there is no shortage of spooky and creative ideas for crafting food-related Halloween projects with your children. From mummy pizzas to spiderweb sandwiches and banana ghosts, these 45 cute Halloween food crafts will surely capture your kids' imaginations. So, put on your creepy cook hats and get ready for a monstrously good time!
Let the door to new possibilities remain open and let your little ones lead the way to a Halloween to remember. Now it's your turn to make the magic happen; grab the ingredients, and the kids, and start creating your own Halloween food crafts! As comedian and actor Jack Benny once said, "There's no pleasure in life like having children around you who are laughing and happy." So, this Halloween, let the laughter and joy begin!
Have you been wrongly credited or has someone submitted your project/image? Kindly reach out to us and expect a response…
Hopefully, you were able to get a bit of inspiration from this list..
Read also: