Transform your Halloween leftover candy into something extraordinary with these easy and delicious recipes. From no-bake cheesecakes to spooky snacks, we have something for everyone.
More collections: Easy Halloween Appetizers, Halloween Snacks, Halloween Pumpkin Dip Recipes, Pumpkin Seeds Recipes, Halloween Main Dishes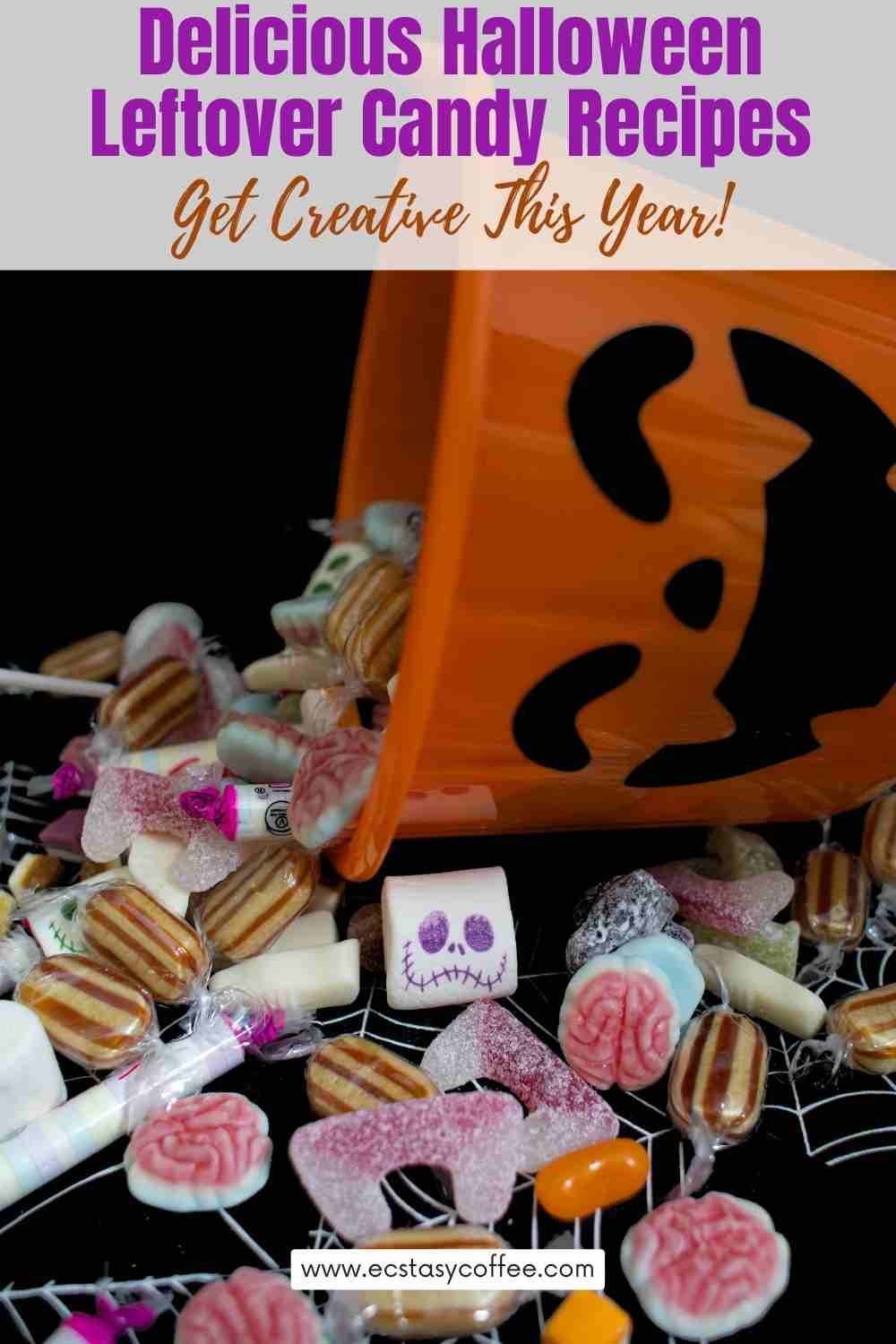 As we say, every season of festival and celebration provides us with the scope to indulge in everything that we love! Halloween is one such season when you can spend your holidays or rather have to, making candies around the clock!
There will be kids knocking at the door," Trick or treating", candies to serve as a welcome token as guests visit your party, or candies to simply elevate your mood! In short, candies are synonymous with Halloween! So today we will share with you some valuable knowledge as you make these yummy and attractive sweets at home.
What are the essential tools you need while making candies
There is one thing you need without which it is impossible to successfully make candies! That is right! You need a thermometer! Now candy thermometers are definitely different from the usual clinical ones we use in the house.
It has markings like soft balls and so on. These have a handle and calibration as well! The handle helps the thermometer to attach right and not touch the surface or bottom of the pan. This way you will get accurate readings.
Why shouldn't you make candies on a humid day?
If you are wondering what is the relation between candies and the climate of the day then we have to answer your query! This is to be noted that candies are mainly composed of sugar syrup and it is capable of absorbing a large quantity of moisture from the surrounding!
So if the climate is already humid then your sugar syrup will fail to thicken or turn hard. It might also happen that even after multiple attempts the candies turn out to be soggy! Hence choose your day wisely, preferably a drier day!
What is the need for a heavy bottom saucepan while making candies
Well, there is a need for you to use a heavy bottom saucepan as you make your candy syrup and do you know why? That is because as you stir and heat the syrup on the pan, if the bottom is thin then the chances are that the heavy heat will burn the candy syrup!
The mixture will reach up to the temperature of 242°F for one to ideally make the syrup and if you do not handle it inside a heavy bottom saucepan then chances are high that the outcomes will not be favorable and eating homemade candies will be a dream.
What is the ideal way for one to store the candies?
Once you are done making the candies, they cannot be finished in a day unless you are a candy monster! The best way to ensure that your candies can last long is with the aid of plastic wraps in which you can store these candies! And then place them inside the air-tight containers! To increase their shelf life you can store these candies inside the refrigerator as well.
What kind of ingredients are you expected to add fresh into the candy mixture?
You are expected to use ingredients that are fresh so that your candies taste good! For example, you can use fruits to make these candies but always go for the ripened ones! The stale and the ones on the verge of being so will not be right as this can ruin the taste of your fruity treats.
Hence we would always stress the fact that you are expected to use fresh ingredients always as you make these candies.
Here are some Halloween candies to try out this season
Enjoy Sweets for Days with These Halloween Leftover Candy Recipes
Rich and chewy, the loaded leftover candy bars taste so good!
So if you are craving brownies and candies at the same time then you should go ahead with this idea!
Candy corn never gets old, do they? If you are one of us who love them then you ought to indulge in this recipe that we have for you right here.
Sweet and chewy, you must give it a try for sure.
The gorgeous and chocolatey candy bar trifle is simply lovely and the more you have the more you crave it.
Delicious and tempting, there might be a war between kids and adults to see who can have more.
Making the leftover Halloween candy blondies are so easy that you can make them in bulk and then offer them as treats to the kids knocking at the door.
Packed with amazing and exciting add-ons, you must try out this one for sure.
You will be amazed to find out that such amazing candy jars are possible with the leftover nuts and dough!
Drizzled with M&Ms, this is a wonderful idea that leaves you with the temptation to consume more! So why resist yourself at all?
The gorgeous Halloween candy barks are right here to render you with a sense of contentment in every bite.
Chewy and sweet, the taste of this bark is simply unparalleled by any! So what are you waiting for?
If you are looking for something easy and quick so you do not have to spend much time in the kitchen during the holidays then here is something for you!
This way you can surprise the little ones as well as skip the hassle of baking.
You will not believe it unless you try out this amazing leftover Halloween candy cake!
Yummy and tender, you will hardly be able to see the cake from the top with so many candies crowding the crust.
The chewy and tender candy bar blondies are savory and packed with great taste!
Sweet and packed with amazing taste, you ought to try it out!
Well, after all, it is Halloween and you can't spend it without candies.
The all-new and amazing Halloween candy cookie bars are simply so gorgeous and packed with flavors, that you will be rendered speechless in a bite!
Dark chocolate chips are drizzled on top to make these candy bars taste so good! Shall we then?
Halloween candy barks are a combination of chocolate and candies! It is a dream come true for dessert lovers.
Savory and chewy, these are ready in no time. What an incredible idea to relish this season! So what are you waiting for?
Halloween candy cookies look so delightful that you will be left with a craving for more.
Savory and crispy, you can enjoy these candy cookies with tea on the sides or serve hot cocoa to the little ones. Shall we then?
All you need are a few basic ingredients to come up with homemade butterfingers!
These are not just delightful outside but so yummy inside as well.
If you wish to find out then you have to try out this recipe and let us know.
Topped with candies and treats, making the Halloween dessert nachos are too unique and interesting as well!
Prepared from candies and leftover nachos, you should give it a try. So what are you waiting for?
Barks are absolutely the best Halloween treat candies that you should indulge in!
Crumbly and packed with all the treats and add-ons, you will definitely fall in love with the idea of it! And making them is also so easy-peasy trust us!
This is another unique recipe that you must indulge in! Crunchy and sweet, the popcorn clusters are lovely and packed with great taste.
So what are you waiting for? Make these at the party and enjoy them to your heart's content.
The wonderful Witch's Brew brownies are simply so exclusive and perfectly suited to the Halloween season!
Spooky and scary, this is an extraordinary treat for dessert lovers. And guess what, this is so easy to make! So shall we try it then?
We are talking about the absolutely irresistible Halloween snicker brownies! So if you haven't tried them yet then you should with the recipe that we have got for you right here. This is an incredible creation and one of a kind.
Making candy cookie bars are the easiest thing that you will ever do and the best part is that it is a great way to keep yourself busy during the holidays. So what are you waiting for? Make it right away! Shall we?
Ah, what an excellent creation we must admit! The wonderful trick-or-treat pretzels are suited to the occasion and guess what after a couple of bites, you will begin to crave for more. So make sure you have enough!
Conclusion
It's time to think outside the box with your leftover Halloween candy! Whether you're incorporating it into a creative dessert like a s'mores dip or a savory meal like a taco or risotto, the options are endless. With these Halloween leftovers recipes, you can make the most of your candy stash and get creative in the kitchen! With the right ingredients, you can literally turn candy into a meal. So explore these recipes and get ready to get creative in the kitchen this year!
To wrap up, don't let that leftover Halloween candy go to waste - get creative and find new ways to enjoy it. As Sarah Jampel, the food writer and recipe developer said: "You have to think of a dish and then figure out how to incorporate candy into it." So let's all get cooking and turn our leftover candy into something delicious!
Other Halloween recipes you should check out: Halloween Animated Props, Halloween Entertainment Ideas, Halloween Witch Decor Ideas, Halloween Lighting Decor Ideas, Spooky Halloween Wreaths, Halloween Table Decor Ideas