Get ready for the spookiest night of the year with these Halloween-approved main dishes! Choose from 20 delicious and scary recipes to make your Halloween dinner unforgettable! Trick and treat yourself with these quick and easy recipes this Halloween season!
More collections: Halloween Cocktail Recipes, Easy Halloween Appetizers, Halloween Snacks, Halloween Pumpkin Dip Recipes, Pumpkin Seeds Recipes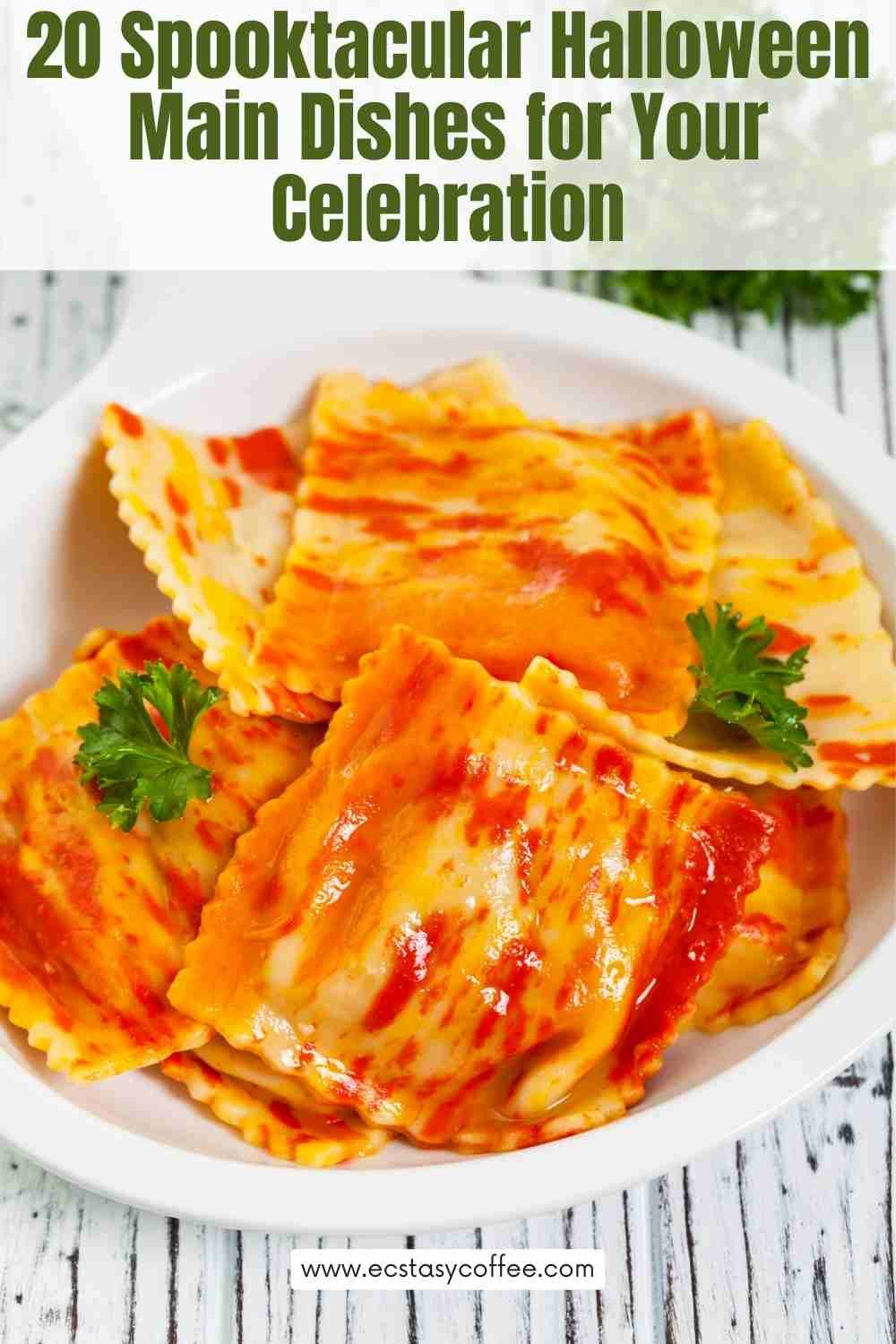 Festivals are not exactly what you assume! In fact, if you are a homemaker then it is certainly not an off period for you! There are many arrangements that you need to learn about and so many things to handle before D-day arrives.
Halloween is no different! Amidst all the preparations and arrangements you might be at a loss or confused about the ways to plan your meal. If you are one of us wondering the same thing then here is a small guide for you to follow! Read on to find out more!
What are some of the rules that you need to follow while planning the meal?
There are basically a few rules you need to follow when it comes to planning the main course. And the first one is you should never duplicate any item on the menu! For instance, if you are cooking a dish which is cheese based as the gravy then you should not make another the same way! So if you are planning to make chicken and shrimp both white sauce based then why not toss them into one instead of making them separately? Makes you logical right?
You should not have any sweet food as an appetizer as it dulls the taste of others! Hence we would recommend you avoid sweet treats and fruits as the starter to your meal.
How can you make your main course interesting?
If you wish to make your main course taste good then you have to contrast and play with different flavors. This means that you cannot stick to only one taste palette! For example, it is possible that your spice tolerance level is low but that does not mean everyone shares your preferences! You can't make the meal boring for them especially if the guests are coming over! Hence the best thing to do is hit the common ground. You should have dishes that are less spicy while also ones that are hot and sizzling with seasonings as well.
What can you do about the texture?
Just like you are asked to play around with the taste of the dishes you are also expected to contrast the texture as well! For example, if you have all crunchy food on the table then finally at one point you will be wondering how hard it is to continuously munch on and chew on them! Similarly, all soggy food is not desirable as well. Hence there comes the need for you to have food of all textures on the table! From smooth dip to crispy crackers, the options are simply endless. Succulent meat, warm broth, and so on! Now you will understand what dynamics to maintain while choosing texture for the main course.
And what should one do about the temperature while choosing the main course?
This is to be noted that hot food successfully creates an appetite for you! That is you will feel like eating more after you have sipped on your bowl of soup. Unless the weather is too hot you are expected to go for something warm at the beginning of the meal. You should always arrange them in alternate order! The appetizer should be hot followed by the second dish ( probably salads) cold and then the main course warm and the desserts cold again.
You are also expected to contrast the color of the items which are on the table especially during parties and gatherings so that guests are attracted more to rush to the table for their share!
Delicious & Scary Halloween Main Dishes - Get Ready to Trick & Treat!
The shrunken potato heads are perfect and while it tastes crispy outside, the inside of the potatoes remain tender!
Delicious and perfect, resembling the face of a skeleton, you must give it a try!
The mummy garlic bread is an incredible creation and packed with great flavors!
Resembling the face of mummies, these garlic bread toasts are loaded with cheese and taste so gorgeous.
So what are you waiting for? Make this one right away!
The chicken pot pies are absolutely the best and leave you with a temptation for more.
The succulent meat inside with a layer of crispy crust outside makes this a wonderful treat!
So what are you waiting for? Give it a try today!
If you enjoy spaghetti then this is the best thing that you have got! Topped with meatballs and sumptuous gravy, you must indulge in its blissful taste!
The kids will be delighted with this Halloween treat!
The creamy and rich Mac and cheese is a wonderful recipe and the spooky eyes on the pasta make it ideally suited to the theme of the occasion.
The bright green color is the specialty of the dish and makes it seem rather spooky too!
The wonderful witch hat calzones are packed with a meaty filling that makes them taste so amazing!
Light and perfect to munch on, the witch hats look so realistic that even the adults will be smitten by your innovative creation.
The charm of the Jack-o-lantern quesadillas takes your party to the next level.
Filled with cheese and shaped with a sinister smile, these ideas are best suited if you have a gathering at home and wish to go creative.
Packed with great taste, the rotten deviled eggs are amazing and render you speechless with every bite.
Perfect as a party appetizer or side dish to your meal, you ought to indulge in their marvelous flavors.
So what are you waiting for? Make this one right away!
Crunchy and scrumptious outside and tender inside, the Spooky Chorizo hand pies are simply the best and render you with a craving for more.
There is one thing for sure, the Chorizo pies will never disappoint you!
Making chicken "Boodle" soup is no big deal as long as you have this recipe to keep you company!
Savory and smooth, this soup is not just rich in flavor but such a nutritious treat indeed. Are you ready to indulge in it?
A warm soup to begin your cozy dinner.
The combination of chicken and broccoli is always our favorite and then we have it stuffed inside the crunchy skull!
And then this arrangement is displayed on the table, the guests will be so impressed trust us.
Here is a new twist to the ordinary mac and cheese!
The savory pumpkin ale on top of the specialty of the mac and cheese prepared with cheddar.
Creamy and gooey in every bite.
The chewy and sweet Bloody Guts cinnamon rolls are scrumptious and packed with great taste!
Yummy and sweet, this is a wonderful treat that leaves you with a temptation for more.
No we are not asking you to serve the real human gut, or are we?
Chewy and tender, the Halloween feet loaf is delicious and flooded with great taste!
Packed with ground beef and ketchup, this is an incredible idea and quite spooky to look at!
Shall we try it then?
The smooth witch's hair pasta is ravishing and packed with great flavors!
Drizzled with veggies and sauce, the hair pasta might look creepy but one bite and you will find out how ravenous this is!
So what are you waiting for? Make it right away!
The delicious and creamy gnocchi is dipped in pumpkin sauce and served with rich cream!
And guess what, this one is completely vegan and right to indulge in!
Savory and yummy, everyone will finish it in a jiffy!
Here is another wonderful treat for the season! How tempting it is to try out the Witch Hat garlic bread using a crescent roll!
If you wish to learn then you have to follow this recipe and make yourself some.
Meatballs that look like eyeballs? Yup, that is right!
Give an amazing twist to ordinary spaghetti and meatballs with the recipe that is right here!
Stuffed with cheese, the recipe tastes even better.
If you want something nice and creamy for dinner then you should go ahead with the Cordon Boo Casserole!
It is packed with chicken and then adorned with ghost-shaped figures on top.
Savory and smooth, this is so easy and healthy to prepare.
The ricotta gnocchi is delicious and packed with creamy gravy! Comforting and drizzled with basil, this is an incredible creation!
The combination of white pepper and parmesan is simply lovely and renders you with a craving for more.
Conclusion
When it comes to planning the Halloween dinner, you want to be sure to find a balance of tasty, spooky dishes that perfectly suit the night. Whether you're looking for something creative, like Scorpion Nacho Skillet or Witch Hat Quesadillas, or something simpler, like Spiced Pumpkin Soup or Pumpkin Fritters, there are plenty of options that will provide a spooktacular main dish for your Halloween celebration. With a variety of dishes and flavors to choose from, you can create a dinner that is sure to be remembered – for its delightful taste and festive atmosphere. So don't be scared to make something you've never tried before – you won't be disappointed.
Halloween is much more than just costumes – it should be filled with fantastic flavors. With the right selection of dishes, you can delight your guests with a spooktacular main dish that they will remember for years to come. So go ahead, try something new, and take your Halloween dinner to the next level!
More collections: Best Christmas Pies, Buffalo Flavored Recipes, Meatball Sauce Recipes, Campfire Pie Iron Recipes, Green Salad Recipes, Christmas Candy Recipes, Easy Pumpkin Recipes