Get into the Halloween spirit with our super-easy, deliciously spooky Halloween milkshake recipes. Whether you're a witch, zombie, or vampire, these milkshakes will satisfy every ghoul and goblin's sweet tooth! Create the perfect spooky treat with our Halloween milkshakes today!
More collections: Halloween Pumpkin Pancakes, Halloween Pumpkin Cheesecake, Halloween Pumpkin Bars, Halloween Pumpkin Soup, Halloween Potluck, Halloween Whiskey Cocktails, Halloween Tequila Drinks, Halloween Cake Pops, No-Bake Halloween Treats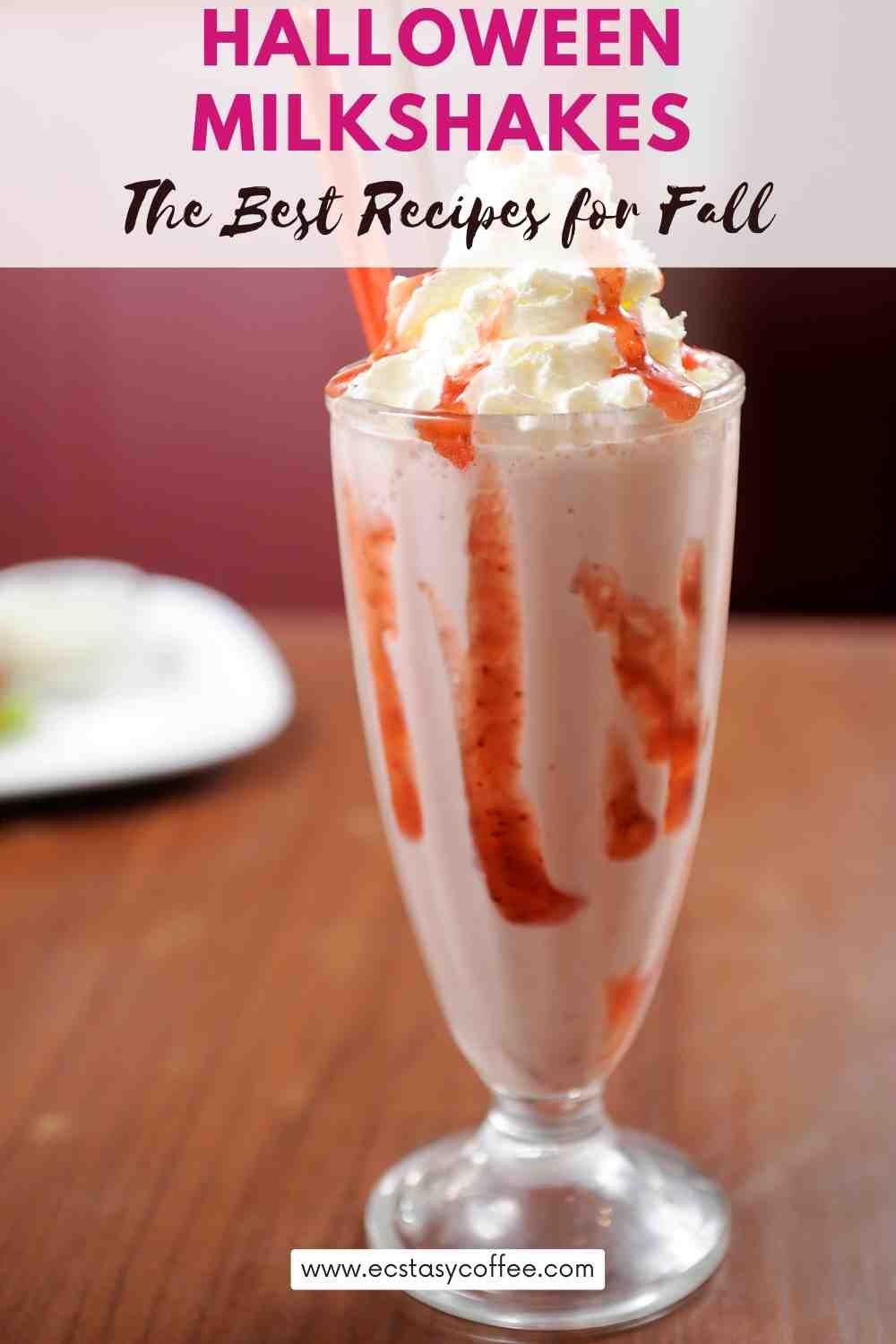 Halloween is the time of the year when we get some time to relax and enjoy with our friends and family. There are not many treats which are prepared, from breakfast to brunch and then dinner, everything is elaborate and special on these days! Amidst all that, if you are craving something warm and cozy like from the days of your childhood then a glass of milkshake is what you need.
Refreshing, creamy, and yummy, milkshakes are so easy to make, aren't they? But are they? Here are some secrets that we are about to share with you can enjoy them during the holidays.
What do we need to know about the quality of milkshakes?
Before you begin working on that glass of milkshake, let us tell you that it is the quality of the drink which matters the most. You need to use ice cream for your milkshake! Now they belong to different brands, the same vanilla flavor from two different brands can taste different. Needless to say, this will affect the flavor of the milkshake as well. Sometimes the consistency and thickness of ice creams vary as well.
These are some of the vital factors which end up affecting your milkshake too. The best thing that you can do is stick to a particular brand and make sure that the quality of the ice cream you are purchasing is good enough. Make sure that you use as many natural ingredients as possible. You must keep the sugar and fat level in your ice cream low if you want it to turn out well.
What are some of the creative approaches to making milkshakes at home?
The two basic things that you need for your milkshakes are ice cream and milk! This creates a frothy milk mixture needed for the drink! However, there is no harm in experimenting! In fact, culinary culture promotes the scope of experimenting and finding out what suits the taste buds and is greatly appreciated by the crowds. As extra add-ons, you can make use of crumbled cookies, bits of brownies, spices like cinnamon and nutmeg and chocolate chunks, and so on.
Fresh strawberries, fruits, syrups, and other healthy ingredients are needed as well. You are open to exploring new ideas and ingredients for your milkshake and making it exactly the way you use to consume it! This way you may not get it right the first time but eventually you will make the best milkshakes in the world.
Which is better ice or no ice?
Apart from ice cream and milk, and the add-ons, we use several other ingredients out of which ice is an important one. The presence and absence of ice both affect the taste and the consistency of the milkshake. Hence are a few things that you need to consider before you add or skip ice in your drink.
If you are making a dense ice cream milkshake then adding a couple of cubes is okay but if the consistency of your milkshake is thin then you must avoid ice. However, even if you add the former, do not exceed more than two to three ice cubes.
Why we are often recommended to use less milk?
Isn't it obvious, if you only wanted the flavor of milk to be dominant, wouldn't you drink only milk? There is a purpose of a milkshake, to make your glass of drink more interesting. So do not forget that. Pour the milk into the blend gradually little by little and not all at once so that you can estimate the amount of milk needed.
Delicious and Spooky Halloween Milkshakes Made at Home
If you are looking for the best Halloween customized drink for the little ones then here it is!
Even you will be compelled to grab a couple of sips from their glasses too!
It is Halloween so definitely things have to be scary! The haunted Halloween milkshake, this idea turns out to be the best!
Delicious and drool-worthy in every sip! Do give it a try for sure.
Will you hear screams from the glasses? We may not know! The holiday Halloween shake is lovely and loaded with great flavors!
Savory and creamy, this one turns out to be the best in fact! Go for it right away!
The scary eye sitting right on the top of the Halloween milkshake turns out to be an incredible idea!
Delectable and smooth, you ought to try it out for sure. With holidays around the corner, you must indulge in its blissful taste.
The Halloween orange cream milkshake is delicious and flooded with great flavors!
Smooth and cozy, this is an excellent idea and leaves you craving for more.
Did you try out an orange milkshake before? If you haven't then now is your chance.
The graveyard Halloween milkshake is another innovative creation and when we came across this recipe we knew this one will turn out to be its best!
Smooth and sliding down your throat, you will be filled with a sense of content.
The Vampire apple pie milkshake is yummy and spectacular to even look at! Gorgeous and scary at the same time, you are about to receive the best treat of the season.
Displayed with the skulls, the apple pie milkshake looks so tempting!
The Oreo milkshake recipe is gorgeous and flooded with a sense of warmth and comfort in every sip!
So make one glass each for everyone in the house and even more because this one is simply irresistible. Go for it today!
The Hocus Pocus Halloween milkshake is gorgeous and loaded with great taste!
Smooth, warm, and cozy, the Halloween milkshake is lovely and you must be prepared for some magic after you chug down the drink! Shall we try it then?
Ah, you are about to get freaked out by the Halloween milkshake! Gooey and yummy, this is an incredible idea that you simply cannot miss out on!
With the Halloween season knocking at the door, this idea is perfect to indulge in right away!
The classic Halloween-inspired milkshake is rather a creative one! So if you are looking for something yummy and cold to go with the appetizers you must get going with this recipe.
Prepare it at home and find out how amazing this is!
The spooky eyes studded all over the milkshake make it look so attractive!
Everyone's eyes at the gathering will be instantly drawn to the tray as you bring the milkshake into the room!
Serve some cookies on the side and you are good to go!
The monster eye Halloween milkshake is rather a spooky one that you will hardly expect to feature on the table!
But it is Halloween and it is always fun to scare the spectators a little bit. But as soon as they grab a sip, no one will say no.
It is so easy to come up with a wonderful Halloween shake!
So if you are looking for something nice and smooth, then this Halloween shake is the best idea for you to relish.
Do you like chocolate milkshakes? Then this one is the best for you!
Topped with a rich chocolatey Witch's hat candy, you shall be smitten in a bite. So what are you waiting for?
If you wish to try out something nice and quirky then we have something for you right here!
The Mad Scientist milkshake is loaded with great flavors and topped with so many exciting treats too!
The Boo vanilla ghost milkshake is perfect if you are looking for something nice and yummy!
Fill yourself in the afternoon as you sit with your kids enjoying a horror film during the holidays.
So what are you waiting for? Grab this opportunity right away.
Yikes! Eww! Perhaps these are some of the words that will be pronounced at the sight of the drink but that is only what you need because it is Halloween!
And things are meant to look scary and spooky. Shall we try it then?
The Halloween green monster milkshake is perfectly suited to the macabre theme of horror.
You can surprise your kids with this extraordinary milkshake treat right here.
So what are you waiting for? Make this one right away! Shall we then?
The creepy Halloween milkshake recipe is best suited to the season of macabre and horror!
Gorgeous and tempting in every sip, this is both a treat to the eyes and the taste buds.
So without any more delay, let's make it today!
Other ideas you should check out: Halloween Treats, Halloween Decor Ideas, Vegan Ice Cream Recipes, Oreo Cookie Dessert Recipes, Christmas Truffles Recipes, Spookiest Halloween Drinks, Cake Batter Cookie Recipes, Thanksgiving Dessert Recipes, Pumpkin Recipes, Healthy Dessert Bar Recipes