It's time to get spooky with these delicious Halloween pie recipes. Pumpkin, apple, and pecan pies are just a few of the many options you can make for your family or friends this holiday season. Find the perfect one for you!
More collections: Pumpkin Seeds Recipes, Halloween Main Dishes, Halloween Leftover Candy Recipes, Halloween Cakes, Halloween Pumpkin Rolls, Halloween Cookies, Halloween Pumpkin Cookies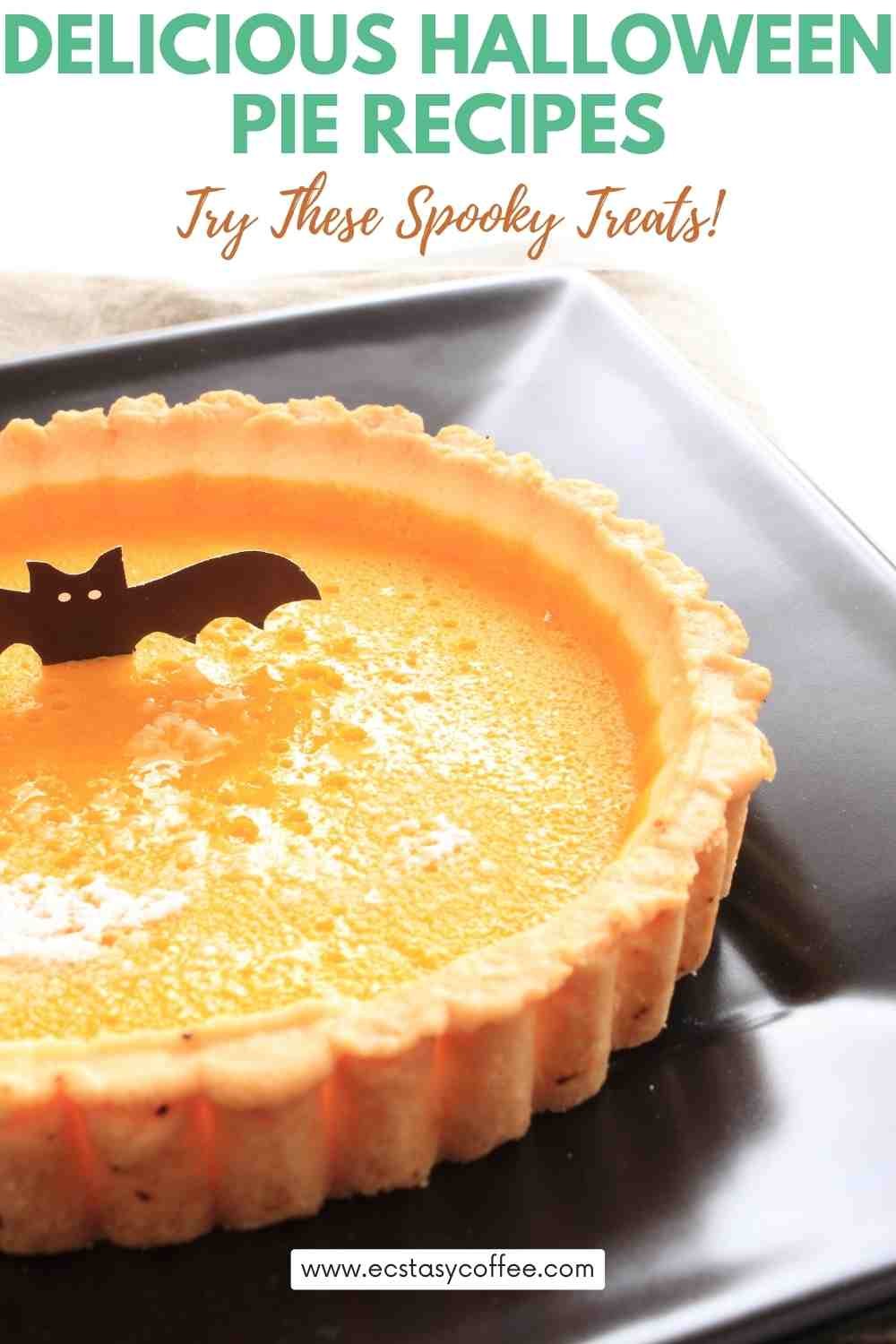 Halloween is the season of bliss and macabre! While the aura of macabre and spookiness hangs in the air, we are still so excited and thrilled about celebrating Eve! There are so many preparations that are made, houses are adorned, parties are organized and food is cooked.
Amidst all the excitement and arrangements, we are going to work on making Halloween pie recipes today! If you have never baked one before then here are a couple of things that you must know! So let's get started, shall we?
Why are you expected to keep the ingredients cold?
When you are making pies, contrary to cupcakes and cookies, you are expected here to keep all your ingredients cold! You might be confused at first because that is not what you have done during most of the baking sessions, but it is true in the case of pies, you are expected to leave all the ingredients cold.
This is to be noted that ice-cold water is used for pies that you can obtain by letting the ice melt in the glass. The butter should also be cold and hard.
Should you refrigerate the dough after every step?
This might seem too much of a responsibility but it is true that in the case of pie, you are expected to cool the dough after every step. There is also another thing that you need to be careful about! When you are rolling the dough, do not roll and re-roll it several times!
Handling your pie dough for too much and too long can affect the texture of the dough totally and affect the structure of your pie. If there are cracks that you observe on your dough then do not re-roll it again, rather patch it up!
Why are we advised not to sprinkle too much flour?
We often sprinkle loose flour on the surface of the dough or the kitchen counter where you will roll the dough! This is usually done to reduce friction and make the surface smooth!
But in the case of pie crust, when you are rolling the dough, use flour as little as possible! This is because a pie crust has the property to absorb these dry flour particles and crack through the process. You can use a clean towel at the end of rolling to dust off the excess.
How can you help the air to escape in double-crust pies?
If you wish to allow the air to escape as you are baking double-crust pies then there are a couple of things that you need to do! You can cut slits on the surface of the upper crust so that the air which is trapped between the layers can escape!
Excess warm air can turn your pie to become soggy. If you wish to do it in style, then instead of slits you can make beautiful patterns and cut-out designs as well.
What is the need for aluminum foil as you bake pies?
If you want to bake your pies right then you need some aluminum foil! And why so, we will describe soon. The crust must be protected and hence we need a pie protection or aluminum foil to do the job. You can find them as strips near the edges to prevent them from turning too brown during the process of baking.
Well, that is more or less everything that you needed to know about baking pies! Now it is time for you to check out some wonderful Halloween pie recipes. 
Delicious Halloween Pie Recipes to Try This Year
It is so easy to curate these small and pulpy cookie pies!
Delectable and crunchy outside with a tender filling inside, you should give it a try for sure. Shall we then?
Making Halloween pies are super easy and tempting too as long as you have these gorgeous recipes at your fingertip!
Packed with scrumptious filling, you ought to give it a try! So what are you waiting for? Bake this one today!
These mini hand pies are the best treat ever! Shaped like small sinister pumpkins, you will definitely enjoy the enriching flavors inside.
So what are you waiting for? Shall we give this one a try? Bake them before the holiday season is over.
If you are trying to make something customized to Halloween then this Halloween scream pie is perfect!
Ghostly and scary, you will definitely enjoy this treat! Filled with rich jelly and topped with a crispy crust, shall we try it then?
If you wish to make your pie crust attractive then you have to go through the pie crust ideas that we have brought for you!
Artistic and simple, while some show a witch flying across the sky on her broomstick, others display ghosts, zombies, and so on.
First of all, a pumpkin pie is too delicious to miss out on! Secondly,  it is Halloween so you cannot miss out on pumpkin pies, and finally, look at this!
It looks gorgeous and well-suited to the season too!
Making apple blackberry hand pies is so much easier with the recipe that is right here for you!
Delectable and filled with jelly, you simply can not miss out on this wonderful treat! Do give it a try for sure.
What? A Halloween pie that is totally black? We really cannot say what kind of spell is cast upon the black pie but it is for sure, you will definitely find this one to be a treat at the parties.
Making Halloween spooky pies is so easy as long as you have these wonderful tarty recipes at your fingertip!
Trust us, you will definitely fall in love with the apple pie at the very first sight even before you grab a bite.
Filled with pumpkin and Halloween cream cheese frosting, the Whoopie pies are delicious in every bite!
Sweet and crunchy, you will definitely love this idea. Packed with great flavors, do give a try to this idea! Shall we get started then?
If you are looking for something that looks equally spooky as well as tasty during the holidays then we have this mesmerizing Halloween chocolate cherry hand pie for you right here.
What an incredible idea to relish during Halloween!
If you have a motto to include pumpkins everywhere then why not try out the gorgeous pumpkin whoopie pies?
Delicious and crunchy with a thick layer of cream cheese in the center, do give it a try for sure.
These are literal hand pies! Packed with rich jelly, the Halloween hand pies look so spooky and scary at the same time!
Rich and crispy, this is a great source of flavors to keep yourself content during the season.
Everyone will appreciate your effort!
The Jack Skellington Balsamic cherry pies are simply the most exclusive treat which you should make if the guests are coming over!
Savory and crunchy on the top, packed with jelly in the center, this one looks so pretty and horrifying at the same time.
Of course, this is because it is Halloween and everything should be scary and exciting at the same time.
The wonderful Jack Skellington Boo-berry pies are simply the best and you should not miss out on this one.
If you wish to try out some unique patterns with your Halloween apple pies then you should ahead with this one right here!
The classic Pentagram pies are very easy to make and simply full of flavors. Shall we then?
If you are making Halloween pies for the holidays and wish to keep the mood light and fun-filled then you can try it out with the fun Halloween pie crust which we have right here. Shall we get started then?
Well, here is a new version of the whoopie pies! This time the recipe tells you to try it out with black velvet!
We are sure you will definitely find this idea to be extremely yummy! No doubt, this one will be the first to get over.
Imagine the pies would start speaking to you! Yup, that is possible if you bake these Halloween apple face pies!
The idea is interesting, we must admit. So what are you waiting for? Bake it today!
The idea for the vegan blueberry pie is a showstopper!
This is because the pies are not simply a tasty treat but also an informative creation of the phases of the moon pattern on the crust. Isn't it amazing?
Conclusion
We've presented you with five spooky and delicious Halloween pie recipes that will be the talk of the party. From the simple classic pumpkin pie to the more unique apple jack-o-lantern, you'll be sure to delight your guests. So don your witch hats, roll up your sleeves, and prepare to make some magically delicious Halloween pies!
These Halloween pie recipes aren't only delicious, but they're simple and inexpensive to make. So, don't let the ghost of Halloween parties past haunt you this year; use these recipes to make a delightfully spooky treat that will be sure to put a cackle in your guests' hearts. Let's make this Halloween one to remember with delicious and easy-to-make pies!
Other ideas you should check out: Christmas Pies, Campfire Pie Iron Recipes, Baby Shower Food Appetizers, Aphrodisiac Dinner Recipes, Copycat Curry Recipes, Best Sheet Pan Recipes, Healthy Keto Dinner Recipes, Weight Watchers Recipes, Keto Mexican Food Recipes