Get ready for Halloween with this spooky recipe for easy-to-make Halloween popcorn balls. Perfect for a party or just a creepy snack, these popcorn balls will give you the thrills you're looking for. Make your own Halloween popcorn balls today!
More collections: Halloween Main Dishes, Halloween Leftover Candy Recipes, Halloween Cakes, Halloween Pumpkin Rolls, Halloween Cookies, Halloween Pumpkin Cookies, Halloween Pie Recipes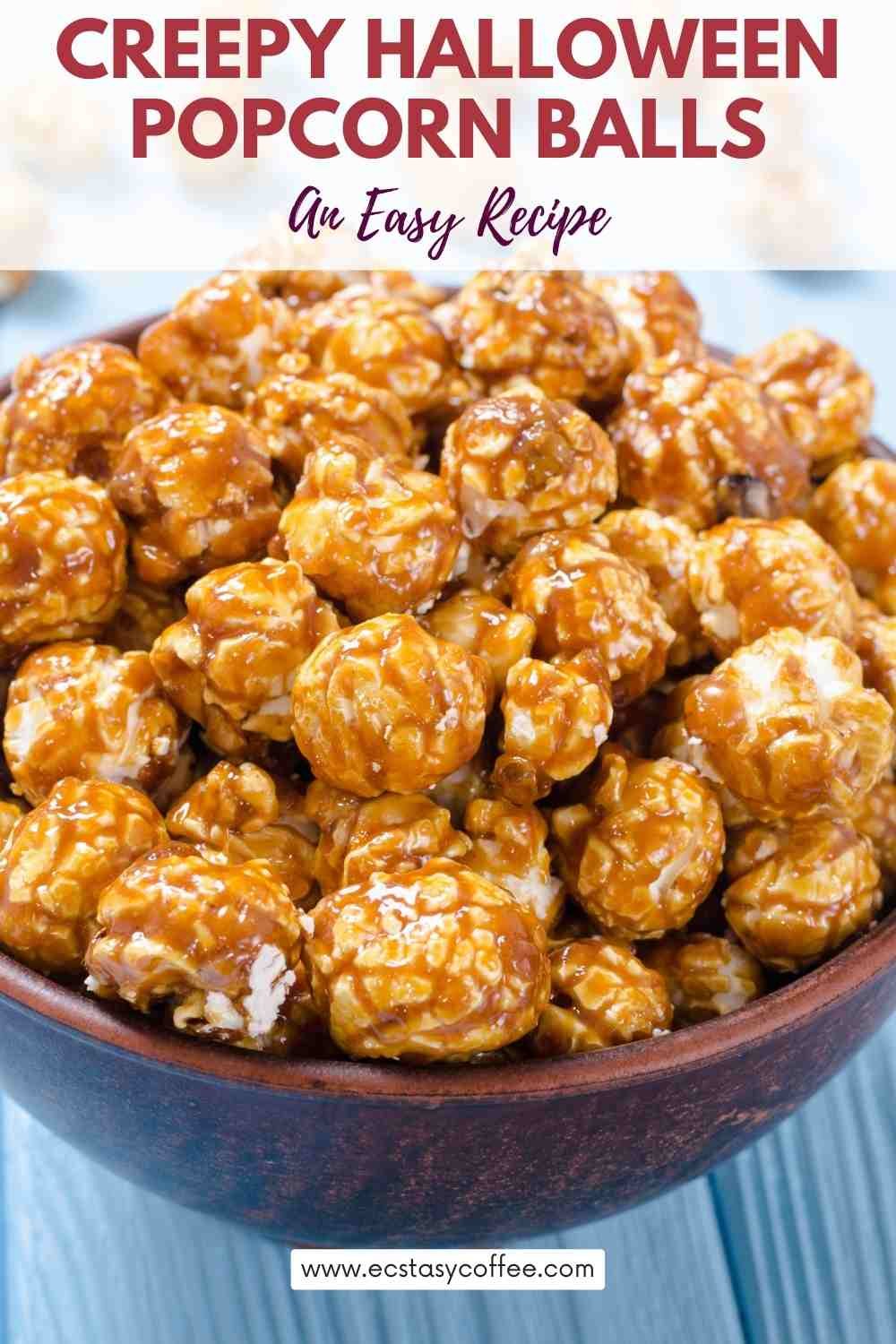 We simply cannot list all the treats and sweet dishes for Halloween! Anything that you can combine, mix, match, and think of, is considered a treat! That is a specialty of Halloween! There are so many wonderful and vibrant ideas that surround us during this time of the holidays. Today we are going to discuss popcorn balls!
Well, most of us love popcorn and if you are here then it is certain you do too! But today we are giving a twist to the ordinary popcorn tubs! Here are some insights about popcorn balls! And twenty Halloween popcorn balls recipes that you can explore during the holidays.
So, what are popcorn balls made of
Of course, popcorn! But that is not enough! You need several other ingredients to form the balls! Let us discuss a few with you! First of all, let us tell you that it is no Herculean job to make Halloween popcorn balls so you can drop that fear off your shoulders.
Sweet and crunchy, you need about twenty minutes to prepare and cook them and serve them fresh! That's how little time you require and hence these have become such popular treats these days. You mainly require corn syrup, sugar, marshmallows, cooking spray, and so on. Not to forget, some butter as well.
How are popcorn balls prepared?
Basically, you need to have some freshly baked popcorn and then combine all the ingredients in a bowl and let them combine, and stir well inside a pan with the marshmallows melting gradually. Once it is done, you can bring it off the gas oven and use your hands to give it the round shape! Remember to spray your hands with cooking spray, so that the mixture does not stick to your palm. You can wrap the balls with plastic or cellophane papers and store them at room temperature to serve later.
What is the reason that my popcorn balls will stay together?
Sometimes even if the mixture appears sticky and it seems like it is time to form the balls, you will still notice that after a while, the balls are coming off as the popcorn kernels will separate from one another. Sometimes we end up substituting ingredients even if it is not mentioned in the recipe! Making use of honey instead of sugar corn syrup is detrimental to the structure of the balls! Honey is not good enough to hold the popcorn for too long as it fails to harden like corn syrup.
Timing and temperature matter as well! When the mixture is too hot or too cold, forming popcorn balls is impossible! You need to maintain an optimal temperature if you want your Halloween popcorn balls to turn out fine. Also, try to keep the balls, small or medium so that the shape is maintained intact, often large popcorn balls seem to fall apart.
How can you store your popcorn balls?
Of course, if you cannot finish them all in a day, then you do not have to! Store them away properly so you have no problem. You must keep them frozen so that the popcorn balls do not fall apart. Storing in an airtight container is the best thing to do.
Or, you can even wrap the popcorn balls in a plastic wrapper and then store them in the freezer! This will make them last up to two weeks. While eating again, you can thaw them at room temperature, remove the wrapper and enjoy your treat!
Here are some amazing Halloween popcorn ball recipes for you!
Make Delicious Halloween Popcorn Balls Easily With These Recipes
Preparing marshmallow pumpkin balls is super easy so make sure you do not miss out on this treat!
Savory and sweet, there is no way you should miss out on this idea! Perfect to accompany you during movies.
Preparing s'mores popcorn balls are so easy and chewy that you will be tempted to consume more and more.
Loaded with treats, the recipe is simply the best and leads to a competition between adults and kids, who can have more.
If you are craving something crispy and cosy then this popcorn ball recipe is the best thing you can opt for!
Munch on them as you watch scary movies with your kids this holiday season. Shall we then?
If your kid's birthday coincides with the Halloween holidays then you can try out this fantastic treat!
Showered with yummy and colorful sprinkles, these marshmallow popcorn balls are ready in no time!
Make sure you cook them in bulk, enough for all kids attending the birthday party.
The turtle popcorn balls are delicious and flooded with chocolate chips, and pecans, the recipe turns out to be a great treat!
Chewy and rich, this is an extraordinary idea and leaves you craving for more and more! Why not enjoy a movie tonight?
The popcorn balls are lovely and drizzled with great flavors! Chewy and sticky, the crunchy popcorn treat is amazing and perfect to wrap in a beautiful plastic wrapper and serve as a token of warmth and welcome to the guests at the party.
Yeah, you heard it right! We are asking you to serve the popcorn balls in ice cream cones and trust us this transition is something no one will be able to expect at first but find admirable eventually.
The platter full of marshmallow popcorn balls is amazing and especially when they are served in all colors arranged in systematic rows and columns.
This recipe gives us the fall vibes and hence we decided to add it to the list.
The gorgeous and gooey peanut butter cups are simply the best to opt for! The sweet and yummy popcorn balls are exactly what you need as a treat!
Drizzled with rich chocolate and smooth peanut butter, there is nothing that stands parallel to this one.
We are talking about the extraordinary popcorn balls!
Delicious and creamy, the sticky popcorn balls are simply the best and render you a craving to eat more and more. The combination of sweet and savory is simply the best!
The sticky caramel popcorn balls are so tempting to hand as they slip between fingers and create a gooey feeling!
The recipe is super easy and you must give it a try! Thank us later for the idea.
Ah, here is another popcorn ball recipe that is so easy especially for beginners to emulate!
So if you have never made popcorn balls and are wondering what this is all about, here is the recipe to help you out!
If you have tried salted caramel ice cream before then you know what kind of treat you are up for!
The sweet and salty caramel-dipped popcorn balls are something similar and make it hard for anyone to resist. Shall we?
The popcorn ball recipe is too good and makes it so hard for anyone to control themselves be it a kid or an adult!
Smooth and crunchy, you will definitely fall in love with the treat! Do give it a try!
Well, who does not want to have the brilliant combination of M&M with caramel?
Here is a recipe with popcorn balls that you can try out if you have been looking for cheap, pocket-friendly ideas for parties.
Preparing marshmallow popcorn balls is super easy so if you are looking for something sticky and rich then go ahead with this idea right here.
Soft and chewy, you will surely find this one to be an extraordinary treat leaving you craving for more.
The cozy caramel and chocolate popcorn balls are fantastic and coated with a rich chocolate layer outside!
There is a luxurious and creamy frosting on top to create beautiful patterns too! So what are you waiting for?
The vintage popcorn balls are lovely and such a marvelous treat to relish during the season.
Flavorful and cozy, the idea for popcorn balls is simply the best and leaves you craving for more and more. So what are you waiting for?
The marshmallow popcorn balls are gorgeous and packed with great taste!
Savory and rich, the sticky marshmallow balls are fabulous and flooded with the richness of cream and caramel.
So what are you waiting for? Make these right away and enjoy them to your heart's content.
Adorned with sprinkles and liquid chocolate, the popcorn caramel balls are delicious and you should indulge in its blissful taste.
Cozy and creamy, the caramel balls are delectable and you should try them out! All the best!
Other ideas you should check out: Christmas Sticky Buns Recipes, Healthy Late Night Snacks, Christmas Candy Recipes, Healthy Salty Snacks, Best Sheet Pan Recipes, Healthy Keto Dinner Recipes, Weight Watchers Recipes, Keto Mexican Food Recipes