Make your Halloween party extra special with this easy-to-follow Halloween pumpkin muffins recipe. Delicious pumpkin muffins with a spooky twist that you and your family will love! Get the ultimate pumpkin muffin recipe with step-by-step instructions and all the ingredients you need to make delicious, spooky Halloween pumpkin muffins!
More collections: Halloween Cookies, Halloween Pumpkin Cookies, Halloween Pie Recipes, Halloween Popcorn Balls, Halloween Caramel Apples, Halloween Drinks, Halloween Punch Recipes, Halloween Cider Cocktails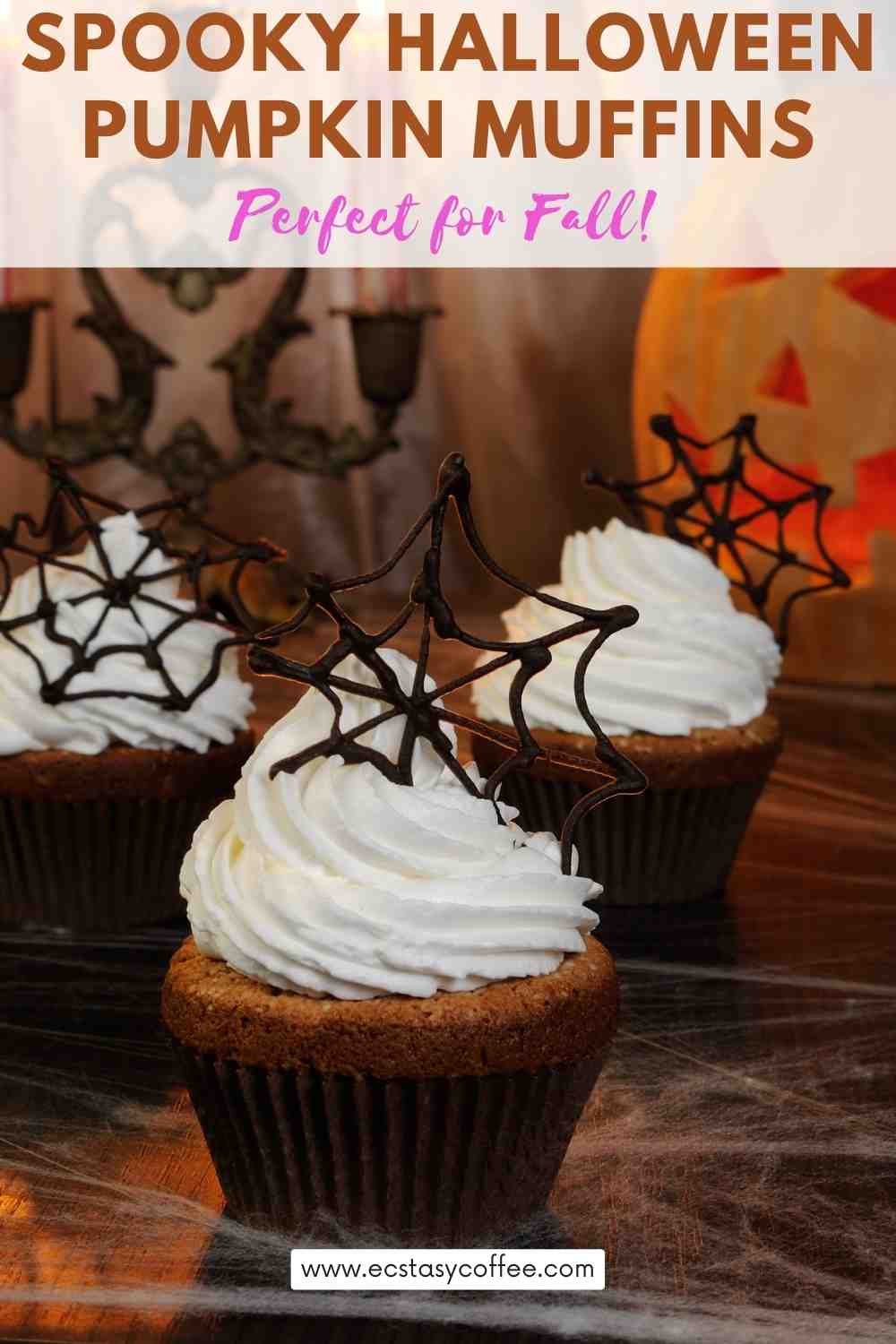 Halloween is almost incomplete without the presence of all those muffins, cakes, treats, and drinks on the table! Have you ever seen a party where the tables are empty? Unless you enter at the last minute! That is right! We are talking about a full-fledged celebration that is simply incomplete without the presence of treats!
As we gear up for the celebrations of Halloween, there are some wonderful tips and ideas we will share with you so that you can enjoy your holidays even better. With the holidays knocking at the door, we can hardly wait for you to try out these muffins.
What is the proper way of making muffins at home?
If you would like to know the gist about coming up with muffins quickly at home then this column is meant just for you. It is highly likely that you will end up overmixing the batter but that can be taken care of as long as you are careful.
If you end up mixing all the wet ingredients with dry ingredients all at once then it might happen that you will create a huge mess! That is something we wish to avoid. You are expected to stir the dry ingredients about ten to twelve turns until the mixture is smooth and blended well but never more than that.
How are you expected to fill the muffin pans?
Of course, filling the muffin pans has a technique as well and you are expected to follow the same. As per the general rules, you need to fill the muffin cups about ¾ th of their height! If you are making muffins then filling the cups plays a significant role in determining whether your muffins will turn out successful or not.
If you end up filling the cups right up to the brink then the muffins, when they will rise, will topple over or form mushroom tops. Or, if the cups are filled too less then the muffins will not rise in the first case, itself. Hence maintaining an appropriate height in the cups for the batter is very much essential. The temperature of the oven is maintained at 375°-400°F for baking it right!
What measures to take when you make muffins in advance?
Making muffin batter in advance is not the right thing to do! This is because muffins contain leavening agents like baking powder and soda! If you prepare the batter and then leave it for a while then you will observe that your muffins will not rise at all after that! The longer you store the batter the more harm you will cause to the texture and formation of muffins.
How do you line the muffin cups?
Another benchmark to ensure that your muffins turn out right, here is a method that you need to learn. Lining is the method, whether you can ensure that the edges of the muffins can turn out to be soft and tender at the same time. In the absence of the liner, the outside of the muffins will remain crispier otherwise.
Liners are essential for giving a steady shape to the muffins! If these muffins are going to travel, you should use a liner. You can use a paper liner or in the absence of the liner you need to spray the sides with a cooking spray and the job will be done.
Here are some wonderful muffins ideas that you can explore during the holidays.
Delicious and Easy Halloween Pumpkin Muffins
If you are looking for something nice and crumbly, then the apple cider dough out muffins will not disappoint you!
Delicious and savory, serve them with tea for the guests. Rich and luxurious, this is an incredible idea to make for the holidays.
Chewy and sweet, the pumpkin bread truffles are perfect and flooded with great taste. Delicious and savory, you ought to indulge in its blissful taste.
Cozy and comforting, kids to adults, no one can resist it! So what are you waiting for?
Packed with a rich flavor of icing, the brownie bites are fantastic and indeed a great source of joy for the taste buds!
Savory and luxurious, the brownie bat bites are perfect and render one simply speechless! This is one of a kind!
The green ghost cupcakes look so spooky indeed! Cozy and rich in flavor, the poppy eyes on top give such a special effect.
Healthy and bearing the color of spinach, you ought to give it a try! Shall we try then?
The zombie brain cupcakes are gorgeous and topped with rich icing! This version of cupcakes is totally vegan and packed with great flavors!
The zombies might come looking for the brains and knock at your door! So be careful! Try it today!
Packed with treats inside, you are up for a surprise with the Halloween cupcakes that are right away!
Rich and creamy, this one turns out to be a gorgeous treat! Smooth and buttery, this recipe is ready in no time.
The combination of pumpkin and chocolate marble texture makes these muffins taste so delectable and divine!
If you haven't tried it yet then you should have the Halloween holidays around the corner.
Drizzled with chocolate chips, your cookies are ready right away!
Halloween ghost cupcakes are the ultimate treat of the season! Loaded with icing which makes them look so pretty, you should give it a try!
What an incredible idea to relish during the holidays! Shall we then?
Ah, it is impossible for you to celebrate Halloween without the delicious treat on the table!
The candy corn swirl cupcakes are so easy to make and you can prepare them in large batches so it can last you the whole week.
The chocolate graveyard cupcakes are lovely and you must dig in during the holidays! Chocolate buttercream infused muffins with Biscoff biscuit grave not only makes it taste good but look so customized as well.
So shall we get started with the preps then?
There is nothing better than the cream cheese-filled pumpkin muffins which are loaded with the temptations of falls.
Flavorful and cozy, the luxurious and crumbly cupcakes are lovely and loaded with all that you find best.
The subtle flavors of cinnamon in the Halloween pumpkin muffins make them taste so good! Gorgeous and gooey, you will definitely come back later thanking us for the idea!
These muffins are great to go with a warm beverage and serve to the guests as they come over.
The Oreo cupcakes will never go off the trending chart and that is something we can confirm.
Juicy and crumbly, the rich icing and crunchy topping render a delightful experience to the taste buds. Shall we?
If you wish to pack a handmade gift for your friends and loved ones then the Halloween cupcakes served in a jar are the best option.
Rich and luxurious, if you like baking, the gift is truly customized to the holidays.
The Halloween vegan cupcakes are a wonderful treat for dessert lovers! So if you are looking for something vegan, this one will tick-mark all the checklists.
Cozy and crumbly, you ought to give it a try for sure.
Did you try out the Hocus Pocus cupcakes before? If you haven't yet then all we can say is that you are missing out on the highlights of the season!
Topped with rich green icing, the aura of magic is in the air.
Here is an entire platter of cupcakes for you! And guess what, all of them are totally vegan so you do not have to worry about skipping your diet.
Delectable and crumbly, the cupcakes are the best to indulge in this season. Shall we then?
If it is the season of fall, there is no way you can miss out on the classic pumpkin muffins!
Cozy and crumbly, the Halloween pumpkin muffins melt in your mouth with every bite and render you simply smitten.
If you are craving muffins and cheesecakes at the same time then we have a solution for you!
The mini pumpkin muffins are gorgeous and enriched with a layer of icing on top. So what are you waiting for? Don't restrain yourself for too long.
20. Pumpkin cream cheese swirl muffins
The swirl muffins are amazing so if you are looking for something exclusive for Halloween, we know exactly what you must try out!
Mouth-watering and making you drool in every bite, do give it a shot.
Other ideas you should check out: Delicious Halloween Cakes, Chocolate Chip Recipes, Muffin Recipes, Banana Dessert Recipes, Halloween Nail Art Designs, Thanksgiving Dessert Recipes, Christmas Sticky Buns Recipes, Healthy Late Night Snacks, Christmas Candy Recipes, Healthy Salty Snacks, Best Sheet Pan Recipes