Get creative this Halloween with our top picks for spooky and delicious Halloween tequila drinks. We'll show you how to mix them up and give you all the tips you need to make the perfect Halloween Tequila Drinks. Try something new for your Halloween celebrations this year!
More collections: Halloween Cider Cocktails, Halloween Pumpkin Muffins, Halloween Pumpkin Bread, Halloween Pumpkin Pancakes, Halloween Pumpkin Cheesecake, Halloween Pumpkin Bars, Halloween Pumpkin Soup, Halloween Potluck, Halloween Whiskey Cocktails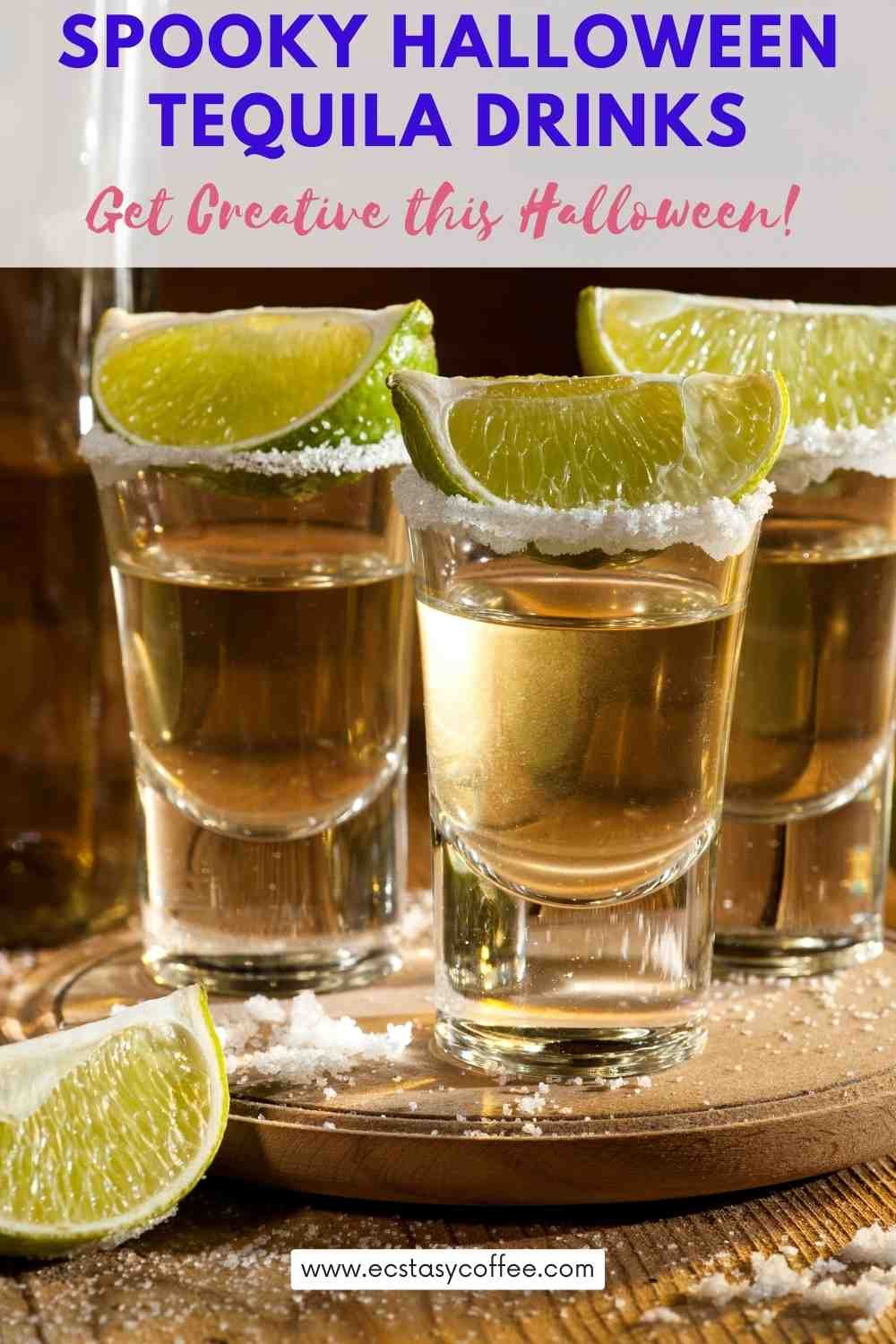 Ah, finally the season of Halloween is here! With excitement and joy palpable in the air, you must be eagerly waiting, just like us, to begin the celebration of the holidays.
However, if you are planning a party and there is nothing like drinks and booze then we are sad to announce that the charm of the evening is gone! So if you wish to throw the best party in the neighborhood then we know how to help you out with that! Prepare for the gorgeous event with the boozy tequila shot recipes right here.
What is tequila?
If you are trying out tequila drinks for the first time at home then of course there are a couple of insights that you need to follow! These include, first and foremost, learning about tequila drinks and shots! So what is tequila? To answer your question, tequila is a distilled spirit that is obtained from Weber's blue agave plant.
If you have been to clubs and pubs then you must have tried tequila drinks like Margarita, Paloma, the Tequila Sunrise, and so on! With the recipes that we are soon about to discuss with you, you can make these amazing cocktails now at home. Only in certain designated regions of Mexico, the production of tequila is allowed! These include Jalisco, Nayarit, Guanajuato, Michoacán, and Tamaulipas.
So what is tequila made from?
Before you begin to make tequila drinks at home it is essential for us to note every detail about tequila. Prepared from agave tequilana, this is a plant that has spiked succulent leaves and which looks very similar to aloe vera. There is a bulb called pina which is present in the center of the plant. This part is baked and juiced and then fermented with yeast to yield tequila in a barrel.
What is the history of the production of tequila?
It is always interesting to note that the production of tequila has an intriguing story behind it! Let's talk about that a little. The Aztecs came up with a drink in the year 250 which is called the pulque. The fermented juice was extracted from a plant called maguey. This is believed to be the ancestor drink of tequila that we consume today. They were first prepared by the Spanish colonists in South America during the 1600s. In 1974, tequila was declared as the Mexican intellectual property and only a few states of Mexico could produce this one.
What is the technique for making tequila?
There are a few steps that you need to follow to make tequila! These include harvesting, baking, juicing, fermenting, distilling, and aging. The agave is first harvested! Of course, this is the preliminary step that needs to be done to produce tequila.
A special knife coa is used for slicing the leaves. This follows baking the agave core. This eventually yields fermentable sugar. Mosto is the sweet juice that is created after crushing the pina. Fermenting this juice turns it into ethyl alcohol and then gradually converted it into spirit.
A large fermentation tank is employed to do the job! Either it is made of large stainless steel or a wooden barrel. Distillation is the next process and typically twice distillation occurs. Finally, aging tequila requires about fourteen to twenty days ideally for every batch. More or less these are the steps that we tried to discuss briefly so you can relate how tequila is made.
Here are some wonderful Halloween tequila drinks or you to explore.
Spookily Delicious Halloween Tequila Drinks
If you are looking for something exclusive but easy then here is what you need to know!
The Sauza tequila is the best and flavored with a richness of ingredients! So without any more delay, try out this wonderful drink at the party.
The combination of red wine with tequila turns out to be an incredible idea! Gorgeous and detectable, the Devil's Margaritas is the best to opt for!
It is the sight of the drink that will tempt you instantly to be honest.
The combination of orange with tequila turns out to be incredible! Juicy, smooth, and refreshing, the boozy tequila drink is perfect to set the mood of the occasion.
So grab your glass and enjoy the evening to your fullest.
If you are looking for something spooky then the Beetlejuice margaritas is the best option to try out during the holidays!
Refreshing and flavorful, this one turns out to be the best in fact! With Halloween around the corner, we can hardly wait.
If you are looking for something spooky and scary to match the aura of the holidays then rest assured this is the right drink for the crowd you will have over this weekend to attend your costume party.
The vampire tequila cocktail is one of a kind.
The Witch's Potion margaritas is another exclusive drink that you must try out today!
With Halloween almost knocking at the doors, there is no way you should miss out on this lovely margaritas that is right here.
With the Halloween holidays making us feel all excited and thrilled, the Bloody Margaritas recipe is gorgeous and makes this evening so much more special.
See how impressed your guests shall be with a margaritas glass for everyone right here. Go for it today!
This drink indeed looks so gorgeous and creative indeed! The exclusive Alien Brain Haemorrhage is one of the most lovely Halloween taquila drinks of all time.
Colorful and vibrant, this idea turns out to be the best! Try it out quickly.
The combination of vodka, amaretto, and tequila turns out to be an excellent treat for the season! Soul Taker cocktail is gorgeous and perfectly suited to the season.
However, we cannot guarantee that you shall be affected by the magical potion! But let's find out.
The presence of grapefruit juice in the skinny spooky Margarita turns out to be a blissful experience for the taste buds.
Delicious and smooth, a delightful one that you simply can not miss out on! Go for it today!
The green and vibrant Frankenstein margaritas are exactly what you need! Perfectly suited to the holidays, this drink is gorgeous and loaded with great flavors indeed.
If you wish to experience the blissful taste of tequila then margaritas are the best to opt for.
The lovely Potion De Muerto is another gorgeous drink that you must opt for! Delicious, savory, and relaxing, this idea turns out to be the best!
Relaxing and refreshing, the transition between the colors is a treat for the eyes to behold.
Well, you cannot miss out on the Blackberry El Diablo Halloween cocktail!
Gorgeous and tempting in every sip, this recipe is fantastic and leaves you with a craving to reach out more. So what are you waiting for? Make this one today!
Seasonal and perfectly meant for the holidays, the Halloween black margaritas are indeed the most perfect boozy treat for the season!
Smooth and relaxing, even if you are not hosting a party, this is ideal for one to grab during the weekend and relax.
Here is another drink that we are sure you will love to try out!
Looking quite sinister and spooky, the Devil's Fireball recipe is perfectly curated and carries the charm of the Halloween season well. Go for it today!
If you wish to make something with tequila then the blackberry Halloween margaritas smash is the best to opt for!
Gorgeous and both a treat to the eyes and taste buds, you will definitely thank us later for the idea.
Well with Halloween, you cannot miss out on the Hollow-Rita Halloween margaritas!
Delicious and relaxing, this one turned out to be an incredible idea!
Juicy and rich in flavors, the classic margaritas acquired a twist with the recipe that is right here for you.
It is the sight of the drink which speaks sinister! Hence we decided to add it to the list since you were looking for the perfect Halloween tequila drinks.
However, the taste and aura of the drink will make you drool!
If you are looking for something cozy and comforting then we would suggest you go for the Devil's Margaritas! Made in transition between two shades, this idea is lovely and such an incredible choice indeed.
Shall we try it then?
The gorgeous Blackberry El Diablo Halloween cocktail turns out to be an incredible idea.
Savory and smooth, every sip will let you relax and enjoy the mood of the holidays thoroughly.
So what are you waiting for, pal?
Other ideas you should check out: Halloween Cocktail Recipes, Hidden Gems in the USA, Spookiest Halloween Drinks, Cake Batter Cookie Recipes, Thanksgiving Dessert Recipes, Pumpkin Recipes, Healthy Dessert Bar Recipes, Christmas Breakfast Potatoes Recipe, High-Protein Breakfast Foods