Get into the spooky spirit with these creative Halloween treats and desserts! Try out easy recipes for your party that will definitely wow your guests. Get ready to celebrate with delicious ideas for this time of year – including key ingredients, directions, and tips!
More collections: Halloween Whiskey Cocktails, Halloween Tequila Drinks, Halloween Cake Pops, No-Bake Halloween Treats, Halloween Milkshakes, Gluten-Free Halloween Treats, Vegan Halloween Recipes, Vegan Halloween Cookies, Halloween Jello Shots, Halloween Brownies, Halloween Breakfast Recipes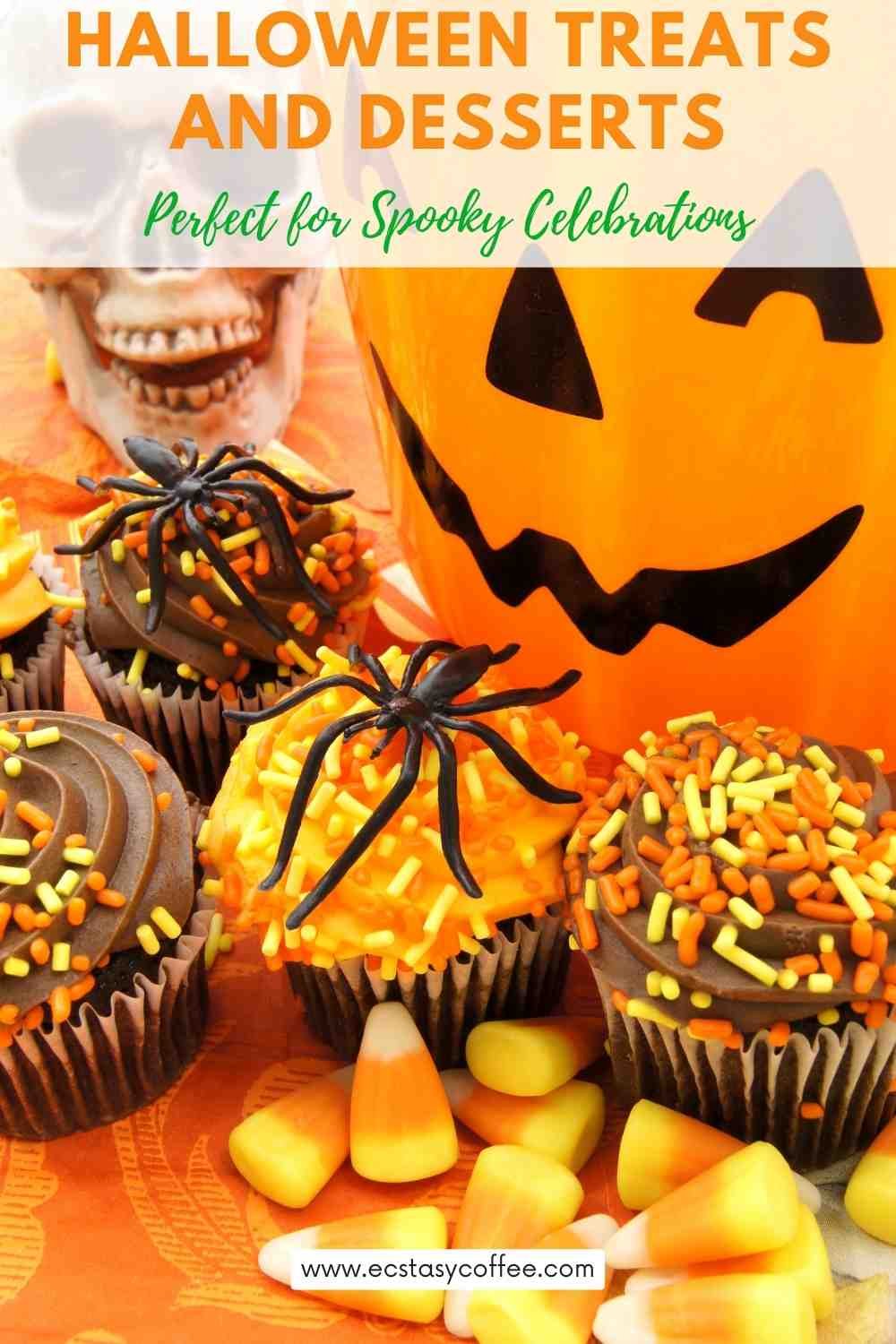 Halloween is the season of magnificence and celebration! Amidst all the macabre and horror hanging in the air, we still find a reason to enjoy and celebrate! Homes are decorated, and costume parties are arranged! And gatherings mean there should be good food to accompany us!
And can we even call it a meal if there is no dessert on the table?
Yup, desserts it is! The best way to end your meal! However, you may not have expertise in baking them right away! Instead, you need some help! And we are here to guide you as you make some awesome Halloween desserts.
How can you make the cake tender and moist
If you are wondering why every time your cake is turning tough and chewy, then we probably have the right solution for you! Add some mayonnaise to the mixture! Thinking that is too weird, isn't it? No, but seriously, we are asking you to add some eggs and oil so that your cakes turn out to be moist( that is what mayo is right, eggs and oil?). You will see for yourself how amazing your cake turns out to be.
How can you make your brownies crunchy?
We are aware, isn't it? So what is the specialty of the brownies? Yes, that is right! You need to make the crust crunchy and crumbly, but often that is not what happens! To ensure that you can enjoy the right texture of the brownies, you need to whip eggs with sugar and then add the dry ingredients! Following this order will help you to make the best brownies in the world.
How to make your chocolate cake even more chocolatey
Now, we are sharing this secret only for the die-heart chocolate fans! So if you are one of them, read on and find more. If you want your chocolate cake to turn out to be even more chocolatey, then do you know what you shall require? Well, we have an answer to that! You need some espresso and vanilla in the mixture to enhance the flavor of the cake. It is a pro tip that might not ne be mentioned in every recipe, but you can use it anytime you are baking something chocolate.
What to do if the stock of unsweetened chocolate is over in the house
If, at the peak hours, you realize that the stocks for unsweetened chocolate are over, but you simply do not want sugar in your cake and cookies, then you can go ahead with cocoa powder, oil, and butter! If you are running late in time, there is no way you can head to the supermarket. Then there is the quick fix for you!
How to check for the readiness of the cake
Often we are asked to check for the doneness of the cake with the help of a toothpick poked into the cake! And if it comes out clean, then we can say that your cake is ready! However, here is another better technique instead of poking to make sure the crust is not tampered with! Slightly press into the cake, and if a dent is created, it bounces back to its original position, then your cake is done.
And to keep your cake moist while you bake, use some syrup to add between layers or drizzle on top so that the crust does not dry up more than required.
Here are some wonderful Halloween dessert recipes that you can indulge in this season. Shall we, then?
Halloween Treats and Desserts: Creative Recipes for a Spooky Celebration
Of course, it is Halloween, and you have to indulge in pumpkin treats!
The soft and chewy pumpkin bars are luxuriously adorned with brown sugar frosting and taste so divine. You must try it out!
The bi-color cinnamon rolls are the best! There are not many words that we can use to describe the magnificence of this recipe!
Chewy, tender and sweet, these are perfectly customized to the season! Serve it over tea!
Ah, it is the spell book brownies again! No matter how many times you bake them, they are never going to last longer than an hour on the table!
Such is the irresistible flavor of the brownies, we must admit. Shall we, then?
Eww! That is what will come out of your mouth at the sight of the cockroaches! But that is the trick here!
These are doughnuts flooded with marvelous taste and loads of rich cream inside. Once you begin having them, you can not stop yourself.
The crispy crust on both sides of the rich cream cheese frosting makes it a delightful treat during the holidays!
Savory and sweet, you can serve these as sides with tea when some guests come over during the evenings. They will surely appreciate your creation.
If you wish to freak out your friend with a prank, then we know exactly the way to do so!
The Gruesome human candy is the way you can freak them out! Shaped like teeth, they will wonder who gifted them with these.
You must know how scary these voodoo dolls are! If you are wondering what can be the best dessert at the end of the meal, then get started with the jam-filled voodoo dolls.
So what are you waiting for? Make them today.
Ah, another fantastic dessert for the season! Flooded with a succulent green jam filling inside, there is no way you will be able to resist indulging in more and more.
So, shall we then? Let's go!
So if you order ice cream at the party and someone hands you a skull on the cone, won't it be scary for you? Well, then, you know what we are talking about.
This time you can be the one making it to the gathering next weekend at your place.
The brimstone bread is lovely, and it looks so realistic as well! Perfect to set the mood of the party, we would like you to know appearance is deceptive!
Although it appears dull and deadly, the sweet bun tastes amazing on the contrary.
The gorgeous scream swirl bread is amazing and packed with great taste!
Savory and vibrant, you might be tempted to indulge in more! In fact, these are perfect to end your meals with.
The creamy and tender Halloween crispers are here with a new twist!
The crispy and tender brain tastes so gorgeous that you will be rendered speechless in the very first bite. So what are you waiting for? Give it a try for sure.
If you are looking for something spooky and yet carrying the charm of Halloween, then there is no better recipe than the blackberry skull pie that we have for you right here.
So let's get started, then? You will definitely enjoy this pie.
The delicious brimstone brownies are exactly what you need as a treat this season!
Chewy and vibrant, the brownies are so easy to make that even if you are making them for the first time, you can curate them with perfection.
Pumpkin hand pies are packed with yummy and sweet delicious filling! The crust is crispy outside, and the jelly in the center makes it the best thing to serve as dessert.
So let's not waste a single minute more and get started with preps!
The yummy and tender red velvet hot chocolate resembles blood served in glasses!
Well, that is exactly what you can expect when it comes to Halloween. The witches and wizards might visit you to sip on some hot chocolate.
The combination of Apple and blackberry tastes so divine indeed!
Flooded with great taste, the hand pies are perfect as a festive dessert that you can offer at the end of the grand dinner. Shall we try it, then?
There is nothing so tough about making the graveyard cake! The recipe is wonderful and so simple to emulate as well!
The skeleton candies perched on the top gives it the ultimate Halloween aura. So what are you waiting for? Bake it today!
Making Halloween graveyard patch cake is super easy, and if you are fond of chocolate, then this treat is best for you.
Do not forget to use the RIP candies on the top, and the gigantic cake is ready!
Chocolate brownie candy parfaits are delectable and flooded with great taste!
The crumbly crust and the rich layer of icing make this an incredible creation. We cannot wait for you to try out this treat and give us feedback too!
Other ideas you should check out: Halloween Cupcake Recipes, Thanksgiving Pumpkin Dessert Recipes, Thanksgiving Pie Recipes, Mini Thanksgiving Desserts, Halloween Pumpkin Pancakes, Christmas Mashed Potatoes Recipes, Gluten-Free Breakfast Recipes, Delicious Pancakes Recipes, Christmas Breakfast Potatoes Recipe, Oreo Cookie Dessert Recipes, Red Velvet Dessert Recipes