With the most awaited occasion of the year knocking out our door, we are excited about celebrating Thanksgiving, and you should be too! After all, this is the time of the year when all of us are merry, and we wish to enjoy the season of glee and joy!
Healthy Thanksgiving Recipes
It is time to be thankful for all the small and big things we are bestowed with! And as we know that any celebration is incomplete without the presence of exotic recipes, and hence we have come up with these healthy Thanksgiving recipes that we have brought for you. It is also important for you to eat healthily so that you feel fit throughout the holidays. Keep your family and little ones fit and fine with these fabulous healthy Thanksgiving recipes below.
1. Skinny Thanksgiving Pumpkin Pie
The savory Thanksgiving pie with an inspiring note is gorgeous, and you must make it if you have guests coming over! You will easily find the recipe at Skinny Taste that is tempting for you to try out!
Recipe - Skinnytaste
2. Gluten-Free Pear Walnut Crumble
Here is a gluten-free skillet that we have exclusively prepared for you! Topped with walnut crumbles, there is little to describe the brilliance of this recipe that is a such exotic recipe by It's Yummi. So what are you waiting for?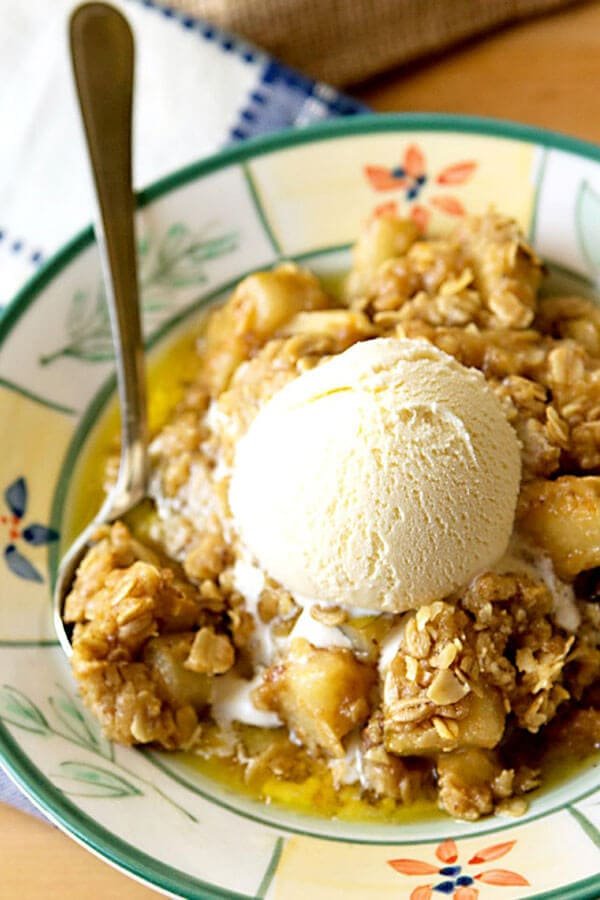 Recipe - It's Yummi
3. Sriracha Lime Slow Cooker Turkey Tenderloin
The succulent and saucy tenderloin of turkey is fantastic, and you can incorporate it as a part of your weekend meal. The recipe is made by Cupcakes and Kale Chips and topped with sriracha lime with a zesty and flavourful essence in every bite.
Recipe - Cupcakes and Kale Chips
4. Instant Pot Turkey Breast
Ready in just thirty minutes of cooking time, the turkey breast roast is gorgeous! You can find the recipe at Crunchy Creamy Sweet to get the instant pot turkey done perfectly.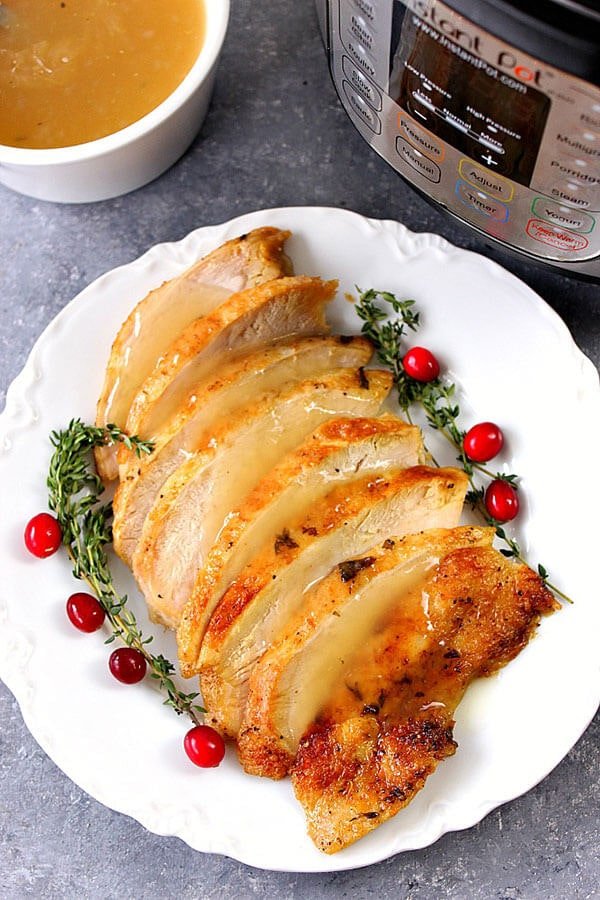 Recipe - Crunchy Creamy Sweet
5. Sugar-Free Cranberry Sauce
Let us try making this savor cranberry sauce that you can enjoy with pies for breakfast in the holidays! Check out the recipe and follow the steps mentioned at Sugar Free Mom! The tangy and sweet essence of the death cranberry sauce is indeed admirable.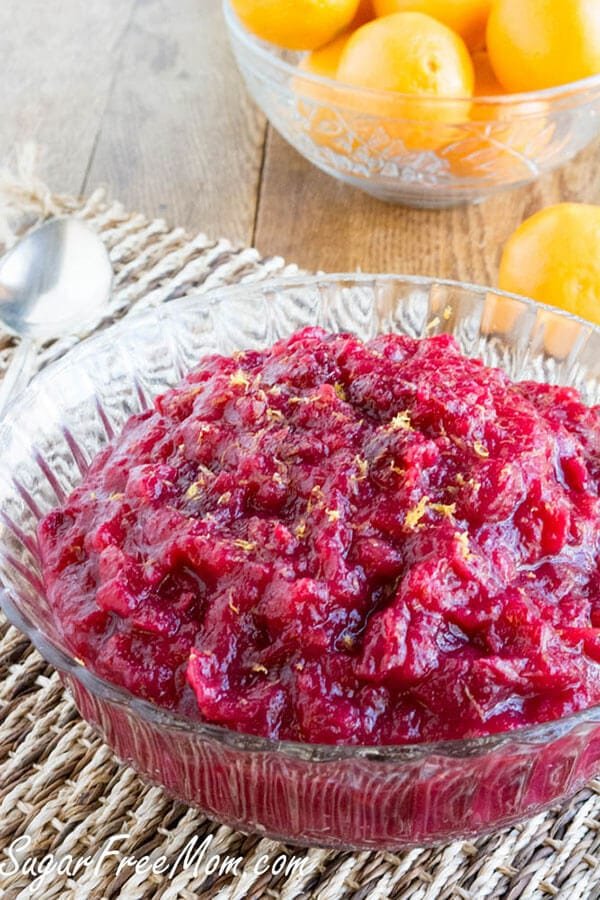 Recipe - Sugar Free Mom
6. Gluten-Free Pull-Apart Dinner Rolls
We have the most tender and comforting bread here for you! The recipe for the dinner rolls is amazing, and you can check it out at My Gluten-Free Kitchen so that even you can make these pull-apart bread for dinner.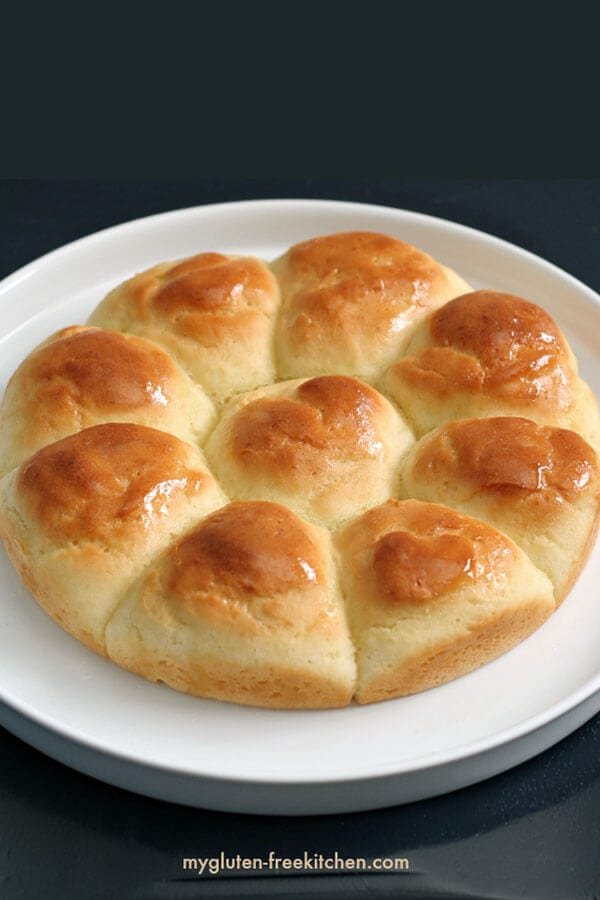 Recipe - My Gluten-Free Kitchen
7. Rosemary Garlic Mashed Cauliflower
Nothing is as comforting and at the same time luxurious as the rosemary garlic mashed cauliflower! Yes, you read that right! Instead of potatoes, we have tried out cauliflower with rosemary and garlic by following the recipe at The Cookie Rookie, and it is a grand success.
Recipe - The Cookie Rookie
8. Paleo Scalloped Sweet Potatoes
You will genuinely have a hard time trying to resist the taste and the flavor of the sweet potatoes that are gorgeous and made by Food Faith Fitness. The paleo-friendly scallop is brilliant, and you should try it out.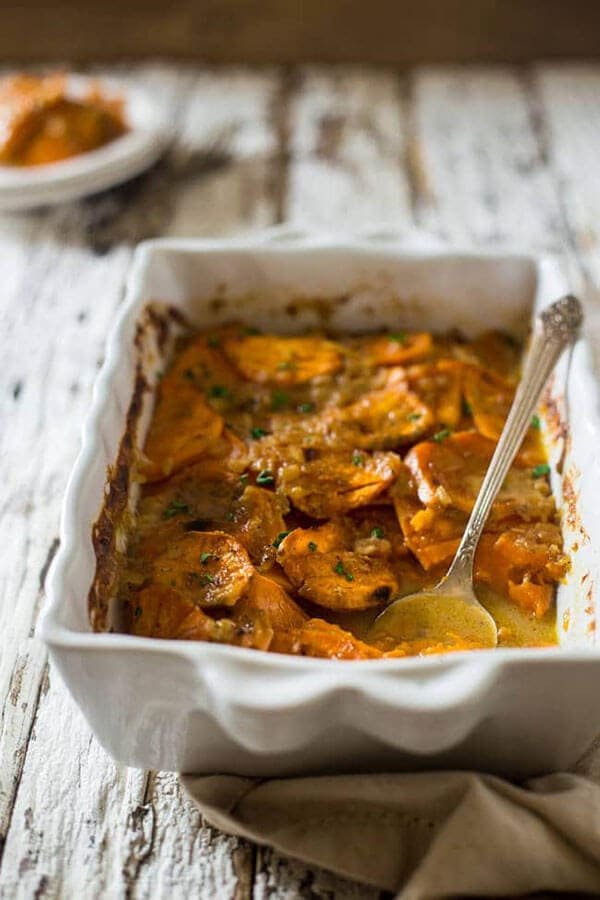 Recipe - Food Faith Fitness
9. Brown Butter Green Beans with Toasted Almonds
Easy and crispy, the green beans are baked with creamy butter flavor! Topped with toasted almonds, which are chopped and added as a beautiful garnishing is a marvelous creation only by A Cedar Spoon! You can introduce this as a side.
Recipe - A Cedar Spoon
10. Roasted Brussels Sprouts with Pomegranate
The roasted Brussel sprouts with pomegranate sauce is a dish for which one can die! The View from Great Island makes the recipe with the presence of healthy Brussels sprouts, which you can enjoy as a side dish to the main course.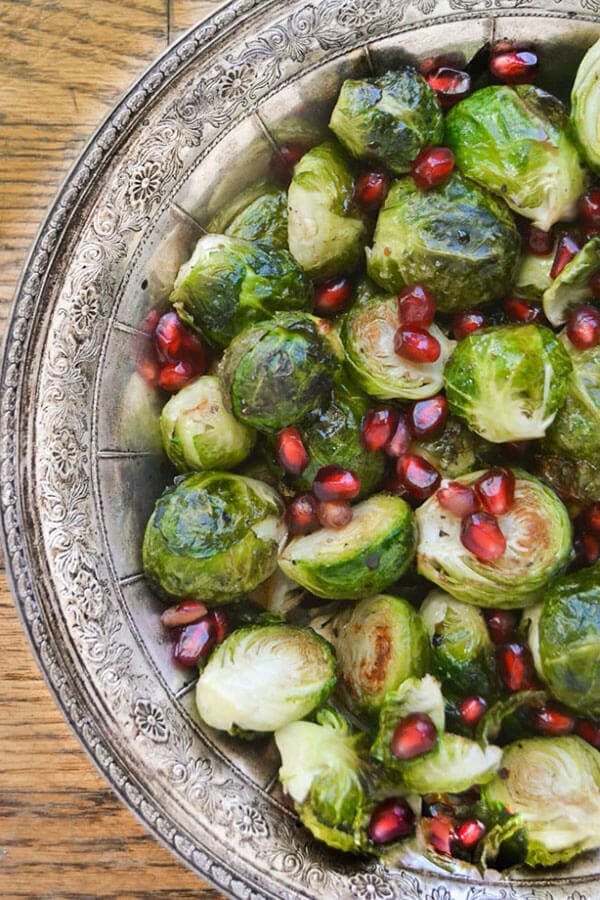 Recipe - The View from Great Island
11. Healthy Waldorf Salad
Made with the presence of cranberry and jicama, the recipe of the refreshing Waldorf Salad is refreshing, and you should incorporate it into your diet plan. The recipe is presented by The Adventure Bite and is such an exotic choice of recipe that you can enjoy it with a hearty meal.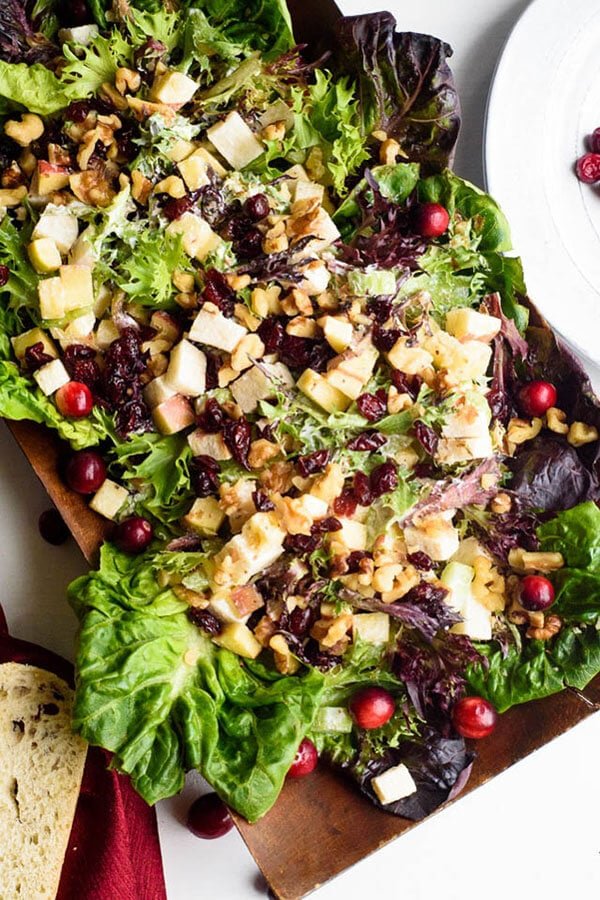 Recipe - The Adventure Bite
12. Harvest Quinoa Salad with Pumpkin Vinaigrette
The creamy and delightful salad with quinoa is fantastic and a creation by A Mind Full Mom. Topped with rich pumpkin vinaigrette dressing, the dish is brilliant to serve even to the guests. Check out this recipe for a salad for sure!
Recipe - A Mind Full Mom
13. Sausage and Mushroom Stuffed Acorn Squash
The acorn squash is scooped out of its content and then filled with sausage and mushroom. That is such a ravenous option indeed. The Girl on Bloor makes the recipe, and you shall be delighted to try out this recipe for the holiday season.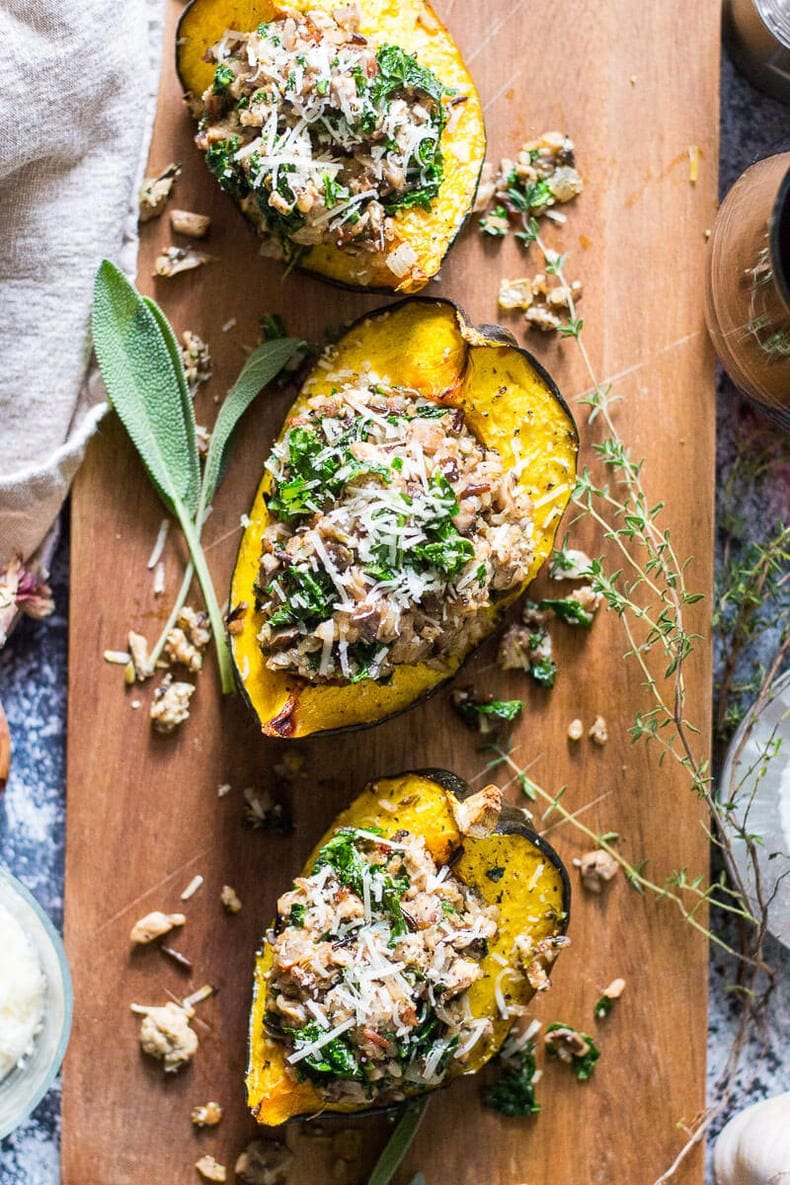 Recipe - The Girl on Bloor
14. Healthy Thanksgiving Pumpkin Chutney
Here is a jar full of seasonal pumpkin chutney that is gorgeous and made by Eat Well 101. Ravishing and enjoying anything like the main course or side dish, the chutney option is great to relish and experience something exciting.
Recipe - Eat Well 101
15. Creamy Carrot Ginger Soup
Fresh ginger and carrots are used to prepare this soup, a creation exclusively by Skinnytaste! If you are fond of veggies, you have come to the right place. The thick and creamy soup is lovely to try out!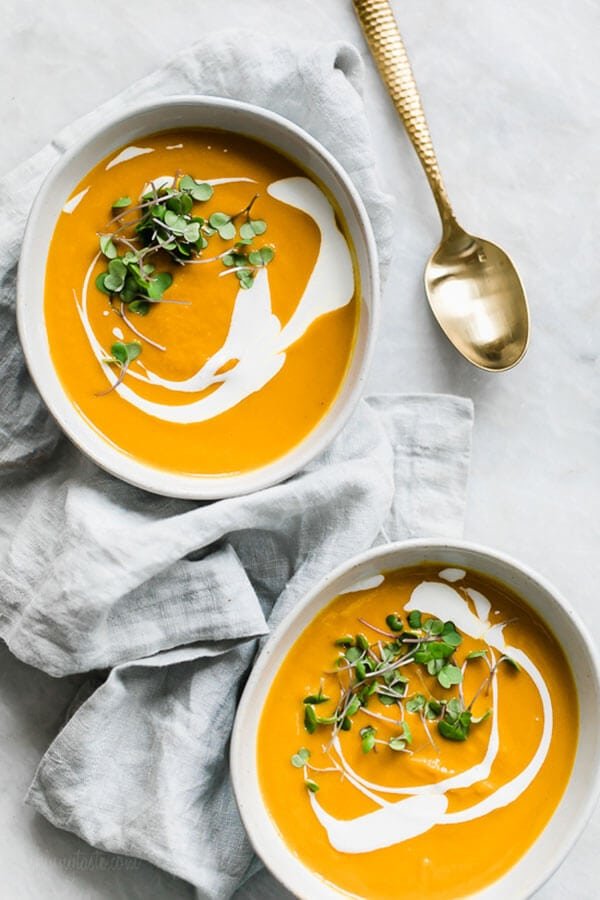 Recipe - Skinnytaste
16. Healthy Sweet Potato Skins
We have come up with the sweet potato skin that is stuffed with fillings that are so amazing indeed! The recipe is made by Pinch of Yum and is such an exotic recipe that you will love to have as an appetizer to the grand brunch menu.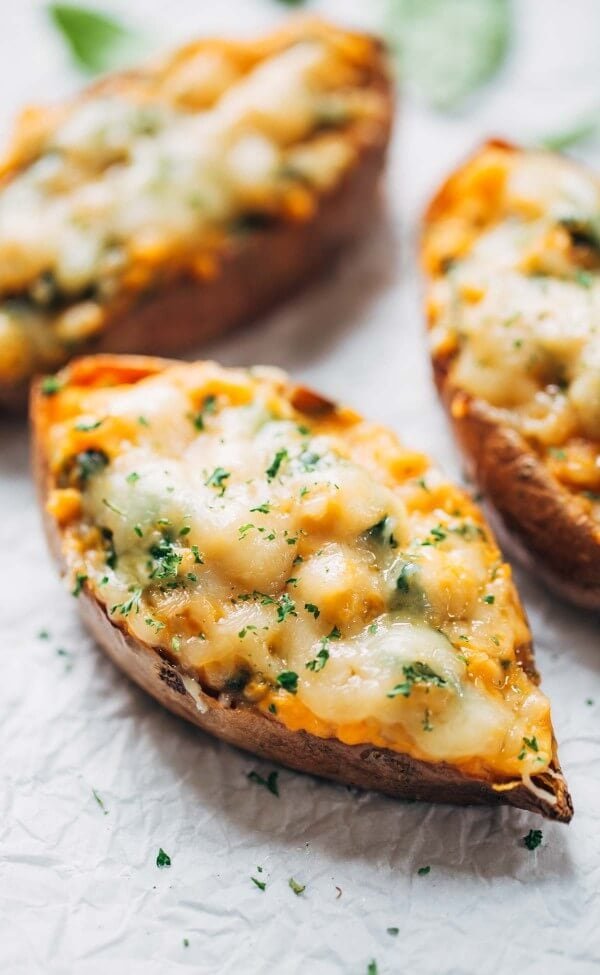 Recipe - Pinch of Yum
17. Baked Chicken Breasts
All you need is the patience to go through five easy steps to make the baked chicken breasts which are exotic and a creation of Gimme Some Oven! Check out this dish which is brilliant and such a succulent and drool-worthy option for chicken lovers.
Recipe - Gimme Some Oven
18. Grilled Veggie Salad
Here is another salad loaded with the flavor of myriad veggies and the Balsamic dijon dressing on top! You can check out the recipe at Simply Sissom to enjoy the succulent and fresh grilled veggies as a starter to the main course.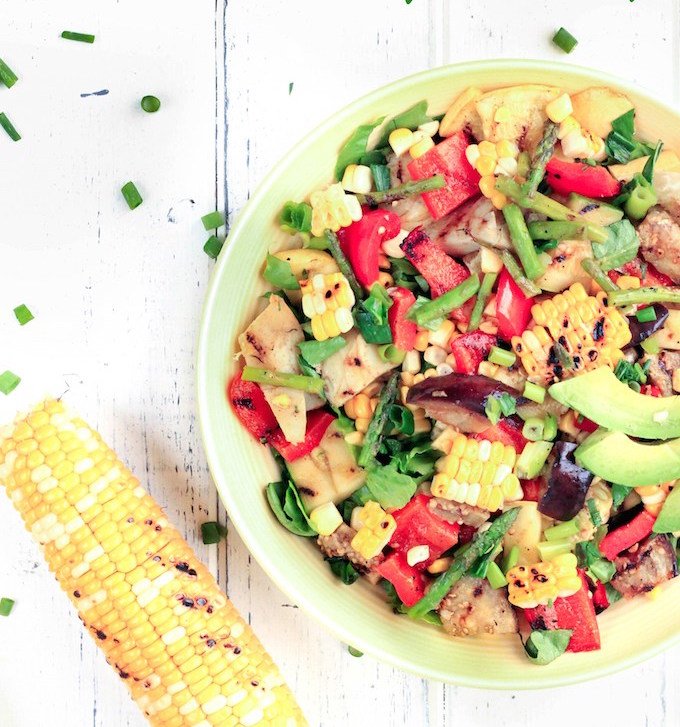 Recipe - Simply Sissom
19. Creamy Vegan Pumpkin Soup
Here is the best fall recipe you will be thrilled to try out! Rich and thick in consistency, such a comforting option it is indeed to indulge in the creamy vegan pumpkin soup! Avocado Pesto presents the recipe.
Recipe - Avocado Pesto
20. Cinnamon Brûléed Sweet Potato Purée
How can we miss out on the very best sweet potato puree? The recipe is present at Foraged Dish with the rich essence of cinnamon bruleed.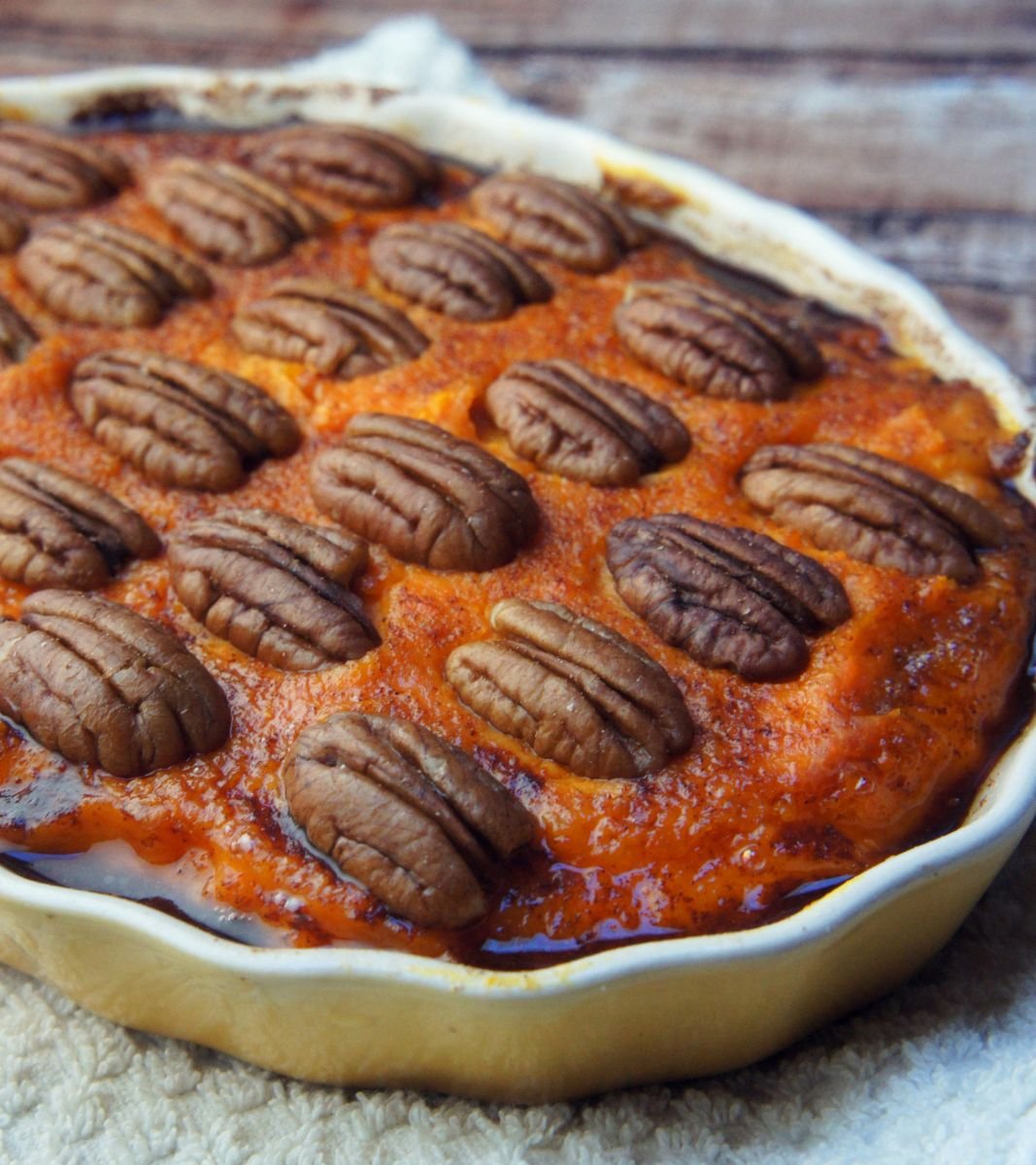 Recipe - Foraged Dish
21. Whole-Grain Skillet Cornbread
The creamy and moist skillet cornbread is sumptuous and a creation of Simply Sissom. If you are looking for a delicious and tender homemade bread recipe to accompany the grand meal, then you must consider the idea of skillet cornbread which is made from whole-grain and hence such a healthy choice.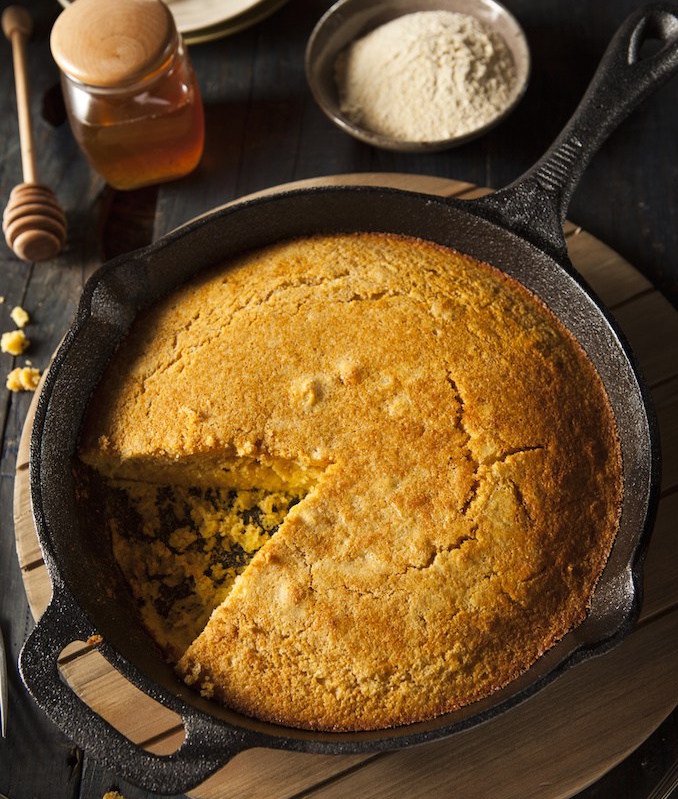 Recipe - Simply Sissom
22. Pork, Butternut, and Mushroom Stuffing
Classic and rich, the mushroom stuffing is brilliant, and you should try out this recipe which is wholesome and made by Foraged Dish with the presence of meaty pork and butternut in it.
Recipe - Foraged Dish
23. Maple-Dijon Roasted Brussel Sprouts
Bursting with flavours, the roasted Brussel sprouts are tempting and such an extraordinarily good recipe by Simply Sissom. The rich and yummy maple-dijon sauce topping on the roasted sprouts makes them even more ravenous and irresistible.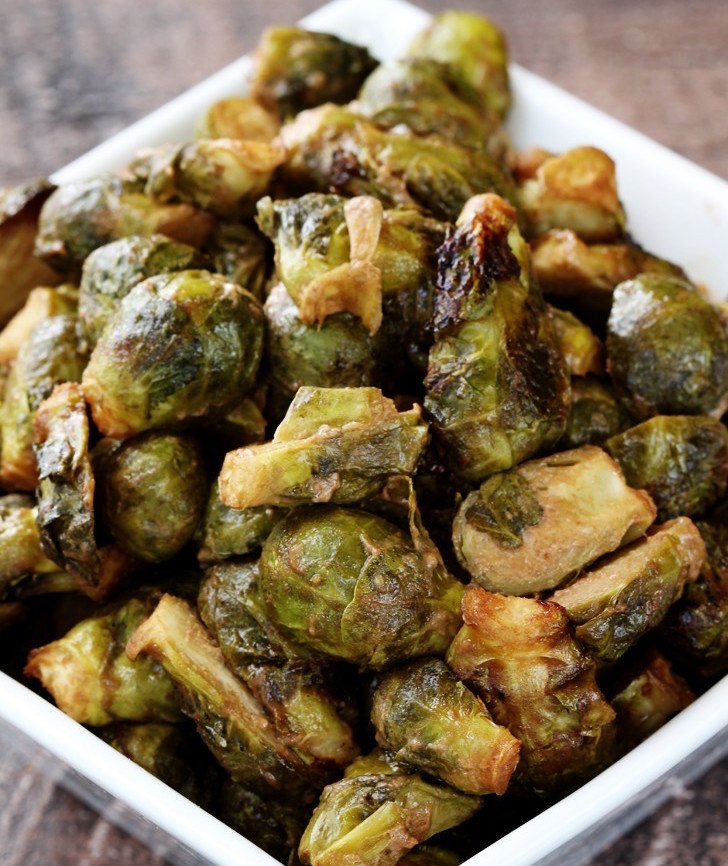 Recipe - Simply Sissom
24. Whole Food Apple Sausage Stuffing
Made with two kinds of bread, the whole-food apple sausage is brilliant and made by Simply Sissom. Here is an exotic recipe that you can make for the holiday season! Perfect to relish for snacks in the evening to fill yourself.
Recipe - Simply Sissom
25. Healthy Mashed Carrots
Instead of opting for mashed potatoes, we have tried out the same recipe with seasonal veggies like carrots. The recipe is a creation of Tastes Lovely, and you can enjoy it with a dollop of butter that you can serve on top of it.
Recipe - Tastes Lovely
26. Easy Apple Crisp
Here is the traditional and authentic apple crisp that you can make in the holidays for a refreshing breakfast! The recipe is made by Gimme Some Oven, and you must be so thrilled to try out this recipe as a tasty treat in the morning.
Recipe - Gimme Some Oven
27. Paleo Pumpkin Pie
The gluten-free pie and paleo-friendly dishes are fantastic, and you should try them out for the holiday season. The dish is a creation of The Roasted Root, and you should try out this recipe which is simply out of this world.
Recipe - The Roasted Root
Read also: