Americans spend over $22 billion a year on electricity to bring their homes to the right temperature, but how many actually worry about the aesthetic qualities of HVAC systems? Some of the hottest trends in home heating and cooling include a growing interest in sustainability and low-energy-consumption systems, but more and more homeowners are also seeking discreet, smart HVAC systems that blend in with home décor styles. If you are building a new home or installing a heating and cooling system in your existing home, how can you do so in a visually appealing way?
Jump to:
Ceiling Cassettes
Ceiling cassette air systems are easy to install and present a seamless, flat appearance that does not wrest attention from a home's main design features. They offer the flexibility of cooling or heating, and their versatility essentially eliminates compromising architectural or design features. From their lofty position, these systems swing air up and down, delivering comfort to the high and low points of a room, and filling spaces with high ceilings. They also aerate rooms from left to right, meaning that large spaces are evenly heated or cooled.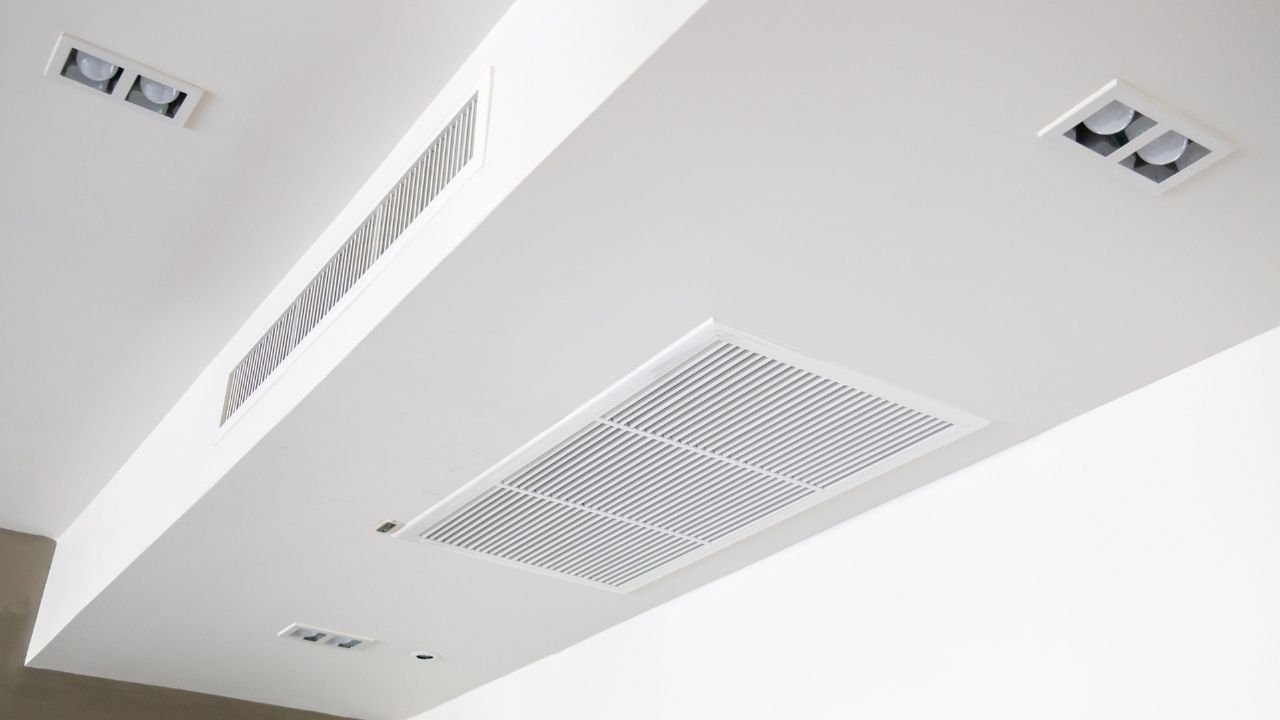 Budget-watching homeowners who take steps to lower their water heater repair cost know that even top-quality machines sometimes pose problems such as noise, leaks, or low water amounts. They are also, however, rather unattractive contraptions that are usually kept in a boiler room, garage, or other unseen space.
Designers are finding clever ways to make water heaters less of an eyesore, however, while maintaining easy access when heaters need to be repaired, maintained, or replaced. These include the use of faux cabinet doors in areas like the kitchen to house water heaters, water softeners, and other bulky equipment.
Clever Architecture
Homes with various HVAC entrance points can hide heating and cooling elements behind built-in frames and screens. Home designers can also choose to hide these points behind furniture containing self-ventilation, holes, or gaps between horizontal frames in wood or iron. When placed in front of entries, these items add decorative elements without obstructing the flow of air throughout the room. An artistic element can be added via the use of latticework to cover vents, as well as the use of art in similar or contrasting materials to call attention away from the vent itself.
Urban Inspiration
If you own a building or large home with ductwork, you can decide to turn the latter into a key design feature that harks to urban, futuristic cityscapes for inspiration. These days, designers are creating veritable artworks from ceilings containing pipes that span the length of the ceiling, crossing other pipes at unique angles and levels. Ductwork stands out in gleaming silver, but it can also be painted for a totally different feel (think bright, bold color blocks or simply black and white hues for a minimalist space).
Some homes and offices have a single tube above windows and are accompanied by recessed lighting and discreet vents for a modern, urban yet cozy overall look. In some cases, tubing is suspended from the ceiling with metal 'strings', or curved into an attractive shape that naturally follows the room's angulation. Tubing can also be accompanied by LED lighting that embraces both angular and curved components of the system, changing color if desired as the seconds go by.
Designer Air Conditioners
High-end wall air conditioners look like anything but the standard bulky system, with features such as curved designs, all-black or metallic designs, and 'air curtains' arising from the machine itself turning systems into focal points of a room's design. For ideas on how great these systems can look, check out designs such as Eugene Balan's air conditioner, containing swirls and curves that lend the unit grace, Fujitsu's KE Designer Series (which comes in chromatic silver or pearly white hues), or Hitachi's RAF-50QHB unit, which boasts an ultra-flat, rectangular design in appealing colors like beige and chocolate.
These units not only look good but also keep power consumption down since they boast compressor and inverter technology that enable rooms to reach the required temperature quickly while reducing the required compressor rotation speed. Investing in a new wall air conditioner may, indeed, be useful if energy saving is your priority since you can look forward to saving around 30% in energy usage when compared to older systems. When installing a new system you will want to look for professional air conditioning services in Utah or installation services in your area, to ensure that the unit is safely and correctly fitted and you can relax and enjoy your new cooled living space!
HVAC systems are installed to keep homeowners and office workers warm or cool at appropriate times of the year, but these days, they are anything but an eyesore. From artistic ductwork to discreetly hidden water heaters, HVAC components are as visible or absent as their owners wish them to be. Creativity and consideration of possible ways to turn machinery into design features are making for more unique, appealing HVAC systems that can have more than a utilitarian purpose.
Read also: