Before you walk down the aisle at your beach wedding, there are a few things you should know. If you're considering a destination wedding and staying at an all-inclusive resort like Beaches or Sandals, you may ask most of these questions ahead of time to your wedding planning team. They'll tell you all you need to know about being married on the beach and assist you in finalizing all of the arrangements before your big day.
Do you want to know how to organize a seaside wedding? The following are some considerations to bear in mind:
Jump to:
1. Make sure that everyone participating can get to the beach
After they've chosen and fallen in love with a seaside wedding venue, many people forget the accessibility aspect. Remember to consider your visitors' convenience, as well as how simple or difficult it will be for them to travel to the site from a major road. This may impact the ease with which seats, tablecloth linens, and even food delivery can be put up and transported. Make sure your location isn't too difficult to reach, and if it is, make the necessary precautions.
2. Make sure your vows aren't drowned out by the sound of the waves
Nothing beats a romantic stroll along the beach while listening to the waves breaking against the coast. This is a totally other situation when you're attempting to exchange vows. Get a professional sound system and figure out how to get it powered up on the beach to work around this.
For the officiant, you may rent or purchase a cordless microphone and speaker. Another alternative is to get a windshield for your microphone, which will keep the wind from overpowering what you're attempting to say. Check with your wedding planner or resort to see whether these items are available to rent or buy.
3. Make your decorations wind-resistant
You'll need to adjust your decor for the outdoors, particularly if you live somewhere windy. This implies that extravagant flowers, tall candles, chair covers and even breezy ribbons and balloons, which might be blown away by the wind, should be avoided. Use durable decor and stay away from breakables. Secure everything you can't live without (such as name tags, pictures, and so on) using glue, a spring, or anything heavier on top to keep them in place. When it comes to flowers, make sure you pick types that can withstand hot temperatures and won't wilt before the wedding even starts.
On the beach, chrysanthemums, calla lilies, king protea, and orchids work nicely. Don't know whether flowers would go with your theme or don't want to take a chance? To add some color to the occasion, use items such as fruits or shells.
4. Ensure that there is some shade
It's just as essential to remember that visitors will be exposed to the elements in an outside setting as it is to prepare for wet weather. Keep everyone comfortable, especially in hot regions, by holding your ceremony in the morning or late afternoon when the sun is at its most kind.
You should also consider shade, particularly for the benefit of elderly persons and children. It's important to keep an eye on the weather forecast for beach or outdoor weddings so you know what to anticipate. To keep everyone cool, you may purchase a canopy to cover the sitting area or bamboo poles covered in light, white cloth.
5. Food storage for fingers: keep it cold!
Food storage is a major concern if you aren't being married at a resort. In hot temperatures, food that is meant to be refrigerated may spoil fast, so choose carefully. This is also something to bear in mind when choosing a cake — buttercream-based cakes may struggle in the heat. As a general rule, avoid picking anything that may quickly melt or spoil.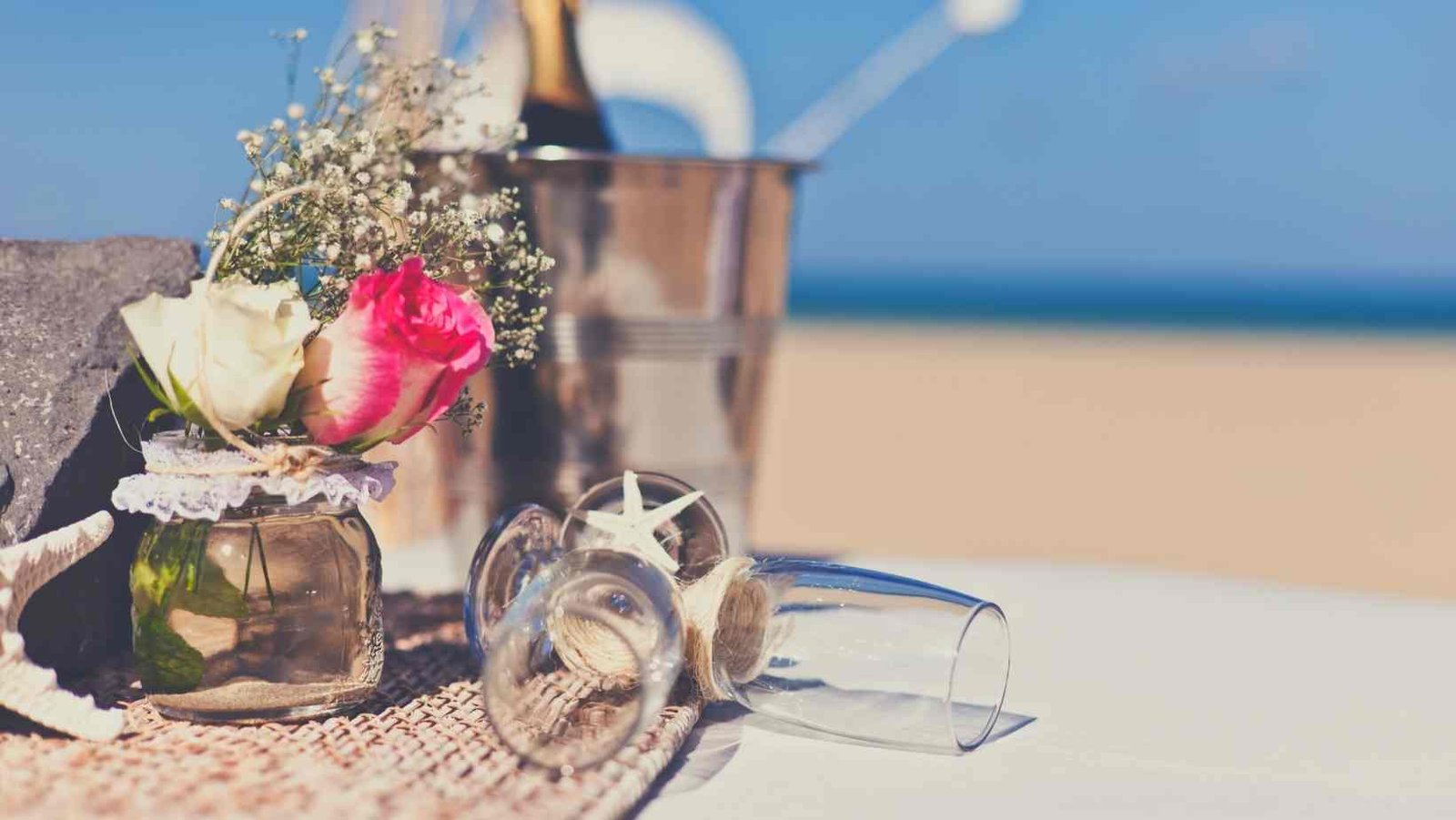 6. Dress appropriately for a beach wedding
Your wedding day is the most significant day of your life, and you'll want to dress accordingly; but, because you'll be on the beach, you'll also want to wear something that won't make you overheat.
A beautiful beach wedding requires preparation, which is exactly what you can anticipate when you book a Beaches wedding-included (with restrictions) holiday. For starters, you'll have someone there to guide you through the whole procedure, ensuring that you don't feel overwhelmed. Here's what you can anticipate from Beaches or Sandals as you arrange your wedding.