Get creative with Keto and boost your health with these delicious and easy Keto Cauliflower Recipes! Try out these simple recipes today to reap all the health benefits of Keto without sacrificing flavor. Get started now!
More collections: Keto Sauce Recipes, Keto Coconut Flour Recipes, Keto Bread Recipes, Keto Cream Cheese Recipes, Keto Bowl Recipes, Keto Salad Dressings, Keto Pizza Recipes, Keto Salmon Recipes, Keto Meatball Recipes, Keto Pasta Recipes, Keto Zucchini Recipes, Keto Chocolate Desserts, Keto Ham Recipes, Low-Carb Keto Cake Recipes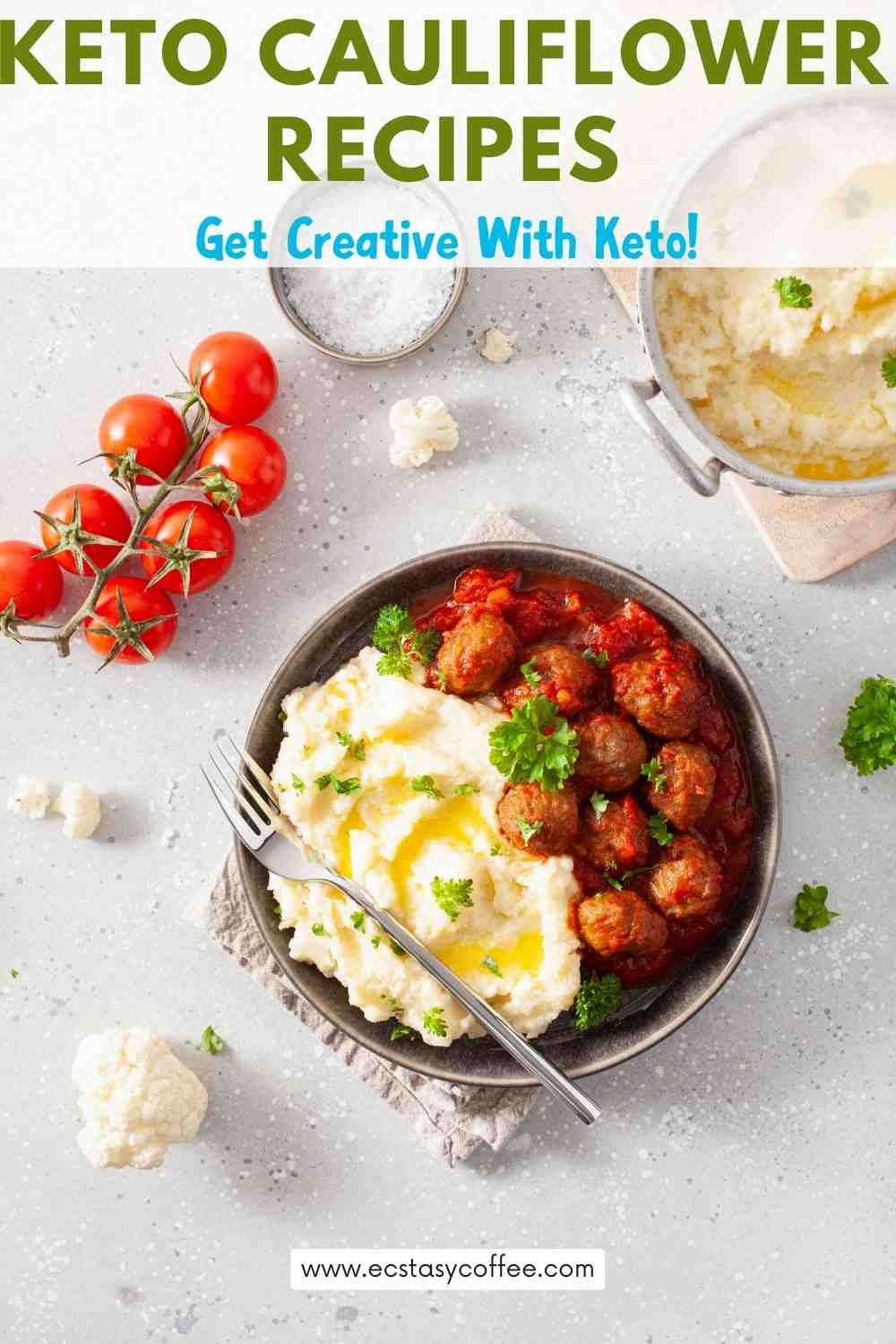 Cooking cauliflower is no big deal but sometimes, actually, most often it happens that either you end up cooking it too long turning it into a melted mess or you end up with an undercooked batch of florets!
However, we have an article penned down just for you so you can enjoy your cauliflower exactly the way you want! Of course, since keto is our main course, we will shed light on keto cauliflower recipes as well. So without any more delay, let us get started with the preps, shall we?
What is a cauliflower?
Cauliflower has undeveloped white florets which are attached to a main stem. It forms a compact cabbage-like structure which is called the curd. It has a diameter of six to seven inches more or less. There are long green leaves which are arranged at the bottom.
These leaves are responsible for preventing the sunlight from reaching the florets so they do not develop chlorophyll. Cauliflower is more or less similar to broccoli although the former is denser in structure and both vary in their flavors considerably. Cauliflower has a creamy and nutty flavor! These are sweet and although we mostly have the white portions, the green leaves are edible as well. 
Where can you use cauliflower?
Well, cauliflower is a universal veggie that can go with anything you want, especially when bought in the right season the veggie tastes even better! You can either choose to eat the florets and the leaves raw or even choose to cook them! However, the crunchy texture will be lost as the florets will turn tender on being subjected to heat.
You can add cauliflower to your salad or pack them as a side dish along with other veggies and even meat. Other ideas include fries, pasta, quiches, omelets, soups, stews, and so on. In case you do not have cauliflower in the refrigerator, it is interchangeable with broccoli too but the taste will vary slightly.
This is to be noted that cauliflower is available all around the year so you can buy them whenever you want. However, the ideal season is during the spring and fall when the freshest cauliflower is available in the market.
What is the right way to store your cauliflower?
If you have extra cauliflower in the house and are wondering how to store them right then here is what you need to learn. The preferable way to leave them unwashed as you store them! Excess moisture on the surface can reduce their longevity. You may use an open plastic bag or a formatted bag so that the florets can breathe.
A whole cauliflower will last up to five to seven days in the refrigerator although precut florets on the other hand can only be stored for a couple of days. Cooked dishes of cauliflower also last as much as two days so you are expected to eat them before that.
How to know which is the right cauliflower to buy
If you are confused about what to check in your cauliflower for freshness then here is a column that will enable you to pick the right veggie for yourself. A thick, compact head of creamy florets is an indication that your veggie is fine and fresh.
The leaves should also be bright green and the weight of the cauliflower should be more compared to their size. Do not buy them if they bear any kind of blemishes or the florets have turned brown.
Delicious Keto Cauliflower Recipes - The Best Low-Carb Recipes
Delicious and crusty, if you want something nice to do with your cauliflower then we have a wonderful idea for you.
Crunchy and cheesy, you should keep a bowl of ketchup on the side to dip and devour. Serve this one as a healthy snack idea.
Now make your hash browns with cauliflower! Delectable, crunchy, and rich in taste, you ought to give it a try!
Tender and packed with great taste, the recipe is so easy to emulate. So what are you waiting for?
Here is a healthy veggie casserole that you can try out with cauliflower florets!
Delicious, gooey, and creamy, you shall be smitten that veggies can taste so good. This is a keto-friendly dish that is low on carbs and perfect to suit your diet.
Here is another delightful recipe that you should make if you want something spicy to do with your cauliflower!
Crunchy, flavorful, and low on carbs, you can enjoy as many as you want with the slightest hint of guilt.
Crunchy, delicious, and packed with great taste you must try out your keto cauliflower fritters at home with the recipe that is right here.
Packed with ham and cheese, the surprise only doubles! What a delightful treat for the taste buds.
Ah, here is a modified version of the classic mac and cheese! This keto recipe is lovely and loaded with great taste!
Savory and packed with an enriching taste of smooth cheese, you will definitely drool for the dish.
Well if you find yourself feeling hungry during the evening and do not wish to fill yourself up completely, then the cauliflower poppers are the best as light snacks!
This is an authentic Italian dish that you must indulge in.
Well, if you are in the mood for something nice and crunchy, then the keto cauliflower wings are exactly what you need for a treat!
Drizzled with herbs and tasting so flavorful, you ought to make this one right away. Shall we then?
Ah, if you want something delicious and crumbly then the cheesy cauliflower bites are exactly the best treat of the season!
Sweet and savory, make your veggies extra special with the recipe they have right here. Let's make it then?
Well, creamy keto cauliflower mac and cheese is a new way to make your pasta!
Trust us that you are going to enjoy this dish so much! Flooded with cheese and herbs, do give this one a try for sure.
Well, a cauliflower lover will definitely love this idea of indulging in sesame cauliflower which is a unique idea to make this season!
Saucy and rich, the crunchy cauliflower tastes so good. So what are you waiting for? Make this one right away.
Well, salads can be yummy too! Change your notion about salads with this exciting recipe that we have for you right here!
The combination of potatoes and cauliflower is simply the best. Try out this one and let us know how much you like it.
The cheesy baked keto cauliflower is lovely and loaded with great taste!
Smooth, luxurious, and creamy, this dish is so easy to make that you will not believe your eyes how fast it gets cooked.
Yup, fifteen minutes is all that you need to get the mashed cauliflower recipe made.
Delicious, rich, and gooey, this is an incredible treat for the taste buds.
Ready in no time, you can replace potato mash with cauliflower and see how wonderful this dish turns out to be!
Crusty and delicious, this garlicky cauliflower recipe is the best to indulge in this season.
Delectable and cheesy, you must make this one and indulge in its blissful taste.
Make yourself some cheesy cauliflower bites with the recipe that is right here! Creamy and crunchy, it will be so hard to tell that these are cauliflower!
Make snacks with tea and enjoy to your fullest. Let's get started with the preps then.
Different from your ordinary pizza crust, you can now make your keto pizza with cauliflower!
Yup, that is right! Delicious and healthy, this one is low on carbs and packed with other nutritious components too.
The best part is that you can hardly resist yourself after the first bite.
Now you can make yourself cauliflower tortillas as well! Delicious and tender, the recipe is lovely and loaded with great taste!
Packed with veggies and herbs, this batch of tortillas certainly tastes so different. You are later going to come back thanking us for the idea.
A replica of your favorite mashed potatoes, it will be so hard to tell the difference!
Drizzled with bacon chunks and spring onions, the recipe is so easy to emulate and so fulfilling in every bite.
So what are you waiting for? Make this one today.
The combination of cauliflower with cheese is a match made in heaven! The pair never fails to surprise your taste buds!
Smooth, delicious, and savory, you ought to give it a try.
Other ideas you should check out: Thanksgiving Side Dishes, Halloween Main Dishes, Healthy Keto Dinner Recipes, Low-carb Vegetables, Comfort Foods, Instant pot recipes, Christmas Ham Recipes,  Sweet Keto Candy Recipes, Keto Pie Recipes, Keto Cheesecake Recipes, Delicious Halloween Cakes