Satisfy your sweet tooth without guilt! Check out our selection of delicious keto cookie recipes - all low-carb, all delicious! Try our best keto cookies today & whip up guilt-free desserts!
More collections: Low-Carb Keto Dip Recipes, Keto Mushroom Recipes, Keto Tofu Recipes, Keto Smoothie Recipes, Keto BBQ Recipes, Keto Sausage Recipes, Keto Burger Recipes, Keto Donut Recipes, Keto Seafood Recipes, Dairy-Free Keto Recipes, Keto Pork Chop Recipes, Keto Fish Recipes, Keto Ground Turkey Recipes, Keto Cabbage Recipes, Keto Pumpkin Recipes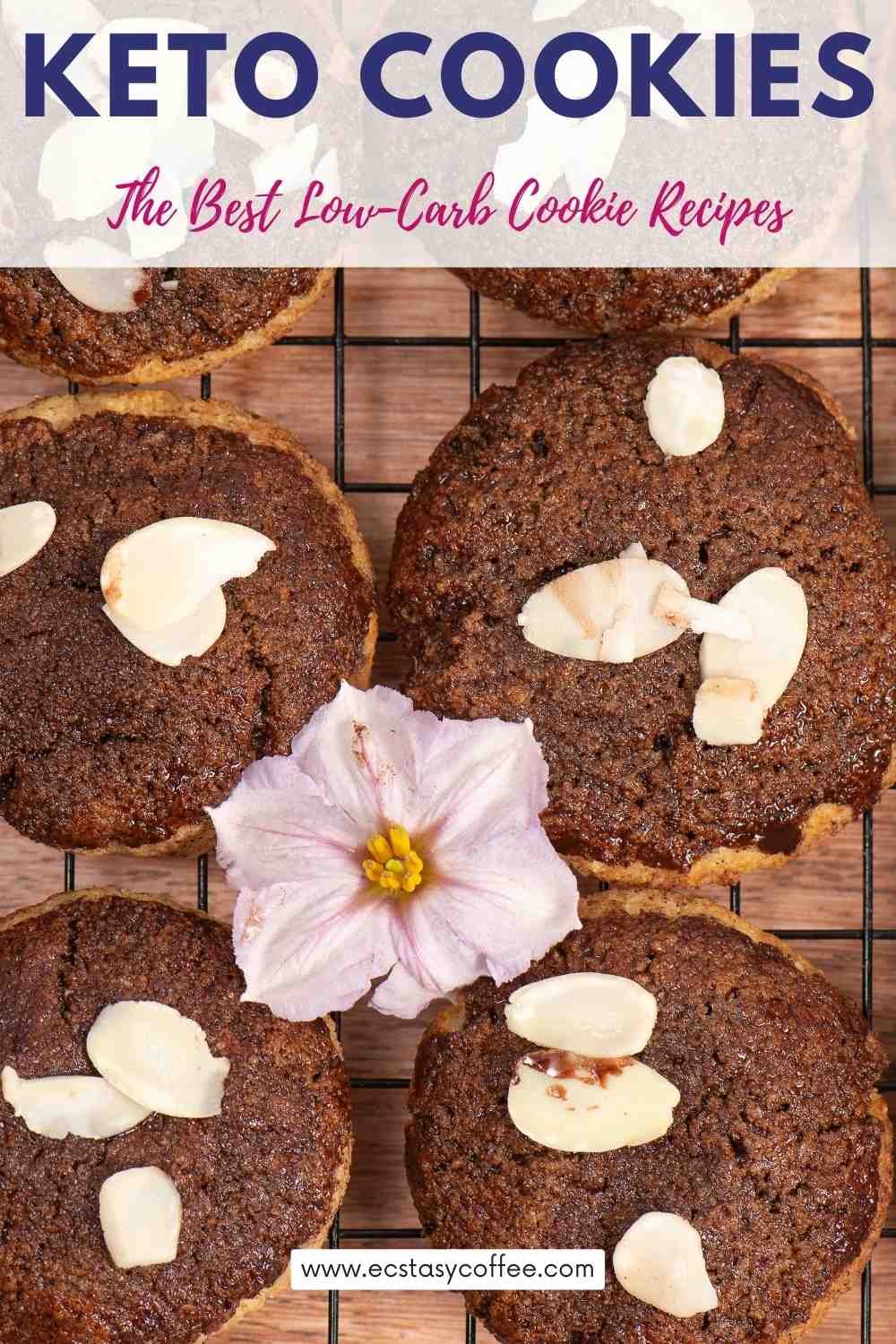 Ah, so we see! You are on a diet and find it so hard to stay away from desserts and cookies! The Keto diet can be confusing and it requires you to indulge in low-carb items.
Well, as we all know cookies are made with flour and rich carbs! So if you wish to make them keto-friendly then you have to focus on low-carb alternatives! Don't worry! This is just the beginning! Soon we will share every insight with you so you do not end up in trouble while baking! Put on your baking mittens as we have twenty exclusive keto cookie recipes lined up ahead for you.
What are keto cookies?
Basically, cookies are made with all-purpose flour! This is rich in carbs and as a keto dieter, you have to give up on such cookies! Then what can you make? We understand you would hate to give up on cookies while at the same time compromising your diet is not a good option as well. So what can we do? Bake cookies that are devoid of carbs!
In other words, use some low-carb flour like almond flour and so on. These are not only low in carbs but also packed with rich fat which you certainly need as a part of your diet plans. Hence you can still ensure that your body stays within the cycle of ketosis as you enjoy lovely batches of cookies too.
What are some of the ingredients you need for keto cookies
Now if you are wondering what makes a keto cookie keto then we have the answer to your query! Read on to find more. For example,
Almond flour- yup, you read it right! Almond flour is a flour that is derived from nuts and hence low in carbs and rich in fat! You can use almond flour to make the cookies. Keto desserts like cheesecakes can be prepared with almond flour.
Coconut flour- You can also opt for coconut flour which is low in carbs and high in fat! This makes them ideal for baking cookies and so on.
What are some of the sugar substitutes- brown sugar or any kind of powdered sugar may not be used for making keto cookies! Then what do you need? There are artificial sweetening agents like erythritol, stevia, or monk fruit sweeteners.
What are some of the healthy fats- Well to make your keto cookie come alive you need some fats as well! These include butter, coconut oil, almond butter, and so on.
And of course, you need eggs too! Apart from these ingredients, there are several other items that you will need but those will depend on the recipe that you are following.
Is it healthy to munch on keto low-carb cookies?
If you are wondering whether you can munch on keto cookies even if you are not on a keto diet then let us tell you irrespective of whether you are on a keto diet or not, keto and low-carb cookies are fantastic and healthy too! Being low on carbs, if you are a patient with blood sugar then these cookies will help you to keep the former under check. Such cookies will also help you in weight management in case you are dealing with obesity.
Well, that brings us to the end of the first segment! By now, you are more or less aware of what keto cookies are! Now let's find out some recipes that you can indulge in.
Delicious Keto Cookies - The Best Low-Carb Recipes for Guilt-Free Desserts
Packed with loads and loads of chocolate chips, here is something that you will definitely find fascinating and rich in taste.
Chewy and rich, you ought to give it a try! Thank us later for the idea. We are sure you will be tempted to make more and more.
Crunchy and crumble, these chocolate chip cookies will remind you of the time from your childhood.
Nostalgic and sweet, this is a great source of delight for the taste buds. Shall we make it then?
Making the Snickerdoodle cookies is lovely and loaded with great taste! Delectable and healthy, this one is a gluten-free recipe that you should try out while you are on a keto diet.
Let's get started with the prep then. Shall we then?
Packed with chocolate chips, and nuts, the keto magic cookies are loaded with great taste!
Delicious and rich, magic cookies are a unique idea that you should not miss out on. Sweet and savory, these cookies are one of a kind.
Coming up with the chocolate chip cookies is super easy with the recipe that we have got you here!
Crunchy, crumbly, and delightful, you shall be smitten with the whiff of chocolatey freshness and delicious flavor melting your mouth at every bite.
Yup, that is right! All you need are five ingredients to come up with these gorgeous cream cheese cookies!
But do not worry! It is completely keto friendly and you shall be smitten by its taste! Serve with tea in the evening and enjoy to your fullest.
Are you fond of butter cookies? Well, then you have to make this smooth and crunchy pecan cookie by yourself!
Savory and flavorful, you can easily get it done even if you are not an expert in baking.
Ah, something that will certainly make you drool! That is right!
So if you are fond of cookies and find it hard to stay away from their blissful taste, then here is something that we are sure you would love to relish.
The classic keto peanut butter cookies.
No wonder these cookies are viral for a reason! The keto no-bake cookies are lovely and loaded with great taste!
Crunchy and gooey, there is everything you would find drool-worthy. In the end, the best thing is you do not have to bake so the process is so simple.
Here is something delightful and decadent for cookie lovers! We have these brilliant keto cookie recipes for you lined up here so you can enjoy a delightful dessert!
Munch on your crunchy pecan sandies with the tea!
The smooth and savory butter cookies are delightful and flooded with a smooth essence!
Rich and cozy, you ought to give it a try! Ready in no time, you are up for a surprise.
Here is something for cookie lovers! Being on a keto diet just got better and more exciting with the recipe that we have for you right here!
Without having to deal with the hassle of baking, you can hardly resist yourself.
If you are looking for a crispy side with tea in the evening then we can suggest you sometime nice and crumbly!
Easy to bake, the keto cowboy cookies are rich in taste and such an excellent treat to relish.
Ah, here is a delightful recipe for the keto dieters! Rich in taste and packed with the strong and bold flavors of pulpy apples, you must make this one.
Kids to adults, everyone will love these cookies.
Making keto oatmeal cookies is super easy and especially with the recipe that we have for you right here, we can guarantee the task will be so simple and the outcomes splendid.
Serve it to your little ones with milk before they head to bed.
Ah, well here is another crunchy and crumbly cookie recipe that we are sure you will find yummy to munch on!
Refreshing and cozy, this one turns out to be the best option. Shall we then?
These sandwiched cookies are the ultimate treat for the keto dieters!
If you are extremely bored with your diet and want something sweet and luxurious to lift your mood then this recipe for Milano cookies is meant for you. Shall we then?
Are you fond of cookies? Well, then you have to give this extremely yummy and delectable cinnamon cookie a try!
Stuffed with cheesecake, these will certainly make you drool for more. Do not forget to share your feedback with us.
For the keto dieters who find it hard to stay away from cookies, we have found you the best of its kind!
The rich chocolate marinated tagalong cookies are filled with stick caramel sandwiched between the two layers of biscuit.
A wonderful idea to describe in a few words.
Well, that is what you need! Exactly! Three ingredients and that is all to come up with these wonderful and rich almond butter cookies!
Crunchy and crumbly, you must give it a try for sure.
Other ideas you should check out: Keto Cream Cheese Recipes, Low-Carb Keto Cake Recipes, Christmas Cookies Recipes, Thanksgiving Cookies, Keto Thanksgiving Recipes