Satisfy your cravings without breaking your keto diet. Here are easy keto pasta recipes that will satisfy your hunger without sacrificing flavor. Try them today and discover why low-carb diets don't have to be boring.
More collections: Keto Pie Recipes, Keto Ground Pork Recipes, Low-Carb Keto Muffin Recipes, Keto Pork Rind Recipes, Keto Sauce Recipes, Keto Coconut Flour Recipes, Keto Bread Recipes, Keto Cream Cheese Recipes, Keto Bowl Recipes, Keto Salad Dressings, Keto Pizza Recipes, Keto Salmon Recipes, Keto Meatball Recipes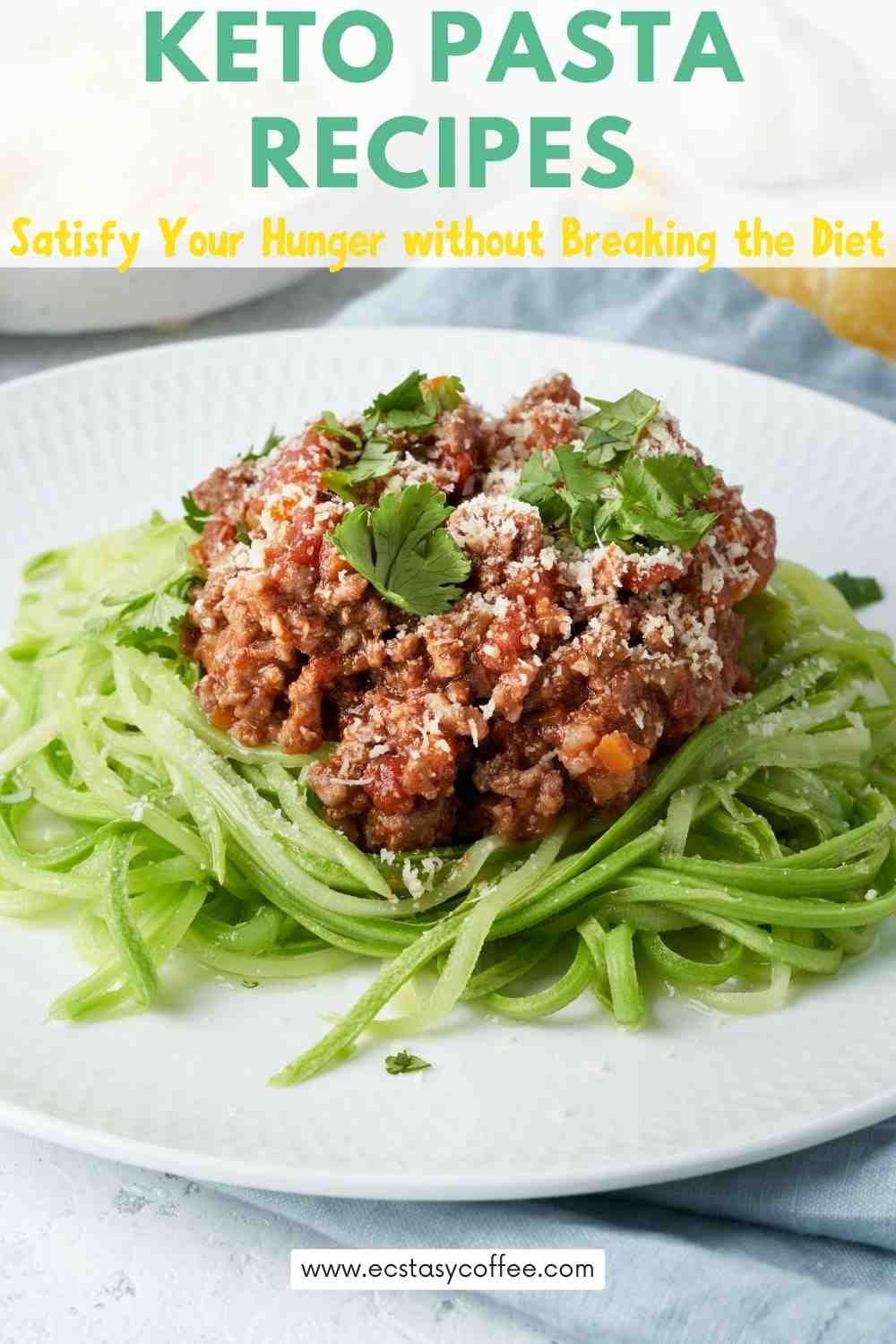 When you are into the stage of ketosis, there are several restrictions in your diet that will come along. Remember, that even a minimal amount of carbs at this point can destroy your entire effort and you definitely do not want that! Then what can we do about it? Do we need to give up on our favorite pasta altogether? Well, of course not! You can enjoy your keto pasta now without any worries. Today we will share all the information associated with making keto pasta at home! So stay hooked and read on!
Can you have pasta when on a keto diet?
This is a good question to ask yourself! In fact, every time you are consuming something during the day, do a quick check of the ingredients so you are aware of what exactly goes into your body. During the stage of ketosis, you can only consume 20 grams of carbs every day but not more than that. A regular serving of pasta contains about 43 grams of carbs and consuming it during this time means that you get to eat only a cup of pasta and let's be honest, that is pretty disappointing.
Instead, you need to aim for food that can replenish you with the required nutrients as well as minimal carbs. And that way you cannot waste your carb limit on pasta! Hence experts have become creative and come up with another healthy and easier alternative. This way, you can consume keto pasta and ensure that your cycle remains intact.
What kind of pasta are you allowed to eat on keto?
Like as said, it is not recommended that you munch on your regular pasta during this time and then struggle with your carb intake throughout the day! Instead, vegetable-based pasta can help you out during this time. Non-starchy vegetables can be used to cook this pasta! These include cucumber, eggplant, celeriac, kohlrabi, zucchini, yellow squash, and so on.
You can go ahead with spaghetti squash pasta which is a low-carb option. This is to be noted that Shirataki or kelp noodles have even fewer carbs and can be enjoyed more freely. One gram of carbs is present per 3.5 ounces of the same.
What is the total carb present in low-carb pasta?
Now let us learn about low-carb pasta! For example, wheat noodles contain 40 grams of carbs per serving and that is not something that we will recommend. What if we could reduce that to only 1 gram of carb? That is right! Keto pasta or noodles can accomplish this goal. This way you can have a double or triple serving of the pasta without any guilt.
What is the technique to make keto noodles?
You need some egg yolk and cream cheese in a bowl following which you need to beat them well. Some cheese is added and then the mixture is laid on parchment paper. You can bake this mixture for about five to eight minutes and the temperature should be considerably low so you do not end up with bubbles on the mixture. Once baked, you can cut the thin slices and sections easily.
Shirataki noodles as we already stated are another good alternative to your regular pasta! However, they do not have any flavor of their own. But you will be delighted to find out that they pick the taste of sauce so well.
Now that is all about keto pasta! Let's move ahead with the keto pasta recipes that you can try out this season.
Easy Keto Pasta Recipes: Low-Carb Alternatives to Enjoy Your Favorite Dish
Well, why not begin by trying out the gorgeous keto egg pasta which is prepared with almond flour?
Smooth, tender, and silky, you can cook it in any sauce of your preference.
Are you fond of pasta? Well, then how can we deprive you of them especially when you are on a keto diet?
Here is a keto pasta version that we are sure will please your taste buds and satiate your cravings.
Do you know? This recipe for keto pasta is eggless! So now you can make something vegan and keto-friendly with this idea right here.
Soak it in your favorite sauce and enjoy it with some meat cubes.
Here is another delightful alternative that we are sure you will fall in love with! Delicious, firm, and chewy, your noodles will seem like they are actually bought from the stores.
That is how good this recipe can be when followed right.
Are you fond of pasta but sad that you are going to miss out on them now that you are on a diet?
Well, we can definitely help you out with that! This recipe for homemade keto egg noodles is lovely and curated with perfection so you enjoy a great meal.
To turn your pasta into something healthy and delightful, we have this keto pasta recipe for you right here!
Rich and scrumptious, this one is lovely and loaded with great taste! Go for it right away.
Yup, that is right! All you need are four basic ingredients to make yourself this healthy and delicious batch of keto gnocchi!
Packed with great flavors, you ought to make this one and indulge in its blissful taste.
Serve with a creamy sauce and you are good to go.
Ah, here is something for you to relish this season! Healthy, rich, and delectable, almond flour pasta can be shaped in five different ways!
So shall we get started with the preps then?
Try out this sort of pasta, like a bowl of creamy gnocchi with the recipe that we have listed here for you!
And guess what? If you are on a keto diet, this is the best option for you! Yup, that is right! These are completely gluten-free.
Make your pasta taste even more special and flavorful with the handsome amount of tomato sauce drizzled over the same.
Served with low-carb linguine, your dish is ideal for dinner.
Served with a saucy cream, the keto noodles are lovely and loaded with great taste!
Drizzled with herbs and seasonings, there is no way you will be able to resist yourself. Shall we make it then?
Savory and creamy, this idea for keto low-carb pasta is loaded with great taste! Yup, that is right!
Two ingredients are all that you need to accomplish the job with perfection. So what are you waiting for? Your dinner is ready for tonight.
How can we miss out on spaghetti and meatballs? Guess what? You will be surprised to find out that this version contains absolutely zero carbs!
So if you are bored with your daily keto meal make this one for sure.
Making keto pasta at home has become so much easier with the recipe that we have for you!
A couple of ingredients and the pasta is ready in no time. So what are you waiting for? Make it tonight.
Creamy and rich in taste, the keto chicken alfredo is the right source of delight for the taste buds!
Savory and packed with meat and sauces so enriching, we can't wait to see you drool. Shall we try it then?
Packed with creamy sauce, this palmini noodles pasta is loaded with great taste and such an incredible treat for the season!
Served with mushrooms and tangy tomato sauce, this is a great choice for the taste buds.
Well, there is not much to describe about the brilliance of this recipe! Savory, rich, and gooey, this pasta tastes so good!
Gorgeous and flavorful, you ought to make this one! Ready in no time, tonight's dinner will certainly be special.
This keto mac and cheese is flooded with great taste and is a sensational dish in the keto world.
Drizzled with cheese and herbs, the recipe is lovely and loaded with great taste. Three ingredients are all that you need!
Served with chicken and veggies, this keto chicken alfredo is delightful and packed with great taste.
Savory and luxurious, this recipe is loaded with great taste and renders you simply speechless.
The combination of white pepper and garlic, this recipe is one of its kind.
Healthy and low on carbs, this palmini pasta shrimp is gorgeous and loaded with great taste!
Served with stir-fried noodles and greens, this idea is one of a kind. Shall we make it then?
Other ideas you should check out: Halloween Main Dishes, Keto Thanksgiving Recipes, Food Skewer recipes, Meatball Sauce Recipes, Cranberry Bread Recipes, Thanksgiving Bread Recipes, Healthy Baking Tips, Delicious Halloween Cakes, Halloween Pumpkin Muffins, Muffin Recipes, Gluten-Free Thanksgiving Dessert, Best Low-carb Vegetables