Enjoy the best keto sausage recipes for a healthier diet. Satisfy your cravings with our variety of low-carb sausage dishes, including pizza, tacos, soups, and more! Try one today for a delicious and nutritious meal.
More collections: Keto Zucchini Recipes, Keto Chocolate Desserts, Keto Ham Recipes, Low-Carb Keto Cake Recipes, Keto Cauliflower Recipes, Keto Eggplant Recipes, Keto Tuna Recipes, Keto Avocado Recipes, Keto Steak Recipes, Low-Carb Keto Dip Recipes, Keto Mushroom Recipes, Keto Tofu Recipes, Keto Smoothie Recipes, Keto BBQ Recipes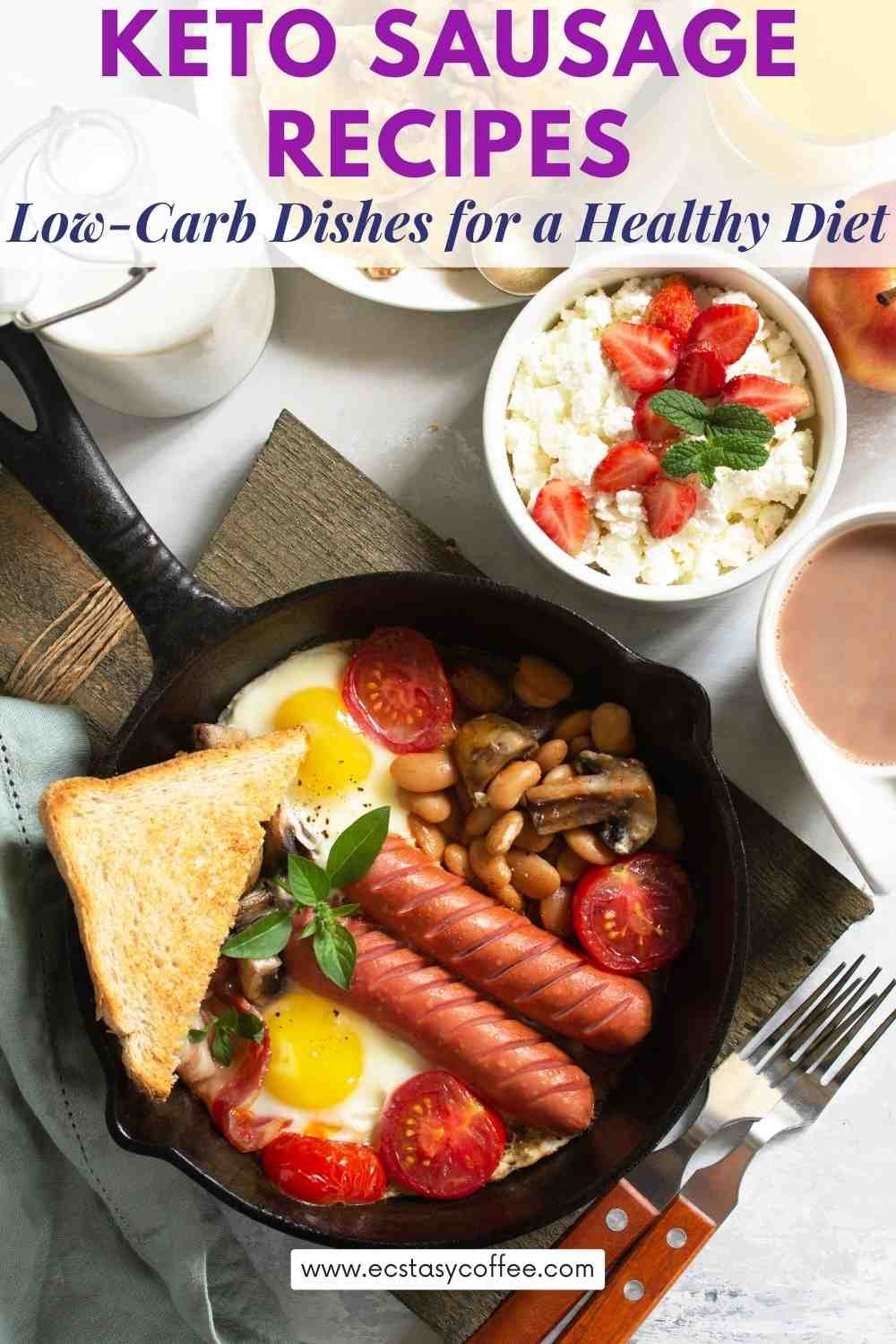 Well, it is fine if you are on a diet and everything seems boring and dull! Sausages are the easiest thing that you can do during this time! However, if you still feel overwhelmed with the process then we can certainly help you out.
Today we are going to discuss sausages and how to make them at home. Since you are on a keto diet, we will ensure that nothing goes wrong. So before we get into recipes, let's gain some more insights about sausages, shall we?
What is the technique for frying sausages?
Well, all we can say is that making sausages becomes so much easier with the process of pan-frying. It is simple and you can cook up a side dish in no time. You can fry several other ingredients with sausages so that one can call it a complete side dish. You need to place the pan on medium heat so that preheating can be done. When you add some veggies and sauces to the same, it surely acquires the taste of the same to make your sausages even more gorgeous.
Since sausages are quite fatty, the amount of oil you need for pan-searing is much less. You can cut the sausages into slices if you are not in the mood to have them whole. However, you should not crowd the pan and prepare the sausages in batches. Each side will take a couple of minutes to be cooked. Toss and turn it over which will hardly take you up to ten to fifteen minutes. Use some water in the pan for searing and creating the sauce.
What is the method of grilling sausages?
Medium to low heat is required for grilling the sausages! This takes you about five to ten to be done! If you are in the mood for grilling then make sure that the coal is hot on one side while the other side is lighter. Well, the flavors of grilled sausages are divine and if you wish to prepare a quick side dish then this grilling method always comes to your rescue.
How to bake your sausages right?
Next, we would like to briefly talk about baking your sausages which is also another effective method of cooking them right. The best thing about this method is that you do not have to run into the risk of burning the sides! In the oven, you can skip the hassle of tossing and turning them as well.
The oven needs to be preheated at 350°F. Preparing a grill or a tray is essential to make the process easier! Twenty minutes is all that you need to bake your sausages right. Make sure that the sausage does not have any pink meat inside or they shall remain undercooked.
Can you boil the sausages before you serve them?
Here is another method of making sausages! Boiling sausages is very easy and make sure you use plain water to accomplish the task. Water is the only fluid that penetrates right up to the center of the sausages and cooks the meat well. The heat should be brought down to simmering so that boiling can be done slowly and gradually.
You can cover the saucepan with a lid and then allow the process of boiling to continue for twenty to thirty minutes. You may remove the sausages and dry them off with the use of a paper towel.
That is all about the methods of cooking sausages! Now let's focus on the recipes.
Easy Keto Sausage Recipes for Low-Carb Eating
Cooking Italian sausage is simply so easy! Stuffed with cheese, this one will certainly make you drool!
If you are fond of meat and cheese, this is the right choice! Enjoy with some green broccoli on the side.
Making sausages is super easy! Flooded with great taste and ready in no time, this dish is simply the best!
Soaked in gravy, the sausages turn out to be even more creamier and delectable in every bite. Shall we try it then?
Three basic ingredients are all that you need for the preparation of the sausage with cheese!
This is a keto dish with spaghetti on the side! Saucy and wholesome, the recipe is ready in no time. Shall we try it then?
If you are craving rolls or wraps for a while then we can help you to make the perfect dish!
Filling and loaded with meat, this is a succulent meat dish that one can hardly resist. Let's make it!
If you are craving sausages then here is something that will make you feel content and tempted with every bite!
Served with sauces and filled with veggies, the recipe for sausage bake is right here to your rescue. Go for it today.
Packed with shrimp and sausages, now you can make your favorite meal with the recipe that is right here!
Delectable and charming, even the sight of the dish will make you go weak on your knees. No wonder, nobody will be able to wait till dinner.
The combination of sausage and zucchini in this keto garlic butter sauce is another drool-worthy recipe to admit!
Prepare this one at home and enjoy your brunch even if you are on a diet. Let's go!
Well, here is some good news for all the sausage lovers! Drizzled with cheese, the flavor of cauliflower compliments the two so well.
Healthy and enriching, you should give it a try! Thank us later for the idea.
Try out this delightful recipe with the sausage pasta that we have for you! Spicy, rich, and luxurious, this Italian delicacy is fantastic and you can serve it for dinner.
Savory and cozy, this one turns out to be an incredible creation.
The presence of mustard, thyme, and parsley renders this vegetarian dish with an all-new flavor!
Cheesy and meaty, if you are looking for something healthy then this is the one. Ready in no time, this one is a wonderful creation.
Being low on carbs, you can have as much as you want of this gorgeous and gooey bowl of broth!
Prepared with green, cream, and sausages, the dish tastes simply so divine! You can serve it as a starter to your main course.
Here is a new way to eat sausages! The recipe is super simple and flooded with a succulent and chewy essence!
Being completely keto, the sausage balls are juicy and flooded with great taste! Shall we try it then?
Making the crustless pizza bowl is lovely and flooded with great taste! Savory, rich, and succulent, this cheesy recipe is one of its kind.
Filling and cozy if you are on a diet. So what are you waiting for?
Packed with veggies, greens, scrambled eggs, and sausages, this recipe is easy for one to make!
Juicy and rich in taste, this is going to keep you filled for longer hours of the day!
So what are you waiting for? Make it tomorrow morning and enjoy it with your family!
Here is something that you can make as a side dish with minimal effort!
Well, try out the cajun shrimp with sausages, and do not forget to add some veggies to it as well.
Did you try mozzarella-stuffed meatballs? Because if you haven't you are definitely going to fall in its divine taste now!
Prepared with sausages, the recipe is so easy to come up with. Can we give it a try then?
It is definitely so easy to prepare the scrumptious and crispy ham and jalapeno bites!
So if you feel hungry in the evening and want something to go with tea or coffee then cheesy delight is all that you need.
The combination of avocado with chicken is lovely and flooded with great taste!
Nutritious and healthy, this recipe is super easy and leaves you tempted for more.
Flooded with great taste, this bowl is the best thing for the keto dieters.
Flooded with great taste, the cajun sausage recipe is spicy and flavorful for meat lovers!
Cabbage alfredo is a unique recipe and you ought to indulge in its blissful taste. So what are you waiting for?
The combination of sausage and squash is a dream come true for the keto dieters!
This dish is creamy, gooey, and flooded with great taste! So what are you waiting for? Make it today and enjoy it to your fullest.
Other ideas you should check out: Christmas Breakfast Casseroles, Smoked Sausage Recipes, Smoked Sausage Recipes, Keto Kielbasa Recipes, Keto Ground Pork Recipes