Try these delicious keto shrimp recipes today and get creative in the kitchen without sacrificing taste or your diet! With easy ingredients and step-by-step directions, we'll make shrimp recipes that are keto-friendly and always satisfying.
More collections: Keto Sausage Recipes, Keto Burger Recipes, Keto Donut Recipes, Keto Seafood Recipes, Dairy-Free Keto Recipes, Keto Pork Chop Recipes, Keto Fish Recipes, Keto Ground Turkey Recipes, Keto Cabbage Recipes, Keto Pumpkin Recipes, Keto Cookies, Keto Dinner Recipes, Mexican Seafood Recipes, Keto Indian Recipes, Keto Chicken Recipes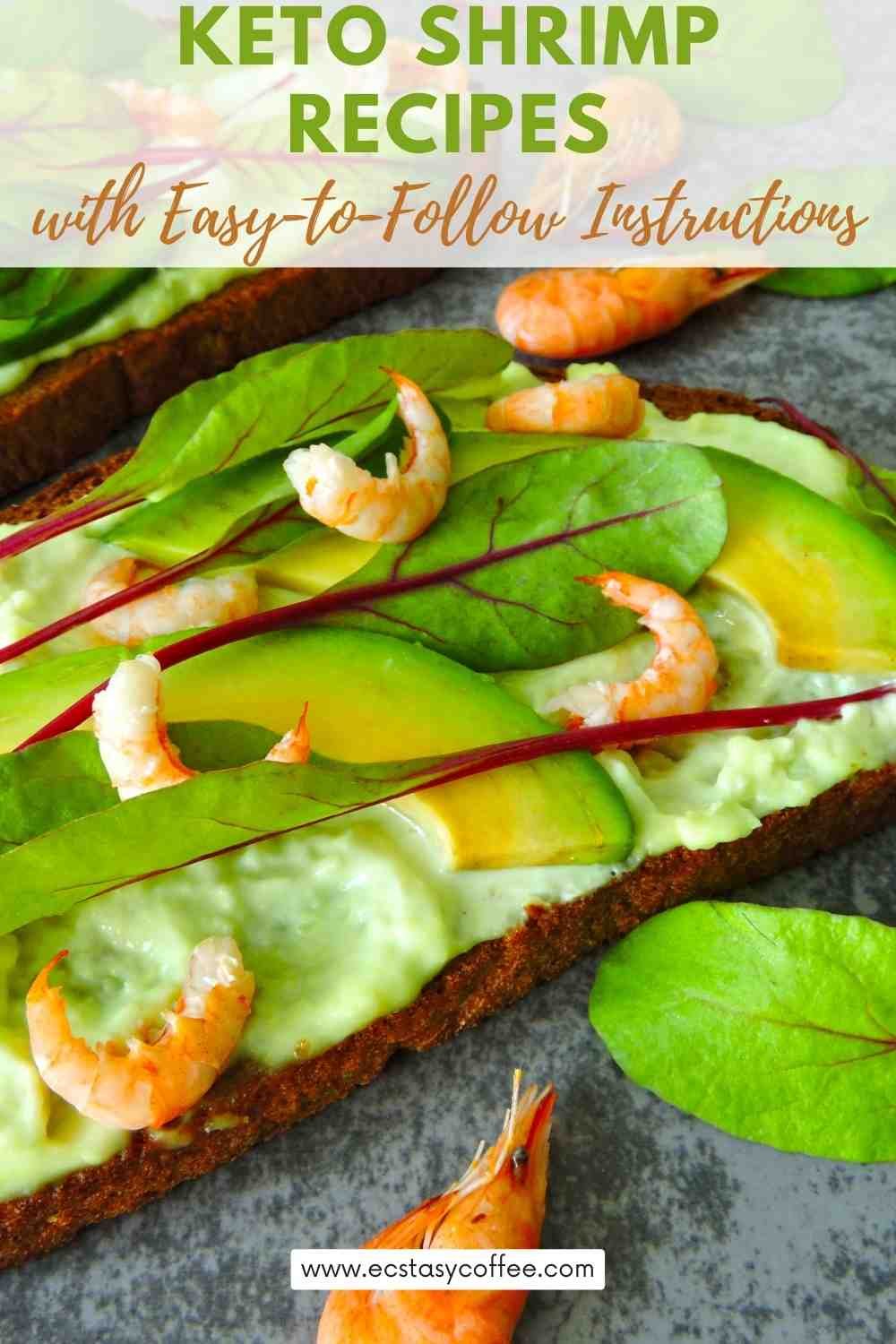 Seafood is the safest thing to have when you are on a keto diet! There are so many varieties and options that one can indulge in! From crustaceans to fishes, the ideas are endless!
Today we will help you to make shrimp at home if you have never done it before! There are some necessary steps that you should keep in mind. Well, cooking seafood is very easy but if you want to achieve perfection with your keto meal then you should read on!
Which is better, frozen or fresh shrimp?
If you buy shrimp then the first thing that you will be wondering is whether it is frozen or fresh, Which kind of shrimp is good for you? Now this question enables you to determine how flavorful your dish shall turn out to be! Speaking from personal experiences, if the shrimp is not fresh then the taste of the dish can completely turn out to be bland. Sometimes a heap of shrimp is displayed on the counter and what the seller would vouch as fresh may not be so!
Do you know why? Well, this heap of fresh shrimp might have been frozen and thawed several times before it was displayed on the counter! No wonder, the taste of such shrimps will be pretty bland, and the texture hard! On the other hand, frozen packaged shrimp are comparatively safer to buy because they come with a guarantee.
What is the ideal kind of shrimp in terms of size?
Well, that totally depends upon your preference and the recipe which instructs you with the same! Shrimps that are small are good for sprinkling and tossing into your rice, noodles, pasta, and so on! While, on the other hand, larger shrimp are used for roasting, grilling, and other cooking methods!
Depending on the availability and the kind of shrimp you prefer to consume, making a choice is not that hard. They are basically categorized into small, medium, large, extra-large, jumbo, and colossal.
How to defrost shrimp without leaching its taste?
If you head to the store and bring yourself a bag full of shrimp then there is still one thing to keep in mind! Are you going to cook it that very day or are you planning to cook it later? In the case of the latter, you have to freeze it! But next, you also need to know the right method to thaw the shrimp.
If you have some time then you can leave it in the refrigerator for twenty-four hours or overnight to thaw before you cook. You can also place it in a colander under cold running water. Shrimps should never be thawed at room temperature or placed in warm water.
What is the method for peeling and cleaning your shrimp?
There are a few things that you need to do with your shrimp before you go ahead and cook them! Cleaning and deshelling are some of these! During these processes, you can choose to let the shell remain if you are cooking something smoky and crispy while removing it if you wish to enjoy the tender meat solely.
There is a long black thread-like structure that runs parallel to the back of the shrimp! You are expected to remove it so that no impurities, grits, or sand particles remain in the flesh and give you a grainy experience in every bite.
Once it is done, you can go ahead and cook perfectly delicious shrimp! Here are some keto shrimp recipes for you to indulge in!
Delicious Keto Shrimp Recipes for Your Low-Carb Diet
Delicious and loaded with sauces, here is something that you should try out!
Flooded with the zesty essence of like and herbs, your keto shrimp skillet is ready in no time.
Here is a spicy and gooey shrimp recipe that we are sure you will be thrilled to relish!
Served with herbs, this is an incredible treat for the season! Packed with rich Bang Bang sauce, this is a mind-blowing idea.
The combination of parmesan with garlic is simply a mind-blowing treat! Baked with herbs and spices, this one bears a mild and subtle flavor that is palpable in every bite!
If you want something cozy and comforting with shrimp, this is one you should choose.
The creamy and delicious Tuscan shrimp is another gorgeous dish that you should indulge in!
Served with the right dose of seasoning, you ought to give it a try! No wonder this recipe turns out to be the highlight of your meal.
This is for the die-heart seafood lovers! If you are looking for something nice and juicy then this southern-style shrimp and grits is exactly what you need for a treat!
Drizzled with herbs and sauces, the dish is ready in no time.
Ah, if you are looking for something nice and juicy then you ought to try out this dish!
Shrimp provides an all-time dream come true for all seafood lovers! So when it comes to keto shrimp with cheesy grits, it is safe to say that your experience will be divine.
Smokey, rich, and exciting, here is something lovely for you to relish!
Served with cajun sauce, if you want it a little spicy and saucy, we can help you to choose the right dish!
Creamy, cozy, and rich, here is a shrimp curry with coconut milk which will certainly make you drool for more and more!
Delicious, succulent, and topped with chosen herbs, the curry is perfect to go with rice on a warm Sunday afternoon.
Ah, so we see you are looking for something nice to make for this Sunday brunch!
Perhaps if you have some shrimp in the refrigerator then it is time for you to cook them in the creamy coconut curry.
Crispy and juicy, you are surely going to enjoy this recipe of coconut-fried shrimp so much!
Delightful and delicious, serve some dip on the side and you are good to go! What an incredible treat to be honest.
Healthy and yummy, the combination of shrimp with broccoli is always our favorite.
If you want to cook up a light and healthy meal then you should quickly give a try to this smooth and savory butter garlic shrimp right away.
If you want something gooey and rich for your meal then you should go ahead with this extraordinary coconut shrimp curry right away!
Super easy to make and loaded with great taste, the idea is simply out of the world.
Saucy and spicy, the Kung Pao shrimp with crunchy cashew nuts is a delightful recipe and confers your taste buds with refreshing flavors.
The keto stir-fry is perfect as a side dish so you must try it too.
Wonderful and yummy! If you are fond of shrimp then this recipe is what you should make at home!
The keto shrimp lo mein not only tops the chart in terms of flavor but is also healthy for keto dieters.
Ah, ten minutes! That is exactly what you need to come up with this extraordinary shrimp dish!
The cheesy parmesan flavor complemented by garlic will simply make you drool for more. That is right, a few minutes and a half of your meal is done.
Diced veggies with shrimp are both healthy and refreshing! Savory and juicy, you ought to give it a try!
Sprinkled with herbs and seasoning, this one is so simple even for beginners to relish. Shall we then?
Have you tried cucumber topped with shrimp before? Well, this is the perfect appetizer for the season!
Drizzled with chopped garlic, these bite-sized appetizers will be the showstopper of the event if you are having some guests over during the holidays.
We are sure you haven't tried the shrimp dish with asparagus before! Then what are you waiting for?
Make this lovely shrimp recipe and enjoy its creamy alfredo sauce to your heart's content. Shall we get started with the preps then?
Delicious, rich, and succulent, here is something that you must try out!
Crunchy and juicy, this recipe is so easy to make! Just come up with a spicy and creamy dip on the side and you are good to go.
For all the shrimp lovers, here is a wonderful snack for the dieters if you are bored with the same old dishes!
Coconut shrimp with dipping sauce is a magnificent recipe that you simply can not miss out on.
Other ideas you should check out: Keto Mushroom Recipes, Thanksgiving Chicken Recipes, Mushroom Dinner Recipes, Keto Thanksgiving Recipes, Easy Sheet Pan Shrimp Recipes, Delicious Shrimp Recipes, Steak and Shrimp Recipes, Delicious Shrimp Recipes, Fried Shrimp Sides Recipes