Enjoy every bite of your Thanksgiving meal guilt-free with these delicious keto Thanksgiving recipes. Get your pre-Thanksgiving feast started with easy-to-prepare and low-carb dishes such as keto stuffing, roasted turkey thighs, and mashed cauliflower. Feast away this holiday season without the unnecessary guilt and carbs!
More collections: Thanksgiving Squash Recipes, Thanksgiving Brussels Sprouts, Gluten-Free Thanksgiving Recipes, Chocolate Dessert Recipes, Thanksgiving Shots, Indian Thanksgiving Recipes, Thanksgiving Turkey Recipes, Thanksgiving Sweet Potato Recipes, Thanksgiving Casserole Recipes, Thanksgiving Potluck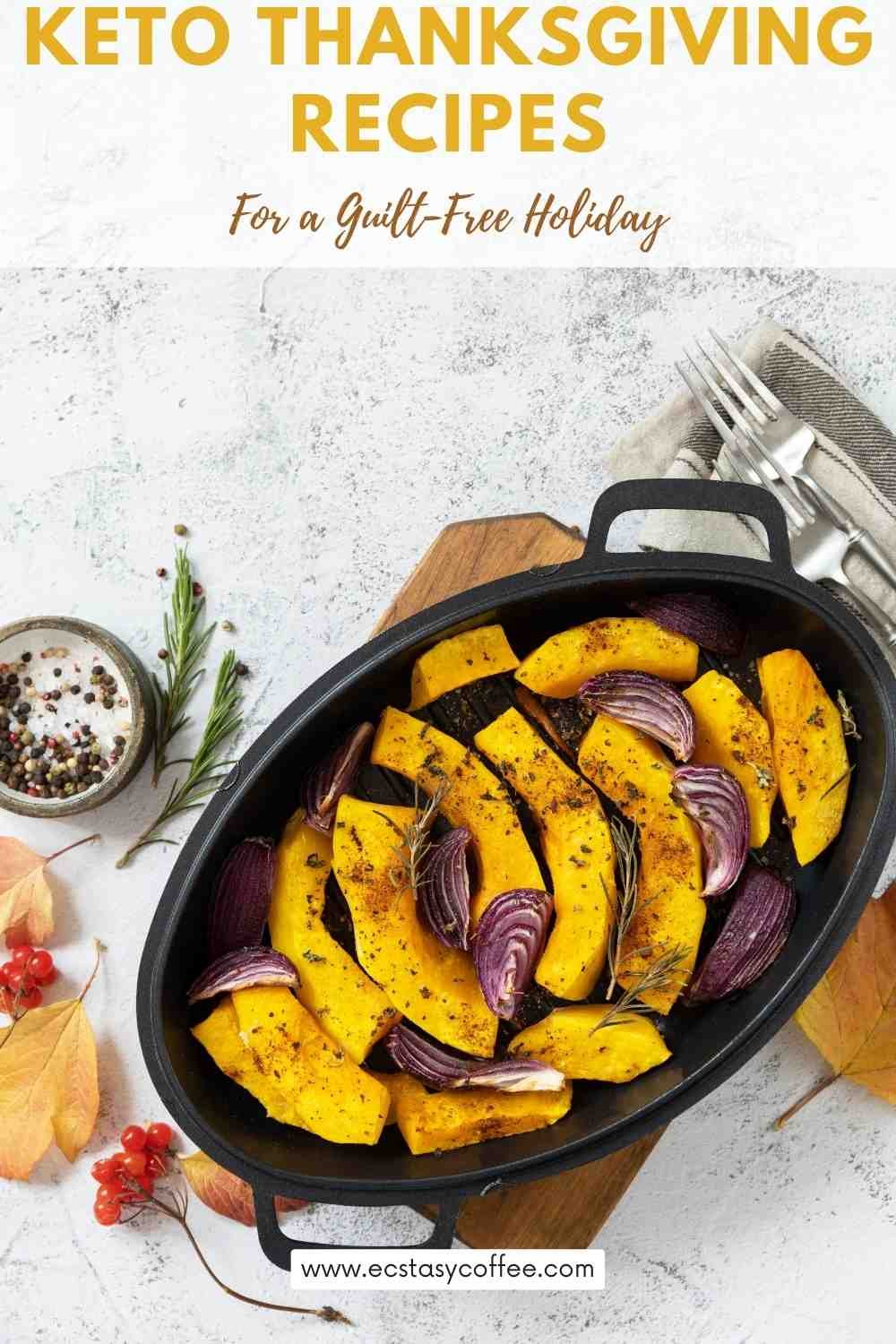 Thanksgiving is the season of celebration and bliss! There are so many wonderful things to do and enjoy! From small preparations to big things, everything keeps us engaged and busy as we gear up for the holidays.
If you are following a keto diet and wondering if it is alright to indulge, then let us tell you, of course! But there are some tricks to planning a keto diet. Here are some wonderful tips and tricks that can help you out! So without any more delay, let us learn to organize such a keto diet for the holidays and then indulge in the gorgeous dishes we have listed below for you.
What is a keto diet?
If you are not aware of what exactly one means by a keto diet then here is what you should know! It is a diet consisting mostly of fats and moderate amounts of proteins. One needs to totally cut out on carbs if they wish to stick to the keto diet. The body derives much of its energy from carbohydrates! When you completely stop supplying your body with the same, the body begins to break the fat stored in the body.
As the body enters into the stage of ketosis, your body weight decreases gradually! However, during this time, you should not consume even traces of carbs or it can affect your stage of ketosis and break the cycle.
How to organize a ketogenic diet plan
If you are doing this for the first time then it can get quite confusing for you! You are likely to make mistakes but with practice and regular exposure to the keto diet and the preps behind it, you will learn to handle the situation well. You indeed have to reduce the carbs completely but during the process, you can find it to be quite overwhelming!
But following a diet is not very difficult. Of course, you can still enjoy good food with loads of protein and sufficient fat in your meal. You can speak to an expert or use an online calculator to make an assumption. To sum it up, the lower your carbohydrate consumption is, the better you will be able to maintain the state of ketosis.
If you wish to then you can maintain your carb intake at 20 grams per day.
What are some of the keto-friendly foods to consume
Well, if it is your first time then you might not be aware of the dishes that you can indulge in! Here is a list of items that you can include in your meal if you are going to enter the no-carb state. Eggs and poultry items like chicken, turkey, and other products like milk and cheese are good enough!
Cheese like cheddar, mozzarella, and cream cheese are ideal when you are preparing a dish. But butter like cashew and almond butter can also be used while cooking. Similarly, you can opt for avocado, or non-starchy veggies like greens, broccoli, tomatoes, mushrooms, peppers, and so on. Condiments like salt and pepper are totally permissible.
What are the dishes that you must avoid if you are sticking to a diet of ketosis?
Soda, iced tea, and coffee drinks are some things that you should totally avoid while you go through the cycle of ketosis. This is because these items are highly carbonated and can impact the cycle. Baked items like pizzas, bread, and so on, are something that you are strictly to avoid. Candies, maple syrup, agave, and so on are strictly no-no. Pasta, grains, and starchy veggies should be kept away from the table as well.
Keto Thanksgiving Recipes - Delicious, Low-Carb Dishes for the Holidays
Ah, here is an incredible idea for dinner! Creamy, gooey, and rich, you must try it out for sure!
Smooth and luxurious, you shall be smitten with every bite. Seasonal cauliflowers are lovely.
Did you try out the keto cornbread stuffing? If you haven't then you should with the easy-peasy recipe that we have here.
You can enjoy this healthy stuffing with turkey roast on D-day!
If you wish to try out something healthy and rich then the keto green beans casserole is the best to opt for!
Savory and topped with golden-brown French onions, you will definitely change your notion about green beans. Shall we then?
Ah, here is another wonderful dessert for the ones who are on a diet! The crunchy and crumbly pecan pie bites are delicious and ideal if you do not want something elaborate and huge.
Shall we begin with the preps then?
Delicious and rich, we all love to indulge in cranberry sauce during the holidays!
Especially with Thanksgiving, whether you are serving meat or casserole, or pie, the presence of cranberry sauce is a must!
And to learn how to make them, simply follow this recipe.
Do you like pies but you are unable to eat them ever since you got on the diet?
Well, then we are here to solve your problem! Delectable, tender, and chewy, you must indulge in its blissful taste right away.
If kids often refuse to indulge in green beans then find out the right way to make them relish something healthy but in a nice way!
The low-carb casserole with loads of cheese is the ultimate delight for the taste buds.
Ah, here is a great treat for tonight if you haven't planned your dinner yet! The desserts like pumpkin cake are always a special one to end your day with!
Flooded with a rich streusel topping, you must get it done in no time.
Delicious, gooey, and right, the keto pumpkin cheesecake bars are yummy and so easy for one to make!
Savory and sweet, you can begin your day with crumbly cheesecake bars.
Of course, you can enjoy good desserts even when you are on a diet! The keto pumpkin bar recipe is so easy that even a beginner will have no trouble baking it!
Topped with a thick layer of frosting, this recipe is the best!
If you want to escalate the taste of your Brussels sprouts then we know the right way in which you can do that!
Delicious and creamy, the toppings of bacon bits are simply so irresistible. This is also healthy for your diet.
The combination of greens with artichokes and spinach turns out to be an incredible treat!
Savory and rich, this low-carb dip bite is lovely and you must try it out!
Creamy and crunchy, you will surely fall for this one right away! Serve it as an appetizer with tea.
The soft and gooey sweet potato casserole is gorgeous and such an incredible treat for the season!
Savory and topped with rich creamy frosting, you will surely fall in love with the idea at the very first bite.
Ah, haven't you tried the sausage stuffing before? Because if you haven't then you must indulge in its blissful taste!
Gorgeous and refreshing side to go with your turkey roast.
Delicious and tender, the creamy keto pumpkin bread is exactly what you need for a treat!
Cozy and rich in flavor, enjoy the seasonal essence in every bite. So put on your baking hats and let's get started!
Here is another recipe for you to relish during the holidays! Ready in a jiffy, there is no way you will be able to resist for long once the maple bacon is on the table.
So what are you waiting for?
Tempting and scrumptious, make your parmesan sprouts and enjoy during the holidays!
Served with bacon, this idea is simply outstanding and healthy when you are out there on a diet. Follow this recipe and quickly get it done.
The keto gravy is ideal to go with a wholesome meal! Delicious, rich, and savory, you will not even feel like you are on a diet!
Delectable and gooey, this is the best treat to opt for. Make your Thanksgiving extra special with this idea right here.
If you are craving sweets after the meal then we have the best choice for you!
The lovely keto pumpkin cheesecake bars are topped with a layer of crunchy pecan which makes them even more irresistible.
The best part about this recipe is that you do not even have to cook this dessert!
Creamy and loaded with pumpkin essence in every bite, you must surely try it out. Plus, it is also low on carbs and healthy too!
Other ideas you should check out: Keto Thanksgiving Desserts, Keto Crockpot Recipes, Low-carb Vegetables, Healthy Keto Dinner Recipes, Halloween Potluck Ideas, Thanksgiving Leftover Recipes, Vegan Potluck Recipes, Christmas Turkey Recipes, Thanksgiving Chicken Recipes