Discover the potential of the keto diet with these delicious and easy keto tofu recipes! From stir-fries to curries, these versatile dishes offer a healthier way to enjoy tofu. Incorporate these recipes into your weekly meal plan for nutritious and tasty meals.
More collections: Keto Meatball Recipes, Keto Pasta Recipes, Keto Zucchini Recipes, Keto Chocolate Desserts, Keto Ham Recipes, Low-Carb Keto Cake Recipes, Keto Cauliflower Recipes, Keto Eggplant Recipes, Keto Tuna Recipes, Keto Avocado Recipes, Keto Steak Recipes, Low-Carb Keto Dip Recipes, Keto Mushroom Recipes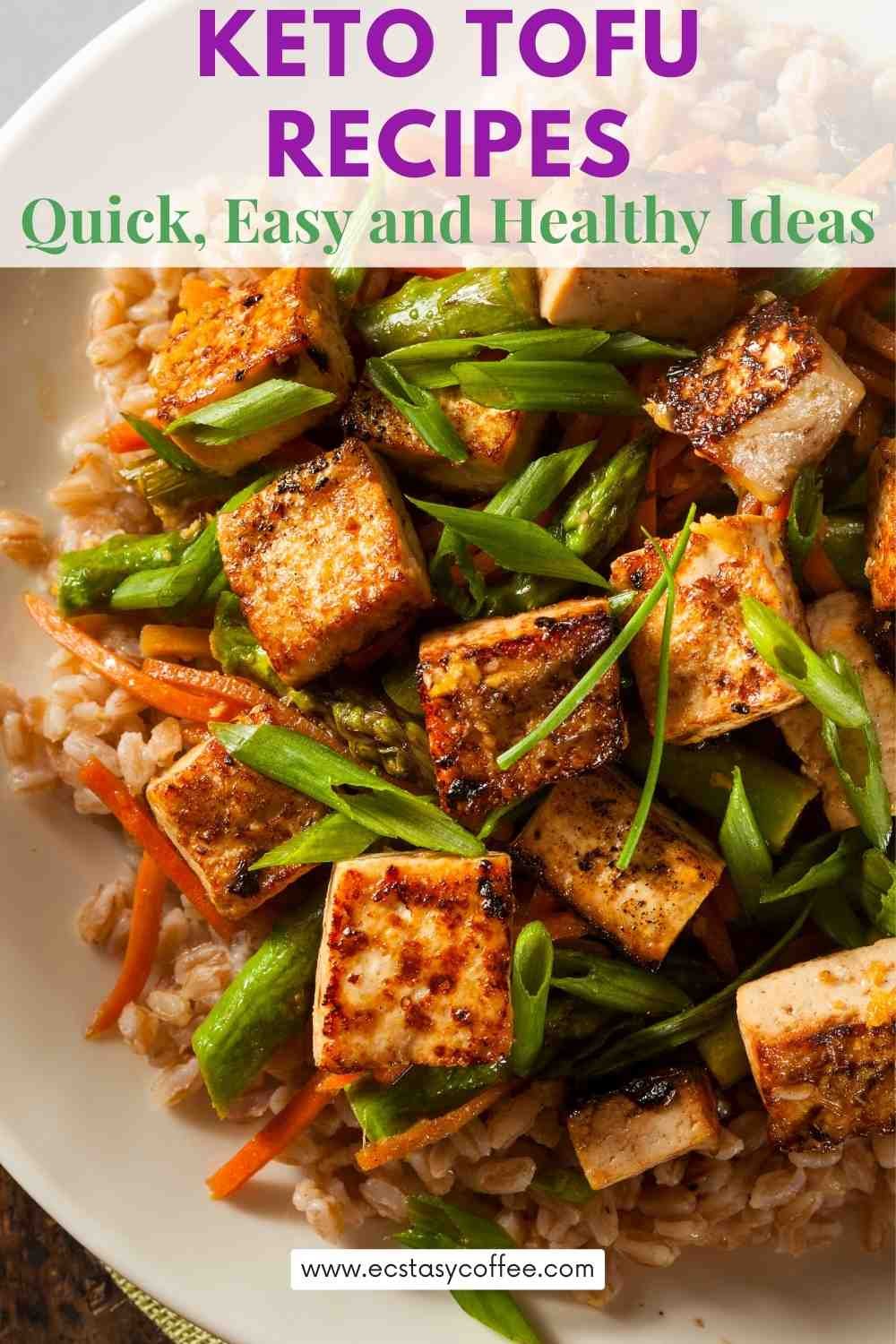 Well, if you have never made tofu before then you must be wondering what is the right way to do it! Of course, we can help you with the task! Making tofu is easy as long as you are aware of the right steps! Today we have penned down this article exclusively for! So shall we get started then?
When you are on a keto diet, choosing the right meal can become very overwhelming but we can certainly help you out with it! So join us on the journey to cook some wonderful tofu delicacies.
How to learn which is the best tofu
If you are having tofu for the first time then let us tell you that it is the quality of the tofu which will determine its taste and the flavor of the curry! Unless you buy quality tofu from the store it is impossible that you will end up with good tofu. From silken, medium, firm, and extra-firm, there are several options that are available in the store, and depending on your choice you can purchase the one you want.
The texture is dependent on the amount of water that is squeezed out from the tofu rendering it either too tender or firm. Blocks of tofu are usually packed in tubs of water or sometimes vacuum-sealed as they are sold in the stores! Depending on the way it shall be cooked, you can choose the kind of tofu that you want.
SILKY TOFU- This kind of tofu works well with smoothies, desserts, and puddings! You may also add them to dips and salad dressings.
FIRM TOFU- You can cook stir-fried or pan-fried tofu dishes with this kind of tofu! Scrambled tofu is also a good option.
MEDIUM TOFU- This sort of tofu is delicate as well as firm to a certain extent! Hence they are mostly used in soup and miso.
EXTRA FIRM TOFU- These are good for slicing and making cubes! You can use them for pan-frying, stir-frying, baking, grilling, and scrambling.
How to press and drain the tofu?
There is a lot of liquid which is present in tofu and before you cook them, it is only fair that you choose to get them removed. This might lengthen the process but in the end, the results are totally worth it. You can either use the whole block or choose to slice them into small pieces which makes cooking so much easier. You can place a paper towel over them and then press with a heavy weight. Twenty minutes of pressing is more than enough to accomplish the task.
Why is there a need to marinate your tofu?
Of course, you need to marinate your tofu for a long time so that it tastes good! It is neutral tasting and the flavors are very mild! Depending on the sauce that you choose, the flavor of tofu can vary. It has a spongy texture which can pick up the flavor of any sauce so well. Marination for thirty minutes is more than enough to accomplish the task! You should also freeze your tofu before marinating for better results. The texture of it becomes even more chewy and picks up the taste of the spices and seasoning so well.
Well, that more or less brings us to the end of the discussion about how to prepare your tofu to go into the pan! Now let's begin with the recipes, shall we? Of course, being on a keto diet, you will derive enough nutrition from it.
Delicious Keto Tofu Recipes for Low-Carb Dieters
Delicious and packed with great taste, this vegan air-fryer recipe is the best to indulge in!
Served with a little sauce, the sweet and tangy taste is palpable too. Ready in an air fryer, this hardly takes time.
Delicious and crispy, the keto-fried tofu sticks are perfect as appetizers! Served with a dip or sauce on the side, you must indulge in its blissful taste!
So what are you waiting for? Try out this one right away. 
Coming across firecracker tofu and then adding it to the list was the best decision ever!
Crunchy and rich in taste and drizzled with sauces, this recipe is fantastic and leaves you tempted for more. Shall we try it then?
If you want your tofu to be spicy and hot then this is the best recipe in the world! Served with cauliflower rice, the dish is filled, with healthy vegetables.
Healthy and rich in flavors, making the tofu stir fry is very easy! Packed with veggies and hot seasoning, the recipe is one of a kind!
So what are you waiting for? Indulge in its blissful taste right away. It is healthy for a keto diet.
Sesame tofu with broccoli is wholesome and flooded with great taste! Saucy and rich in taste, we make use of a sesame ginger sauce to prepare this lovely treat!
One thing is for sure, if your keto diet is boring then this is such an incredible treat!
Chewy and packed with great taste, this tofu recipe is loaded with all that you find fantastic and savory.
Crunchy and chewy, there is no way you should miss out on this gorgeous dish! Serve as an appetizer and see how quickly it disappears!
Crunchy and packed with great taste, this is a tofu stir fry which is refreshing and flooded with great taste!
Savory and tastes so divine! Shall we then?
Vegan and packed with great taste, this is a low-carb recipe that will rescue you when you are tormented by the boring dish on your keto diet.
Delicious and chewy, this one tastes so gorgeous! Shall we then?
Lemony and zesty, the pepper tofu with asparagus tastes so divine! Gorgeous and crunchy, why not make this as a side dish with rice and some boiled veggies?
Savory and tempting, the pepper tofu is one of a kind. Shall we then?
Crispy and crunchy, the Korean tofu tastes so gorgeous! Delicious and flooded with great taste, this is something that will make you drool at the sight of the dish.
So if you are wondering what to make for dinner tonight, this is exactly what you should try out!
Smooth, creamy, and fulfilling, this hot and sour keto tofu soup is gorgeous and one of a kind!
Flooded with enriching seasoning and crunchy veggies with tofu, your soup is ready in no time.
If you are in the mood for something nice and scrumptious then this recipe with tofu tastes so good!
Served with green beans, this is perfect to be called a wonderful side dish. Let us go!
This tofu recipe of Thai origin tastes so good! Packed with peanut sauce, this smooth and chewy tofu recipe with rice tastes so wholesome and filling.
Drizzled with sesame and served with avocado, make it today!
Smooth, savory, and creamy in every bite, the vegan crispy tofu is a creation of heaven!
Delectable and flooded with rich sauce, this is perfect if you wish to avoid much spice and yet something smooth and gooey! Shall we try it then?
Crunchy, rich, and flavorful, the vegan nuggets made with tofu are an extraordinary creation that you should not miss out on!
The flavor of this vegan version will even make you forget your chicken mushrooms!
For mushroom lovers who want to try something new with their dish, all you need to do is combine them with tofu and experience the wonders!
Fifteen minutes is all that you need to accomplish the job with perfection. So what are you waiting for?
Let's try out mapo tofu! It is delicious! Tender, crunchy, and everything else that can pull the correct strings of your heart!
So if you are looking for something nice and succulent, we can help you explore the right dish. Shall we then?
Make your dish of tofu a little more spicy and creamier with the recipe that we have for you right here.
Yummy and ready in no time, you ought to give it a try! So what are you waiting for? Make it today.
If you are craving wraps for a while then this tofu lettuce wrap will be a sheer source of delight for the taste buds!
Do not believe us? Make it on your own and find out! Wish you happy cooking!
Other ideas you should check out: Keto Cream Cheese Recipes, Keto Thanksgiving Recipes, Shirataki Noodle Recipes, Vegan BBQ Recipes, Vegan Asian Recipes