Choosing a color palette for your kitchen may seem like a bit of a challenge. After all, it is the room that you will use every day. It is natural to want it painted in a color that you enjoy looking at. If you are planning a little DIY project or want to change your cabinets, here are some colors you can try.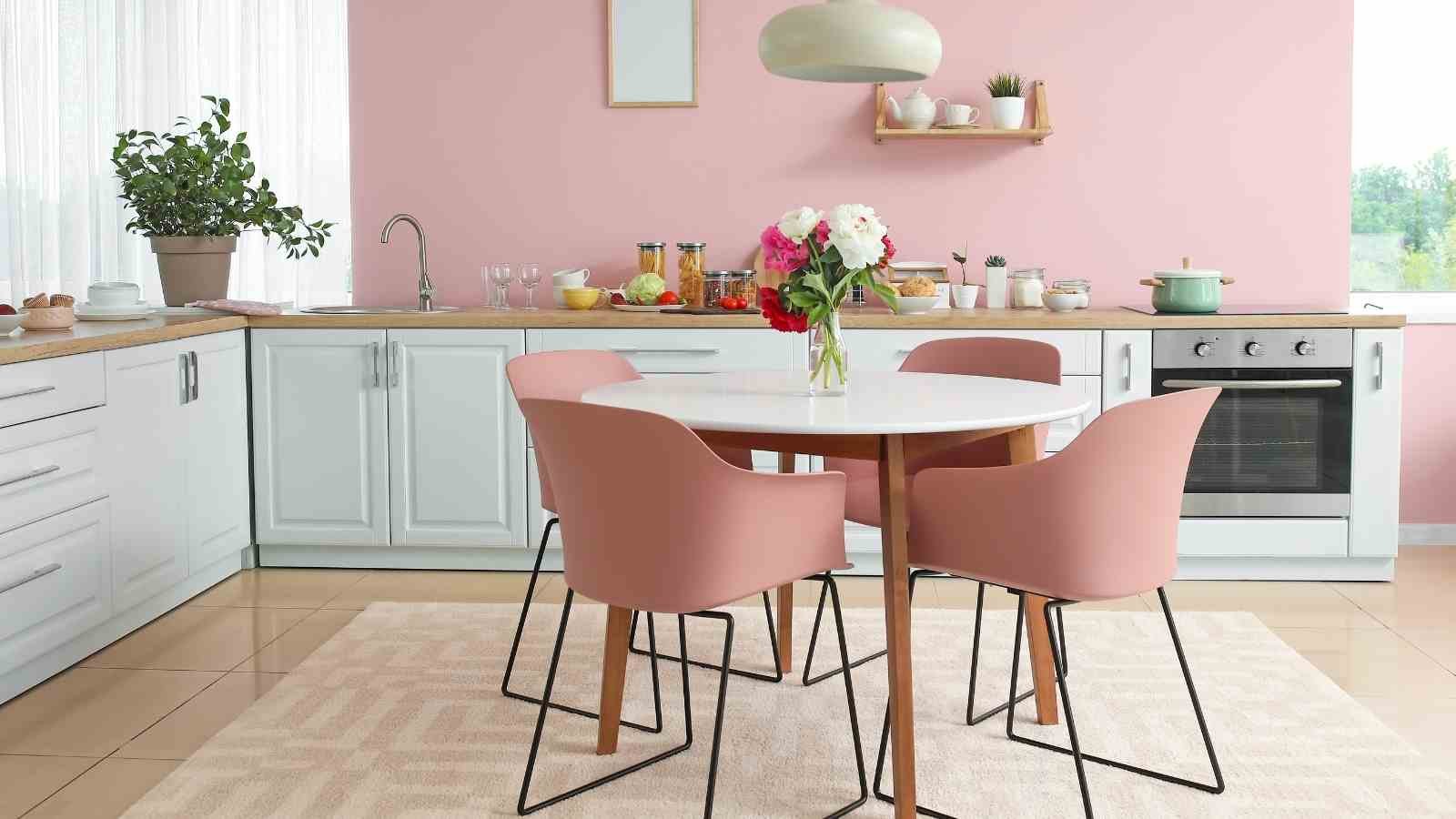 Jump to:
1. Warm White
White has always been a timeless trend. 2022 is no exception, but there is a slight difference. While classic white kitchen cabinets, alabaster white, or snow-white shades have been popular before, nowadays people are looking at warmer, softer hues.
This can include pearl whites, ivory whites, or baby white. The colors will help you maintain a minimalist look while preventing the kitchen from looking sterile and stark. They are also less tiresome on the eyes and easier to adjust to.
2. Nature Green
Green is taking over social media nowadays. More and more people are opting for deep green colors such as forest green, emerald, green, and more. For smaller kitchens, softer sage greens are also recommended, as they are not as space-constricting.
Green is a shade you would find in nature, meaning it will forever remain timeless. Plus, with city life becoming busier and busier, homeowners are trying to find solace in a nature-inspired kitchen design. Some green paint on the cabinets can change everything.
3. Soft Pink
This year is about being playful and fresh, which is why pink is gaining quite a bit of popularity. Soft pinks are the preferred options, as they are not too bold or muted – adding warmth to an overall boring-looking kitchen.
This pink is often used in combination with white and perhaps a splash of beige. The shade can add youthfulness and vibrancy to a room without making it seem too much.
4. Bold Black
Black has always been associated with bachelor homes, but in 2022, it is a symbol of elegance. The "pop of color" can make a statement this year, especially among those who are not fans of bright colors. Black is also an option that can easily be accessorized, as it mixes well with various colors.
Ideally, the color should only be used in bigger kitchens, especially if you plan to add it to all of your cabinets. Small to medium-sized kitchens should only be used in "pops," such as the kitchen island. This conveys elegance without making the kitchen seem smaller.
5. Terracotta
Terracotta shades have been with us for a long time and are still going strong in 2022. This color is a great option if you have wood elements in your kitchen, such as wooden chairs or hardwood floors.
"Warm neutrals also pair amazingly with leather, black, and white accents," says Corban De La Vega of DecorMatters. You can bring texture into the kitchen and connect an otherwise contemporary home to the outdoors in the right combination.
6. Soft Yellow
More and more people are trying to add warmth to their kitchen design, which means that yellow is coming back. Canary, golden, and lemon yellow are very popular, but people are also going for Tuscan sun colors. Yellow adds a splash of color, which is why you do not need to paint your entire kitchen in that color. Instead, mix it with white or other nature-inspired hues.
 "I love a yellow kitchen for a fresh and different look. I have seen yellow on cabinetry, but if you want less of a commitment, you can add yellow through wallpaper or fabrics and accessories in the kitchen, and it pairs beautifully with the greens of the moment as well," says Libby Rawes, a designer based in Philadelphia.
The Bottom Line
Some colors remain timeless, whereas others have just begun peaking in popularity. In the end, the color that you choose should match your preferences, as well as the overall design you plan for the kitchen. Whether you want an elegant den or a relaxing escape, at least one color can express that feeling.
Read also: