Satisfy your cravings with these delicious low-carb, keto dip recipes! From savory to sweet, these recipes are sure to please and help you stay on track with your dietary goals. Try them now!
More collections: Keto Pizza Recipes, Keto Salmon Recipes, Keto Meatball Recipes, Keto Pasta Recipes, Keto Zucchini Recipes, Keto Chocolate Desserts, Keto Ham Recipes, Low-Carb Keto Cake Recipes, Keto Cauliflower Recipes, Keto Eggplant Recipes, Keto Tuna Recipes, Keto Avocado Recipes, Keto Steak Recipes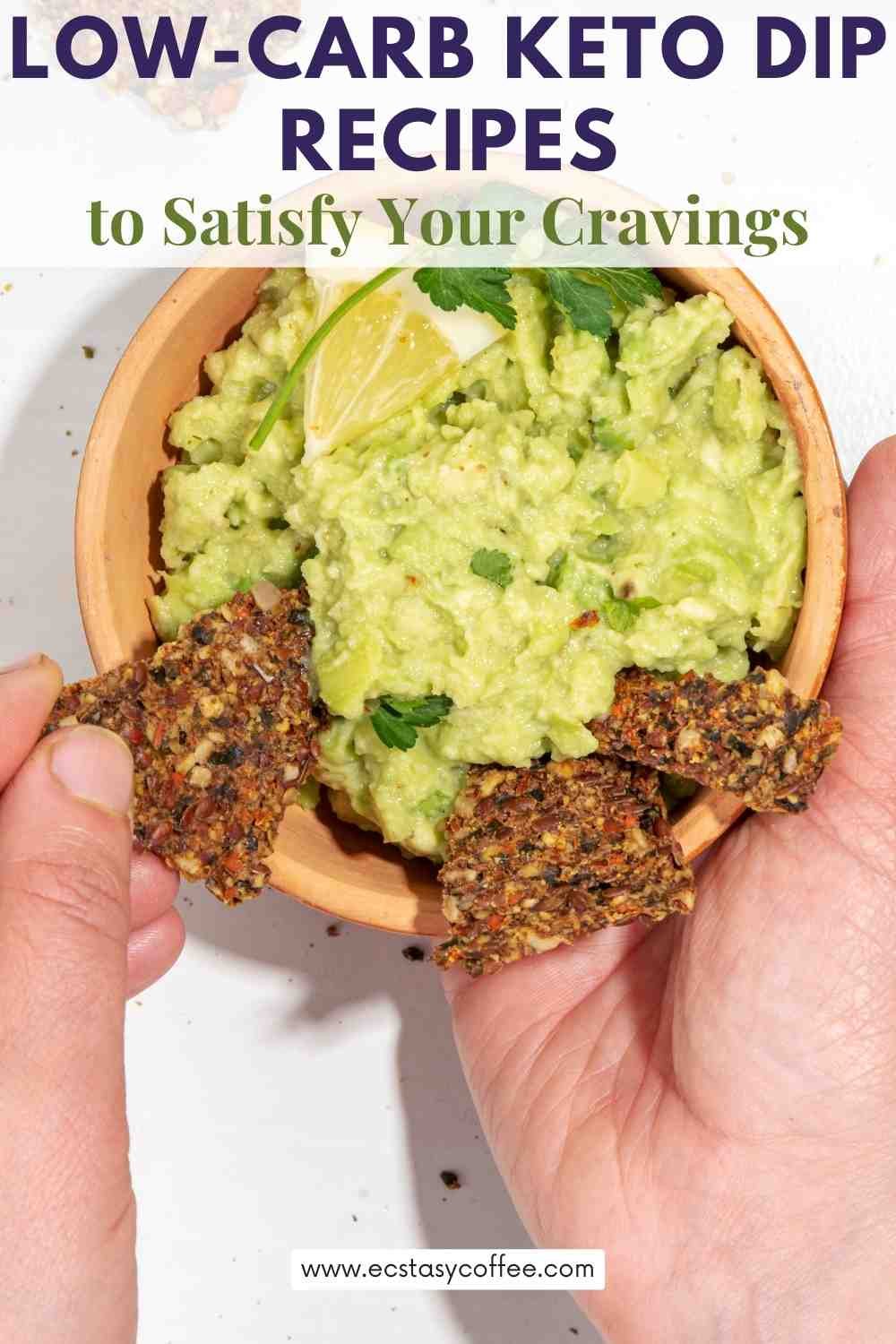 How can you think about having an appetizer without some dip on the sides? That is right! However, cooking dip can be difficult, and a healthy choice if you are on a keto diet!
Being a keto dieter can be tough and overwhelming at the same time! When you are looking for something nice to eat and yet stay within your keto diet then here are some tips that you should follow. So without any more delay, fasten your seatbelts and join us on this ride.
What is Neufchatel cream cheese?
If you are not aware of Neufchatel cream cheese then let's learn about the story. In the past, a milkman added cream to Neufchatel cheese to make cream cheese. So the difference between cream cheese and Neufchatel cream cheese is that the level of fat content varies. The taste, smell, and flavor of the cheese are very similar making it a great choice. So if you wish to reduce the fat content in your cheese consumption then Neufchatel cream cheese is the best option you have got.
How to segregate between the content of veggies and meat?
Instead of only having meat in your dip, you should have more veggies in your dip! Hence if you wish to make your recipe more tasteful combine both of them together! Instead of having just meat, you should opt for veggies as well. These options include zucchini, eggplant mushrooms, and so on. If you want a creamy and tangy flavor then you should go ahead with some proteins or fats!
How to make your dipping experience extra special?
Of course, sometimes a dip might seem like an extra indulgence amidst everything that you have been doing to control the extra carbs in your meal! Hence here are some more healthy tips for you! Add some bell peppers, cucumbers, grape tomatoes, slices of zucchini, raw cauliflower, broccoli, and celery sticks to your platter so that you can munch on something that is filled with nutrients.
What are some of the sides that you can consume with your dip?
Well, to ensure that you do not munch on something unhealthy along with your dip if you have the mood for a snack in the evening, always keep some low-carb crackers handy. Make sure that you do not eat a large bowl of dip all at once! You are expected to enjoy the dip but in small amounts. This way you can make some in surplus and store away the extras.
How to make sure that your dip has more consistency?
Nobody likes a light and runny dip, hence it is essential for you to focus on the consistency of the same. To ensure that the texture feels right you need to whip the sauce well! There is also a need for you to add in some extra cheese if needed. Always maintain proper consistency so that your dip does not taste awful! Even the best of seasonings can do little if the consistency is not right.
How to make your dip more attractive?
Well, sometimes food is all about how you present it! Remember that the dish will catch your eyes first and then if it feels appealing you will be tempted to eat it too! Hence to make your dip attractive make sure you use a lot of colors. This can be done with herbs, artificial food coloring, and so on. You can even combine ketchup with sauces to accomplish the purpose.
Keto Dip Recipes - Low-Carb Options to Shine at Your Next Gathering
If you are looking for something handsome and drool-worthy to show up on the table then this recipe is the ideal one to indulge in.
Packed with proteins, you ought to make it this time.
If you are wondering about ways to make your appetizer interesting then here is something we can help you out with.
No wonder, this one is called the million-dollar cream cheese dip. So what are you waiting for? Make it today.
Here is another delightful recipe that you ought to make if you find it hard to finish your meal without a dip on the table.
Packed with veggies, this recipe is outstanding and you must give it a try! Shall we then?
Delectable and flooded with rich creamy essence, the keto Mexican queso dip is an extraordinary creation and leaves you smitten for more.
The best part about this recipe is that it is so easy to follow and get done in a jiffy!
Delicious and loaded with great taste, this recipe is awesome and flooded with rich seafood essence!
So what are you waiting for? A crab rangoon dip is all that you need for a cozy side. Did we mention it is keto and low on carbs? Well, now you know!
The smooth and cream sausage dip is an incredible recipe that is flooded with the richness of spices, you ought to make this one.
Tomato, jalapeno, and cheddar cheese, this is one of a kind!
Jalapeno spinach artichoke dip is fascinating and packed with great taste! The presence of artichokes makes this an incredible treat for one to relish during the holidays.
Savory and creamy, the dip tastes gorgeous! Shall we try it then?
Well, when you are on a diet it seems pretty confusing to learn what to choose!
When we came across this recipe for pickle dip we knew you would love this one. So what are you waiting for?
Here is a crowd-pleasing dish that you should try out! Cheesy and loaded with herbs, you ought to give it a try!
Fifteen minutes is all that you need to get done with this divine choice shall we make it then?
This is quite an elaborate dip which we are sure you would love to relish!
Served with all your favorites, it is both healthy and tasty at the same time.
Served mostly with tacos, you ought to give it a try!
Cheesy and packed with the richness of spinach! Delicious and creamy, this is a keto recipe that you should not miss out on!
A few minutes is all that you need to prepare this gorgeous dish. Shall we then?
Buffalo Chicken dip is scrumptious and loaded with all that you find fascinating!
Hot, cheesy, and gooey, this recipe is gorgeous and you ought to make this one right away! In fact, you will regret not trying it out for so long.
Keto pizza dip is another delicious and flooded with cheesy gravy all over!
Topped with olives and seasonings so rich, that you will be smitten in every bite.
Served with nachos, this recipe is one of a kind. Shall we then?
Being low on carbs, this Texas trash recipe is fabulous and you ought to make it this season.
Creamy, cheesy, and packed with chili mix, this recipe is wonderful and you should try it out!
And the net carb is low so you can have this as much as you want.
Smooth, savory, and rich, the peanut butter dip is the ultimate treat of the season!
Loaded with great flavors, this recipe is one of the best! Are you ready to experience its gorgeous taste?
Served with veggies and tortilla chips, your keto queso cheese dip is loaded with delicious essence that will make you drool at every bite.
Being low on carbs, this one turns out to be an incredible idea as a side.
Rich and creamy, the spinach avocado dip is one of the most wonderful ideas that we have come across in so long.
It is a non-diary dip and is packed with the goodness and divine taste of avocado. Shall we then?
This is all, keto, gluten-free low on carbs, the green goddess dip is one of the most heavenly treats of all time!
If you want something unique and rich, then go ahead with this recipe right away. Shall we?
Sweet, zesty, and flavorful, here is a keto dip that you must try out! Packed with enriching essence, this is a creamy treat that you should indulge in right away.
Thank us later for the idea! Let's try it then?
Making this dip is indeed so easy! Flooded with great taste, the spinach dip is healthy and tasty too!
Savory and smooth, this one is great to go with crackers or nachos on the side!
Other ideas you should check out: Halloween Pumpkin Dip Recipes, Keto Thanksgiving Recipes, Keto Mexican Food Recipes, Savory Dip Recipes, Keto Cream Cheese Recipes, Sweet Keto Candy Recipes, Keto Pie Recipes, Keto Cheesecake Recipes, Delicious Halloween Cakes