Get your taste buds ready for delicious low-carb keto muffin recipes that are easy to make with low-carb ingredients! From blueberry to chocolate chip - find the best recipes to satisfy your cravings. Try one today!
More collections: Benefits Of A Keto Diet, What Are The Risks Of The Ketogenic Diet?, Keto Chicken Thigh Recipes, Low Carb Keto Drinks, Keto Super Bowl Snacks, Sweet Keto Candy Recipes, Keto Kielbasa Recipes, Keto Mug Cake Recipes, Keto Wrap Recipes, Low-Carb Lupin Flour Recipes, Keto Cheesecake Recipes, Keto Kale Recipes, Keto Pie Recipes, Keto Ground Pork Recipes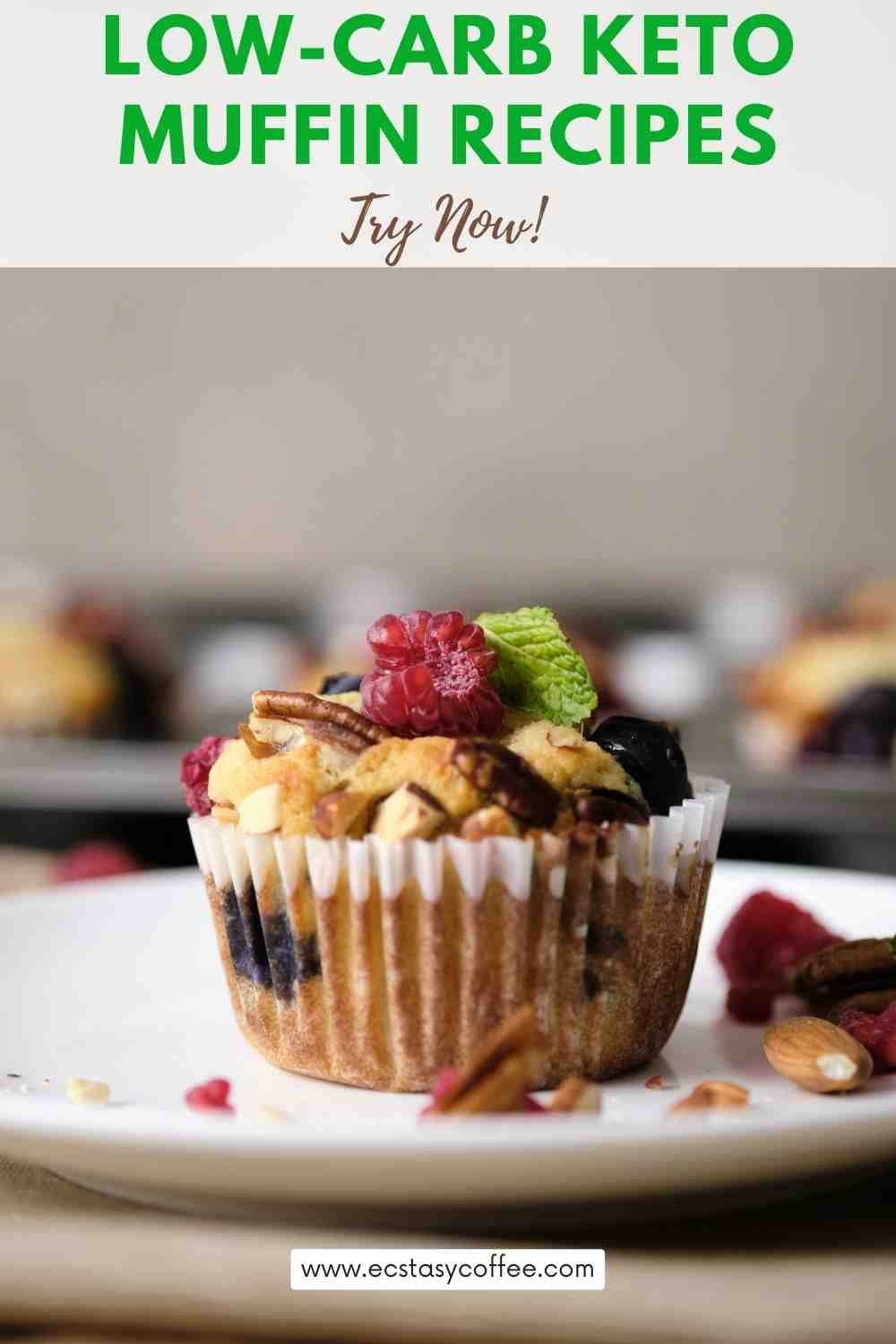 Well, there is nothing unlikable about muffins! Especially for a dessert lover, low-carb keto muffins are something that helps us to lift our spirits.
Exploring different recipes and finding out new options is our hobby and if you wish to learn about it then well we can say that you are in good hands. Today let's find out about gorgeous keto muffins but before that let's learn about delectable muffins and tips to bake them right. If you are baking for the first time or after a long while then we can certainly help you out! Read on to unravel.
How to come up with a batch of successful muffins
Depending on your diet plans and also the ingredients that are available, you can choose to work on a particular recipe. If you are using less butter and sugar then the muffins that you will end up with are likely to be dry and rough compared to others while if the content of butter and sugar is high, it is needless to say that your muffins will be rich in flavors, tender and moist.
Should ingredients be present at room temperature?
When you are making muffins there is one thing that you must be sure about! Ingredients that are added to your muffin bowl should be all present at room temperature! Ingredients fail to express themselves well and blend with each other when they are present cold. Hence you are recommended to bring them out from the refrigerator an hour before. For example, eggs, in case you forgot to do so, then place the eggs inside a bowl of lukewarm water for about a couple of minutes.
Why are you recommended not to over mix
This rule is applicable whenever you are baking whether muffins or cupcakes or simple cakes even! Over-mixing is a very bad thing when it comes to either of them! This can make your muffins either turn out dry due to the gluten developing too much or something soggy and mushy as the structural gluten is tampered with.
You can use a spatula or a spoon to stir the muffins. The wet and dry ingredients should be blended separately. There can be lumps and you can gently break them or if the lumps are too small or negligible then you can let them remain.
What are some of the extra ingredients and toppings that you can serve on the muffins?
Fruits, nuts, and sprinkles, the options are endless when it comes to making muffins. You can blend these add-ons with a little flour so that they do not sink to the bottom of the batter. After the wet and dry ingredients are stirred, you can add the top-ups and give another gentle stir before your batter is ready to go into the oven.
How to make it easy to remove the muffins
Once your muffins are done, you might find it hard to remove the muffins from the pan! Can it break or crumble in the process? Yes, it can! Can you avoid it? Of course! Just use a spray to sprinkle some oil into the muffin cups and the job becomes so much easier to separate them from the pan once they are done.
How to get even portions of the batter
Sometimes, the muffins can bake unevenly if they are not of uniform size and shape! One can make sure that the batter used for each is uniform with the aid of an ice cream scoop or spoon!
Deliciously Healthy Low-Carb Keto Muffins | Low Carb & Sugar-Free
Tender and crumbly, if you are looking for some fruity treat then you absolutely deserve these scrumptious muffins right away.
Tender, rich and flavorful, these recipes are one of their kind. Go for these lovely treats right away.
We are sure you haven't tried the keto cream cheese muffins yet. Because if you did, you would be drooling by now!
And if you haven't then you should not waste a single moment and get started already. Let's go.
This is a piece of great news for coffee lovers! The keto coffee cake muffins are lovely and loaded with great taste!
Decadent, delicious, and sweet, this is perfect to indulge in even if you are on a diet. Shall we then?
If you want the best of both worlds then you should try out the keto blueberry cheese muffins right away.
After you bake these, you will surely complain about why they get over so fast. We can vouch for that.
Delicious and crumbly, you ought to indulge in the blissful taste of this lovely almond flour-baked blueberry muffins!
Tender, rich, and infused with your favorite berries, there is no way you can miss out on this one.
Delectable, rich, and flavorful, here is another low-carb muffin option for you!
If you are on a diet and still craving something good then we must say this is the best to indulge in this season.
Go for it right away.
Do you find apple muffins the best of the lot then you will be impressed even more with the recipe that we have for you right here!
Tempting and packed with great flavors, this recipe is so easy to emulate as well. Shall we then?
Of course, there is no doubt why this turned out to be an internet sensation overnight!
If you wish to find out too then this recipe is what you need to indulge in. Gorgeous and tempting in every bite.
The combination of lemon and raspberry is what will truly leave you smitten!
Delightful and rich in every bite, this recipe is going to make you drool!
Perfect to munch on as you end your meal, this dessert is truly a reason to find happiness amidst boredom.
The no-flour muffins are indeed a dream come true for keto dieters who are struggling to make their diet healthy as well as tasty.
Hence when we came across this blueberry muffin we knew you would love this idea.
If you are in the mood for something nice and creamy then this seasonal cream cheese muffin with delectable pumpkin pulp makes this a brilliant idea indeed.
Flooded with great taste, you must make this one for sure. Thank us later for the idea.
Ready in no time, if you are fond of mug cakes because of how fast and yummy they bake then you are looking at the right place.
Delightful and enriching, you must try it out.
Yup, you heard it right! Now it is possible to combine chocolate with cream cheese and the results are simply divine.
Delicious, savory, and flavorful, you will surely come back thanking us for the idea and we'll wait for your feedback.
Ready in not more than one minute, the keto cinnamon roll mug cakes are delicious and flooded with great taste!
Savory, tender, and rich, your mug cakes are awesome and one of a kind. Shall we?
The rich and gooey coconut flour cinnamon muffins are right here to sway you off your feet.
We are not exaggerating even a bit! If you do not trust us then challenge you to make it today and find out.
Drizzled with loads of chocolate chips, these keto peanut butter muffins shall melt in your mouth to render a sense of contentment in every bite.
Delicious and decadent, you ought to indulge in its blissful taste. Shall we try it then?
Morning glory muffins are indeed a delightful treat for dessert lovers!
Low carb and rich in protein, these muffins are the first thing to disappear from the table.
Delicious and rich, you ought to give it a try! This is also paleo-friendly.
This combination of blueberry with zucchini is a unique choice! Delectable and healthy, you ought to give it a try!
Savory, rich, and tender, this one is loaded with great taste. Once you make it, you will be compelled to make it again and again.
Meaty, succulent and rich, these cheesy ham and jalapeno bites are extremely yummy and flooded with great taste!
Chewy, succulent, and perfect to lift your spirits, the cheesy ham and jalapeno bites are so easy to make.
Yup, when you are craving something sweet and healthy for desserts, you should go for the blueberry sour cream muffins right away.
This is a delightful idea that you should not miss out on! Shall we then?
Other ideas you should check out: Halloween Pumpkin Muffins, Muffin Recipes, Keto Thanksgiving Recipes, Keto Thanksgiving Recipes, Gluten-Free Thanksgiving Dessert, Best Low-carb Vegetables, Christmas Breakfast Casseroles, Delicious One Skillet Meals, Smoked Sausage Recipes