Everybody deserves some time off to relax. You can enjoy the weather, read a book, or explore the outdoors. After all, people need to pause the busy hustling, so they can appreciate the vibrance of simply living life. However, while a vacation sounds heavenly, not everybody has the time or budget to book a trip. Fortunately, you don't need to look far if you're looking for a relaxing getaway.
Home-based staycations have become more popular than ever. Say goodbye to detailed trip schedules and savor the low-stress experience of enjoying your time off in the comfort of your home. Staycations are perfect for people who wish to relax without having to worry about booking reservations or making itineraries. Aside from being significantly more affordable, staycations are also a great way to reboot your home if you haven't properly paid attention to it for a long time.
That said, while staycations don't require plane tickets or passports, they can still be tricky to pull off. It can be difficult to turn off thinking about work, chores, and other responsibilities when you're staying in the same environment. Thus, like any other trip, you need to do a couple of preparations first, particularly in and around your house. By doing so, you can fully immerse yourself in your staycation and take the time off you need.
If you're unsure about where to start these preparations, here are a couple of ways you can make your home extra cozy for your upcoming home-based relaxation extravaganza.
Prepare a Comfy Wardrobe
Let's start with the things closest to you first. Your wardrobe has a significant impact on your mood, so preparing a comfy set of clothes beforehand can help you feel more at ease. Sweatpants and a well-acquainted shirt usually do the trick, but for your staycation, consider splurging a little to help you feel like you're on a vacation. You can purchase a soft bathrobe, check out a pair of fluffy slippers, or consider buying cozy leggings online. Make sure to prepare these items before the staycation itself, so they're ready for you when the day comes.
Set the Mood with Lighting
Aside from clothes, lighting also has a profound effect on how people feel. When the room is bright and well-ventilated, you naturally feel lighter and more at ease in the surroundings. Apply this concept in your own home. Draw back the curtains, open the windows, and let the light stream into your cozy space. In the evening, opt for ambiance lighting with warm-lit lamps placed in strategic places around your home. In this way, your house feels more relaxing and cozier compared to the usual.
Get Some New Bath Products
You probably already have hygiene staples that you use everyday but if you want to spruce up your staycation experience, treat yourself to some new bath products. This is an excellent opportunity to try luxury soaps, shampoos, and lotions, which can transform your bath experience into a more special one. Additionally, if you like long baths, acquiring some bath bombs and bath salts beforehand can give your soak a more luxurious feel.
Consider a Scented Candle
Your sense of smell also plays a role in your overall mood. Scent can be used to heighten your excitement or help you feel more calm and rested. Hence, procuring some scented candles before your staycation can help you set the right ambiance for your house more effectively. There are countless options for scented candles in both on-site and online stores, so perhaps schedule a candle-shopping trip some days before your scheduled getaway.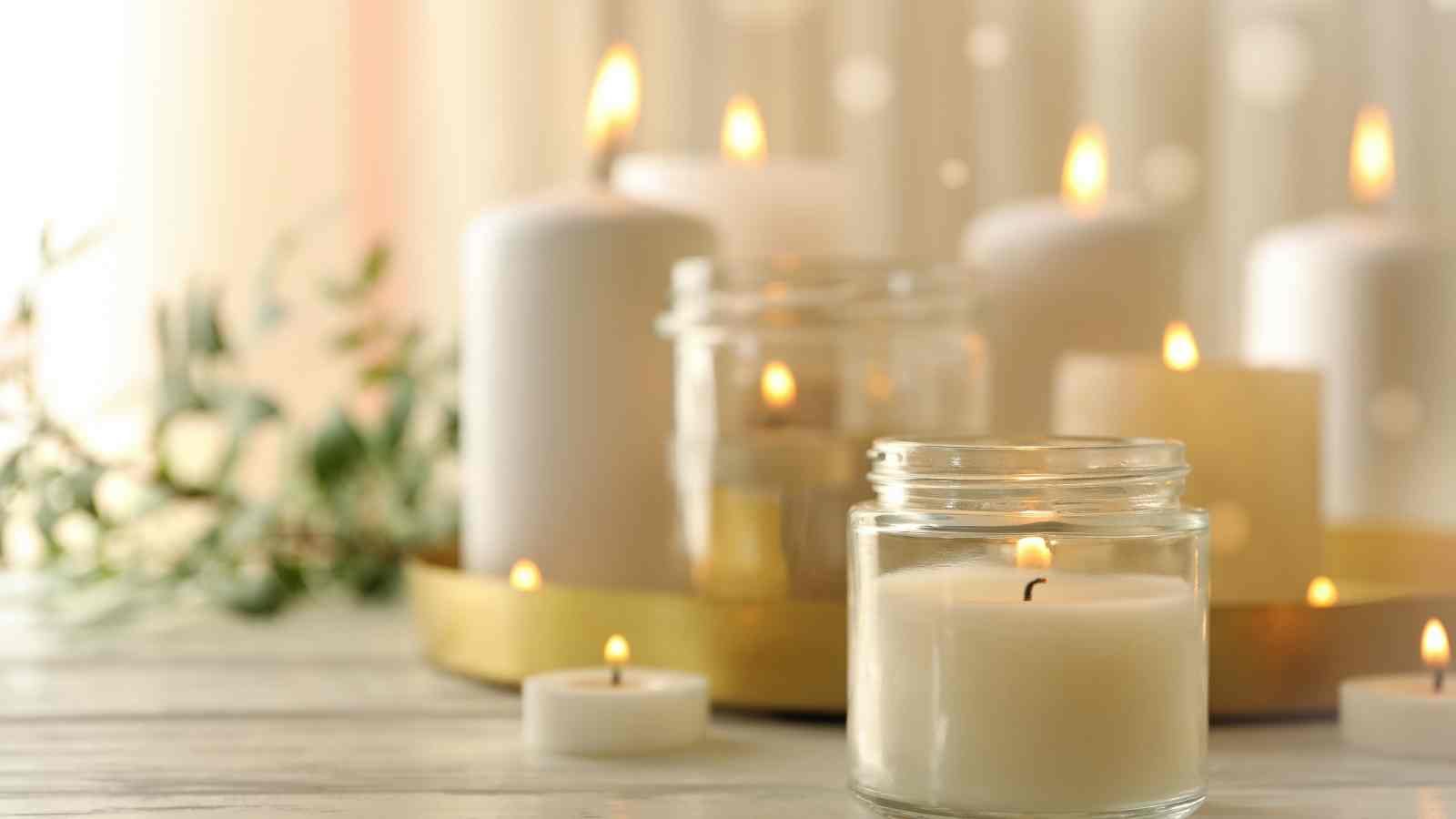 Play Soothing Tunes
Don't underestimate the effect of music playing in the background. It can significantly influence how you feel and set a tone for your environment. Depending on what kind of mood you'd like to be in, you can put on a playlist of your favorite songs while you stay at home. If you prefer a more peaceful atmosphere, however, you can also play some ambient music or white noise sounds instead to achieve that zen-like feel.
Spruce Up the Room with Flowers and Plants
Studies have consistently shown that being in nature has a calming effect on people. If you don't have a yard or garden, putting some greenery in your home interiors can have the same effect. Potted plants and floral arrangements significantly spruce up the space and make it look happier and more peaceful. Large plants, in particular, are lovely to look at, and the bursts of colors from flowering plants bring some life into an otherwise dull environment. If you're not sure which plants to get, purchase a large bouquet and separate the stalks into smaller vases. It can be a fun activity for you on the first day of your staycation.
Be Extra with Your Meals
A vacation isn't complete without trying some new meals. While you may not be traveling to distant lands, trying a new cuisine or different kind of meal allows your taste buds to explore new flavors and textures. Indeed, it's an easy way to experience other cultures without the hefty plane ticket price.
To make food prep easier for you, purchase the necessary ingredients beforehand and watch some cooking videos to familiarize yourself with the process. If food prep feels like too much work, allocate part of your budget for takeouts and look for notable establishments that offer cuisines you're interested in trying.
Clean the House Beforehand
Life often gets hectic, and because of that, people sometimes overlook maintaining their homes' cleanliness. This is the understandable reality of the average busy worker. That said, if you wish to have a staycation in your house, it would be difficult to relax when the place is unkempt. As such, you need to clean up your home beforehand, so you're not worrying about chores in the middle of your staycation. If you don't have time, consider hiring a reputable cleaning service, so they can clean up a few days before your scheduled staycation.
Redesign Your Interiors
An interior redesign doesn't necessarily translate to a complete house makeover. It may simply mean rearranging your current furniture, so the space looks and feels different. It's also a great opportunity to assess the placement of your furniture and arrange them in a manner that suits your lifestyle better.
Aside from moving furniture around, consider adding a few new pieces here and there as well. These may include vases, pillows, seat covers, and other accessories. You don't need to break the bank for them; you can find several interesting pieces in thrift shops or flea markets.
On the other hand, if you wish to significantly transform the place, use a new color palette for a strikingly fresh look.
Get in the Right Headspace
Indeed, a staycation is one of the easiest ways to have a vacation. That said, it walks the fine line between a fun time off and a regular weekend at home. To make sure that you make the most of it, get into the right mindset by preparing your home and your activities. Always try something new to spruce things up, like a themed dinner or a new movie to watch. Stay dedicated to your goal to relax, and leave work out the door.