Think of the Costa del Sol and what usually comes to mind is streets full of high-rise hotels lining a beachfront crammed with British bars and restaurants. Malaga may be called the capital of the Costa del Sol, but there's nothing British about this beautiful city. It is one hundred percent Spanish in every way.
Malaga is full of surprises and, on occasion, contradictions too. This port city differs from the norm in so many ways that exploring it, on or off the beaten path, quickly becomes a memorable and eye-opening experience. 
With QR codes, you can get through airport security and other checkpoints without having to rush to get any paperwork ready. Gone are the days of uncomfortable lines and tedious paperwork when traveling to Malaga – now you can use a simple and free QR code. With this new technology, traveling just got a lot easier and more efficient.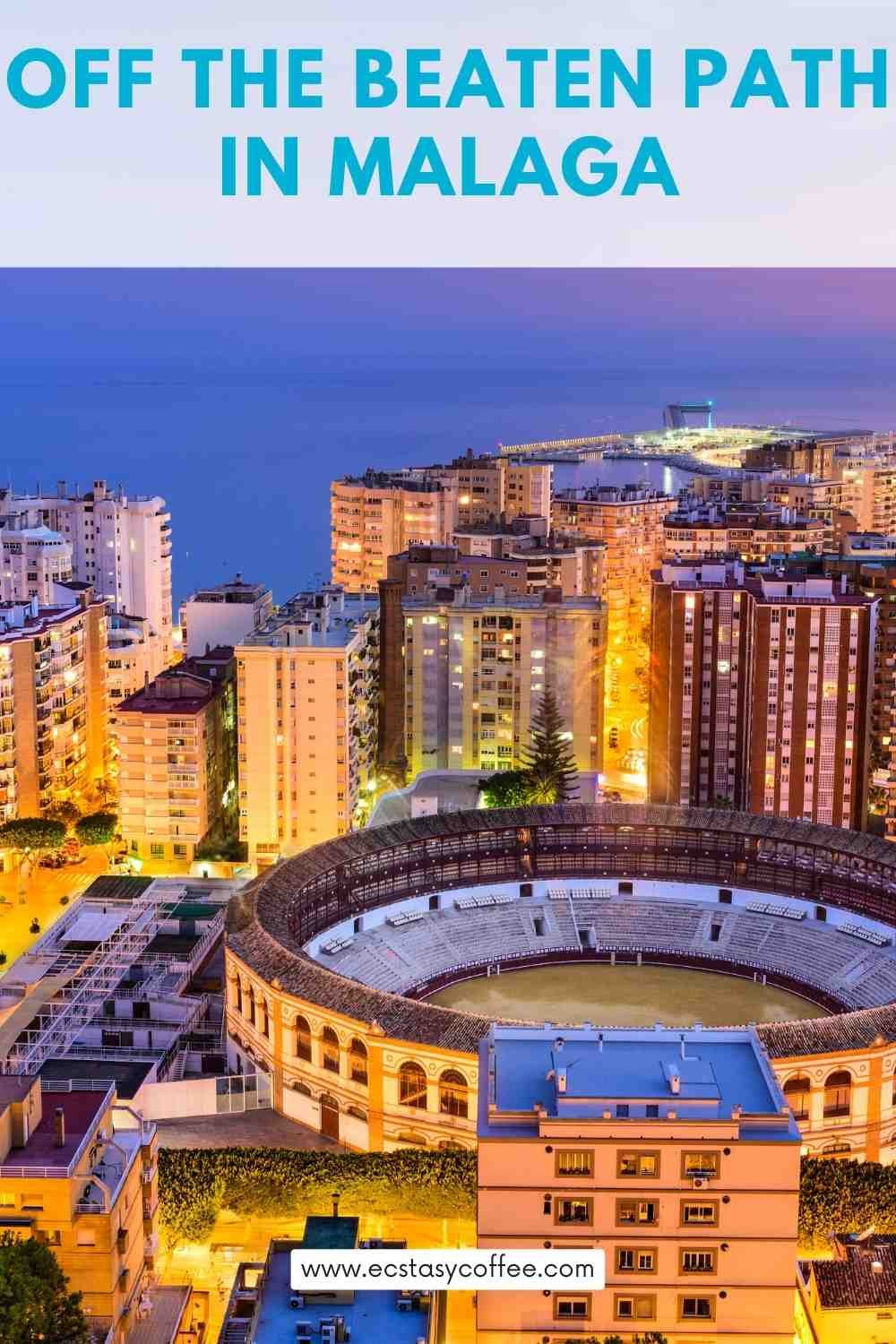 Stay anywhere around central Malaga, and you'll be woken in the morning by the sound of the cleaners hosing down the pavements. Malaga really is one of the cleanest cities, not just in Spain but in Europe. It's also one of the greenest too and in a natural way, also one of the noisiest. Any stroll you take through Malaga's public parks will be accompanied, not by the chirping of cicadas or the cooing of pigeons. but by the chatter of the small green parrots that roost in the palm trees.
There are some parts of Malaga that, if you don't know about them in advance of visiting the city, you can easily miss. There are also areas of the city that, because you don't know them, you might think twice about going to, but you shouldn't. As you explore off the beaten path, it's always a good idea to make sure your bags are safe. Visit a luggage storage location in Malaga before you head out to make things easy on yourself.
Muelle Uno
The port area of any large coastal city, no matter where it is in the world, is usually somewhere to keep well away from, but here's the contradiction, not in Malaga.
Muelle Uno, the port area of Malaga, underwent a multi-million euro renovation a few years ago and is now one of the most attractive and modern parts of the city. It's a place not to avoid at all, or you'll miss out big time.
Stroll along the length of the state-of-the-art seafront promenade and after being serenaded by quality buskers performing under the concrete fish-bone canopies you'll arrive at a quarter where there's been no expense spared in its development.
The restaurants along the harborfront are all new and offer everything from prime steaks to fresh seafood and poh bowls. Don't get there too late or you won't find a spare table. Muelle Uno is one of the in places to go, day or night, for locals as well as visitors.
As well as the restaurants on Muelle Uno, there are a host of kiosks stacked to the hilt with handcrafted goods and, on Sunday mornings, a huge market that will take you a couple of hours to browse around.
Jardin Botanical Malaga
The Jardin Botanical, also known simply as the Botanical Gardens, is one spot that's definitely off the beaten path in Malaga. The gardens are located high up on a hill in the northern outskirts of the city and as there's no local bus service, grabbing a cab to get here is the only option unless you have rented a car.
It's not an expensive cab journey by any means, so don't expect to pay more than ten euros for the trip from the city center to these 150-year-old gardens.
You don't need to be even remotely interested in horticulture to enjoy a visit here. There's a lot more to see than plants and trees, and once you've found the domed viewpoint fronted by a turtle pond, you'll be seeing the best panoramic views of Malaga imaginable.
As you explore the gardens, you'll come across the wisteria gazebo, which is stunning when in flower, the secret palace, the temple with its amazing stone bench, a burbling brook, and the creepy giant roots section, which would inspire anyone to write a Hitchcock-style horror movie.
The botanical gardens may not be the most visited attraction in Malaga, but that's only because people have yet to find out about the exceptionally good cakes they serve in the garden's cafeteria. Once word gets out, folks will be lining up to get in.
Malaga Soho Isn't A No-No
In most cities, when the name Soho is mentioned, it refers to an area that's probably not the most desirable for numerous reasons, but that's where Malaga delivers another contradiction. Malaga Soho is upbeat, trendy, and where it's all happening, especially at night.
Malaga Soho is a labyrinth of super clean, unlittered streets where there are great cafeterias, bars, and restaurants. It's a five-minute walk from the city's iconic central market, is home to the oldest vermouth bar in the city, is a stone's throw from some of the best beaches in Malaga, and you never know, it could be somewhere you might just meet an A-list film star face to face coming around the corner.
Malaga is the birthplace and home of the actor Antonio Banderas. The Spanish star of Zorro, Shrek, and Puss in Boots fame, to name just a few of his major films, has a theater in Malaga Soho where he performs on stage in some, but not all, of the productions.
The Teatro del Soho CaixaBank is on Soho's Calle Cordoba, and even if you're not fortunate enough to see Antonio himself, the graffiti on the side wall is well worth getting a photo of.
To Vermouth or not to Vermouth
The Antigua Casa de Guardia is somewhere you can easily walk straight past in Soho without realizing exactly what it is.
This secretive bar on the Alameda Principal is the oldest and most rustic vermouth bar in Malaga and not somewhere to drop into if you want a beer. From the outside, all you'll see is a door with flaking paintwork and a dark interior. It's not overly inviting, but that all changes once you get inside.
The Antigua Casa de Guardia is a traditional vermouth bar where behind the worn wooden counter, there's barrel after barrel of typical Spanish vermouths, sherries, and ports including the sweet wine Pedro Jimenez.
All drinks here are served straight from the barrel with no finesse and at a price that will make you ask – really? Bar tabs are written in chalk on the bar in front of you, and don't try paying before you're ready to leave. It doesn't work like that.
After two or three glasses of whichever aperitif you chose, each costing no more than one euro and fifty cents each, you could be left wondering why there aren't more bars in the world like this one. There's only one answer to that. Malaga is unique.
Read also: