Outdoor weddings provide a unique and picturesque setting for couples to exchange their vows. With the natural beauty of the surroundings as a backdrop, many couples are opting for outdoor venues to celebrate their special day. When it comes to decorating the outside there are many factors to consider. One popular and visually stunning way to enhance the wedding decor is by incorporating these confetti cannons into the celebration. These confetti cannons can add an element of surprise, elegance, and joy to the event, creating lasting memories for the couple and their guests.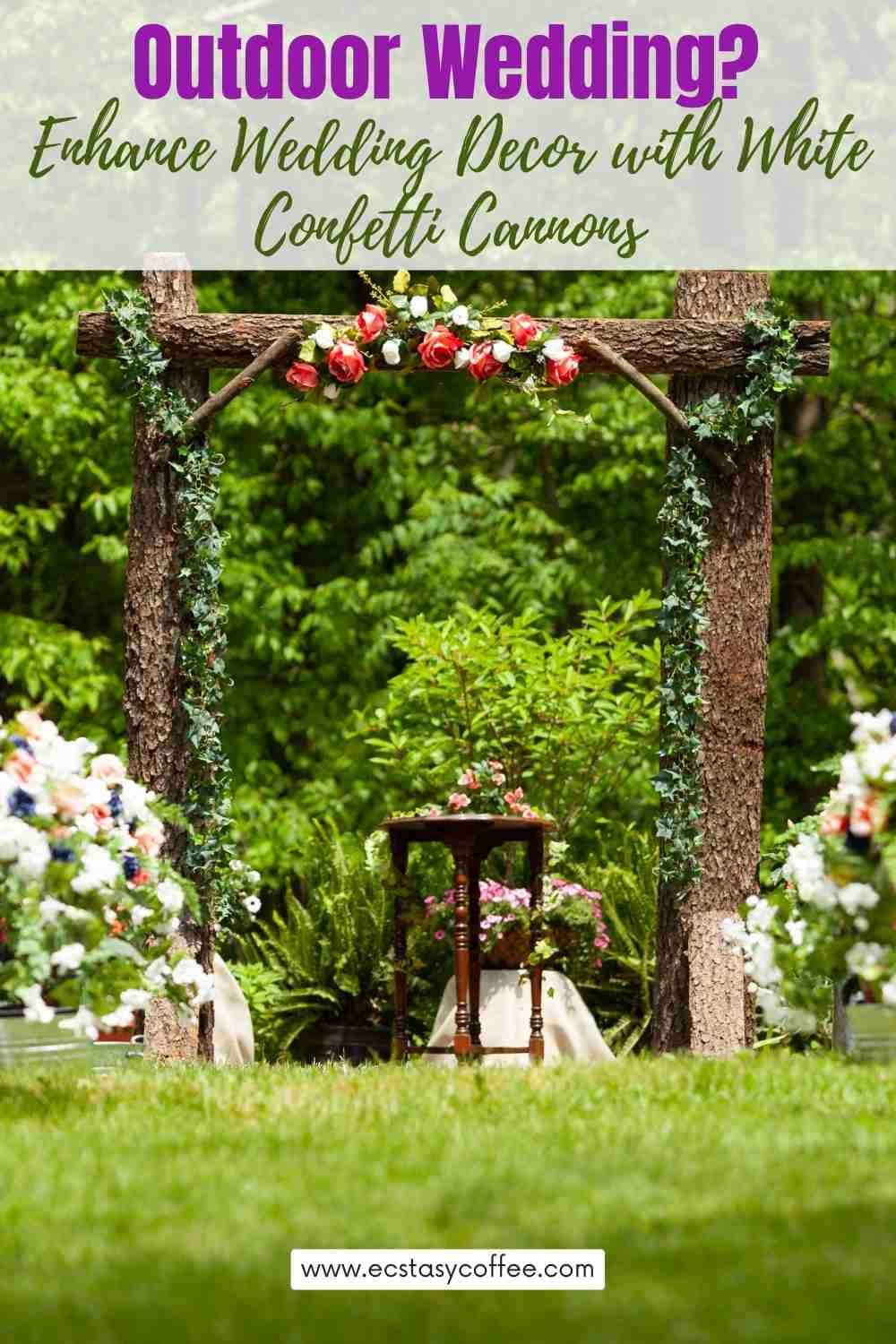 The Magic of White Confetti Cannons
White confetti cannons are a fantastic addition to any outdoor wedding. It's a great tool to add to any type of celebration. They are easy to use and can be set off at key moments during the ceremony or reception, such as the couple's first kiss, the grand entrance, or the first dance.
The burst of beautiful confetti in the air creates a magical atmosphere, adding a touch of glamour to the event. The confetti floats gently, creating a breathtaking visual display that is sure to captivate everyone's attention.
Versatility and Elegance
One of the benefits of using confetti cannons is their versatility. They can be used in various ways to suit the couple's preferences and the overall theme of the wedding.
For a classic and elegant look, confetti cannons can be used in combination with floral arrangements and soft lighting to create a romantic ambiance. Alternatively, they can be paired with bold and vibrant colors to add a pop of excitement and energy to the celebration. The confetti act as a neutral element that complements any color scheme, making it a versatile choice for wedding decor.
In addition to their aesthetic appeal, confetti cannons also create a sense of celebration and joy. As the confetti rains down on the couple and their guests, it creates a moment of pure happiness and excitement. The sight of smiling faces and laughter fills the air, adding a sense of warmth and unity to the event. These moments are cherished not only by the couple but also by their loved ones, who can share in their joy and create lasting memories together.
Eco-Friendly Option
Furthermore, confetti cannons can be environmentally friendly. This is great when it comes to outdoor settings as you don't want to disturb the wildlife in the area. Nowadays, many couples are conscious of the impact their wedding has on the environment.
Unlike traditional confetti made from materials that may harm the environment, confetti cannons often use biodegradable materials that break down naturally over time. This eco-friendly option allows couples to enjoy the beauty and fun of confetti without compromising their commitment to sustainability. Which means it's safe for everyone to enjoy.
Safety and Guidelines
To ensure the safety and effectiveness of confetti cannons, it is essential to follow the instructions provided by the manufacturer. As much as these cannons are fun, they can cause accidental harm. Especially if there are children around.
It is also important to check with the venue if the use of confetti cannons is permitted, as some locations may have restrictions or guidelines in place. By adhering to these guidelines, couples can enjoy the magic and charm of confetti cannons while ensuring a smooth and hassle-free celebration. The safer everyone is, the better the celebration is.
Conclusion
White confetti cannons are an excellent choice for enhancing the decor of an outdoor wedding. They add a touch of elegance, surprise, and joy to the celebration, creating a visually stunning and memorable experience for everyone involved. Whether used in a classic or bold setting, these versatile cannons complement any wedding theme and color scheme.
Moreover, they offer an eco-friendly option, ensuring that couples can enjoy the beauty of confetti while being mindful of the environment. So, if you're planning an outdoor wedding, consider incorporating confetti cannons into your decor for a truly magical and unforgettable celebration.
More collections: Handmade Vase Design Ideas, Birthday Recipes, Beach Wedding Ideas, DIY Christmas JOY Signs, Top Weekend Getaways in Oregon, Halloween Cocktail Recipes, Easy Halloween Appetizers, Halloween Snacks