Whether you're hosting a formal dinner or would like to make your dining table more attractive and classier, adding a floral centerpiece would be a great idea. This way, you can allow your home to feel like a high-class restaurant or even just a beautiful place to dine in. However, adding flowers to your dining table isn't as easy as it looks because you need to be meticulous with what you include.
Choosing the perfect floral centerpiece isn't a walk in the park, especially when there's a lot you have to consider. However, there's always a way to get around it. Listed below are some tips on choosing the perfect table for your dining table: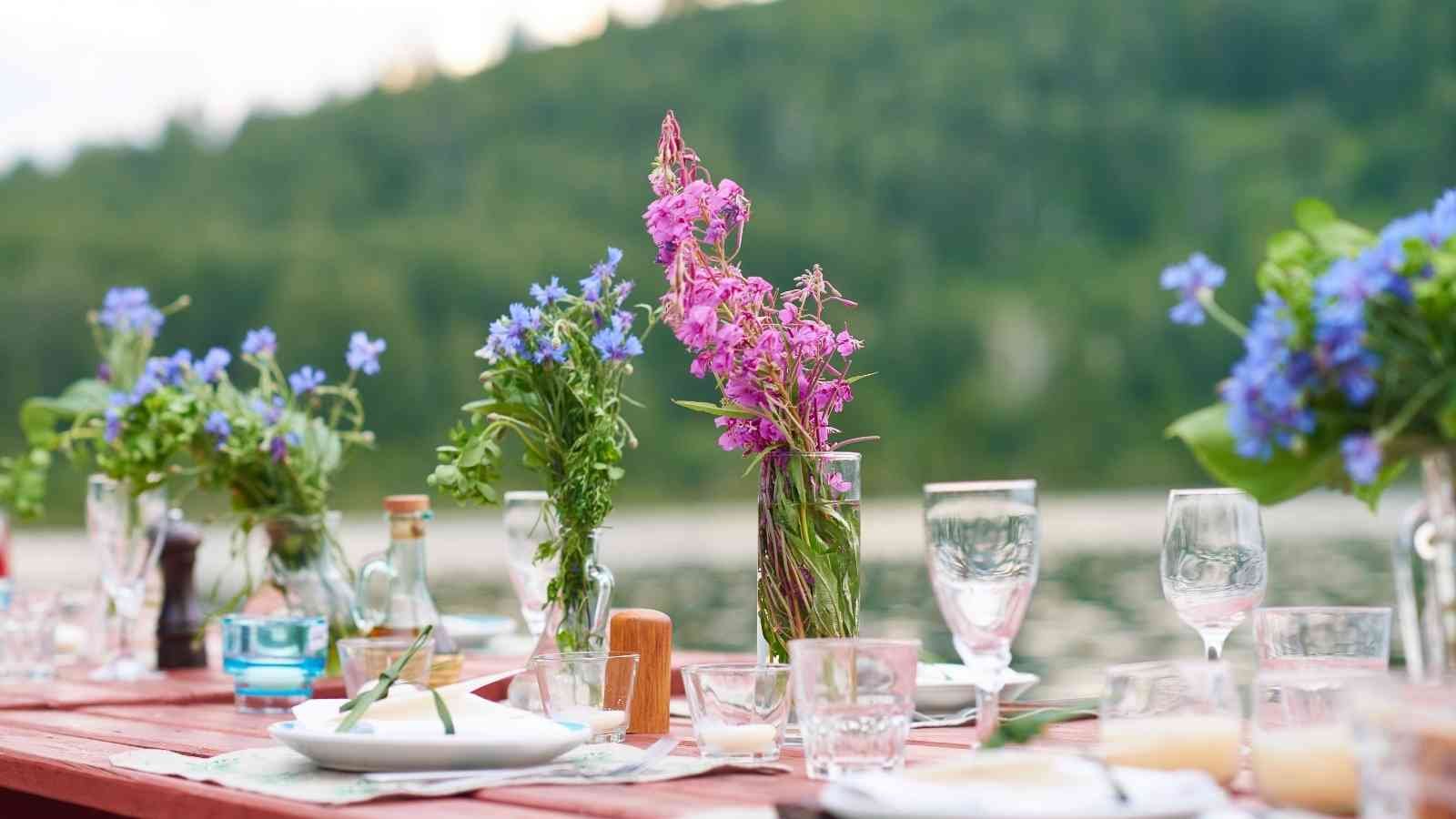 Jump to:
Shop For The Freshest Flower
One of the first things you should prioritize when choosing the perfect floral centerpiece is choosing the freshest flower on the market. This way, you can allow yourself to see its full bloom and enable your dining room to enjoy its beauty. Moreover, a fresh flower also makes the room more playful, vibrant, and natural. It'll be the perfect addition to any room to make it lively and an enjoyable place to eat.
Ideally, you should shop for the freshest flower early in the morning when there are still few people shopping for flowers. However, if you don't have time to get up in the morning, you can always order online and wait for the fresh flowers to arrive at your home. Look for reputable businesses like Wild Rose Flowers and others to guarantee that you'll be receiving fresh flowers without having to go to the market yourself.
Don't Use A Tall Arrangement
When it comes to arranging flowers, it might be tempting to go with a tall arrangement since you could add as many flowers as you like. This also allows you to play with various combinations and create beautiful shapes with every stem that you add. While a tall arrangement is lovely, it's unrecommended to use this as a dining table centerpiece.
Usually, you'll be placing your floral arrangement in the middle of your table. If your piece is too high, people around the table might have a hard time looking at each other's faces and might be unable to communicate well. With this, no matter how beautiful your piece is, your guests would just find it annoying as they can't catch up on conversations with their family and friends. With that, keeping your floral centerpiece below one foot would be ideal. This could make you bid goodbye to add sunflowers to your arrangement.
Stay Away From Fragrant Flowers
Flowers are really nice to smell, especially when you receive them by bouquet. However, since you're planning to make them as your dining table centerpiece, it's recommended that you stay away from fragrant flowers as they could affect the taste of the food. Not that it directly affects the food's flavor, but when a person is smelling a different scent from their meal, their brain might be confused about which flavor they should emphasize.
During your dinner party, the aroma of the food should be the highlight of the day, not the decorations you choose inside your dining room. With that, you should avoid fragrant flowers that could steal the show from the food's delicious aroma. Furthermore, it's best to avoid adding rose, lily, gardenia, lavender, lilac, freesia, hyacinth, and tuberose because they're intensely fragrant, especially for your dining table.
Incorporate A Theme
When it comes to using floral arrangements for your dining table, it'll work best if you could incorporate a theme with it. This way, you can allow the theme and appearance of your decorations to look well together, making it a great room to enjoy a good dinner with family and friends. For example, if you're hosting a white Christmas dinner party, using all-white flowers with a few hints of brown and green would surely help make the theme more emphasized inside the room.
As you incorporate a theme, you should be careful with your flower choices and colors. You can go for romantic, playful, or rustic. Along with the flower choices, you should also ensure that you use the right vessel that incorporates the theme as well. You can use box planters, mason jars, DIY vases, or traditional low and round vases.
Add Enough Filler Flowers
As you arrange your flowers as your dining table centerpiece, you must know that you can't use large flowers throughout the piece. It'll just look too loud and noisy, which might steal the show from the delicious food served on the dining table. To create the perfect balanced look for your flower arrangement, you shouldn't forget to add enough fillers for your piece.
A filler flower helps to avoid overcrowding the arrangement with statement flowers. Ideally, your piece should have a well-distributed main flower and use filler flowers to fill in the void. This will help make the arrangement greener and more balanced. Ideally, you can play with various pieces such as baby's breath, feverfew daisies, Italian Ruscus, leather leaf fern, myrtle, and sedum, to name a few.
Use A Floating Arrangement
Different flowers have various ways of how they stand once you put them in their vessel. To avoid getting the flowers in contact with your meals, you should go for a floating arrangement. This way, you can allow your decorations to be beautiful, stand still, and prevent themselves from affecting your meals. This will allow for a more enjoyable dining experience for everyone.
A floating arrangement involves flowers that float and hold their shape. They stand tall and still without the possibility of falling or bending down, which could touch the food, or worse, see their petals fall on your dish. To still add beauty to your piece, don't forget to add decorative flowers to make your arrangement still beautiful even without the side effect.
Takeaway
Choosing the perfect flower arrangement for your dining table isn't easy as it looks, especially since you need to be specific with the flower choices you're going to arrange. This way, you can allow everyone to be comfortable with your piece while enjoying its beauty at the same time. At the end of the day, don't forget to have fun and enjoy the excitement of what the flower arrangement has to offer.