In the world of event planning, the role of professional caterers is often underestimated. These experts go beyond serving food; they craft experiences that leave a lasting impact. And what better way to complement their culinary expertise than with the allure of a well-brewed cup of coffee?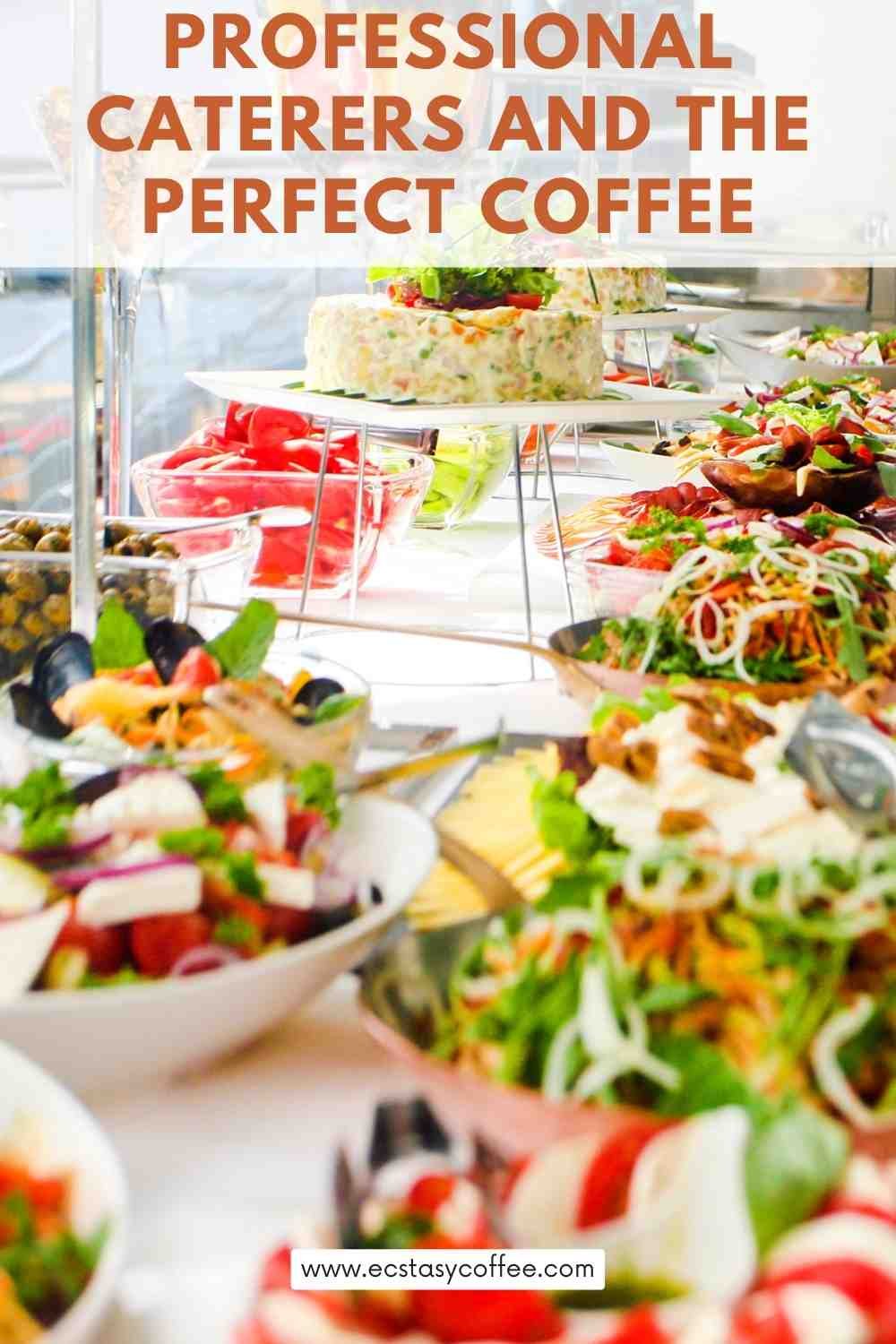 Join us as we delve into the fusion of professional catering and the art of coffee, discovering how these two elements work in harmony to create unforgettable events.
Crafting Culinary Excellence
Professional caterers are skilled artisans, meticulously crafting menus that marry flavors, textures, and presentations. Their expertise is akin to that of a barista perfecting a coffee blend, ensuring every sip and bite is a symphony of taste.
Just as coffee beans are chosen for their distinct profiles, caterers select ingredients with care, resulting in a culinary masterpiece that engages the senses.
A Stimulating Start
Before the event unfolds, a thoughtfully brewed cup of coffee serves as a precursor to the culinary journey. Just as the aroma of coffee awakens the senses, professional caterers prepare appetizers that tease the palate and kindle anticipation.
Coffee and catering both set the tone, inviting attendees to immerse themselves in an experience that promises satisfaction and delight.
Interactivity in Every Bite and Sip
Professional caterers excel in creating interactive elements that captivate guests. Imagine a live coffee station where attendees can customize their brews, mirroring the interactive spirit of food stations.
Both catering and coffee engage the senses and encourage participation, transforming passive consumption into an engaging experience.
Coffee and Culinary Pairings
Much like food and wine pairings, the harmony between coffee and culinary creations can elevate an event. Professional caterers curate menus that complement the diverse profiles of coffee, enhancing the overall experience.
Picture enjoying a savory dish alongside a coffee blend that enhances its flavors, showcasing the art of harmonizing different elements.
Nurturing Conversations
In the realm of event planning, ambiance plays a pivotal role. This concept seamlessly aligns with the coffee culture. Just as event spaces are designed for connection, coffee lounges offer a relaxed setting for meaningful conversations.
They serve as a space where attendees can connect, exchange ideas, and form new connections – much like the interactions nurtured by exceptional events.
Sweets and Sips
Every event has its grand finale – a moment that leaves a lasting impression. In the catering world, this often arrives in the form of exquisite desserts. Similarly, coffee provides its own sweet note to conclude the experience.
Imagine a dessert table adorned with delectable treats paired with perfectly brewed coffee, creating a sensory symphony that marks the event's culmination.
Final Thoughts
Consider the collaboration between professional caterers and coffee as the art of crafting a perfect blend. It's like selecting the best coffee beans, roasting them with care, and blending them into something harmonious.
Just like a cup of coffee welcomes a new day, caterers set the tone for your event, teasing guests with a preview of what's to come. Throughout the event, the interplay between food and coffee engages the senses, fostering connections. And just as the last sip of coffee brings comfort, the memories of the event linger long after it ends.
So, when you're planning your next gathering, remember this partnership. It's like a symphony where flavors and experiences blend seamlessly, creating moments that stick around, much like the satisfying aftertaste of your favorite brew.
Read also: