Are you starting your own coffee shop, or maybe it's time to change the old coffee machine?
No matter what the case, we can all agree that customers love the rich and creamy coffee in cafes. Homemade coffee is rarely as generous as coffee from coffee shops. Hence, if you are trying to make your name in the Professional coffee world, you will surely need a professional espresso machine to go along the way. Here we have taken our pics of some of the best espresso machines to start in the professional world.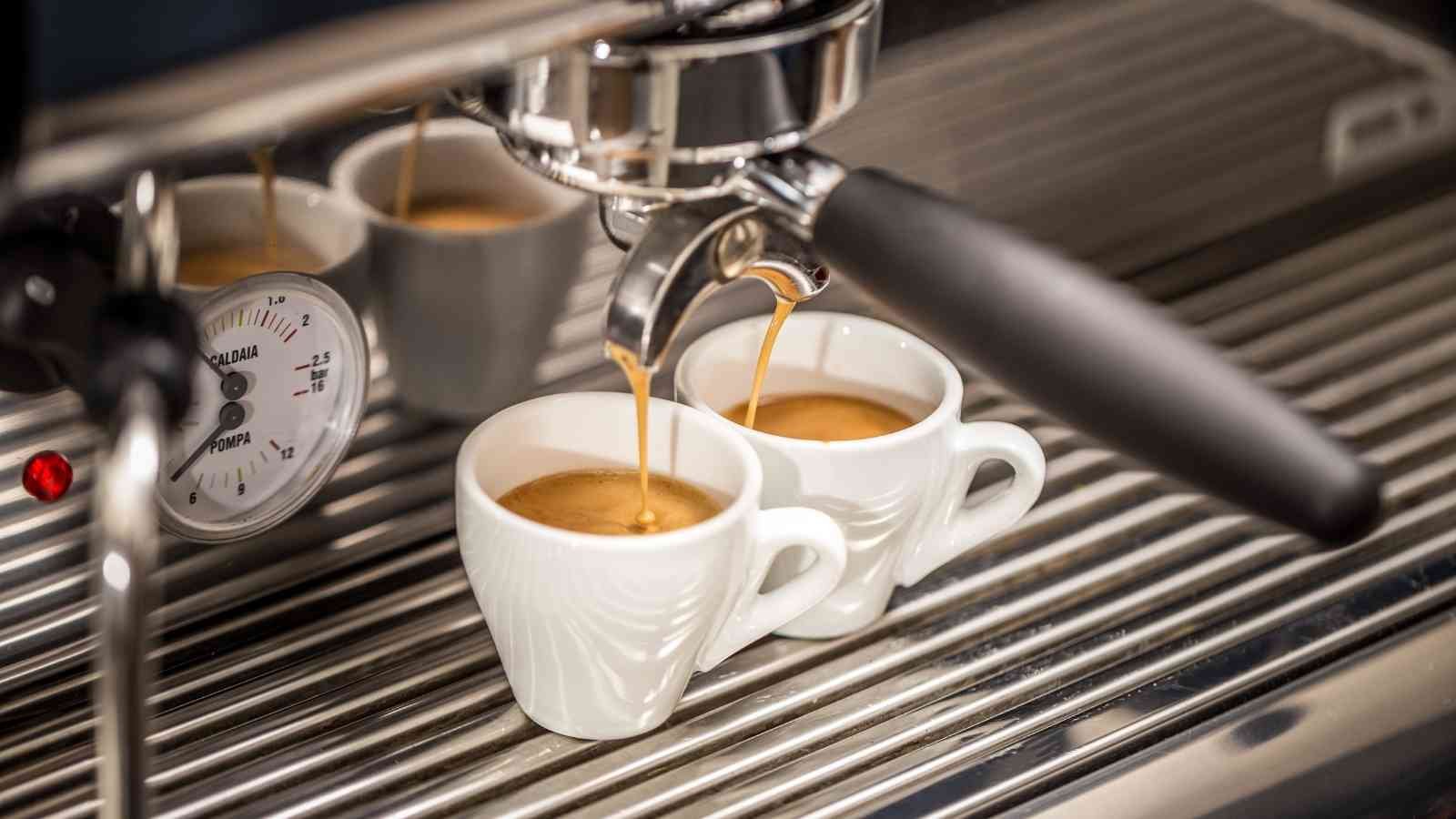 Some of the top picks of Professional Espresso machines would be:
Jump to:
La Marzocco Strada AV
This professional espresso machine has a boiler size of 1.3L per group and a steam boiler size of about 8.2L. This is one of the best and most famous commercial espresso machines.
This machine was designed based on reviews from baristas and other professionals in the coffee world. There are four models available here, and each of them has a different control option. These models are the best in Business. The models also have saturated group settings which also improve the temperature and provide consistent shots of espresso.
The groups also have their own individual boilers attached and a PID controller along with that. The temperatures in the boilers can be set independently. Also, the groups here allow much better access and are spacey, which helps the visibility of the baristas. New technology at its finest, these models have steel bodies on the inside so that burns are not caused instead of the cheaper and traditional plastic walls.
Victoria Arduino Black Eagle 3-Group
This is the best machine for busy coffee shops. The brew boiler can hold 0.7L per group, and the steam boiler has a size of 18L. This espresso machine is designed to handle the load of a busy coffee shop in the morning.
The most impressive feature of this machine is its programmable dosing of espresso shots, which provides the most precise shots. Also, the shot-to-shot consistency is here a marvelous feature of these espresso shot machines. You will be able to customize the dosings and the boiler temperatures along with the hot water temperatures.
On top of this, the device looks really classy, which makes it so much easier to impress the customer. This machine is equipped with steam wands and a polished backplate with mirror finishing. Hence, no need to bend to watch the shots anymore. You can see it from above.
If you care about the environment, this is the machine for you, with the models being upgraded to a greener and economically friendly version which makes sure that energy loss is avoided. Also, the material from which this machine is made is fully recyclable.
Synesso MVP Hydra 2-Group
The Synesso MVP Hydra 2-Group is the best model for mid-sized cafes. From a brew boiler that holds around 1.9L per group and a steam boiler of size 7.7L, this model provides programming on manual and volumetric functions. These machines are personally handcrafted in Seattle, and they have an MVP Hydra showcase, which by far is the best espresso machine for any mid-sized cafe.
Recently renamed as the MVP line, these machines are known for their devices being programmable to such degrees, and this is the most valuable player in the field. Also, these machines have their own brew modes in six different settings. You can time the temperatures of the boilers and the hot water tap too. You can also fine-tune this model by adjusting the pressure as required for your recipes.
Each of the groups has its own individual espresso machine, with its own pump and motor. They also have a unique bypass system that makes sure you can adjust the flow of each and every espresso shot. Through this, baristas are able to end up with the perfect espresso shot each and every time. Also, these espresso machines have no burn handles, which is always a more fantastic choice to equip than the traditional knobs and also helps in higher volume settings.
La Marzocco Linea Mini
The La Marzocco Linea Mini is the best machine for your small cafe or coffee shop. From a brew boiler size of 0.6L to a steam boiler of 3.5L, these machines operate using semi-automatic paddles. A top seller since its release, baristas and customers both also love this machine due to its sleek and classy design with new-age technology. Also, you can use this machine for home use, to bring a professional feeling at home or maybe just to practice with.
The downside of this model would be that it lacks the programmability which is present in higher-end machines. Equipped with a manual brew paddle, the machine gives a feeling of more traditional brewing techniques to baristas. The Linea also had an on and off switch which is pre-programmed for infusion and consistency along with the efficiency needed in this work.
If latte art is your favourite, this machine helps you churn up a good latte art within a matter of seconds. The Linia is usually known for its chunky display, and the temperature can be set using a steeped wheel. This machine, however, does not use the more common E61 but instead uses more saturated groups, which allows for a unique integrated group. Also, this technology helps to make sure that the stability is more compact and in the frame.
Final Words
These machines are the best in the professional coffee world. Most famous baristas and other coffee shops surely do use one of these machines for their day-to-day business. The sleek and classy-looking espresso machines often also invite customers who love the design. Most of these Espresso machines are programmable with different cool features.
Make sure you go through your needs and see to the comfort before settling on one. We hope you indeed venture into this professional world with one of these top-class machines to achieve success and satisfaction.
Read also: