It's spooky season, so get ready to make some delicious Halloween treats! Impress your friends and family with these easy pumpkin seeds recipes. Try making classic roasted pumpkin seeds or get creative with unique flavors like garlic Parmesan, smoky-chili, or honey-cinnamon. Celebrate Halloween with flavorful pumpkin seeds this year!
More collections: Halloween Dessert Recipes, Halloween Cocktail Recipes, Easy Halloween Appetizers, Halloween Snacks, Halloween Pumpkin Dip Recipes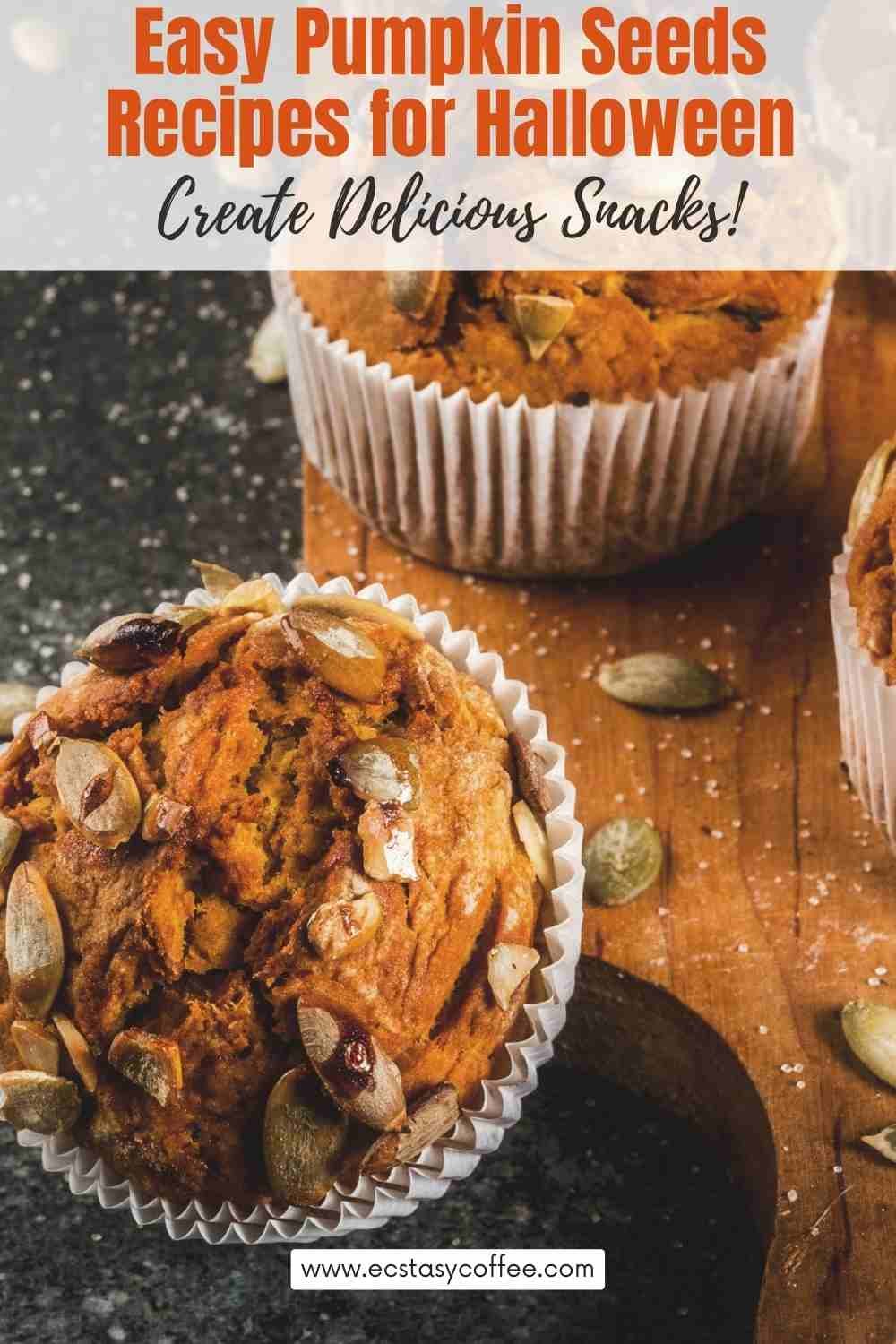 Ah, so it is again the time of Halloween! We can see that you are already so busy with the preparations and all the decorations that need to be done. From small things to big, everything needs to be perfect when it comes to Halloween! Treats are prepared and we get ready to celebrate the festival of macabre and horror!
So this season if you have collected lots of pumpkin seeds after all the pies and dips that you made with the orange veggie, then we will ask you to not simply throw them away! Rather you should focus on making good use of the same! If you did not know, it is possible for you to consume pumpkin seeds, but let us tell you the ways to process them first.
How to dry the pumpkin seeds before you consume them
Although there is technically no harm in consuming raw seeds, you can dry them to turn them even more crispy and even taste better. First of all, you need to wash the pumpkin seeds so that the fibrous threads are removed from the surface. You can either leave them today under the sun or choose to dehydrate them at a temperature of 115-120°F. This process will take about one to two hours at least. Or you can even choose to put it in the oven for about three to four hours. You have to stir them frequently in order to avoid scorching.
If you are planning to roast then you can toss it in oil and put it inside the preheated oven at 250°F for about fifteen minutes.
Are you allowed to eat pumpkin seed raw or do you need to soak it?
Now here is a good question to ask yourself! Pumpkin seeds are perfectly safe to consume raw and so if you prefer the taste that way then you can go ahead with raw pumpkin seeds without any worries. But when you eat them raw, you are posed with the choice to either eat them with the shell or without! The shell contains a lot of fibers and hence removing them is depriving yourself of the essential fibers but we can not deny that shells are hard and makes the job difficult for you to chewy! Ultimately it depends on your preference whether you wish to consume your seeds raw or not.
Pumpkin seed vs pepitas
Sometimes pumpkin seeds are referred to as pepitas as well but some might say that they are two different things! But do you wish to know what is the difference then? There is only one point of difference which lies between pumpkin seeds and pepitas! This is to be noted that pepitas are the version of pumpkin seeds without the shell.
What is the taste, texture, and nutritional value of the pumpkin seeds?
If you have tried raw pumpkin seeds before then you must be aware that pumpkin seeds have a very subtle and mild flavor compared to when it is roasted. On being roasted, these acquire a crispy and nutty flavor. The texture of the raw shells is very chewy and some might even find it annoying to munch on them. However, on being roasted, these pumpkin seeds become extremely crunchy and delightful.
Nutritional factors include water-soluble vitamins like B vitamins, riboflavin and thiamine, and so on. Sodium, carbohydrate, and dietary fibers are also present in pumpkin seeds. Both roasted and raw pumpkin seeds have similar nutritional value which hardly varies.
Here are some pumpkin seed recipes to try out during Halloween.
Fall into Deliciousness with These Halloween Pumpkin Seeds Recipes
Toasty and crispy, the pumpkin seeds are simply lovely and leave you with a craving for more!
Savory and crunchy, you ought to try them out. Fill a jar with seeds and enjoy as much as you want.
Sweet and crunchy, you will be smitten to learn that you can make chocolate bark with toasted pumpkin seeds in them.
Rich and cozy, these are perfect for the holiday season!
No-bake pumpkin spice energy bars are simply the best and render you speechless!
Savory and chewy, these turn out to be an incredible creation and confer you with a sense of warmth too!
Stay energized for the rest of the day!
The bliss balls are called so for a particular reason!
If you are feeling exceptionally low and do not wish to indulge in something elaborate perhaps a couple of bliss balls are what you need!
These are a combination of chocolate, cranberry, and pumpkin seeds.
Making roasted pumpkin seeds is not a big deal as long as you have these amazing seasonings to keep you company!
Crispy and crunchy, the seeds are lovely, and guess what, they are spicy as well. So do give it a try for sure. 
If you wish to level up your pumpkin seeds then we have another option for you!
The honey-sweetened pumpkin seed brittles are simply the best when you are looking for some healthy treats.
So shall we make it then?
Here is another unique thing that you must try out! The gorgeous pumpkin seed clusters are crispy and sweet with a hint of spicy as well!
This one is both good for kids as well as adults. Try it out right away.
The combination of basil, lemon juice, and parmesan renders this dip with an extraordinary taste.
Green and creamy, you ought to indulge in its blissful taste! Thank us later for the idea!
And the good news is if you are allergic to nuts, this is totally nut-free for you.
The presence of avocado and cinnamon in the pumpkin seed renders it with a sense of contentment as you grab a spoonful with your toasted bread.
Why have ordinary butter when you can have this?
If you are craving candy for a while but wish to enjoy something nice then you should go ahead with the gorgeous pumpkin seed candy!
Let us know how you fell for this one because chances are you will fall hard in love.
That's right! All you need are five minutes to come up with this wonderful hummus!
Creamy and smooth, enjoy this one with tortilla chips or crackers on the side. Shall we then?
The texture and taste of the pumpkin seed muffins find no parallel! Drizzled with applesauce and some cranberries too, you must bake them during the Halloween season.
So what are you waiting for? Give this one a try right away! Shall we?
The combination of pumpkin seeds and white chocolate chips in your cookies makes them extremely yummy!
But if you do not believe us then you have to definitely give this one a try and find out. Let us know your feedback.
If you are heading for hiking this weekend on the Eve of Halloween then make sure you carry a box full of chocolate hemp pumpkin seed energy balls with you!
These will keep you full and energized for the day!
If you wish to make your brittles and barks healthy then you should come up with this wonderful pumpkin seed idea!
Packed with vanilla bean and cardamom, this one turns out to taste so good.
If you are fond of snack bars or wish to surprise the little ones then you should go ahead with the gorgeous snack bar which is healthy and here to give you a boost of energy as well.
Yes, that is right! Not one but six flavors! The roasted pumpkin seeds became even better with the amazing idea which is waiting for you right here.
Let us know which you loved the most out of the six!
If you wish to enjoy the best of the holidays then you should go ahead with the spiced pumpkin banana bread that is right here!
Adorned with pumpkin seeds on top, this is a combination of a crispy and tender treat!
The roasted pumpkin seeds are top notched but they are made to taste even better with the caramelized candied layer on top.
This is a wonderful recipe and you won't believe how quickly you can get them ready!
If we have to end the list then it has to be with the gorgeous pumpkin seed brittle!
Crunchy and sweet, these are not only tempting for the taste buds but also great when you are feeling starved in the middle of the day! Good luck!
Conclusion
Halloween is the perfect time to use pumpkin seeds to make delicious and creative snacks. With a little bit of know-how, you can easily transform the pumpkin seeds recipe from your jack-o-lanterns into nutritious and delicious snacks that will impress your family and friends. From toasting them with seasonings to baking them in energy bars, you can make treats that are both healthy and yummy.
So why not use this Halloween to get creative in the kitchen and have some fun with pumpkin seeds? Treat yourself and your family to a special snack this Halloween and get creative with pumpkin seeds recipes! After all, as the saying goes, "One pumpkin's trash is another pumpkin's treat."
More collections:
Christmas Candy Recipes, Easy Pumpkin Recipes, Foods That Help You Build Lean Muscle, Is Raw Food Healthier Than Cooked Food?, Benefits of Chia Seeds