Here is something that simply makes us drool at the sight of the red velvet dessert recipes. If you are reading this column, you must be a fan like us too, and hence we have brought you these fantastic red velvet dessert recipes with red velvet that you can introduce for birthdays and events. Whether you are planning a date for your loved ones or wish to surprise the kids with excellent treats, let us begin with the gorgeous red velvet.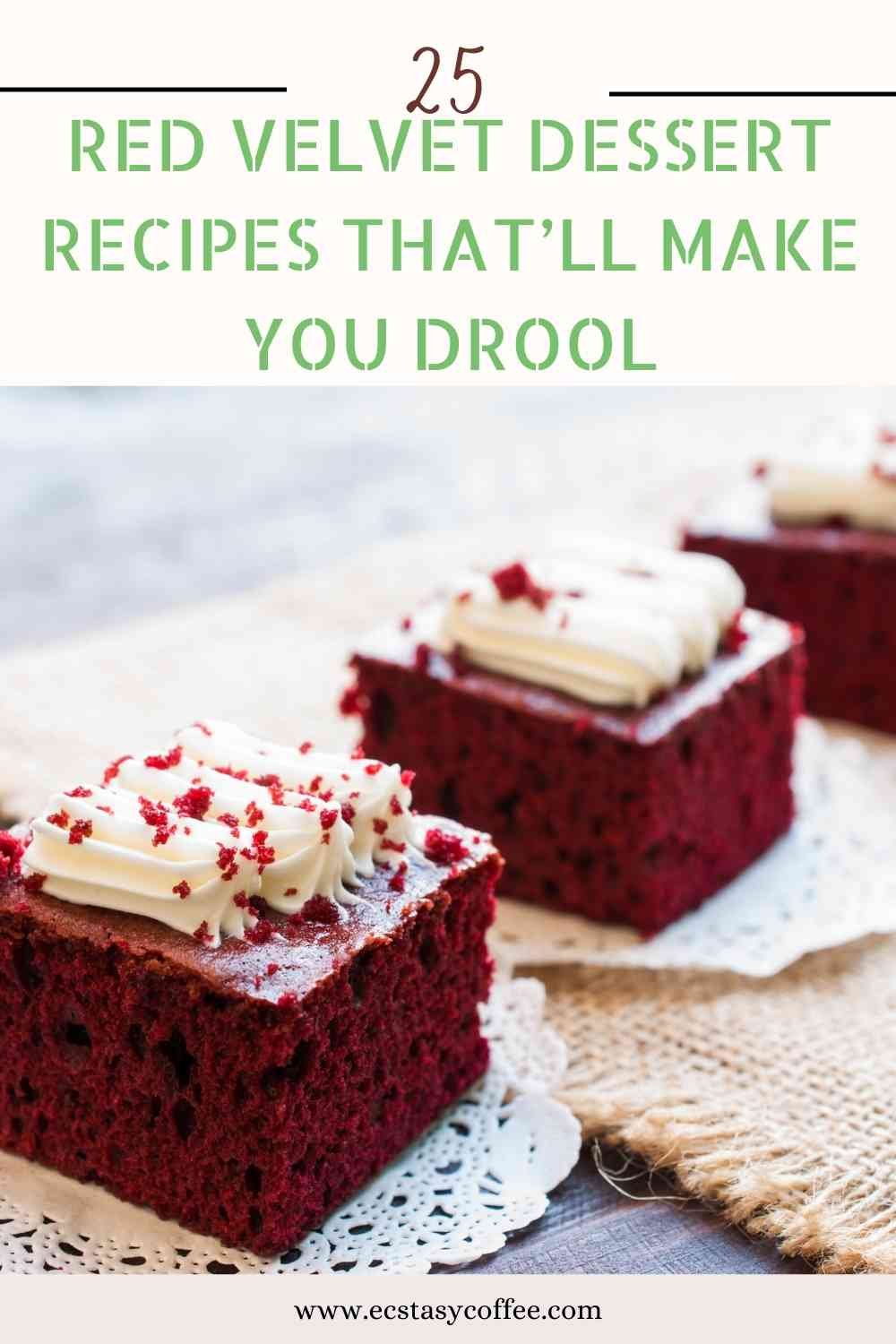 Let us begin preparing these awesome dishes with the flavourful red velvet frosting that will make it challenging for one to stop jogging down the desserts at the party. If you are ready to experience the fascinating taste of red velvet cream, then let us begin by preparing dishes.
Juicy and creamy, whether indulging in seasonal celebrations or enjoying a birthday party, every occasion is incomplete without desserts. Get on your aprons and prepare these unique dishes out of the world. We can hardly wait to make these drool-worthy dishes that are listed below.
1. Deep Dish Red Velvet Cookie Cake
The deep dish red velvet cake with brown sugar, starch, and cocoa powder, the recipe of creamy red velvet cake is right here by The Domestic Rebel! Savory and smooth, the dish is brilliant, and you must try it out for the holiday season.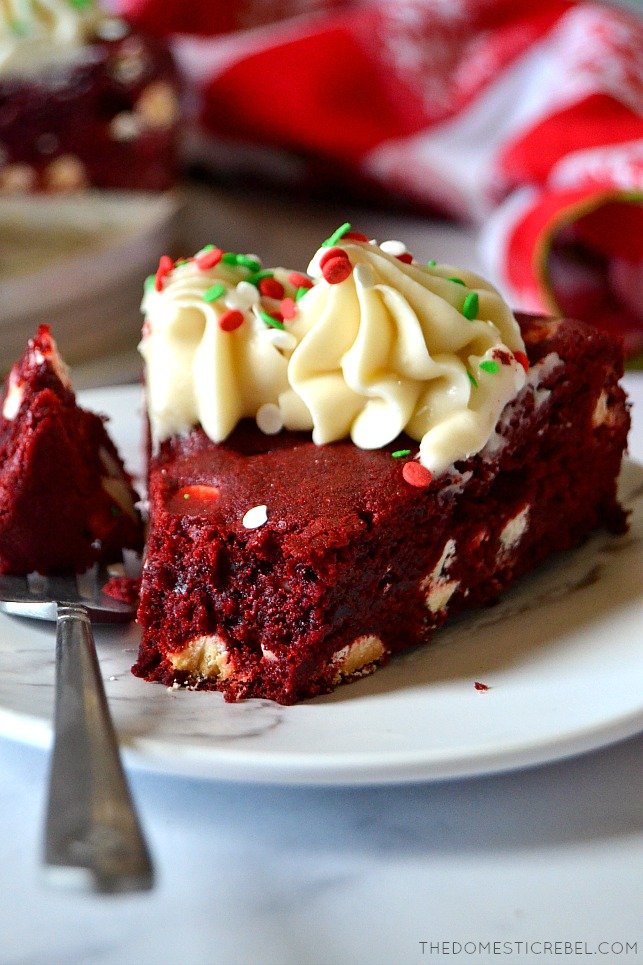 Recipe - The Domestic Rebel
2. Red Velvet Brownies!
The gooey velvet brownies are such a fantastic recipe that you must have for your family as you are gearing up for Christmas. The dish is a creation of Jane's Patisserie, and if you are fond of desserts, you will fall all over again for brownies.
Recipe - Jane's Patisserie
3. Red Velvet Ice Box Pie
The yummy and rich red velvet ice box is creamy and such a great treat of sumptuous pie for the season. Melissa's Southern Style Kitchen makes the recipe and such an exotic pie topped with red velvet Oreos.
Recipe - Melissa's Southern Style Kitchen
4. Boozy Red Velvet Trifles
We have a delicious glass of boozy red velvet trifle, an elegant option to serve to the guests at the party. If you like trifles, opt for the layered frosting and red velvet crust crumbles. You can check out the recipe at Eat In Eat Out.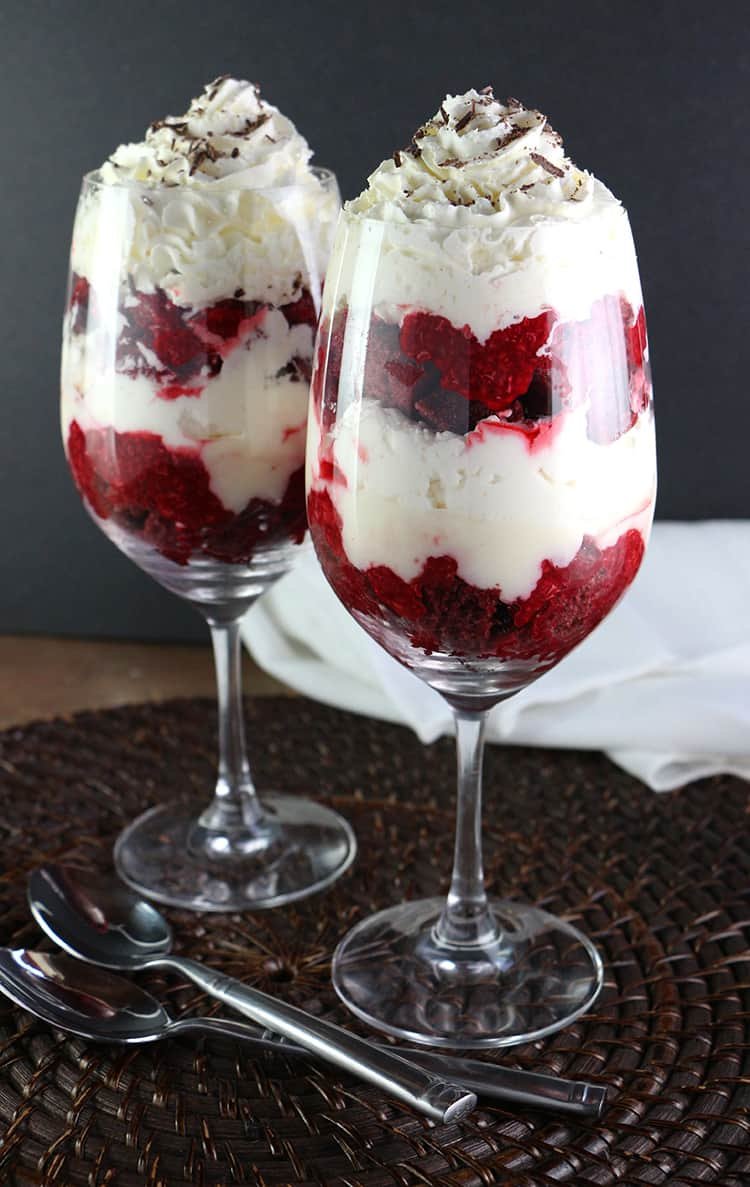 Recipe - Eat In Eat Out
5. American Beauty Retro Red Velvet Cake
The classic American beauty retro red velvet cake needs little description as it speaks for itself. The recipe is available at The Baking ChocolaTess for you to emulate with perfection.
Recipe - The Baking ChocolaTess
6. Kiss Me Red Velvet Brownies
The decadent cheese frosting on the red velvet brownies is fantastic and created by The Baking ChocolaTess. Topped with the Kiss Me candy, the recipe is marvelous for you to make this season for a sheer source of joy and contentment.
Recipe - The Baking ChocolaTess
7. Red Velvet Crinkle Cookies
The festive season crinkle cookies with sugar dust and red velvet flavor are unique, and you should try them out by following the recipe only at Broma Bakery! Maybe Santa might come to your house to taste these crinkle red velvet cookies.
Recipe - Broma Bakery
8. The BEST Red Velvet Cupcakes
The cupcakes are yummy and made with creamy frosting on top! The recipe for the red velvet cupcakes is even great to enjoy at even weddings and romantic date nights! Check out the handmade cupcakes only at Glorious Treats.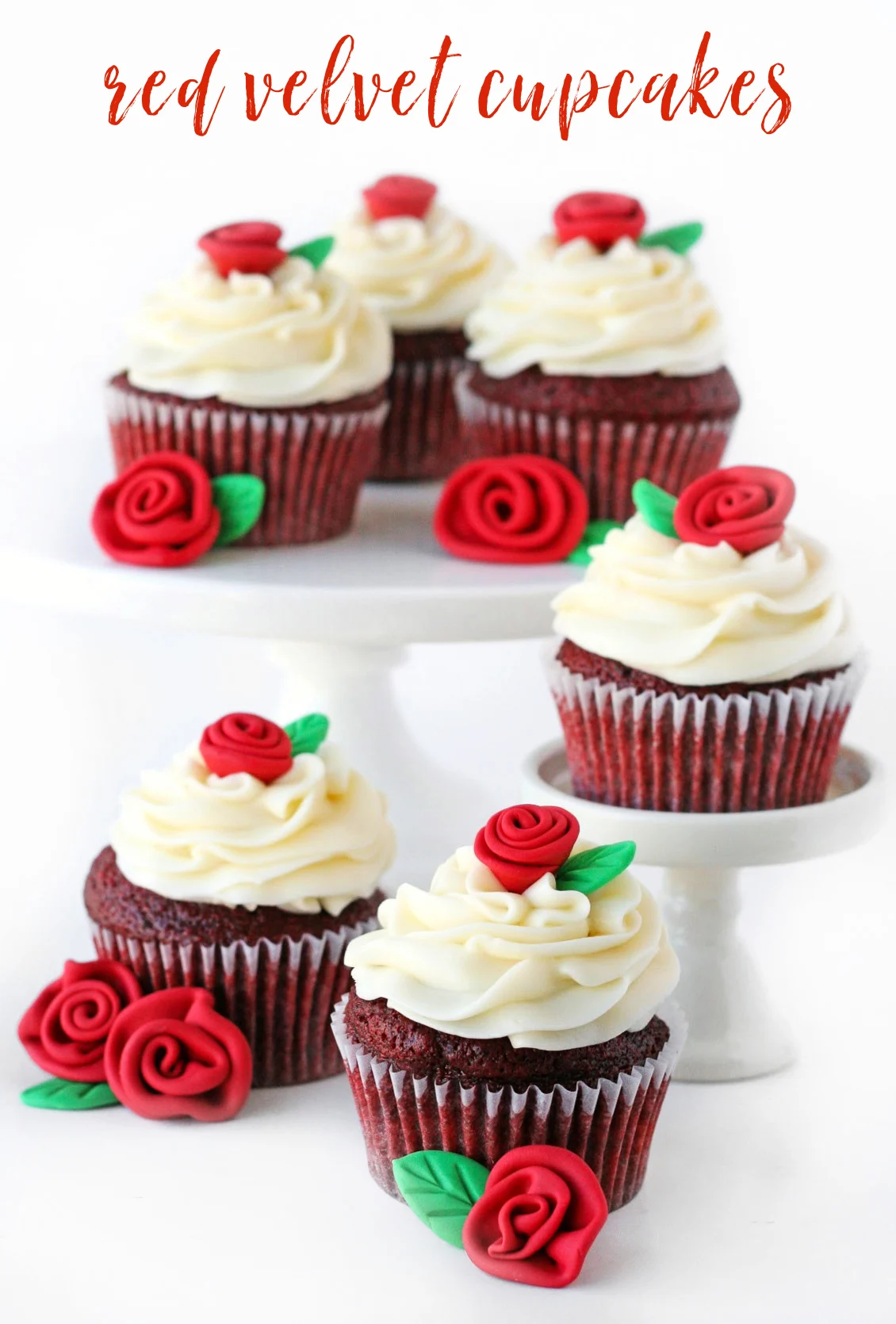 Recipe - Glorious Treats
9. Mini Red Velvet Brownies
The creamy vanilla-topped velvet brownies are another excellent choice of dish that you can make for your kids to enjoy in the holidays. The Baking ChocolaTess presents the recipe so one can dive into the world of sheer bliss with comforting flavors!
Recipe - The Baking ChocolaTess
10. Red Velvet Sugar Cookies
Here is another red velvet cookie recipe shaped like hearts and topped with decadent frosting. If you are planning to surprise your partner with handmade desserts, gift them a box of rich and creamy red velvet sugar cookies only by Baking A Moment.
Recipe - Baking A Moment
11. Cake Mix Red Velvet Cinnamon Rolls
The rich and decadent cinnamon rolls are juicy and flooded with the flavor of a sumptuous and creamy cake mix! The recipe is presented by. The Soccer Mom Blog and such an excellent kind of dish that you will be thrilled to prepare for the little ones as holiday treats.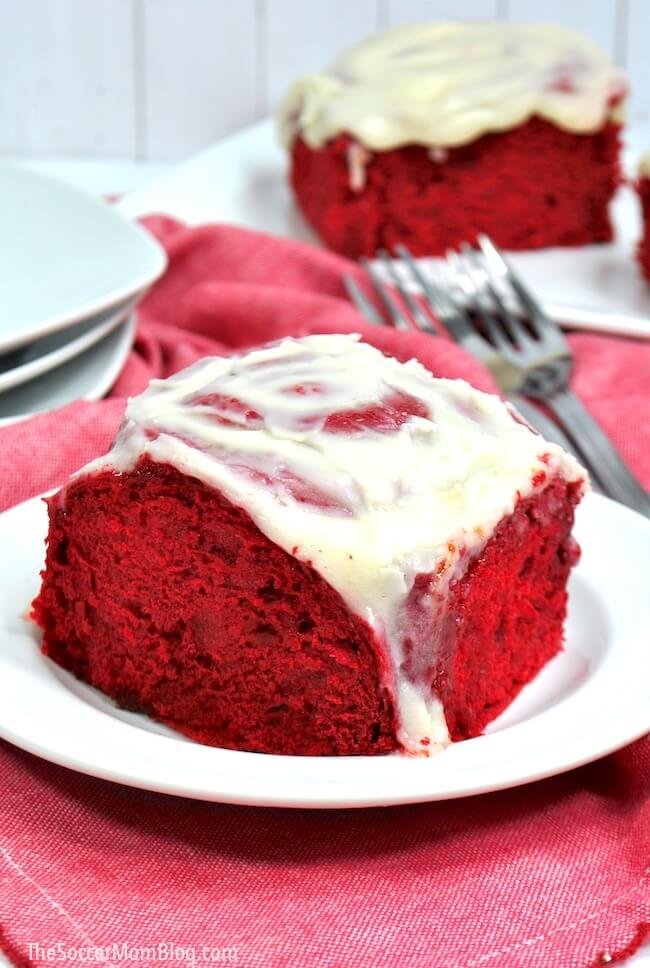 Recipe - The Soccer Mom Blog
12. Red Velvet Cheesecake
The traditional red velvet cheesecake for your beloved and see how delighted they shall be to receive this brilliant surprise! Luxurious and topped with creamy frosting, check out this recipe only at Carlsbad Cravings.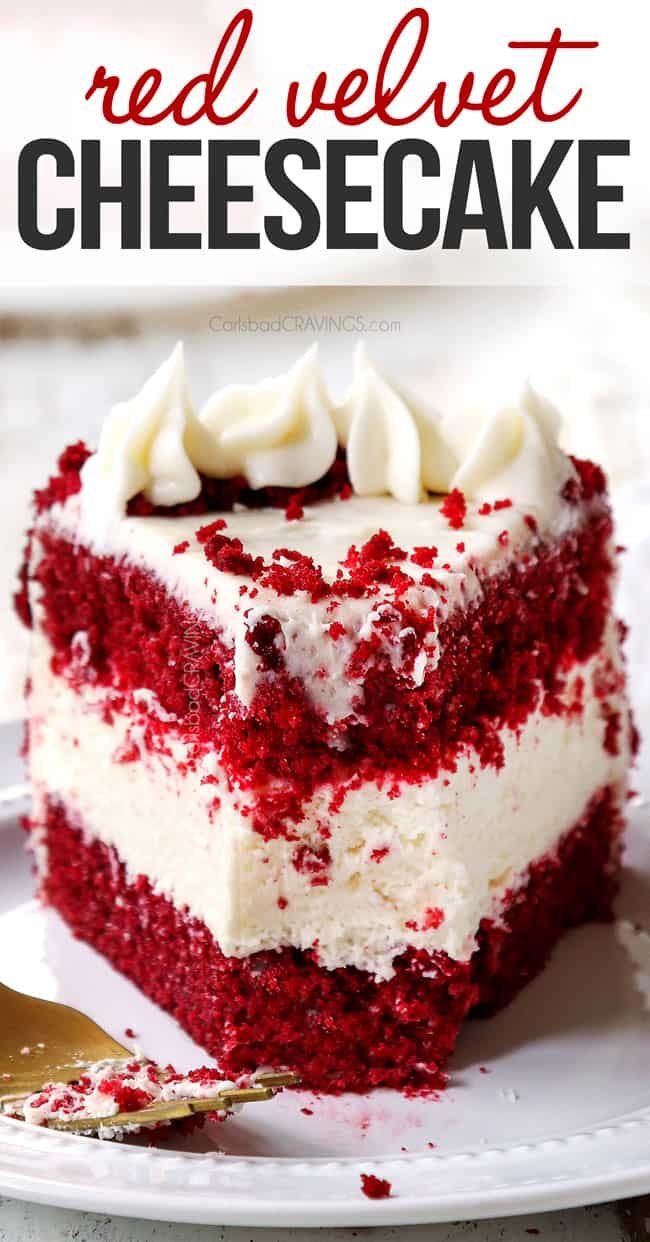 Recipe - Carlsbad Cravings
13. Red Velvet Cake Luv Truffles
The red velvet cake balls are marinated in liquid chocolate, and these bite-sized chocolates are brilliant to serve as appetizers at Christmas parties. The recipe is available at The Baking ChocolaTess. The external layer of white and dark chocolate is luxurious to relish.
Recipe - The Baking ChocolaTess
14. Red Velvet Cream Cheese Poke Cake
We have discovered the dreamiest cheese cream poke cake ever! Try out the recipe at The Baking ChocolaTess to enjoy the yummy flavors of red velvet in every bite. We have made use of sweetened condensed milk or pudding to make this dish with perfection.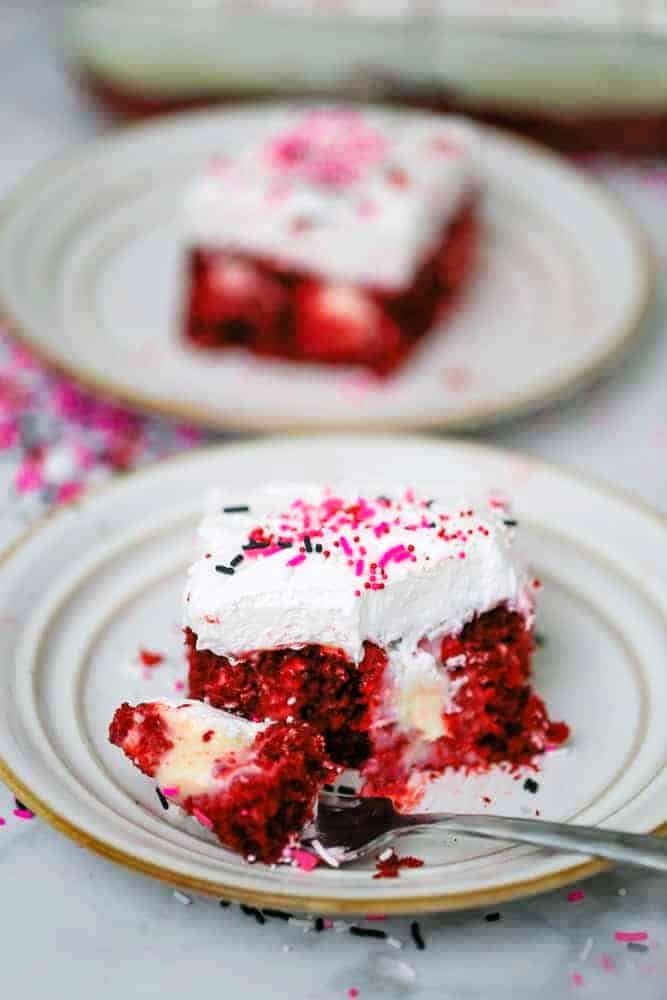 Recipe - The Baking ChocolaTess
15. Red Velvet Cake In A Jar
Yes, we are indeed talking about making red velvet in a jar! Sugar Hero makes this recipe, and the handsome layers of frosting and crumbly crust are a dose of affection amidst spring spirits.
Recipe - Sugar Hero
16. Super-Thick Red Velvet Levain Cookies
The thick and chewy red velvet cookies are brilliant and such an exotic and addictive recipe that you will immediately start making them again even before the jar gets empty. Check out the process of creating the Levain cookies only at The Baking ChocolaTess.
Recipe - The Baking ChocolaTess
17. Vegan Red Velvet Cupcakes
We have an all-vegan dessert with red velvet that everyone can enjoy. These cupcakes are rich and yummy, topped with the delicious frosting! Check out the recipe at Rainbow Nourishments made with cocoa powder and apple cider vinegar.
Recipe - Rainbow Nourishments
18. Red Velvet Tuxedo Brownies
The decadent Red velvet tuxedo brownies live up to their name. The Baking ChocolaTess makes the recipe and if you like brownies, try out the all-new crumbly and juicy red velvet ones that will melt in your mouth in every bite.
Recipe - The Baking ChocolaTess
19. Gooey red velvet cookies
The cookies are great to enjoy with a cup of tea, and you can serve them with a delightful garnish of chocolate chips and snickerdoodles. The recipe is a creation by Lil' Luna for baking the best cookies ever!
Recipe - Lil' Luna
20. Red velvet mini donuts
The bite-sized mini doughnuts are easy to make in batches and store for the entire holiday season. Be careful to protect them from the cookie monsters, or the jar of red velvet doughnuts will be over in no time.
Recipe - Sugar and soul
21. Red velvet earthquake cake
The multiple layers of creamy frosting between the red velvet crumbs are delightful, and you must try out this recipe which Can't Stay Out of the Kitchen makes. The cake lives up to its name in taste and divine flavor.
Recipe - Can't Stay Out of the Kitchen
22. Healthy red velvet vegan cupcakes
The world of rich cheese cream frosting on vegan red velvet cupcakes makes them delicious to relish in every bite. Check out the recipe available at Chocolate Covered Katie and one of a kind.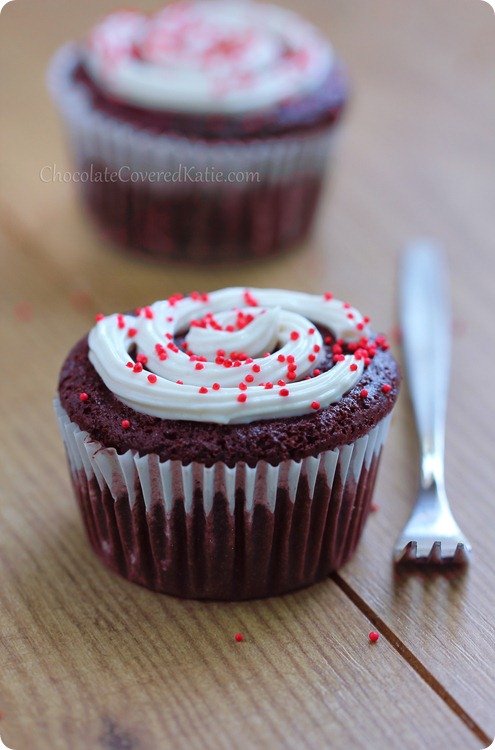 Recipe - Chocolate Covered Katie
23. Red velvet Nutella-stuffed cookie
Liquid chocolate syrup melts out of the Nutella stuffed cookies in every bite from the red velvet crust. You can check out the recipe presented by A Cookie Named Desire for the most ravenous option during the holidays.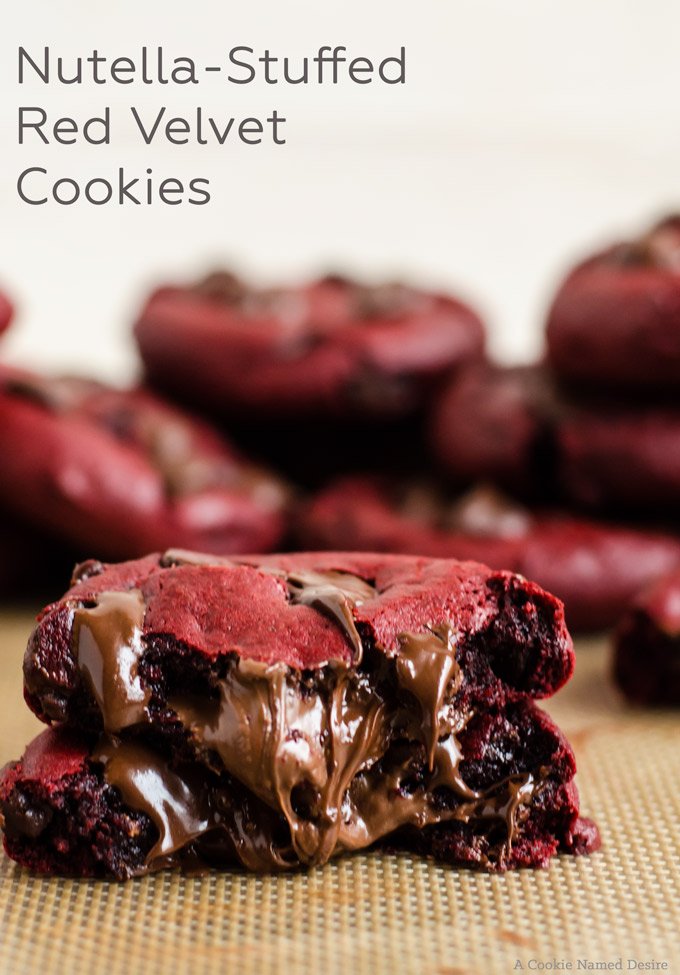 Recipe - A Cookie Named Desire
24. Red velvet sweet rolls
Spice up your baking session with the sweet rolls of lewd velvet with liquid chocolate and a delicate hint of cinnamon. The recipe is a creation of Cravings of a Lunatic that you must try out! Do not forget the nutmeg and vanilla glaze.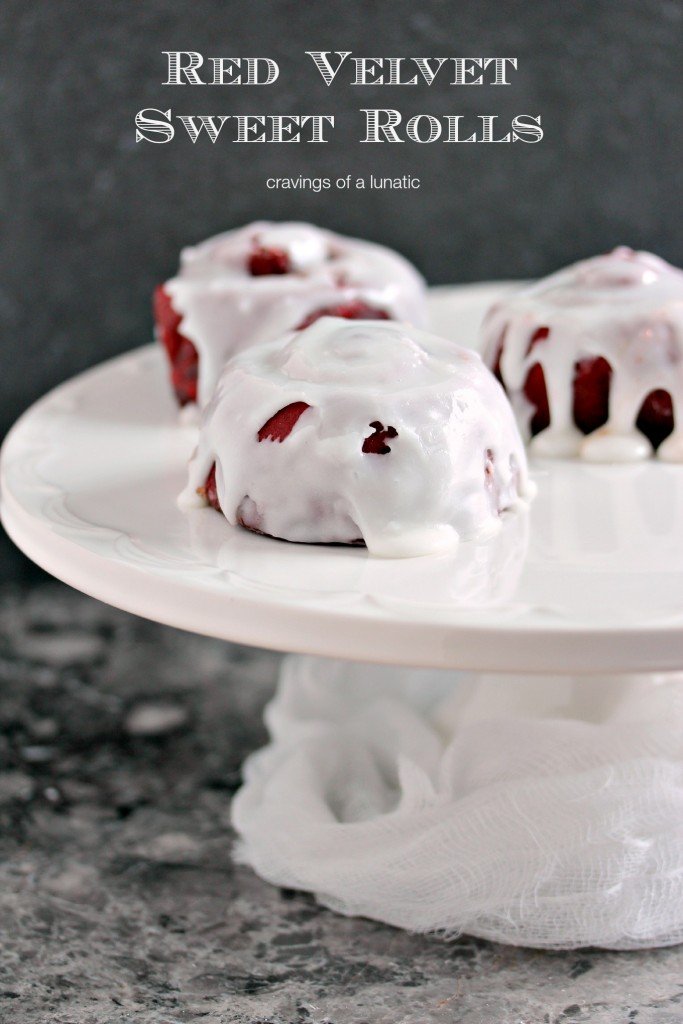 Recipe - Cravings of a Lunatic
25. Red velvet caramel brownies
The duo of red velvet and caramel is magnificent and made by Chef in Training into this brownie you will savor in every bite. Do not forget to try out this mouth-watering option for red velvet made for the Christmas holidays.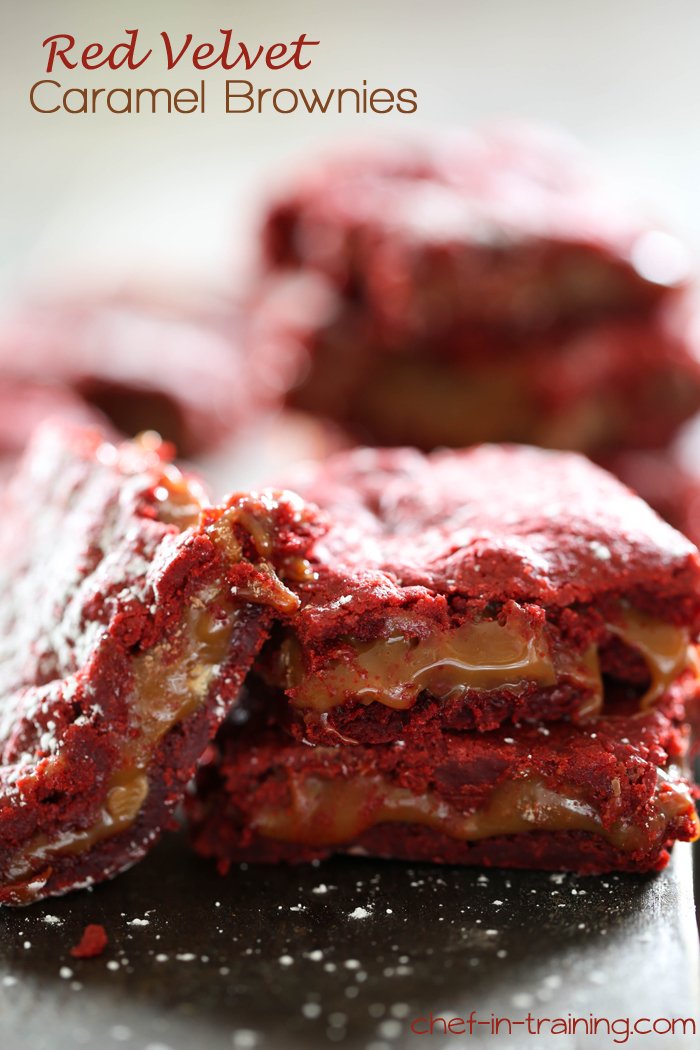 Recipe - Chef in Training
Read also: