Do you ever wonder why your vehicle doesn't ride as smoothly as it used to? Or have you noticed strange noises or uneven tire wear? Well, the secret might lie in your vehicle's shocks and struts. These components play a crucial role in your car's performance and safety, but they often go unnoticed until they start causing problems.
In this guide, we'll take you through the process of replacing shocks and struts, helping you revitalize your ride and get back that slick and comfortable driving experience. Whether you're a novice or have some experience with car maintenance, we'll break down the steps and provide you with the knowledge to tackle this task.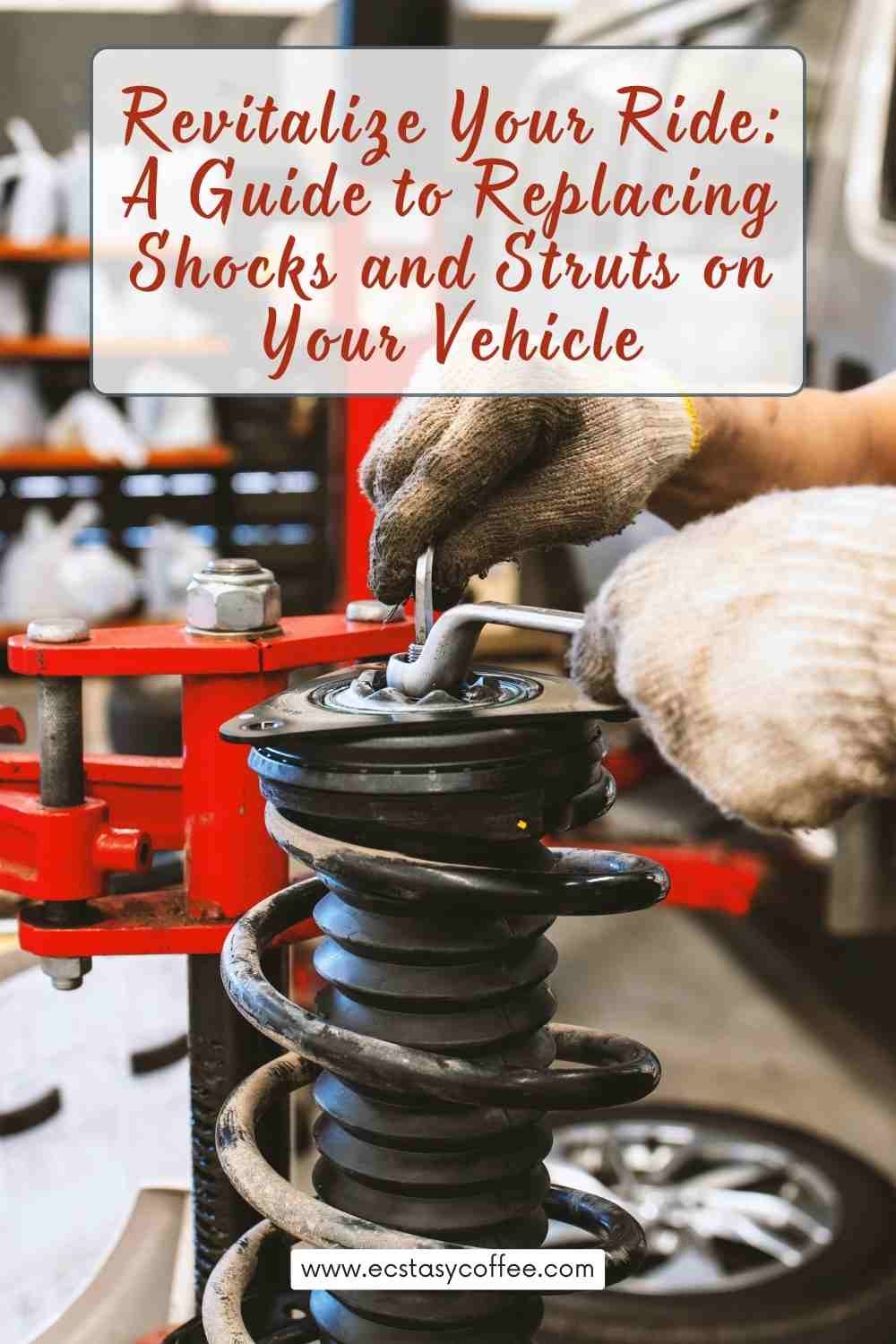 The 101s of Shocks and Struts
Shocks and struts serve similar purposes in a suspension system: to absorb and dampen the impact of bumps and uneven surfaces on the road. There are various renowned brands of shock absorbers, such as Bilstein, KYB, Monroe, and others. 
If you're in the market for replacements, learn more about KYB shocks and other brands to find the one that perfectly aligns with your vehicle and meets your specific driving requirements. 
Shocks vs. Struts: Understanding the Difference
The terms "shocks" and "struts" are sometimes used interchangeably. However, they have different structural designs and mounting locations.
Shocks, also known as shock absorbers, are typically found in vehicles with separate suspensions. They are usually mounted vertically and connected between the vehicle's frame or body and the suspension components, such as control arms or axles. Shocks are responsible for controlling the up-and-down movement of the suspension and help maintain stability and comfort.
Struts are a structural part of the suspension system. They are integrated into the design and serve multiple functions, including supporting the vehicle's weight and providing dampening characteristics. Struts combine the role of a shock absorber with additional structural support. They are commonly found in front-wheel-drive vehicles and often have the coil spring surrounding them.
While some vehicles have both shocks and struts, many cars may have either shocks or struts depending on their suspension design. It's important to consult the specific vehicle's documentation or consult with a professional mechanic to determine the suspension components used in a particular car.
To verify the suspension components suitable for your vehicle, you can also utilize an online auto parts retailers platform like Autozone or a similar service. Simply enter your car's information, and the website will provide precise details regarding compatible parts for your specific vehicle.
Signs of Worn-Out Shocks and Struts
Now that we got the basics covered let's move on to understanding when your shocks and struts might need replacements! Here are the signs to look out for:
Excessive bouncing: If you notice your vehicle bouncing excessively after going over bumps or dips, it could be a sign of worn-out shocks or struts.
Poor stability and handling: You may experience increased body roll during the vehicle's cornering, swaying, or leaning and a general lack of control and confidence on the road.
Longer braking distances: When shocks or struts are worn, the vehicle's weight distribution and tire contact with the road can be affected. This can lead to longer braking distances as the tires struggle to maintain optimal grip.
Uneven tire wear: If you notice uneven tread wear patterns on your tires, particularly on the edges, it may indicate that the suspension is not properly absorbing road impacts, resulting in excessive tire stress.
Fluid leaks: Shocks contain hydraulic fluid, and if you observe fluid leaks around the shock absorbers or struts, it indicates a potential failure. Damaged seals or other internal issues can cause fluid to leak out, compromising their effectiveness.
Excessive nose-diving or rear-end squatting: When braking or accelerating, if you notice the vehicle's front end diving excessively or the rear end squatting down, it suggests weakened shocks or struts.
Choosing the Right Replacement Shocks and Struts for Your Vehicle
When selecting shocks and struts for your vehicle, one size does not fit all. Each vehicle has specific requirements to ensure optimal performance and ride quality. Consult your vehicle's manual or talk to a professional to find the type that suits your make and model. Here are some factors to consider:
1. Driving Style and Preferences
If you enjoy a sportier and more responsive ride, consider opting for performance-oriented options. On the other hand, if comfort is your top priority, choose shocks and struts that prioritize a smooth and cushioned ride.
2. OEM or Aftermarket Options
Choosing between OEM (Original Equipment Manufacturer) and aftermarket shocks and struts can be tough. OEM parts are designed specifically for your vehicle, ensuring compatibility and maintaining its original performance. On the other hand, aftermarket options offer a wider range of choices, including performance upgrades, at varying price points.
3. Budget Considerations
Budget can often be a deciding factor when selecting replacement parts. While you shouldn't compromise on quality, balancing performance and affordability is essential. Research different brands and models to compare prices without sacrificing your ride's safety and comfort.
Replacing Shocks & Struts: How-To
If you have experience under the hood, the necessary mechanical skills, tools, and confidence to undertake the task, consider replacing shocks and struts yourself. However, if you're unsure or lack experience, it's generally recommended to seek the assistance of a professional mechanic to ensure the job is done safely and correctly.
Here's a general outline of the steps involved in replacing springs and struts:
1. Getting a Spring Compressor
Handling the integrated springs with care is crucial to avoid potential injuries or damage. In such situations, a spring compressor becomes necessary to disassemble everything safely.
If you don't own a spring compressor, you can rent one from a local auto parts store. However, it's essential to familiarize yourself with its proper usage. This step is pivotal in replacing shocks and struts, so exercise caution.
2. Elevating the Vehicle
With all your parts and tools prepared, it's time to use a car jack to raise your vehicle, focusing on one side at a time. Once elevated, ensure stability by placing a jack stand behind the front wheel. Double-check that the vehicle is securely positioned before loosening any components or working beneath it.
3. Dismantling the Old Shocks and Struts
Begin by removing the wheels. Next, use your spring compressor to locate the three bolts at the bottom of the shock or strut that keeps it in place. Loosen these bolts, but refrain from fully removing them.
You'll find another bolt inside the engine compartment atop the shock or strut. Utilize an impact wrench with a socket extension to loosen it. Once loosened, remove the remaining bolts, and your shock or strut will come free.
4. Installing New Shocks and Struts
It's time to install the new ones after successfully removing the old shocks and struts. Ensure you securely tighten all bolts, which may require a torque wrench. Reattach the wheels to the vehicle, and you're prepared to put it to the test.
5. Taking a Test Drive
Once the vehicle has been completely reassembled, taking it for a test drive is important to verify proper functionality. Keep the speed moderate and consider leisurely driving around the neighborhood to assess how the vehicle handles and brakes. You can test the vehicle's responsiveness by gently maneuvering the steering wheel as you drive. You're good to go if the ride feels smooth and turning poses no issues.
6. Alignment
Following the replacement of shocks and struts, scheduling a professional alignment for your vehicle is crucial. This should be done within a few days of completing the project to uphold the safety of your vehicle. Delaying this step could lead to unnecessary repairs in the future.
Key Takeaways
Replacing worn-out shocks and struts isn't just investing in comfort and handling; you're investing in your well-being. These vital components absorb impact, maintain tire contact, and stabilize your vehicle during sudden maneuvers or uneven terrain.
Remember, you should only replace your shocks and struts if you have experience under the hood. If that is not the case, hire a mechanic. They have the knowledge and tools to do it correctly, ensuring your safety and peace of mind.
Whether you're a seasoned driver or a new enthusiast, never compromise on safety—let it steer your decision when it's time to replace those shocks and struts.
Read also: