The restaurant industry has undergone dramatic changes in recent years, and the move towards greater automation is among the most notable. Today's restaurants have state-of-the-art delivery systems that can manage inventory, communicate with customers, and quickly handle orders.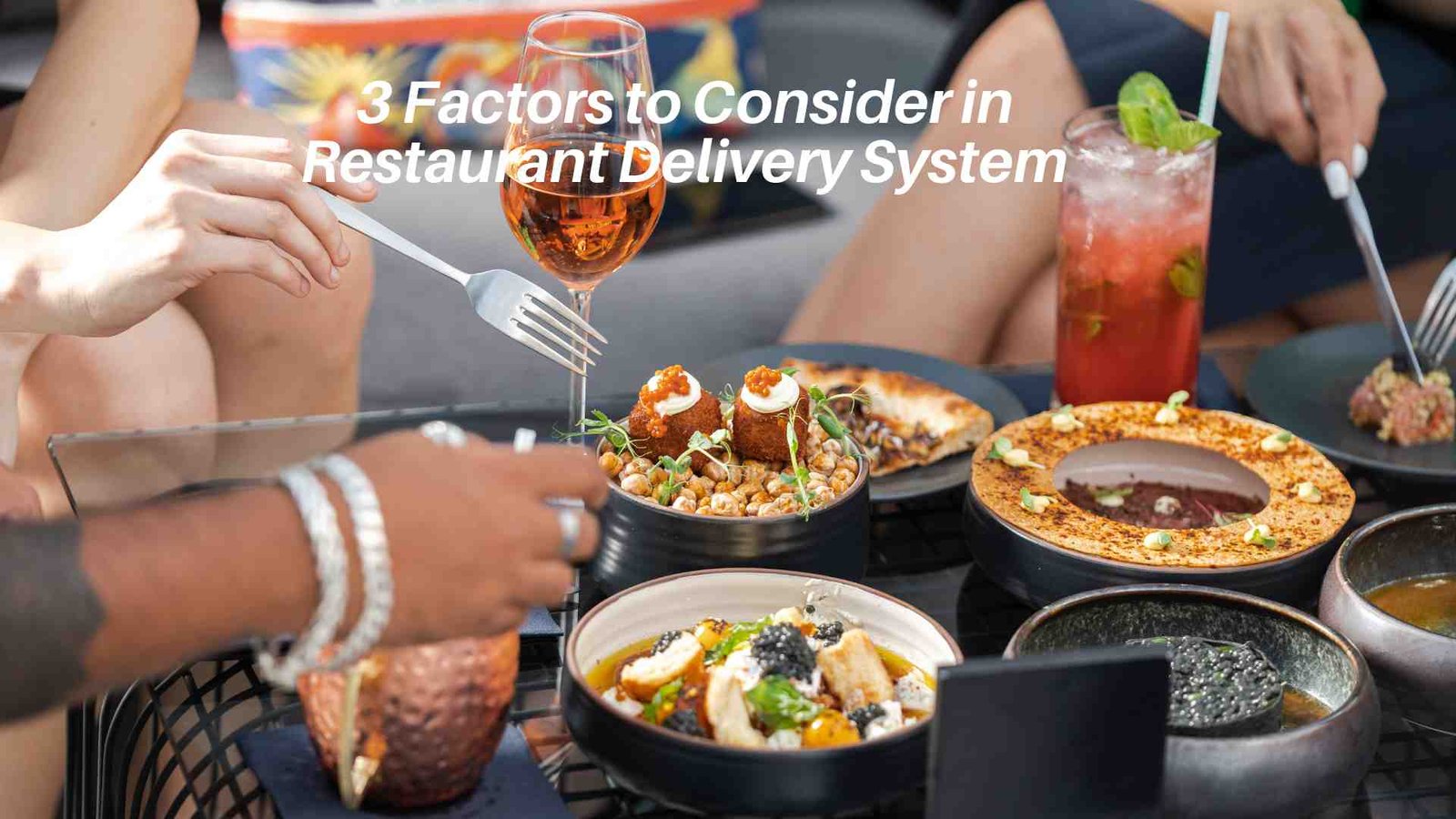 Here are some essential factors to consider when choosing a delivery system for your restaurant:
1. Ease of Use
When trying to figure out which restaurant delivery system to use for your business, it's essential to consider how easy it is. If a system is too complicated or time-consuming, you're not going to want to use it, and chances are good that your employees won't either.
To avoid this, look for software with intuitive interfaces and clear instructions. This way, you can get up and running as quickly as possible without major disruptions to your existing operations.
How to Evaluate Ease of Use?
You should keep a few things in mind when considering ease of use.
Interface: One of the most important things to consider when determining how easy a system is to use is the interface. Is it something that you feel comfortable using? Is it user-friendly? If not, then you might want to keep looking. Even if a system has all the features you're looking for, it will still be difficult to use if the interface is unsuccessful.
Instructions: Another factor to consider are the instructions. Are they straightforward to follow? If not, then you might have some trouble using the system. This is especially important if you're not familiar with the type of system you're considering. If the instructions are unclear, it will be even more difficult to use.
Existing Operations: Consider how the system will fit into your operations. Will it be easy to integrate, or will it require significant changes on your end? If it's the latter, you might consider another option. You don't want a system that's so difficult to integrate that it disrupts your business operations.
Choosing the Right System for Your Business
Ultimately, the best way to evaluate the ease of use is by taking a test drive. Request a demo from the vendor to see how the system works and get a feel for how easy it is to use. Once you've done that, you should have a good idea of whether or not a particular system is right for your business.
2. Scalability
If you're in the process of choosing a restaurant delivery system for your business, there are lots of factors to consider. One crucial factor that's often overlooked is scalability.
What is Scalability?
Scalability refers to a system's ability to handle increasing order volumes without negatively affecting service quality or speed. It's important to consider because as your restaurant grows, you'll likely experience periods of high-volume orders.
For example, if your restaurant delivery system isn't scalable during major holidays or special events, it may struggle to keep up with demand, and your customers will likely be dissatisfied with the slow service.
How Can You Tell if a System is Scalable?
With the recent surge in online ordering, many restaurant owners are now looking into delivery services to increase sales and reach a wider audience. But not all restaurant delivery systems are created equal.
Some are much more scalable than others, which means they can handle larger orders and more customers without degrading the quality of service. So, how can you tell if a particular system is scalable? Here are a few things to look for.
Automated Order Routing
Automated order routing is one of the first things you should look for in a potential delivery system. This feature ensures that orders are quickly and efficiently routed to available drivers so that increases in order volume do not impact delivery times.
The last thing you want is for your customers to start getting frustrated with long wait times because your system can't handle the increased traffic.
Flexible Driver Management
Another essential thing to look for is flexible driver management. A good restaurant delivery system by App2Food will offer features that allow you to add or remove drivers from the system easily. This way, you can ensure you always have enough drivers to handle the number of orders coming in but not so many that they're sitting around twiddling their thumbs when business is slow.
Great Customer Support
Finally, choose a system that offers excellent customer support if you experience any issues scaling up your operations. The last thing you want is to be left in the lurch when things get busy, and you need help troubleshooting a system problem.
3. Integration Capabilities
One key factor to consider is integration capabilities. Integration capabilities matter, and knowing how to find a delivery system that will integrate seamlessly with your existing software applications are essential.
Why Integration Capabilities Matter?
As a restaurant owner or manager, you know that streamlining your operations is key to ensuring a smooth-running business. That's why choosing a restaurant delivery system that integrates easily with existing software applications used in your restaurants, such as POS software, CRM software, and inventory management systems is essential.
By integrating your delivery system with these existing applications, you can avoid data silos and ensure that all of the different parts of your business are working together seamlessly. This can save you time and hassle in the long run and help you avoid costly mistakes.
For example, if your POS and delivery systems are not integrated, you may end up overbooking deliveries and not having enough food to meet customer demand.
How to Find the Right Fit for Your Business?
When you're looking for a restaurant delivery system, be sure to ask about integration capabilities. Some questions you may want to ask to include the following:
Does the system integrate with our POS software?
Does the system integrate with our CRM software?
Does the system integrate with our inventory management system?
What other software applications does the system integrate with?
What support do they offer if we need help integrating the system?
By asking these questions, you can better understand whether a particular delivery system will be a good fit for your business.
As you can see, there are several factors to consider when choosing a restaurant delivery system. Above all else, look for something that is easy to use and can scale up seamlessly as your business grows. You should also look at integration capabilities so that different parts of your business work together seamlessly.
With these considerations in mind, you should have no problem finding the right restaurant delivery system for your needs.​
Read also: