Looking for some new linens for your shabby chic bedroom? There are a variety of gorgeous materials, ruffles, lace, and soft colors to choose from. Try doing any of the DIY projects on this list if you want to save money while giving your room a vintage atmosphere. Your room will have a charming vintage style that is unique to you, thanks to recycled chairs and luggage, as well as reused tables and birdcages.
Lots of lovely roses, peonies, and other flowers are common in shabby chic bedroom décor. That's why there are so many methods and designs on our list of shabby chic bedroom decorations that will make your room seem like a cottage with a garden. Many of these ideas would be adorable in a small girl's room, nursery, or even a sitting room, however, they would look best in an adult bedroom. Continue reading for shabby chic bedroom DIY instructions and other ideas!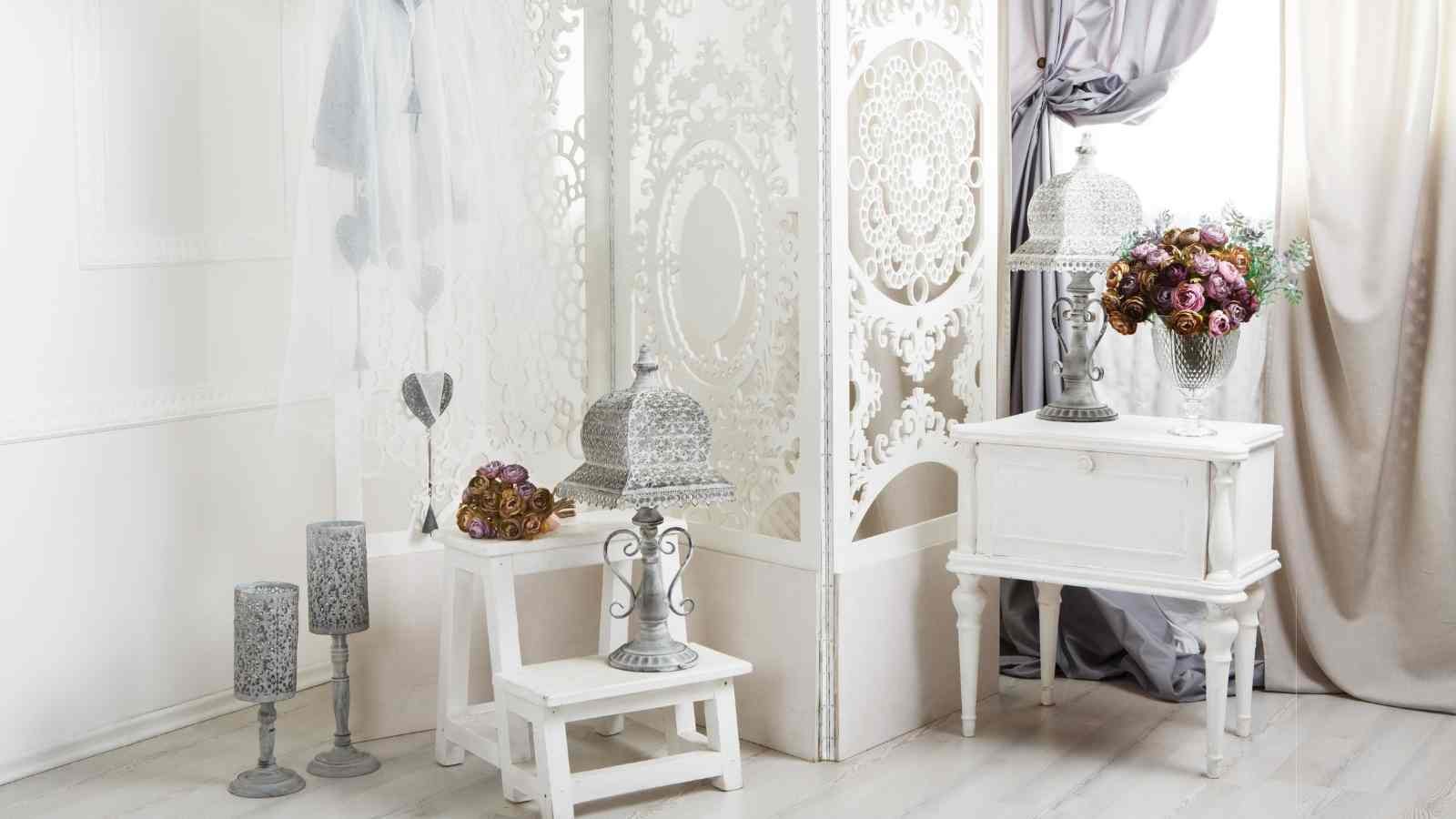 1. Bedroom Linens with Peonies and Polka Dots
With a pink peony-strewn bedding set, you can bring springtime into your bedroom all year. The red and white polka dot pattern on the duvet's bottom adds a playful element to the design. The bright and fresh aspect of the bedroom is completed with similar drapes and a range of lovely vases with complementary flowers.
2. Rose Curtain Tie Backs in a Shabby Chic Style
If your bedroom has a lot of white accent linens, this silk rose curtain tie-back will add a touch of elegance and color. The roses' dusty tint gives them an antique and delicate appearance, making them an ideal accent for a young girl's room or nursery.
3. Linen Cupboard Rustic Upcycled Armoire
With this repurposed armoire, you can create a vintage space to exhibit all of your lovely linens. To get this appearance, paint an old armoire a light blue hue, then go over it with a dry brush and a small touch of white paint. After painting the armoire, sand it down for a more distressed effect.
4. Shabby Chic Bedroom Décor with Burlap and Lace
This lace and burlap combo will provide texture to your shabby chic bedroom. Make your own headboard by alternating lace and burlap ribbons and securing them with pink glass doorknobs. A textured bedspread with burlap accent pillows, as well as burlap lamps embellished with white rosettes placed on exquisite pedestal tables, completes the design.
5. Nightstand made from an antique suitcase
Make a one-of-a-kind bedside table out of a set of antique, vintage luggage. To add a touch of glitz, hang a few pink crystal embellishments from the suitcase pulls. To add to the beauty of the design, add a lace doily, a gorgeous crystal light with a pink lampshade, and a modest vase with flowers to the bags.
6. Antique Birdcage Lamp (DIY)
In your bedroom, turn an antique birdcage into a source of soothing, romantic illumination. Choose a light color to compliment your bedroom décor or paint the birdcage white for a traditional effect. To complete the appearance, hang string lights inside and outside the birdcage in various locations.
7. Pink Hope Chest in Shabby Chic Style
This hope chest is the perfect addition to your contemporary bedroom décor if you want to add a touch of shabby chic style. The soft pink hue and beautiful pattern provide a touch of glitz to your bed. This hope chest can also be used as a focal point in a shabby chic-styled bedroom.
8. Photo Frame Decoration with an Antique Look
Give a lovely antique frame a new lease of life by painting it bright pink and white and sanding it for a little worn effect. Use the frame as a simple decorative object in your bedroom, or add a mirror to make it more functional.
9. Nightstand and desk in one vintage piece
This antique desk may be used as an end table, workstation, and vintage décor item if you don't have a lot of spare space in your bedroom. The desk has a classic and beautiful design thanks to the damaged legs and gorgeous green hue with a flower accent. To complete the appearance, place attractive floral-patterned objects on the table.
10. DIY Painted Wooden Bed Frame
Make a statement in your shabby chic bedroom with this painted old bed frame. Choose an accent color to complement your current décor or paint the frame in this dusty blue tint. After painting, sand down the frame to give it a distressed effect and let the frame's accents stand out.
11. Ruffled Pillow Shams with Lace in Rose Print
Roses are an essential part of every shabby chic décor. These pillow shams mix the elegance and antique sense of ruffles and a lace outline with the traditional beauty of stunning pink flowers. Use these pillow shams to complement your shabby chic bedspread or to give a simple bedspread a vintage feel.
12. Canopy Bed with Mosquito Net and Fairy Lights
Add a soft, romantic vibe to your bed with this canopy, or make a lovely accent to a nursery or young girl's room. To get this design, suspend a gauzy mosquito net from the ceiling or wall using a hoop mechanism, then drape fairy lights down from the top for a gentle lighting effect.
13. Pretty Pink Ruffled Throw Pillows
With a wicker chaise lounge and these pink ruffled throw pillows, you may create a lovely lounging space in your bedroom. The gorgeous pink hue of these cushions makes them a great accent to a pink and crystal-themed bedroom, while the texture gives it a distinct appeal.
14. Ruffled Rosette Rug in Shabby Chic Style
This DIY rug with ruffled fabric and homemade fabric rosettes creates a textured and comfortable spot on your bedroom floor. After you've finished making the fabric rosettes, hot glue them to the perimeter of the fabric rug, then ruffle the rest of the fabric pieces to the center.
15. Shabby Chic Pink Rosette Bedroom Accessories
With these DIY ideas, you may make a lovely collection of accessories to adorn your young girl's nursery or bedroom. For quick wall or table embellishments, glue pink or any other color rosettes to an existing frame and clock. Finally, add pink gauzy fabric, little rosettes, and ribbon to the lampshade of a lovely white lamp with delicate embellishments.
You can follow us at Twitter. For more update about fashion trends follow us at Pinterest.
Shabby Chic Bedroom Decorating Ideas Photo Collected via pinterest.com
Other ideas you should check out: