Side dishes are an essential part of the meal! Imagine sitting with the main course, but there is no side dish to accompany it! Maybe a plate of french fries or wedges these are just a slight glimpse of the whole lot of surprises that are waiting for you to discover. Here are some fantastic slow cooker side dish recipes you can add to the table.
Many of us do not feel the need to make a side dish when we are inviting guests over to our place or enjoying an elaborate meal with our family. With so many choices waiting for you to explore this season, you simply cannot miss out on these options. Side dishes are essential to your meal, and we are here to plan the entire table for you!
Slow-Cooker Side Dish Recipes
Let us help you choose the best appetizer or side dish that will suit your mood perfectly for the season. So without much delay, let us begin to create these fantastic side dishes that are gorgeous and yummy to be savored with a bowl of rice or flatbread!
Easy and simple to make, these dishes will hardly take you any time and flood your taste palette with myriad flavors. Exploring dishes from different cuisines, we are simply thrilled to share these fantastic slow-cooker side dish recipes for you to try out. Check out these marvelous recipes for sure!
1. Slow Cooker Macaroni and Corn Casserole
The warming and juicy macaroni casserole is a brilliant recipe by I Wash You Dry. The delicious corn casserole is waiting for you to savor the dish with a couple of toast at dinner. Check out this juicy recipe for sure!
Recipe - I Wash You Dry
2. Slow Cooker Green Bean Casserole
The frozen green bean casserole with smooth homemade sauce and succulent bacon are magnificent and a creation of Slow Cooker Gourmet! Rich and creamy, the sumptuous casserole is simply amazing to try out!
Recipe - Slow Cooker Gourmet
3. Slow Cooker Greek Rice
Here is slow-cooker greek rice that is flavored with feta cheese! You will find the recipe at Kalyn's Kitchen with red bell pepper and kalamata olives escalating the taste of the dish manifold. The classic cauliflower rice casserole is low on carbs and healthy for incorporating into your meal!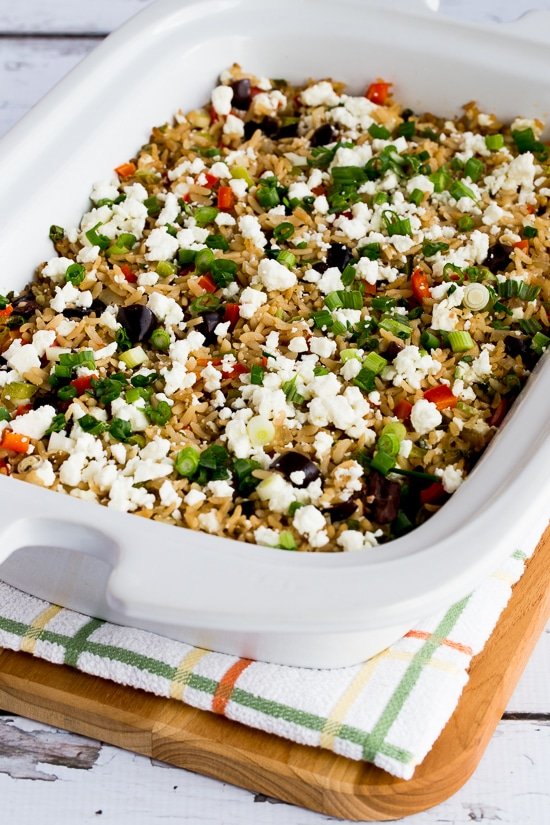 Recipe - Kalyn's Kitchen
4. Slow Cooker Garlic Mashed Sweet Potatoes
The creamy and tender sweet mashed potatoes with the hint of garlic are unique, and you should try them out! The recipe is made by Skinny Taste and is a fantastic indulging option.
Recipe - Skinny Taste
5. Slow Cooker Ranch Potatoes
The slow cooker ranch potatoes are sumptuous and tender for you to enjoy! The recipe is made by Slow Cooker Gourmet and sprinkled with herbs to enhance the dish's taste. The recipe is one of a kind and created with chopped potatoes.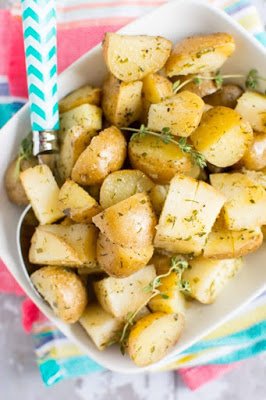 Recipe - Slow Cooker Gourmet
6. Spicy Crockpot Sweet Potatoes
The delicious and perfectly flavored dish of sweet potatoes is also a great choice of dish you can make by following the recipe at Kalyn's Kitchen. The yummy sweet potato crumbles topped with nuts are a marvelous choice of dish that you can add to your dinner as a side.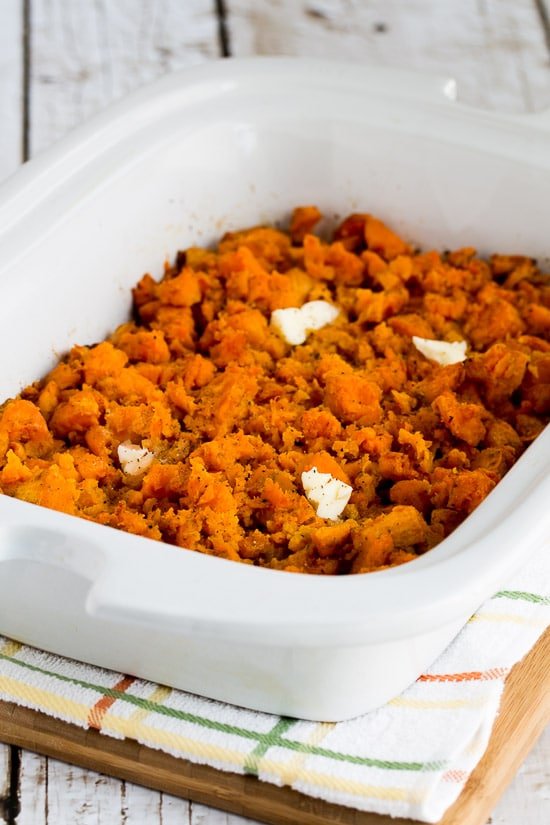 Recipe - Kalyn's Kitchen
7. Slow Cooker Mac and Cheese Recipe
The drool-worthy mac and cheese is the most fantastic choice when you wish to keep it light and easy! Rachel Cooks present the recipe.
Recipe - Rachel Cooks
8. Slow Cooker Rice Casserole with Green Chiles and Cheese
The slow cooker rice casserole is brilliant and served with green chilis! Yummy and cheesy, the recipe is created by Kalyn's Kitchen with green onions, sour cream, and rich tabasco sauce drizzled in it!
Recipe - Kalyn's Kitchen
9. Slow Cooker Brown Butter Glazed Carrots
The super tender and glazed carrots are here to sway you off your feet! The recipe is made by The Food Charlatan and additionally topped with ingredients to make it a refreshing choice of side dish to enjoy!
Recipe - The Food Charlatan
10. Rudy's Slow Cooker Creamed Corn
The tender and sweet, creamy corn is here to act as a beautiful side dish to your meal! Healthy and safe for the little ones, the recipe is presented by Barefeet in the Kitchen and is instead an unforgettable side dish that you can get done quickly in a crock pot!
Recipe - Barefeet in the Kitchen
11. Slow Cooker Butternut Squash
The butternut squash recipe needs only four ingredients to get done with perfection. You can find the recipe at Kalyn's Kitchen, an exotic recipe with crumbly delight! Check out this dish for sure!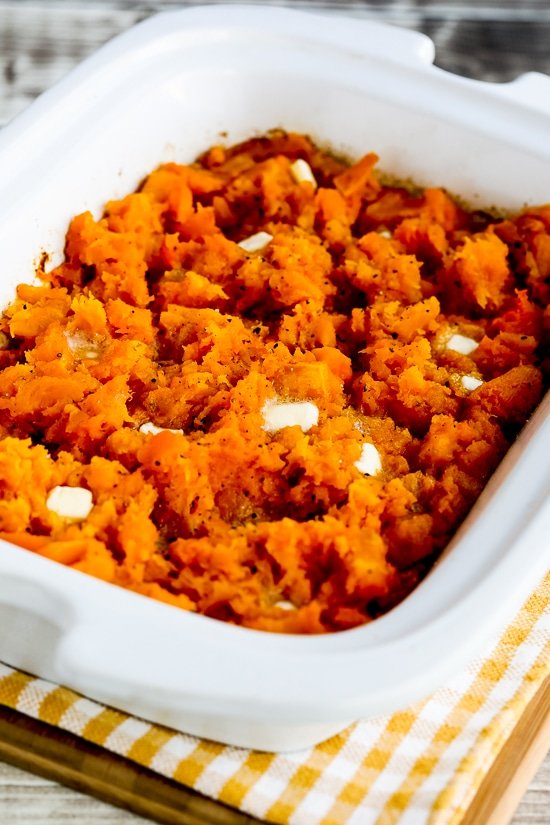 Recipe - Kalyn's Kitchen
12. Slow Cooker Calico Beans
The slow cooker calico beans are favorite among the studs to the little ones! Check out this recipe which is presented by Culinary Hill exclusively for you! Loaded with beef and bacon, this is a lively choice of side!
Recipe - culinaryhill
13. Creamy Slow Cooker Potatoes with Sausage and Chives
The creamy sauce, sausage, and chive added to this dish of creamy slow cooker potatoes are yummy, and you should try it out! Check out the recipe at The Gracious Wife for a delightful experience during dinnertime.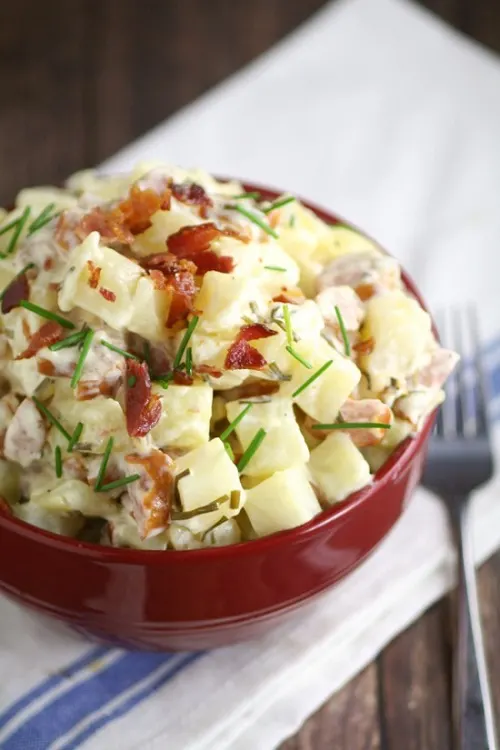 Recipe - The Gracious Wife
14. Crockpot Baked Beans
The crock pot baked beans are made from scratch and flavored with bacon! The recipe is made by Centless Meals loaded with onions, bell pepper, and sumptuous tomato sauce. A perfect choice of curry for a barbeque session that you are hosting this weekend.
Recipe - Centless Meals
15. Crockpot Corn on the Cob
Effortless corn on the Cob curry that you can make in the summer season. The recipe is presented by Spend with Pennies/! Ready in less than a couple of minutes, the dish is gorgeous to add as a smoky roasted option!
Recipe - Spend with Pennies
16. Crockpot Southwest Cornbread
The spicy and sweet combo of the Southwest cornbread is brilliant, and you must try out this recipe which is available at The Gracious Wife. Made with honey, green chilis, and melted cheese, the dish is marvelous to savor as a side dish!
Recipe - The Gracious Wife
17. Easy Potatoes Romanoff with Hash Browns
Here is a fantastic potluck; Food Meanderings create the recipe! Cheddar, brown hash, and mushrooms are added in abundance to make the classic potatoes Romanoff! The recipe is brilliant and ideal for serving when the guests are coming over!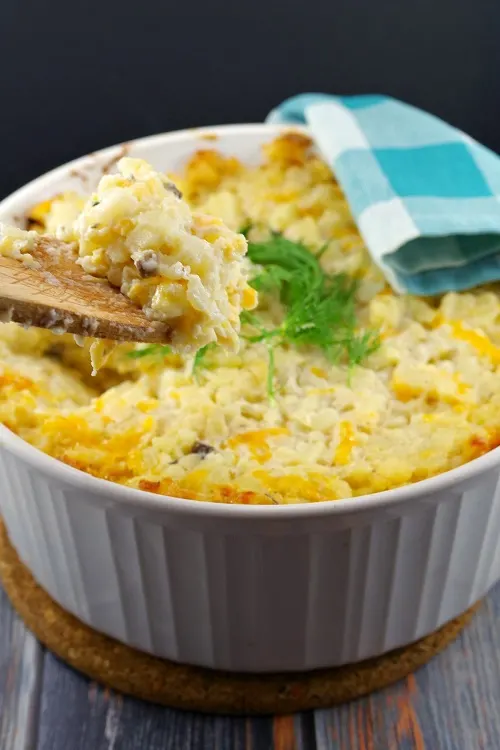 Recipe - Food Meanderings
18. No Boil Slow Cooker Mashed Potatoes
The rich and velvety slow cooker mashed potatoes are brilliant, and you must try this dish! The recipe is Spend with Pennies, and comforting to enjoy the warmth of the dish! Try out this brilliant choice of recipe for the holiday season!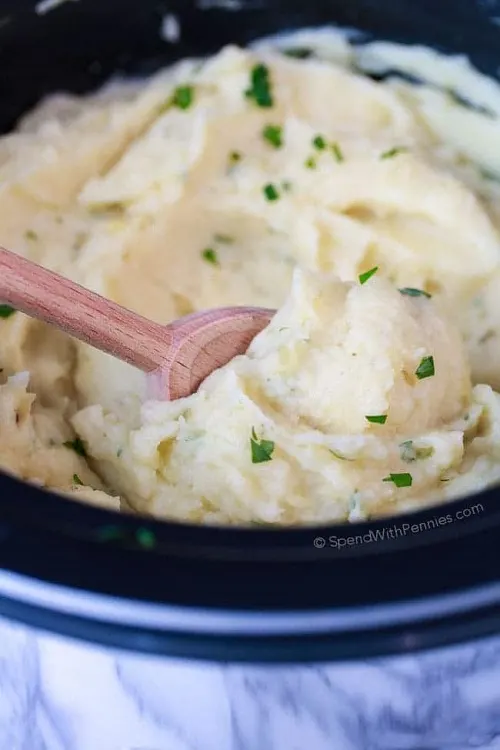 Recipe - Spend with Pennies
19. Pineapple Crockpot Baked Beans
Tell us when you help yourself with a second helping of the crockpot baked beans, as they are such a drool-worthy recipe! The recipe is available at Spend with Pennies and is one of the best for you to try out!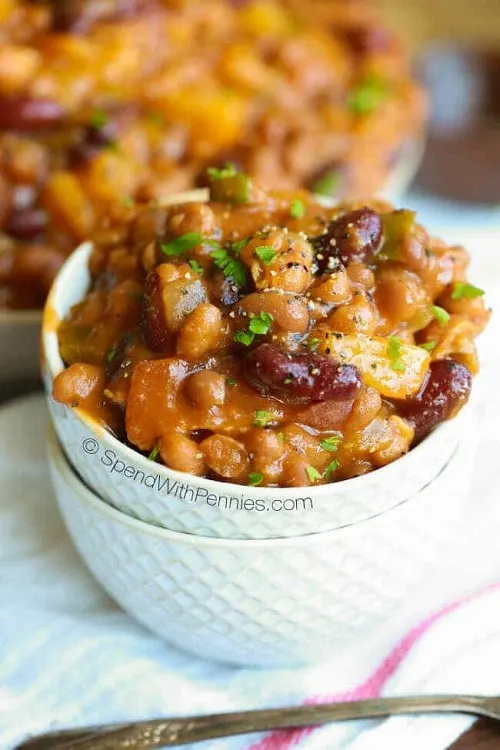 Recipe - Spend with Pennies
20. Slow Cooker Baked Potatoes
The half-cut baked potatoes are a marvelous recipe by Sweet and Savory Meals! The baked potatoes are tender and served as a gooey delight with cheese and herbs used for garnishing! Check out the baked potatoes, which are ideal for accompanying an elaborate dinner!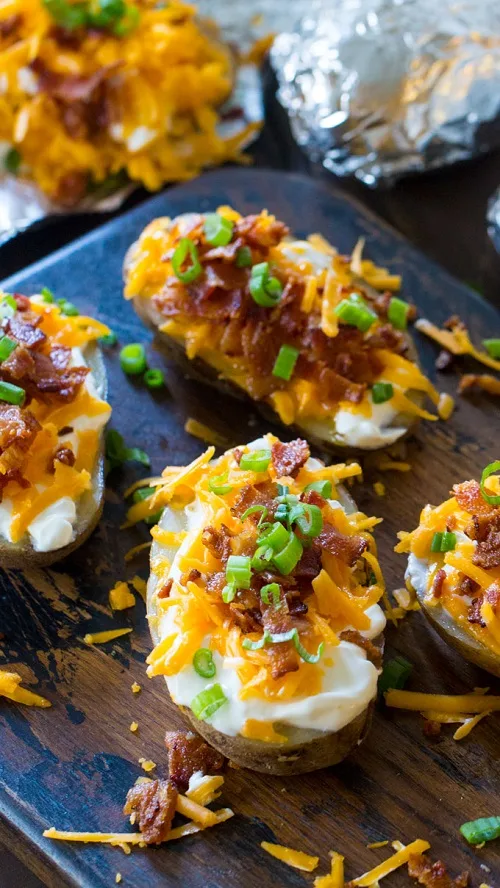 Recipe - Sweet and Savory Meals
21. Slow Cooker Brown Butter Carrots
The tender and sweet glazed carrots are finely chopped and made with creamy flavors and spices inspired by the recipe used by The Food Charlatan! If you are fond of carrots, this is the ideal choice to indulge in.
Recipe - The Food Charlatan
22. Slow Cooker Green Beans with Shallots and Almonds
The rich and healthy recipe of shallots and beans is fantastic, and you can find it only at Culinary Ginger. Healthy and topped with crispy almond crumbs, the dish is fabulous to enjoy as a side dish to your main course.
Recipe - Culinary Ginger
23. Slow Cooker Spiced Cranberry Chutney
The spicy cranberry chutney is the perfect thing you need for your meal! Whether you are having something boring or simply not interested in that particular dish for dinner, cranberry chutney can bring and restore your heart to the right place. The recipe is present at Mom on Time Out.
Recipe - Mom on Time Out
24. Slow Cooker Sweet Potatoes
The paleo-friendly and gluten-free sweet potato bakes are exceptional, and you can follow the recipe at Cook Eat Paleo! Juicy and ravishing, you will grow to become a fan of sweet potatoes with this recipe on your first attempt!
Recipe - Cook Eat Paleo
25. Slow Cooker Vegetarian Barbeque Stuffed Peppers
The bell peppers are scooped of their content and then filled with smoked and roasted veggies! You will find the recipe at Slender Kitchen for the gorgeous barbeque stuffed peppers.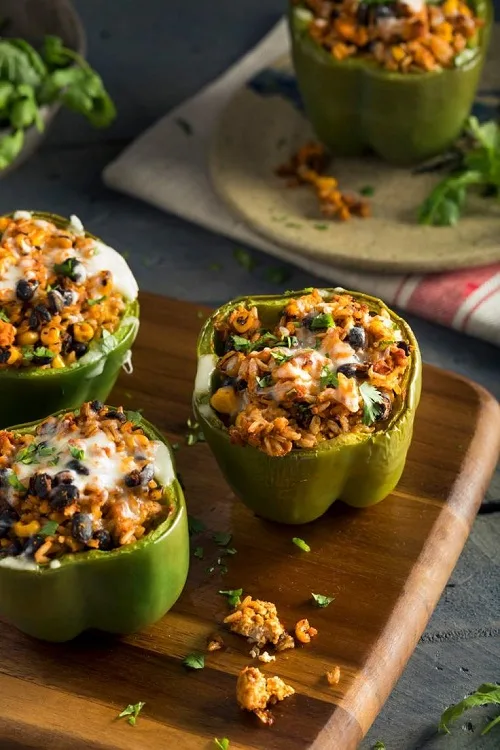 Recipe - Slender Kitchen
Read also: