Satisfy your sweet tooth with these delicious sweet keto candy recipes. With simple ingredient swaps, you can make your favorite candies with only healthy ingredients! Try these recipes today to keep your keto diet on track!
More collections: Keto Thanksgiving Desserts, Healthy Keto Dinner Recipes, Keto Fat Bomb Recipes, Keto Chaffle Recipes, Keto Mexican Food, Keto Crockpot Recipes, Benefits Of A Keto Diet, What Are The Risks Of The Ketogenic Diet?, Keto Chicken Thigh Recipes, Low Carb Keto Drinks, Keto Super Bowl Snacks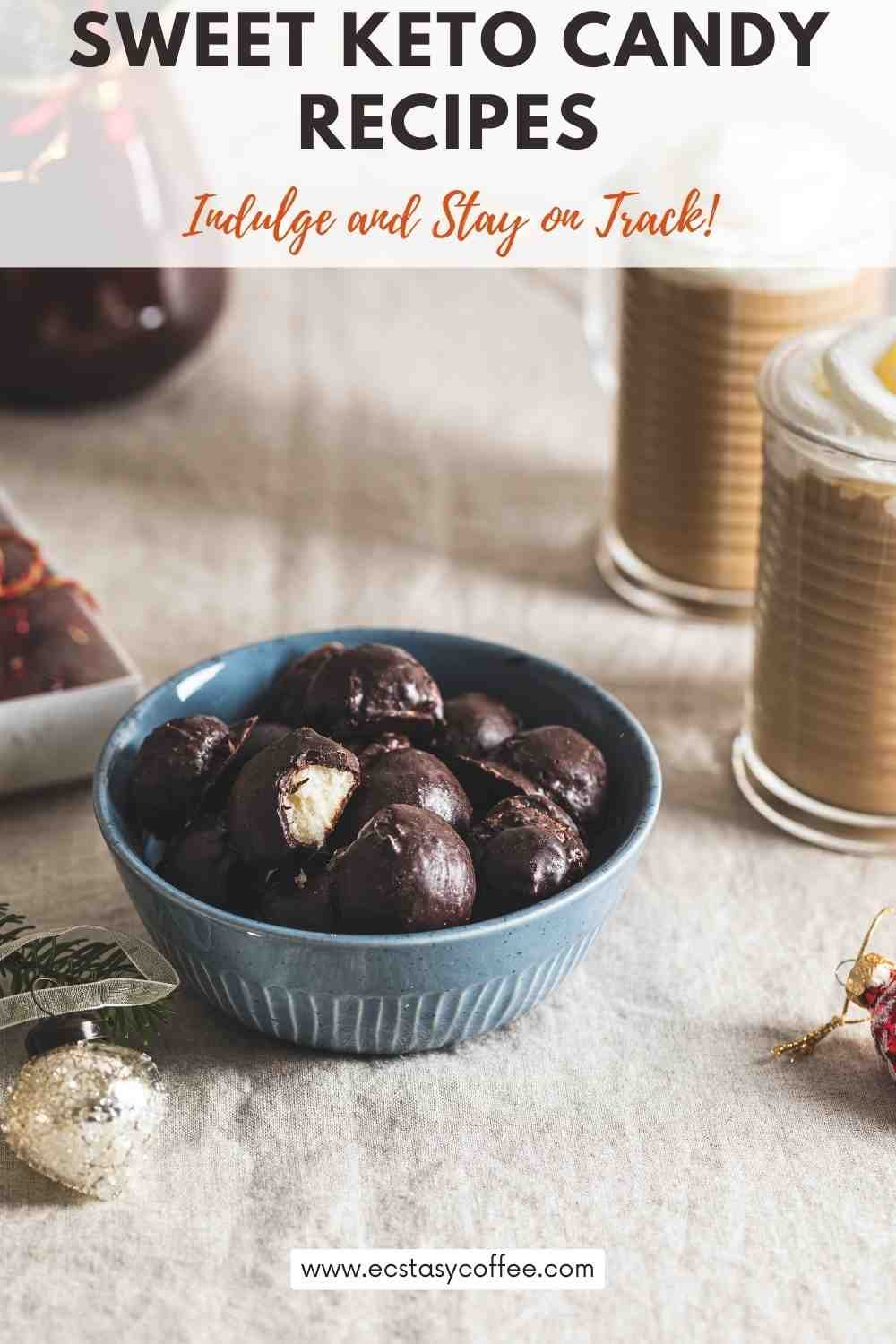 Everything that you must learn before making sweet keto candy snacks (+20 recipes)
Sometimes being on the same diet can get quite boring and to save you from the tiring schedule, we have so many sweet keto candy recipes for you.
Candy making is an art and there are so many wonderful sweet treats that you can enjoy. Of course, no matter what age you are, candies are something that adults to kids do, it is so hard for one to resist. However, here are some tips for you that you should follow before you get started with the process. Let's learn quickly. Shall we?
What is a candy thermometer?
If you are making candies for the first time in the house then you might be coming across this term for the first time in life! Yup, candy thermometers are different from ordinary ones. These have graduations on the scale and terms like soft balls and so on printed which are candy terms to describe the consistency of the candy at a particular temperature. 
These also have a clip on the side so you can balance the thermometer in the sugar syrup while it notes the rising temperature. However, you need to be careful about not touching the surface of the thermometer to the bottom of the container or the readings will come inaccurate.
When is the right time to make candies?
Now unlike other recipes which you can make whenever you want, this is slightly different when it comes to making candies at home. A candy is basically composed of sugar which can absorb moisture from the surroundings and turn soggy.
Hence a humid or rainy day is a bad idea to make candies at home! Instead, a drier summer day or winter afternoon is something that you can opt for. Once the candies are done, you can wrap them in a plastic wrapper and store them inside a bell jar or air-tight container and place them on the kitchen shelves or even inside the refrigerator.
Why do you need a heavy saucepan to make candies?
When you are making the sugar syrup for your candies, it might happen that over the course of time, as you boil the syrup, it will get burnt at the bottom. This happens as the layer between the candy syrup and the fire is very thin. In other words, you should choose a heavy bottom saucepan so you don't boil the solution off. Thin aluminum saucepans are something we will ask you to avoid at all costs.
Why are we recommended to use fresh ingredients?
The flavor of the candies is determined by the flavor of the ingredients that you are going to use. Fresher the ingredients,  the better the taste of your sweets.
This will also make sure that you are able to store your candies for longer durations instead of having to finish them all at once. Especially, if you are making fruit candies then the fruits and pulps that you use for your fudge should be fresh.
How are you asked to store candies?
There are two kinds of candies! One that absorbs moisture and the other which loses moisture. Example of the former includes caramels, mints, hard candies, and toffee while the latter are fudge, fondant, and meringues. Never store these two kinds together in a single jar as it will create a mess.
Both will stick to each other and result in you having to ultimately discard them. You can choose to freeze your candies if needed! This will enable you to keep them fresh and solid for a longer duration.
Delicious Sweet Keto Candy Recipes That Will Satisfy Your Sweet Tooth
Packed with only three ingredients to make these delightful candy bars!
Rich and chewy, you will not even feel like you are on a diet once you munch on these. So what are you waiting for? Make it right away.
Flavored with tender chocolate coating outside and an inner filling of caramel makes this a delightful recipe of all times.
The keto Snicker candy bars are outstanding and if you are planning to make your diet enjoyable, this candy treat is a must–have.
Are you looking for something gooey, tasty and delicious? Then the keto turtles are the best thing to opt for.
Drizzled with pecan clusters and nuts, this recipe is lovely and leaves one craving for more. Make in bulk, so everyone can enjoy more.
Here is a recipe for almond candies dipped in chocolate! So if you are fond of nuts and chocolate this is the best thing to make at home.
Ready in no time, you shall be smitten with every bite.
Delectable, syrupy, and chewy, you should make this delightful treat and see how adults to kids everyone enjoys this candy to their heart's content.
That's how addictive and tempting these crockpot candies are. Savory and keto-friendly, this one turns out to be the best choice. 
Yup, that is right! Craving for something sweet? Well, four ingredients are all that you need to make this yummy and chewy candy for the holidays.
These keto candies are lovely and packed with great flavors. Do give it a try for sure.
The sour gummies are delightful and packed with great taste! Slimy and syrupy, you can make it even as a beginner.
So if you are whining for some sweet and sour treat for a while then these gummies are what you should make.
Making keto candies is the best thing to opt for! Yup, five basic ingredients and you are good to go.
Chewy, buttery and rich, this is an incredible idea that you should not miss out on.
If you are fond of pecans, then these pecan praline candies are the best thing to opt for.
Delectable, rich, and crunchy, you shall be smitten by its delightful taste. And guess what, these are indeed so easy to make.
Nuts are healthy if you are looking for a source of fat and proteins! The keto but clusters are absolutely the best and render one simply speechless.
Cooked with the richness of butter, the keto nut clusters are absolutely lip-smacking in every bite.
The combination of coconut, pecans, nuts, and chocolate chips turns out to be a delightful idea!
Decadent and rich, this idea is lovely and you must indulge in this one right away. No wonder these are called the OMG bars.
When we came across this English toffee, we knew you would love this treat!
Delicious, rich, and savory, you ought to give it a try. Low on carbs and ready with just a couple of ingredients, this is a must-have.
The zesty and lemony sour gumdrops are slimy, chewy, and tender melting in your mouth at every bite.
Make a large batch of these gummies as you will feel like popping one or two into your mouth from time to time.
Keto vanilla pecan cinnamon candies are packed with great flavors. The vanilla essence and the crunchy pecans are delicious and render one speechless.
So what are you waiting for? The cinnamon essence is palpable too. Shall we try it then?
Low on carbs, these pecan turtles are delicious and created in several layers. These homemade turtles are detectable and loaded with great taste.
Rich and creamy, this one is simply the best! Ready in no time, you ought to indulge in its blissful taste.
Low on carbs and detectable, the Poodle Doodle candies are so easy to make and flooded with great taste.
Rich, crunchy, and crumbly, you ought to give it a try! Thank us later for the idea. Now make it quickly.
The coconut candies are marinated in chocolate and packed with great flavors.
Sugar-free and rich in proteins, these chocolate candies are the best to opt for.
Savory and flavorful, you shall observe how quickly they will disappear from the jar in no time.
All you need are three ingredients to come up with this lovely treat. Delicious, savory, you must give it a try for sure!
Made with three basic ingredients, you do not even have to rush to the shops every time you feel like munching on candies.
It is almost hard to determine whether these magic cookies are cookies or candies!
Five ingredients are all that you need to make these delightful keto candy bars. So go for it today.
If you are in the mood for candies and wish to make them quickly at home then we know a recipe that shall be perfect for you!
The classic keto payday candy bars are lovely and loaded with great taste.
Other ideas you should check out: Keto Thanksgiving Recipes, Healthy Late Night Snacks, Chicken Wing Recipes, Include Keto Chocolate in Your Diet, Best Chicken Thighs Recipes, Gluten-Free Breakfast Recipes, Gluten-Free Snacks, Oreo Cookie Dessert Recipes