Skyscrapers have long been regarded as one of humanity's most significant contributions to civilization. In New York City, there are nearly 6,400 high-rise structures. Here we are listing top ten tallest buildings in New York.
Though certain high-rise buildings may be found in other boroughs (such as the Hub in Downtown Brooklyn or YIMBY in Queens), Manhattan has been home to some of the world's highest structures since 1890.
Because of the area's strong surface bedrock and capacity to offer structural stability for big structures, the majority are situated in Midtown and Lower Manhattan.
Business, residential, and commercial centre make up the majority of the tallest structures. The top ten tallest buildings in New York are listed below:
Tallest Buildings in New York
Jump to:
1. One World Trade Center
Height: 1,776 ft.
The 104-story 'Freedom Tower,' located in the Financial District, is not only the highest skyscraper in New York City, but also in the Western Hemisphere.
The 408-foot spire, which houses vital communications equipment and serves as a nighttime beacon, accounts for the extra height.
Fun fact: The elevation (1,776 feet) represents the year the United States Declaration of Independence was written.
2. Central Park Tower
Height: 1,550 ft.
This massive luxury residential skyscraper overtook 432 Park tower in March 2019, giving it the western hemisphere's highest residential structure.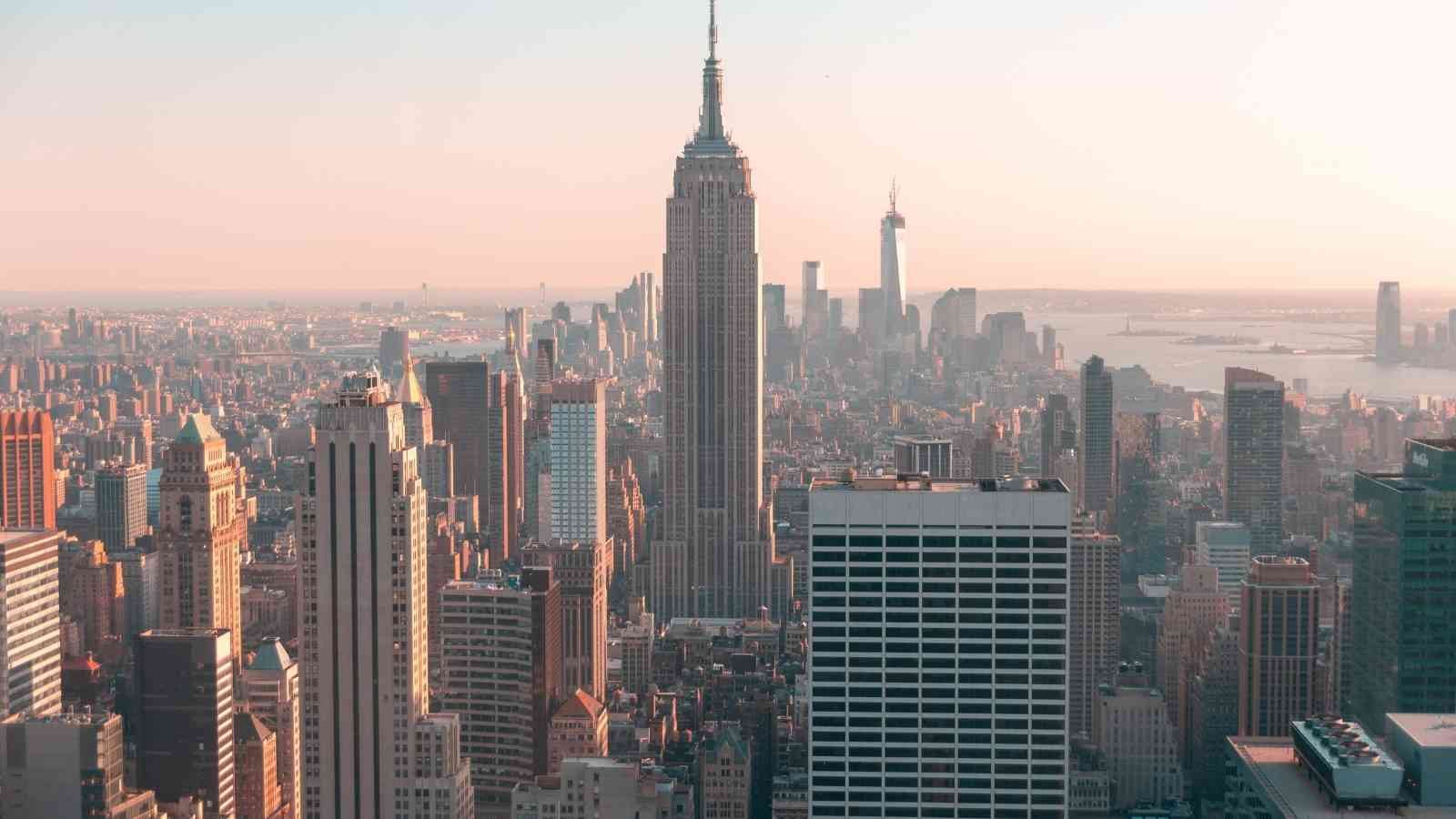 The Central Park Tower, also known as 225 West 57th Street, has yet to reach its full height of 1,550 feet. Extell's other Billionaire's Row project is Central Park Tower, which follows on the heels of One57.
Fun fact: Condos in this neighbourhood range in price from 1.5 million for a 569-square-foot studio to $95 million for a four-bedroom, 8,000-square-foot pad.
3. 111 West 57th Street
Height: 1,428 ft.
This 86-story, thin structure, located on 'Billionaires Row,' is the world's skinniest building, with a ratio of 1:24.
The skyscraper, which was designed by SHoP Architects and constructed by JDS Development, reached its maximum height in April of this year.
Fun fact: 14 of the building's apartments were planned by the same designer who created Grand Central Terminal in the 1920s, earning it the nickname "Steinway Tower."
4. One Vanderbilt
Height: 1,401 ft.
Information: This newbie to the tallest list just reached the pinnacle in late 2019. One Vanderbilt is now officially New York City's highest office skyscraper.
The structure, designed by Kohn Pedersen Fox, is located directly across from Grand Central Terminal and provides an underground link to the transit hub.
One Vanderbilt has not just height but also heft, unlike the waif-like pencil tower. This structure occupies a whole city block.
5. 432 Park Avenue
Height: 1,396 ft.
Information: This 84-story Midtown marvel, which overlooks Central Park and sways up to four to five feet, has drawn significant criticism from New Yorkers because to its overshadowing of the park.
The ultra-slim mega skyscraper 432 Park Avenue was the first of its type.
Fun fact: In 2015, 90% of the units were sold, with 50% or more of the buyers being foreign nationals.
6. 30 Hudson Yards
Height: 1,268 ft.
30 Hudson Yards is a section of the biggest private real estate development in US history, located on the west side of Manhattan.
30 Hudson Yards is the second highest office skyscraper in New York, and is located in the residential component of Hudson Yards' 'city within a city.'
Fun fact: It boasts the world's fifth-tallest observation deck and the Western Hemisphere's highest outdoor observation platform.
7. Empire State Building
Height: 1,250 ft.
The Empire State Building was completed in about 14 months during the Great Depression, in 1931.
Fun fact: Following the terrorist attacks on the World Trade Center, the empire reclaimed the distinction of city's highest skyscraper.
8. Bank of America Tower
Height: 1,200 ft.
The Bank of America Tower, often known as the BOAT, is a 58-story building located between 42nd and 43rd Streets, just across from Bryant Park. Bank of America occupies 75% of the interior, while the other 25% is leased to other businesses.
Fun fact: It is regarded as a global paradigm for skyscraper green architecture. It is the first skyscraper intended to achieve Platinum LEED Certification, including waterless urinals, two honeybee colonies atop the building, and a majority of recyclable materials.
9. 3 World Trade Center
Height: 1,079 ft.
This eighty-story skyscraper, located on the eastern side of the World Trade Center, started construction in 2010, was delayed until 2014 owing to the lack of an anchor tenant, and was completed in 2018.
The commercial centre of the building, which contains five indoor levels of shops — two below ground, one ground floor, and two above ground – is a huge plus.
10. 9 Dekalb
Height: 1,066 ft.
The 9 Dekalb building, which is now under construction atop the landmarked Dime Savings Bank, will be Brooklyn's first super skyscraper.
The tower will be nearly 1,000 feet tall—1,066 feet to be precise. Condos, rents, and retail space will be available in the mixed-use complex.
9 Dekalb will be the tallest skyscraper outside of Manhattan once it is completed.
Fun fact: This is the second significant JDS/SHoP project to be built on the same block as a major Extell project (see Central Park Tower and 111 West 57th).