Make meal prep hassle-free this Thanksgiving with delicious Thanksgiving air fryer recipes! Try our easy and flavorful recipes to make the perfect holiday meal with minimal fuss. Get ready to make your Thanksgiving the best one yet with an air fryer!
More collections: Halloween Tequila Drinks, No-Bake Halloween Treats, Halloween Milkshakes, Gluten-Free Halloween Treats, Vegan Halloween Recipes, Vegan Halloween Cookies, Halloween Jello Shots, Halloween Brownies, Thanksgiving Tequila Cocktails, Thanksgiving Vodka Cocktails, Thanksgiving Chicken Recipes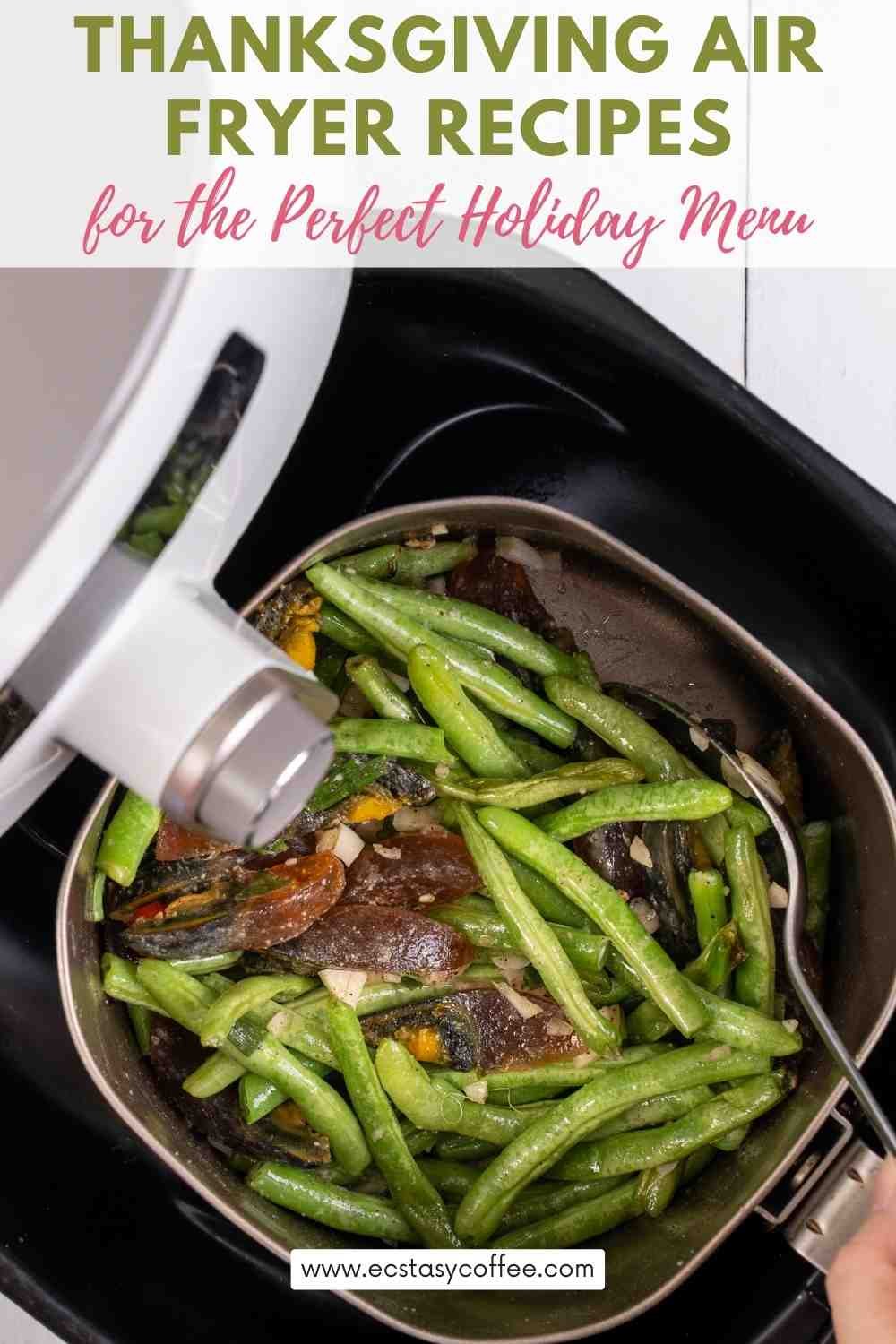 Thanksgiving is the season of expressing gratitude for all that we are blessed with! Celebration and the festive season make the holidays even more special! A scope for us to be grateful for all that we have received.
With such a hearty emotion and wholesomeness, we would like to begin our discussion on how to prepare amazing dishes with the aid of an air fryer. Let us tell you that if you have an air fryer in the house then half of your job is done easily. But if you have never cooked in it, then here are some tips that will come in handy.
What is an air fryer?
Did you ever want to try deep-fried food but since they were not permitted in your meal due to health reasons you had to give up on them? Well, now what if we said that you can have deep-fried food without concern for the oil? That is right! That is exactly what an air fryer does! You can enjoy deep-fried food but exclude the unhealthy bits! Isn't it fun? The high-speed fan in the device helps to even cook your food faster and gives it a crispy edge.
So how does an air fryer work
If you are using an air fryer for the first time and not sure how it is done then always opt for the manual which is provided. You can even opt for a couple of tutorials on the internet which help one understand the functionality of the device and how to use it. To be honest it is pretty much simple and there is no rocket science that you need to use. There is a basket which is provided with an air fryer! This is where you need to place the raw food. Hot air is generated and passed down towards the food by the high speeding fan! As a result of which, the dish is surrounded by this hot air and turns out to be crispy.
How to use an air fryer
Making food in an air fryer is pretty simple! Just a couple of steps and you are good to go!
First place the food inside the basket. You can brush oil on the surface of the basket so that the pieces do not stick to the bottom or if you are in a hurry and wish to make the job faster then go ahead and place a foil at the base.
Then you have to set a temperature and timer on the air fryer. From five to twenty-five minutes, the time in an air fryer usually varies. The temperature is also maintained between 350-400°F depending on the kind of dish you are preparing.
Sometimes halfway through the process of cooking, you are expected to flip the piece! And that's all! In no time, your meat or fries will be ready for the table.
What are some of the dishes that you can make in an air fryer?
There are literally so many things that you can make in the air fryer. From frozen finger food like mozzarella sticks to french fries, and so on, the options are simply endless. You can also fry your chicken nuggets with a hint of oil in an air fryer as well. But that is not what air fryers are restricted to! Even homemade finger food can be built from scratch if you have an air fryer at home. Chicken, fish, meat, there is nothing an air fryer can not make.
Quick & Easy Thanksgiving Air Fryer Recipes
If you thought making turkey will be too tough then here is something that will change your thoughts about it!
The air fryer turkey breast is crispy and succulent all at once.
If you are looking for something easy-peasy and elaborate all at once but thinking that is technically impossible, then check out this dish!
Making duck breast in a jiffy is now no longer a dream. Do give it a try!
Not just meat but desserts in the air fryer is possible as well! Sweet, tender, and savory, this recipe is perfect and renders you simply speechless.
Pulpy and rich in taste, this is one of the best things you will come across.
An entire turkey in an air fryer? Yup, that is possible! If you didn't try that out before, make the job easier this season with the Thanksgiving turkey recipe prepared in this appliance right away! So shall we?
Crispy outside and delicious filling inside, the recipe for the cheeseballs is perfect if you are looking for a light and yummy appetizer.
Adorned with honey and sauce, the cheese balls taste simply divine. So shall we try them out?
Wow, what an incredible idea! The air fryer goat cheese with bacon wrapping makes them the highlights of the season!
If you are looking for a light and succulent Thanksgiving appetizer, we know which one you should try out.
If you are in the mood for something nice and yummy then the marinated air fryer turkey tenderloin is all that you need!
Delectable and infused with herbs, this idea is fabulous and perfectly meant for the festive season.
Do you not prefer Brussels sprouts and looking for a fun way to consume the greens?
Well, then these maple balsamic glazed sprouts will definitely make you change your opinion about them. Made in the air fryer, it is quickly done.
Succulent and flavorful, the air fryer turkey is the best thing you will come across during the holidays when you want to eat something nice but do not spend much time in the kitchen!
Tender and seasoned with herbs and spices, try it out right away!
The air fryer turkey legs are flooded with great taste and drizzled with seasonings so rich!
Well, if not a whole turkey then at least a couple of legs on the table to satiate your cravings for meat in a minimal time.
The recipe for air fryer pumpkin is brilliant and such a great choice of dish! And guess what, all you need are pumpkins and subtle seasonings to get this dish right! Healthy and easy as a side dish.
Did you try making Brie cheese in the air fryer? If you haven't then this recipe is what you need!
Delectable and tender, this one turns out to be the best in fact! Shall we then?
Delicious and tender, the boneless turkey breasts are delicious and flooded with great taste!
Perfect for the holidays, you are surely going to enjoy this treat! It is impossible for us to imagine Thanksgiving without a turkey on the table.
The subtle essence of rosemary makes this air fryer turkey the best to opt for!
And how can we forget the garlicky hint that you are about to experience in every bite? So what are you waiting for? Make this one today.
If you are fond of something crispy to accompany you with a cup of coffee in the fall evening then we have to introduce you to the air fryer Ritz Brits churros!
The recipe turns out to be the highlight of the evening.
Have you tried the Turkey breast cutlet yet? If you haven't then this air fryer recipe is the best for you to indulge in!
Succulent and flooded with great taste, you must indulge in its blissful presence.
The crispy herb turkey thighs are fantastic and flooded with a mild infusion of herbs!
Succulent and enriching, you can get these done in a jiffy and enjoy to your heart's content.
Ah, huh! The mini Danish air fryer recipe makes sure that you can ravish something sweet and savory and yet not spend your entire time in the kitchen!
How crispy these turn out to be! So shall we?
Well, when it comes to Thanksgiving, the table is all adorned with meaty treats!
Here comes another one! The bacon-wrapped turkey is the joy of two in one. If you want to make something special for the guests, opt for this idea.
The Apple pie doughnuts are lovely and while the center is filled with a pulpy treat, the crispy coating outside makes them simply irresistible.
You can serve this as a side with tea to the guests or enjoy it as dessert too!
Other ideas you should check out: Christmas Turkey Recipes, Healthy Air Fryer Recipes, Hot Dog Recipes, Thanksgiving Leftover Recipes, Christmas Cider Recipes, Chicken breast recipes, Oreo Cookie Dessert Recipes, Red Velvet Dessert Recipes, Halloween Dessert Recipes, Halloween Drinks, Fluff Recipes