Satisfy your sweet tooth this holiday season with these mouth-watering Thanksgiving cake recipes. From classic pumpkin cakes to creative twists, this guide has all the best holiday treats for you and your family to enjoy! Try one now and find your next favorite Thanksgiving cake!
More collections: Chocolate Dessert Recipes, Thanksgiving Shots, Indian Thanksgiving Recipes, Thanksgiving Turkey Recipes, Thanksgiving Sweet Potato Recipes, Thanksgiving Casserole Recipes, Thanksgiving Potluck, Thanksgiving Cheesecake Recipes, Keto Thanksgiving Recipes, Thanksgiving Bread Recipes, Vegan Thanksgiving Recipes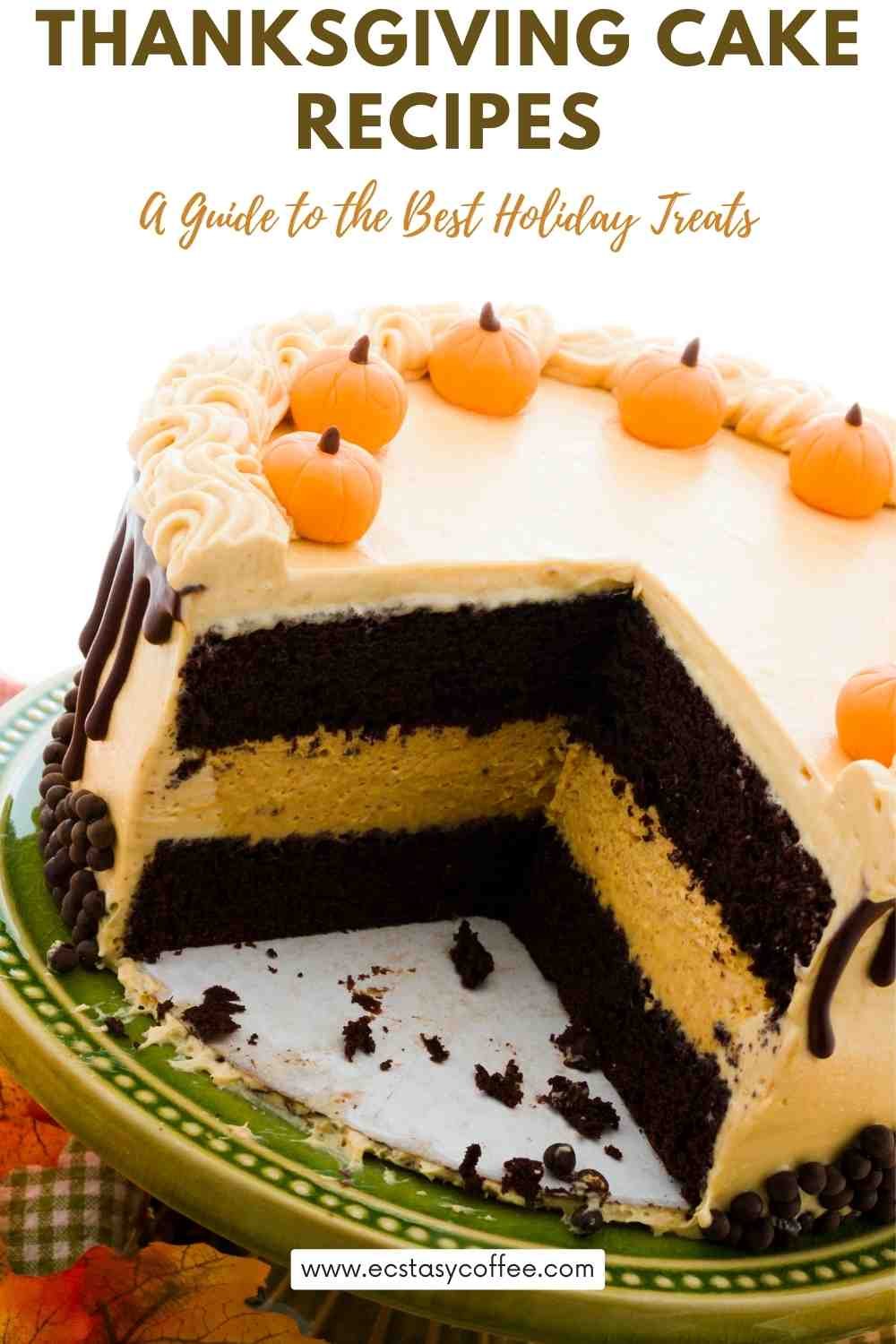 Well, we are again here to bake cakes with you! This time it is for Thanksgiving and we can not wait to celebrate the festival together! After hustling throughout the month, finally, it is time for us to catch up on a moment of ease and celebration.
If you are planning to bake the Thanksgiving cake for yourself at home then here is what you should know! Follow these tips so nothing goes wrong. There is a list of recipes for you to indulge in as the Thanksgiving holidays are around the corner.
What kind of recipe should you use?
When you are baking, it is important for you to follow a proper recipe! Something that you can rely on! The recipes which we have shared with you are what you need for the holidays! Do not opt for random recipes in case you are doing it for the first time! You might end up with a messy cake for the evening! Planning to bake your cake right begins with a proper recipe that one can emulate easily.
What kind of containers and tins are needed for making cake
As you bake a cake, you must have gone through several recipes to pick one at the end! But while you do so, you must have also noticed that a particular size of the baking tin is mentioned in the recipe. If you think it is mere information and of no good use to you, then you are actually going to make a blunder. For instance, you do have the right size of baking tin in the house and you still go ahead with baking that cake!
Do you know what it will become? Yup, that is right! If the size is bigger than needed then your cake top will not rise and hence will not become fluffy while if the size of the tin is smaller then, the batter will simply overflow! Choosing the right size of baking tin while making a cake is hence very important.
Do you need to preheat the oven?
When you are baking a cake, it is highly essential that the oven is set at a particular heated degree! This will be mentioned in your recipe and you can follow the instructions accordingly to do the job. Now if you may ask what is the need to preheat then here is your answer.
Preheating is required so that the cake batter does not experience a sharp transition in temperature as it is placed in the oven. A cold oven will take time to get the heater up as a result of which the top of the cake will rise and fall quickly making it soggy and mushroom topping.
Why is it so important to weigh the ingredients properly
When you are baking, it becomes very vital that you measure the weight of the ingredients precisely. This is because even the slightest difference in amount and weight will affect the texture as well as the taste of the cake.
Of course, after putting in so much effort, you do not want your entire hard work to go down the drain and hence it becomes even more vital for you to be careful as well as precise about weighing the ingredients.
Now that we have more or less discussed the things you must know before baking a cake, we can not keep you waiting forever! Hence here are some wonderful Thanksgiving cake recipes exclusively for you.
Delicious Thanksgiving Cake Recipes to Make Your Holiday Special
Delicious, rich, and tender, the spice cake is perfect for the fall season! Topped with rich creamy frosting, we are sure you will love this idea!
The spiced cakes are very easy to bake in no time. Shall we then?
It is a shame if we do not make the all-time classic gingerbread cake! It is a must for every year!
Adorned with rich cream cheese frosting, you must try out this recipe right away! Thank us later for the idea!
Rich, gooey, and pretty elaborate, we are sure you will be tempted to try out this mesmerizing treat!
The flavor of salted caramel sauce dripping all over makes it a gorgeous recipe, to be honest.
Ah, here is another one for you! The rich and scrumptious pumpkin cake topped with salted caramel frosting is loaded with divine taste.
You should bake it during the holidays and enjoy it to the fullest.
The Apple butter cake with a luxurious brown sugar buttercream tastes so gorgeous indeed!
Savory and rich, this is an incredible idea that you should try out for the holidays! It is guaranteed that your guests will praise your skills!
Ah, the brown sugar spice cake is another delightful treat for the season!
Loaded with great flavors, you ought to give it a try! Savory, smooth, this is an extraordinary idea to make during the holidays. Go for it right away!
The combination of apples with pumpkin turns out to be a great treat! Drizzled with pecans, you ought to indulge in its blissful taste!
Once you make and try out this bundt cake, you will be compelled to bake it again and again.
The light and fluffy spiced sponge cake is delectable and such an incredible idea to be honest!
No wonder it is called the sponge cake! Tender and flavored with warm spices, you should definitely give it a try!
Ah, for all the dessert lovers, if you are looking for something sweet and crunchy at the same time then we can suggest you this fruity apple cake.
Delicious and stuffed with rich frosting, there is no way you can say no!
This is no ordinary recipe! The pecan pie layer cake is gorgeous and such an incredible treat during the holidays.
The flavor of crunchy pecan with a tender crust and icy smooth frosting melts in your mouth at every bite.
Ah, here is an extraordinary treat for dessert lovers! The salted caramel butterscotch cake is exactly what you must try out during the holidays.
You will surely be left drooling for more. So what are you waiting for? Bake this today!
Cozy, comforting, and flavorful in every bite, you will definitely thank us later for the idea of the classic bundt cake!
The crunchy apples served with pumpkin and cinnamon essence, make it such an amazing idea, to be honest.
Ah, here is what you need for the holidays! The gorgeous brown butter pumpkin cake is wonderful and loaded with gooey frosting on top!
You can serve this one with tea in the evening as you have some guests over.
The treat only keeps getting better and more wonderful! The toffee crunch cake is lovely and loaded with an enormous amount of frosting!
The recipe is so easy that even a beginner at baking can get it done in no time.
Of course, we can not miss out on cheesecake this season! The crunchy topping of pecan and nuts will surely make you drool!
The sight of the cheesecake is enough to convince you to bake it already. So what are you waiting for?
Here is another delightful idea for dessert lovers! And guess what? It is completely vegan!
So without any more worries, prepare this recipe right away.
The warm spices make it even more tempting and perfect to go with a warm beverage in the evening.
This recipe is something for which one can die and kill! That is how good and addictive this fall treat is!
If you do not believe us, then we can guarantee, you will change your thoughts after trying it out.
Delicious, rich, and gooey, the combination of pumpkin and apples is lovely!
Loaded with a rich essence of cinnamon, this vanilla bundt cake is all that you need. Do not waste a minute more and try it out already!
Delicious and savory, the pumpkin spice cake is exactly what you need for a treat!
Tempting and delectable, the warm spices confer a sense of comfort in every bite. Adorned with rich brown butter frosting, this cake is one of a kind.
20. Pumpkin spice latte cake
Well, if you haven't tried the pumpkin spice latte cake before then you are seriously gonna regret it!
Delicious and decadent, this one is enough to make you drool. Shall we then?
Other ideas you should check out: Halloween Cakes, Caramel Dessert Recipes, Bundt Cake Recipes, Instant Pot Cake Recipes, Thanksgiving Desserts for Kids, Healthy Vegan Halloween Recipes, Sweet Vegan Treats for Valentine's Day, Thanksgiving Chicken Recipes, Vegan Ice Cream Recipes, Vegan Thanksgiving Desserts