Ready to up your Thanksgiving dinner game? Check out our delicious Thanksgiving casserole recipes. Whether you're looking for a quick and easy dish or something with a gourmet twist, we have the perfect recipe for you. Try now and make your Thanksgiving dinner unforgettable!
More collections: Thanksgiving Potato Recipes, Thanksgiving Carrot, Thanksgiving Corn Recipes, Thanksgiving Punch Recipes, Thanksgiving Squash Recipes, Thanksgiving Brussels Sprouts, Gluten-Free Thanksgiving Recipes, Chocolate Dessert Recipes, Thanksgiving Shots, Indian Thanksgiving Recipes, Thanksgiving Turkey Recipes, Thanksgiving Sweet Potato Recipes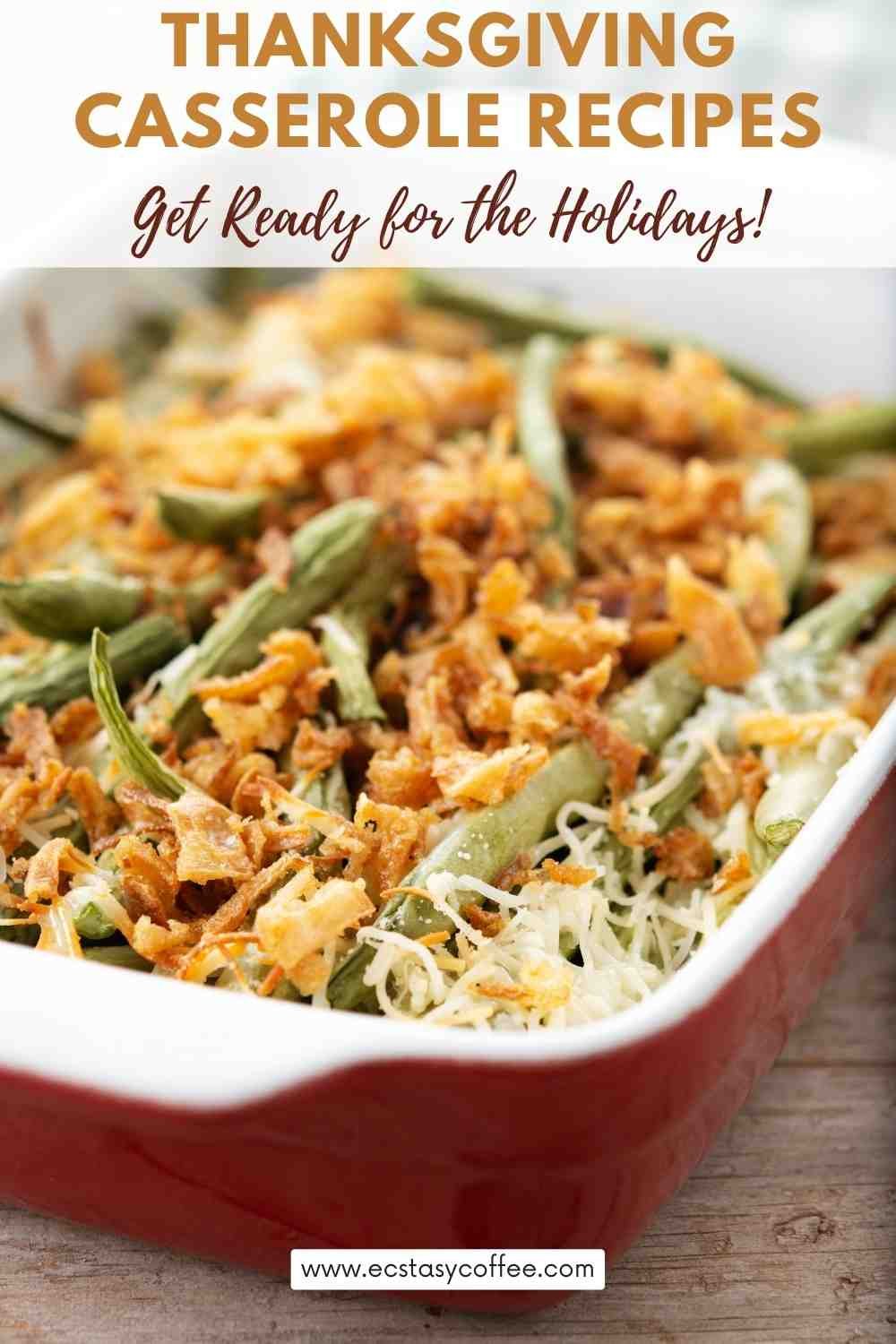 Thanksgiving is a joy and celebration! With the aura of thrill and excitement in the air, we can hardly wait to prepare for the event! Brunches need to be arranged and the guests shall also be invited! Amidst all that, you must be wondering about the dishes to add to the menu! Well, then here they are!
You might have thought about casseroles for the season and here we have them! If you are making it for a large crowd or elite guests and worried about what might go wrong, do not be! We will help you out with that.
What kind of baking dish is needed for making a casserole
If you are working on a casserole then the first thing that you should arrange is the baking sheet! You must be aware of what size and shape of baking sheets are usually required. Use a shallow one if you want the casserole to have a crispy topping! You will usually find ceramic, metal, and glass baking sheets where you can make your casserole very easily. And for parties and potluck, aluminum tin foils are the best! This saves you from the hassle of washing! Just use and throw away.
How should the pasta for your casserole be prepared?
When you are making a casserole, you are most likely to need pasta to prepare the base and for that, you do not want them to turn too soggy and melty! However, there is one thing that you must understand! The pasta is going to be cooked twice, as a result of which, your pasta is prone to be overboiled or cooked!
Hence to ensure that the shape and texture of pasta are maintained fine, you need to leave the pasta at half done while boiling! Two to three minutes of boiling is more than enough!
How should the meat be added to the casserole?
There is another vital thing that you should understand! You should never add raw meat to your casserole! As we all know, raw meat contains lots of water, and as you cook them within the casserole tray, water, and liquid will be released.
This will simply turn your casserole into a soggy mess. To avoid such a situation, you need to use cooked meat or processed pre-cooked ones for making the casserole.
How should the veggies be processed for making a casserole?
Just like how we mentioned it is not right for you to use raw meat, similarly, raw veggies aren't good either. They are prone to leaching moisture as well! Well, that is something you do not want, do you? Hence whenever you are making a casserole, there are two things you should learn: never leave the meat, veggies, or anything for that matter raw in the casserole tray.
What kind of cheese should you use for making the casserole?
If you are about to make a casserole then let us tell you cheese plays a vital factor in determining how good your casserole will taste and also dominate its consistency and texture. Choose the kind of cheese that you like instead. Feta and blue cheese are not something that melts easily but they give a wonderful tangy taste to your casserole.
Cheddar and Gruyere is a good option if you are looking for something which melts easily and can form the gravy of the casserole. You can combine two to acquire the ideal taste and texture too! Depending on your preferences, you are expected to choose the kind of cheese that will work best for you!
Delicious Thanksgiving Casserole Recipes – Try Now!
The delicious and tempting potato casserole is lovely and loaded with great taste!
Savory and creamy, you will definitely fall in love with the taste of this dish.
Here is another wonderful idea that we are sure you will fall head over heels!
Savory and topped with pecan crunch, you must try out this sweet vegan treat during the holidays.
With the holiday season around the corner, this one turns out to be the best!
Ah, here is a gorgeous corn casserole that you will hardly be able to resist. Savory and smooth, you must give it a try!
With Thanksgiving around the corner, you have no choice but to bake this classic!
The rich and healthy green bean casserole is fascinating and such an incredible idea!
Cozy and comforting, this recipe is very easy for one to follow. The ultimate green bean casserole is wonderful and you should indulge in its blissful taste.
Delicious, rich, and succulent, the turkey casserole is the best thing to escalate the mood of the season!
Topped with mashed veggies and cheese, you will surely love the pleasant essence of spices and herbs too! Shall we get started with the preps then?
Here is another great choice of recipe for the ones who wish to indulge in a vegan casserole!
And there is a reason why this cornbread casserole is called the ultimate delight! Bursting with flavors, we leave that to you to find out.
If you can find no way to make your kids munch on beans then here is a trick for you!
Quickly prepare this wonderful green bean casserole from scratch and see how delectable this tastes so that the kids cannot say no.
The lovely cinnamon streusel swirled maple sweet potato casserole is creamy and packed with great taste!
Smooth and tender, this sweet potato recipe turns out to be the best rather.
The savory and rich southern cornbread casserole is wonderful and flooded with great taste!
Cozy and crumbly, there is nothing so tempting as a plate of casserole on the table!
The perfect Southern authentic treat! So what are you waiting for? Make it today!
When you have some leftover turkey from last night, then this stuffed casserole recipe is fantastic and leaves you tempted for more.
With the holidays knocking at the doors, if you are wondering what to make for dinner, we have the best idea for you.
With the season of Thanksgiving knocking at the doors, we can hardly wait for you to try out the turkey and stuffing packed in a casserole together!
Yup, that is right and if you wish to find out then quickly follow this recipe right away!
We are talking about the exclusive creamy casserole with sweet potatoes and loads of marshmallows!
Ravishing and cozy, you will surely fall in love with the idea right away!
Ah, here is another unique recipe to make your seasonal celebrations even more exciting.
The loaded cauliflower casserole is the best thing that you must try out!
Gooey and packed with veggies and cheese, you will surely love it in every bite.
Savory, healthy, and flavorful, the cream cheese casserole is the ultimate treat of the season!
Flooded with cheese and green beans, the duo are best companions to each other. Even kids will not say no to this one.
Have you tried making a casserole with butternut squash? If you haven't then you should with the recipe that we have here!
Gooey and delicious, this veggie-filled treat is the best thing to try out during the holidays! Shall we then?
We have brought you another extraordinary casserole recipe that we are sure you will love too!
Easy to make and perfect to match the aura of the season, the skinny cheese potato casserole is one of a kind. So shall we?
Ideal to set the mood for the holidays, the combination of chicken with zucchini is rare but a match that is made in heaven.
Delicious and creamy, you must try out this succulent chicken-filled dish right away. Let's get started then?
Tender, healthy and rich, the green bean casserole is the best, to be honest!
Savory and packed with greens, even the little ones will not complain when you serve them the pea casserole!
That is how irresistible it is! Make it quick for dinner today!
Ah, here is another magnificent idea to emulate for brunch! Enjoy the seasonal flavors of cauliflower with cheese, herbs, and seasonings, all packed in this gorgeous casserole.
Delectable and easy to make, let's get this one done! Shall we? Let's go!
Whatever you have leftover from last night can be turned into something new and nice with this recipe that is right here.
And the best part is that you can enjoy a unique meal without putting in much effort for brunch the next morning.
Other ideas you should check out: Christmas Green Bean Casserole, Christmas Breakfast Casseroles, Thanksgiving Cornbread Recipes, Casserole Recipes for Dinner, Christmas Broccoli Casserole Recipes, Christmas Breakfast Potatoes Recipe, Potato Side Dish Recipes, Thanksgiving Recipes, Christmas Mashed Potatoes Recipes, Thanksgiving Leftover Recipes, Leftover Chicken Recipes