Get ready to impress your family and friends with these delicious Thanksgiving cornbread recipes! From traditional to creative, you will find the perfect recipe for your holiday table. Try out something new this year and make your Thanksgiving memorable with delicious cornbread!
More collections: Thanksgiving Fruit Salad, No-Bake Thanksgiving Desserts, Thanksgiving Green Bean Recipes, Mini Thanksgiving Desserts, Thanksgiving Apple Desserts, Gluten-Free Thanksgiving Dessert, Thanksgiving Vegetable Side Dishes, Thanksgiving Desserts For Kids, Vegan Thanksgiving Desserts, Keto Thanksgiving Desserts, Thanksgiving Pumpkin Dessert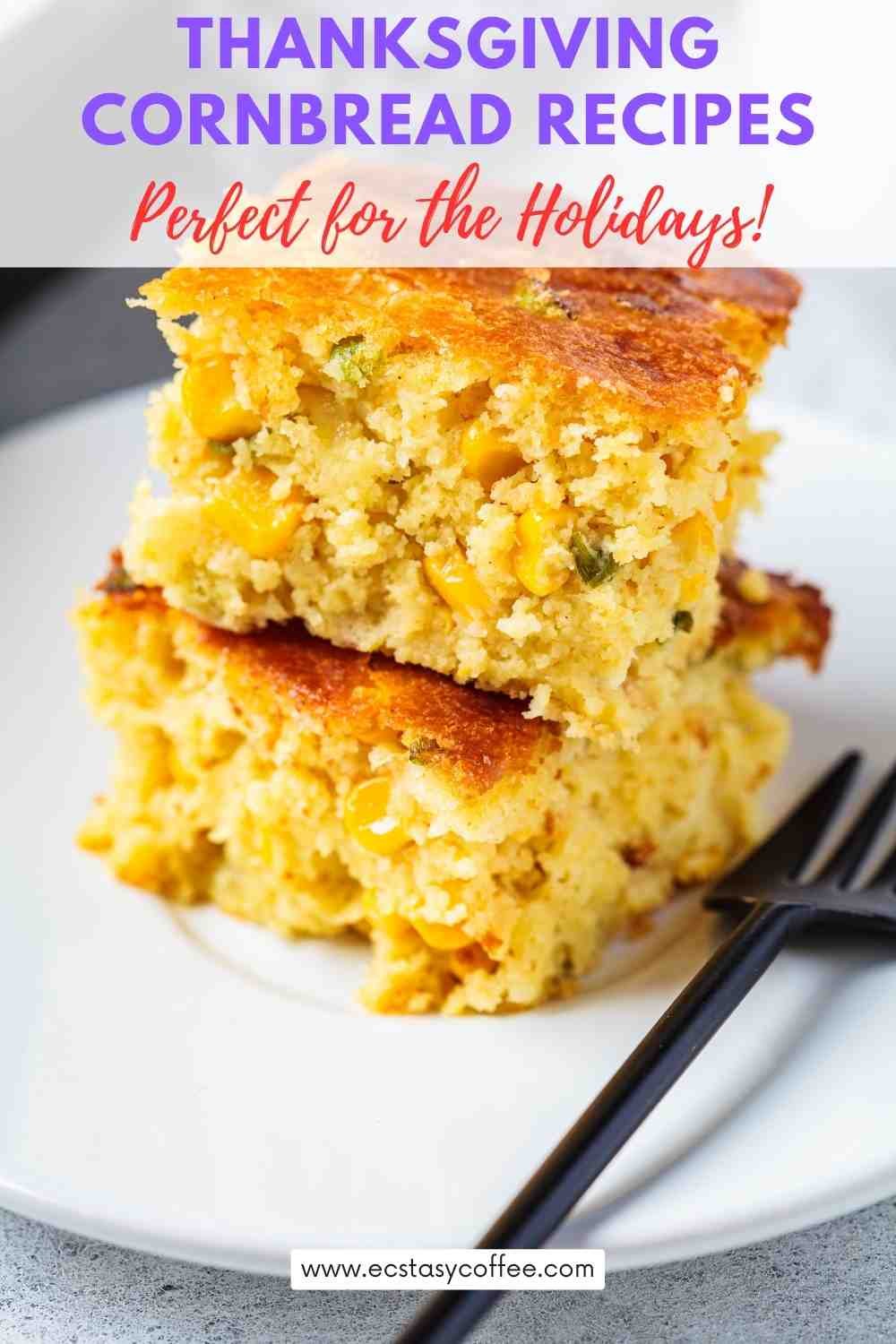 Ah, we could not wait for the holidays and it is finally here. You might be thinking the same! After working hard and long, we all deserve to catch up on a break! Relax in the house and enjoy the pleasant aura of the holidays. While we regain our energy and enthusiasm, let's work on this interesting and fluffy cornbread. And if you haven't tried them before then don't worry because we have got you covered.
Maybe you went to a friend's place and then ate this cornbread! Now, you liked them so much, you wish to make them at home as well! So let's find out more about them.
What kind of cornmeal should you use for the preparation of cornbread?
First thing first! You need to pick the right cornmeal so that your recipe turns out to be good! To do so, you need coarse cornmeal for acquiring the texture of nuttiness in your bread. Stone-ground cornmeal is the best, as the flavor of husk is still present and gives a taste of wholegrain bread to your cornbread. If you look up in the stores, the most common variety will be the medium fine cornmeal! But we need the coarser version so that you can check up on the online stores and there you might find several other options too.
How to decide the color of the cornbread
After you have selected the texture of the cornmeal now it is time for you to choose the color of the cornmeal! Mostly everyone will go for the pale white or yellow cornmeal which is the Southern variety but you can also check out the blue and the pale pink which is inherent to the northern parts.
The flavors of white cornmeal are subtle compared to that of yellow and hence it depends upon your preference and taste buds, which is the kind that you wish to work with. We can recommend you try out all and then find out for yourself.
Can you use whole corn in your cornbread too?
Of course, in a cornbread, you are likely to find traces of whole corn! This only aids in the texture and flavor of the bread. Canned rinsed corn is generally used in this cornbread as it is possible to get bored with the same old cornmeal! Twist and escalate the taste by using whole corn instead.
What is the requirement to add white flour?
Now some of the recipes will compel you to use white flour for your recipe while you make cornbread! Let us find out what is the utility of that! Basically, white flour is mainly added to your cornbread to give a protein boost!
This makes sure that your cornbread is perfect to be consumed any time of the day and it turns out to be a healthy idea on the table. It is an important binder that also prevents the bread from falling apart!
The taste of the cornbread is also comparatively affected due to the presence of white flour in its composition.
What is the need to use sour cream in your cornbread
The addition of sour cream to any baking goods turns out to be an extremely wise decision! When you do so in the case of cornbread, let us tell you, the binding of the bread is well done and the flavors are also escalated manifold.
So here are some wonderful cornbread recipes that you can try out during the season of Thanksgiving! Let us know which one you loved the most.
Delicious Thanksgiving Cornbread Recipes - Easy to Make!
Well, let us begin the discussion on something sweet and gooey!
The platter of cornbread casserole with cheesy consistency and loads of cream turns out to be an incredible idea flooding your taste buds with a sense of fulfillment in every bite.
Try making the classic cornbread with the recipe that we have for you right here!
Yummy and topped with rich frosting, you are going to enjoy this great treat!
Ready in less than an hour, as if pumpkin cornbread wasn't enough, this recipe helps you to make your bread even more amazing!
Delicious and cozy, this is an incredible idea and leaves you tempted for more. So shall we?
This recipe will surely make you drool! Take our words on this and make it when you are having guests who you wish to impress!
Cozy and creamy, this idea is lovely and loaded with a large dollop of cream cheese on top.
The delicious and gooey sweet potato cornbread is exactly what you need for a treat!
Tender and chewy, this is an incredible idea topped with rich cream cheese frosting on top!
The flavor of sweet potato is palpable in every bite! So shall we try it out then?
The mouth-watering experience of the cornbread will make you drool and compel you to try it out again!
Delicious and tender, you ought to try it out for sure. Let's get started with the preps, shall we?
The tender and crumbly pumpkin cornbread is gorgeous and loaded with the marvelous essence of fall!
Creamy, gooey, and luxurious, this is an incredible idea! So what are you waiting for? Make this treat right away! And enjoy your desserts.
Ah, if you are looking for something gorgeous and gooey then go ahead with the pumpkin cornbread recipe right away!
Tender and chewy, this idea turns out to be absolutely the best rather. Thank us later for the idea, make it now!
This is rather a unique idea when it comes to making your cornbread during the holidays!
Savory and packed with cheddar and bacon, do not forget the scallions as well. What an incredible idea to relish during the holidays, so shall we?
If you are looking for something nice and luxurious then you should go ahead with the recipe of sweet skillet Thanksgiving cornbread!
Delicious, rich, and luxurious, these cornbread buns will instantly bring water to your mouth.
The sage cornbread is a lovely treat and loaded with great flavors! Savory and sweet, there is no way you will be able to resist this idea!
Enrich yourself with the earthy flavors and enjoy this dish to your heart's content. So what are you waiting for?
If you are looking for something refreshing and tender then you should go ahead with the lovely cornbread recipe that we have for you right here!
Gorgeous and gooey, there is no way you will be able to resist yourself. So shall we?
We are talking about the lovely and luxurious buttermilk honey cornbread! Creamy and perfect to match the mood of the season, this is what you need during Thanksgiving!
So quickly give this one a try! Let's get started with the preps, shall we?
Here is another vegan bread recipe that you must try out! Delicious, and ready in no time, you shall be smitten at the very first bite!
So what are you waiting for? Make this one today. The Southern influence is palpable in this recipe.
If you are looking for something seasonal then we know exactly what you must try out!
The crunchy pumpkin seeds on top make this one even more delectable and attractive to the guests. Try this one for sure.
The Skillet cornbread recipe is lovely and loaded with a delicious essence! This is a healthy treat and is packed with great flavors.
If you are looking for something nice and cosy then this cornbread is all that you need with tea on the sides.
Packed with bacon and scallions, the savory cornbread tastes so amazing! You can pair it up with soup on the sides!
Delectable and scrumptious, you must definitely indulge in its blissful taste. So shall we get started with the preps then?
If you are in the mood for something nice and creamy then the seasonal pumpkin cornbread with spiced honey butter is exactly what you need.
Luxurious and rich, this idea is best to celebrate the aura of Thanksgiving in the air.
The herb cornbread is such an incredible idea and a gorgeous treat for the season.
The subtle essence of herbs is palpable in every bite! So what are you waiting for? Make this one right away! So let's go.
Well, we have to end the list with the gorgeous and awesome Southern cornbread with biscuit dressing.
Cozy and crumbly, this idea is amazing and renders you with an urge to eat more. So get on your mittens and start baking!
Other ideas you should check out: Skillet Dessert Recipes, Delicious One Skillet Meals, Thanksgiving Nail Art Designs, Fresh bread recipes,  Delicious Thanksgiving Dessert Recipes, Keto Crockpot Recipes, Keto Chocolate, Vegan Ice Cream Recipes, Healthy Vegan Halloween Recipes, Thanksgiving Dessert Recipes, Healthy Dessert Bar Recipes, Caramel Dessert Recipes