Get your family excited for Thanksgiving dinner with our best recipes for pies – from pumpkin to pecan, to apple – find the perfect Thanksgiving pie recipe for your family this holiday season! Browse now and add a delicious twist to your Thanksgiving!
More collections: Thanksgiving Cheesecake Recipes, Keto Thanksgiving Recipes, Thanksgiving Bread Recipes, Vegan Thanksgiving Recipes, Thanksgiving Cake Recipes, Thanksgiving Cupcakes, Thanksgiving Soups, Thanksgiving Salad Recipes, Thanksgiving Breakfast Recipes, Thanksgiving Appetizers, Thanksgiving Cookies, Thanksgiving Crockpot Recipes, Vegetarian Thanksgiving Recipes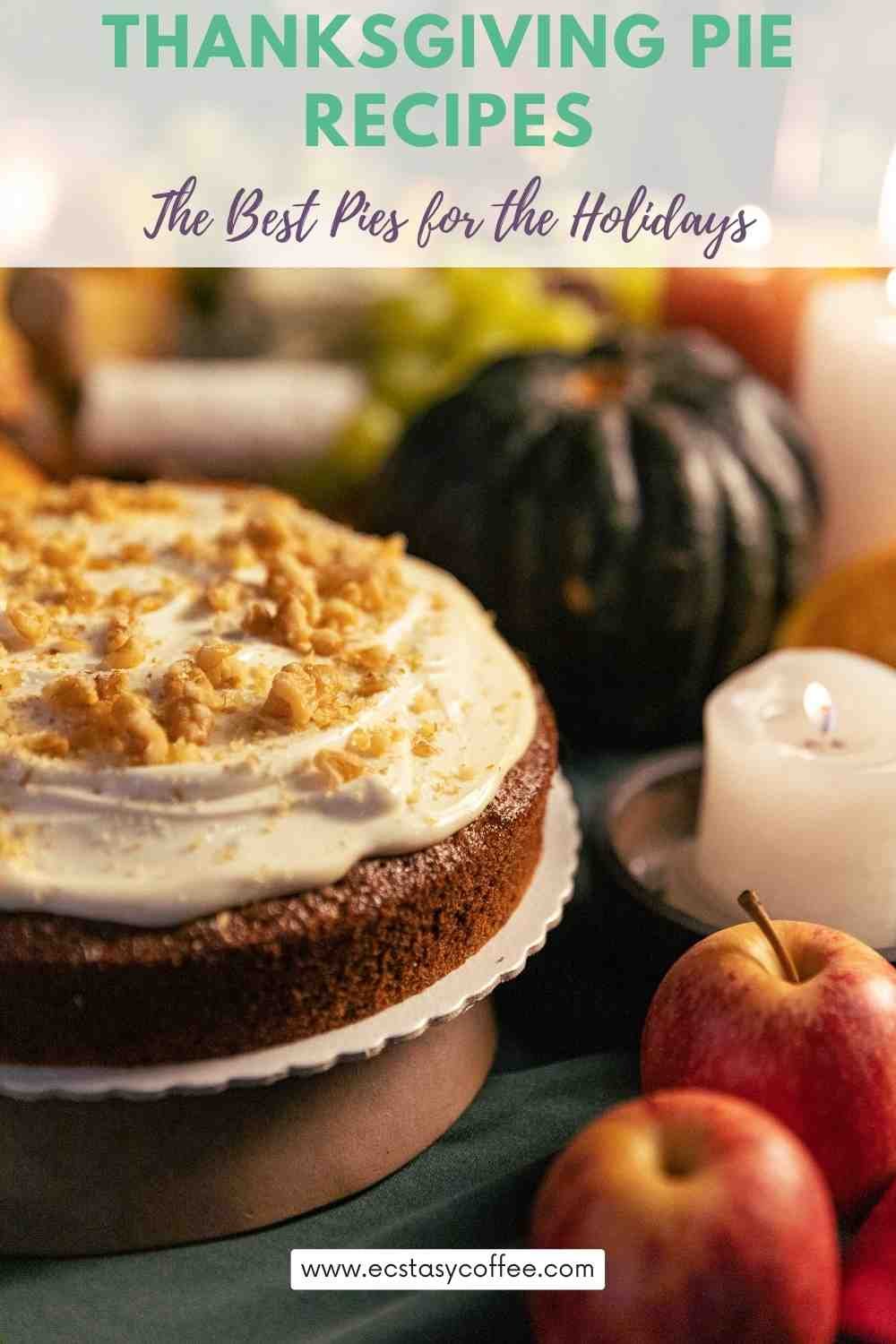 With the holidays greeting us at our doorstep, we can hardly wait for you to join us with the preps and celebrations. This means a festival will never be complete without pies on the table.
Thanksgiving is the season of bliss and magnificence! With that, we wish to make some pies with you. This season, we are going to prepare desserts and with that let's talk about pies! If you are making them for the first time then here are some tips that you can put to use.
How can you perfect the art of making pies?
Practice makes a man perfect, that is what we have heard! Well, this is all you need to know! It is unlikely that you will make your first pie a grand success however with time and slowly you will learn the tricks of baking them best!
With the tips that we have for you, the process will become hassle-free and easy though. But slight mistakes here and there are fine! After all, it is a dessert! It is supposed to leave you stress-free, why stress about it at all? So put on your hats and go with the flow.
Why use large chunks of butter for a pie
Now if you find in a recipe to use a large chunk of butter, let us tell you why. This is quite simple, the bigger the butter slab the flakier the texture of the crust. ½" slabs of butter are rubbed on the palm and then dropped in the flour and tossed well.
Is there a need for you to chill the dough
This is something very vital when it comes to baking pies! After every step of processing, you need to chill the dough from time to time. This maintains the desired texture of the dough! If you want a flakier pie crust then you need to keep the dough chilled at all times.
Chill the dough before you roll it and even before you lay it on the pan. And then after filling it up as well. Cold dough is also essential to maintain the shape of the pie. If the dough is tender and soggy then the oven heat will completely ruin its structure.
How to make the crust of the pie
When you are often making the crust of a pie, you are confused about which shall be good for you! Apprehensive of whether it should be thin or thick, you simply do not know what to do! Well, we are here to help you out. A thin crust will become thin and turn too crispy in no time!
That is exactly not something that we want. Rolling the dough is best so you always have two layers as protection and providing thickness. You can even skip foil after this if you do not have it in the house because a thicker crust has less chance of getting burnt.
What do you mean by blind baking
In blind baking, you are basically making the crust beforehand and then packing it with filling instead of baking both at the same time. This also gives a sturdy bottom and shape to your pies as well. You should ideally bake the crust till it turns golden and crisp and then give it another ten minutes for safety. Do not worry about overbaking instead, you should opt for doing so as this makes the crust perfectly the way it should be!
Here are some wonderful Thanksgiving pie recipes that we are about to share with you this Thanksgiving season.
Perfect Thanksgiving Pie Recipes: Make the Best Pies This Year
Ready in no time, this recipe is the best thing to opt for! Delicious, crumbly, and tender, you must try out this one for sure.
The flavor of cinnamon essence is out of this world.
We are talking about the lovely and gooey French silk pie! Delectable and rich, this is a luxurious treat for the holidays!
Tender and creamy, you ought to indulge in its blissful taste. Go for it right away!
Topped with a layer of crunchy streusel, this recipe for Dutch apple pie is exactly what you need for a treat!
Savory and sweet, this is an extraordinary idea that you should not miss out on. Go for it already.
The crunchy top with a gooey cheesecake filling makes this pie the ultimate treat!
Savory and creamy, the tangy cranberry essence is what you should aim for. Make it during the holidays and give it a try right away!
The praline pumpkin pie is the best thing to opt for! Rich, creamy, and perfectly suited to the season of Thanksgiving, there is no need to thank us for the idea as long as you like it. Your delight is our pleasure.
The crunchy pecan pies are delicious and loaded with great taste! Savory and rich, this is an incredible idea that you should indulge in!
Soft, rich, and creamy, you ought to indulge in its blissful taste. Try it out and tell us how much you like it.
The Caramel apple pecan streusel topping is lovely and loaded with great flavors.
Crunchy pecan with delicious toppings is the best thing to opt for. Ready in no time, you ought to indulge in blissful taste.
Zesty and flavorful, the tangy cranberry Meyer lemon pie is the best thing to opt for!
The underlying gingersnap crust is wonderful and leaves you tempted for more. What an incredible dessert that you must make during the holidays!
The combination of sweet maple with buttermilk is the best treat to opt for!
Smooth, tender, and savory, there is no way you can resist yourself! The moment this pie makes it to the table, it will be gone in no time.
Classic Southern pecan pie gives you a countryside feeling during the holidays!
Savory and luxurious, this one turns out to be the best! Gooey and luxurious, this is the best treat during the holidays!
Make it and indulge in it right away.
Being a combination of chocolate and pecan, this pie with bourbon essence is the right thing to opt for!
Flavorful and rich, these pies are the right thing to indulge in this season. Go for it right away!
Ah, what a gorgeous idea! The bourbon pumpkin pie is lovely and loaded with a smooth essence of salted brown butter essence!
The pecan streusel makes it even better and one which vanishes from the table first.
Are you in the mood for some easy-peasy pie? Then you should go ahead with the rich chocolate caramel mousse!
Delectable and oozing with peanut butter, you ought to give it a try for sure.
The creamy and luxurious bourbon sweet potato pie is the best thing to opt for!
Savory, rich, and gooey, you shall be smitten by the taste of this pie at the end of the meal. We cannot guarantee that you will be able to wait for long.
Well, it is Thanksgiving and we have to mention the classic apple pie!
Delicious and drizzled handsomely with maple and bourbon, you ought to make this one right away!
So what are you waiting for?
Make your holidays special with the treat of dessert that is right here for you!
Rich and cozy, there is no way you can stop yourself from indulging in its blissful taste.
The sweet caramel apple pie is one of a kind.
The gorgeous Southern pecan pie is right here to your rescue!
Savory, tender, and gooey, the crust to the frosting, everything will bring water to your mouth.
So what are you waiting for? Make this one right away!
The combination of coconut cream with a flaky crust makes this one the best thing in the world.
Rich and gooey, you ought to bake this lovely pie to the delight of everyone around the table. Shall we?
The gingerbread cream pie is outstanding and loaded with great taste! Ready in no time, get the feeling of holidays with this cream pie that is right here.
What an incredible idea to relish and devour for desserts! Bake it today!
We have to end the discussion with chocolate and hence this crack pie recipe finds its place here.
Crusty outside and tender inside, both the filling, frosting, and crust tastes so divine.
The texture of the pie is also admirable and best suited for Thanksgiving.
Other ideas you should check out: Mini Thanksgiving Desserts, Best Christmas Pies, Halloween Main Dishes, Thanksgiving Apple Desserts, Delicious Halloween Pie Recipes, Thanksgiving Vegetable Side Dishes, Vegetarian Snacks, Thanksgiving Potato Recipes, Vegan Halloween Cookies, Christmas Filled Cookies