Enjoy the flavors of the season with our selection of delicious Thanksgiving squash recipes! From creamy soups to roasted veggies, we've got the perfect recipe for your holiday feast. Make your Thanksgiving celebration extra special this year with one of these amazing squash recipes.
More collections: Gluten-Free Thanksgiving Dessert, Thanksgiving Vegetable Side Dishes, Thanksgiving Desserts For Kids, Vegan Thanksgiving Desserts, Keto Thanksgiving Desserts, Thanksgiving Pumpkin Dessert, Thanksgiving Cornbread Recipes, Thanksgiving Potato Recipes, Thanksgiving Carrot, Thanksgiving Corn Recipes, Thanksgiving Punch Recipes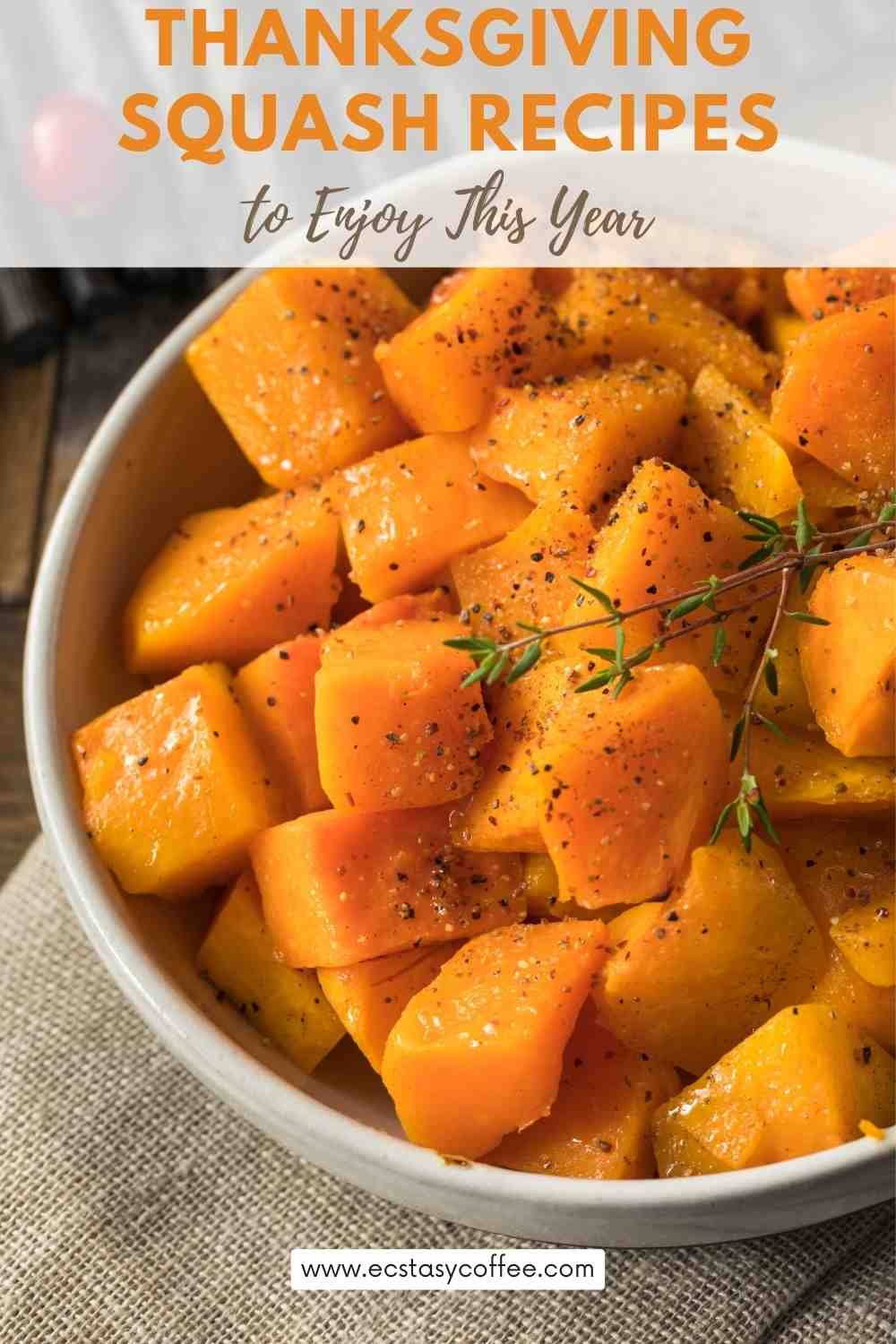 Well, squashes are pretty versatile and healthy too! You can literally include them in any dish that you want! Whether you want a totally vegan recipe or something with squash and meat, this veggie will never fail you! Yet, at times, we might end up with squash that might not taste that great!
Of course, there are a few techniques that you must learn in order to make squash! The recipes are here for you! But before that let us quickly glimpse through all the mistakes that you can end up making and avoiding while serving squash for dinner. Let's find out, shall we?
What kind of squash should you buy from the market?
Preparing squash is pretty easy as long as you buy the right one from the store! With that we mean, you can not jump purchase the biggest squash that you can get hold of. When purchasing squash from the store always go for the smaller ones as they are full of flavors and tender too! Bigger squashes tend to be bitter and chewy!
As they are allowed to grow and mature, the fibrous content in the veggie increases making them bitter and unpleasant. If you do not wish to destroy your experience of munching on squash then you must follow this tip while buying them.
What is the right technique to store your squash?
Now that you have purchased good squash from the market, it is time for us to find out the right way to store the squash. You should never wash squash before you store them inside the refrigerator. Excess moisture on the surface can turn them extremely soggy.
Instead, you can place them immediately inside a perforated plastic bag with a paper towel inside! This will ensure that proper airflow and moisture keep your squashes fresh for an extra long duration. Four to five days is the maximum storage limit for squashes in the refrigerator before which you should consume them.
Can you eat squash raw?
If you assume that squash can only be consumed when cooked then this is wrong data that you are carrying for a long time! You can not imagine how good squash can taste when you enjoy them raw in your salad.
Skin, seed, and every part of squash is edible so you do not have to engage in much work as you prepare your squash! In fact, squashes are considered fruits in your meal! And fruits do not need any sort of cooking, do they?
When to wash squash before cooking
Now coming to another important factor! When to wash your squash? There can be hidden bacteria on the surface of raw veggies and you do not wish to take the risk of falling sick!
So even though you are asked to store them raw during storage of the veggies, before you cook, you must clean your veggies properly! And the same instruction is applied to squash as well.
Should you peel the squash and remove the seeds?
When it comes to making squash, you should learn that it is a fruit and it does not require any peeling or even the removal of the seeds! They are completely edible and not harmful, each and every bit of squash, we mean.
Summer squashes have thinner skin so you do not need to remove the skin but winter squashes can be tough with a thick skin and it is necessary for you to peel it before you cook them.
Delicious & Easy Thanksgiving Squash Recipes | Perfect for Holidays
This time you can prepare a bowl of gratin with healthy and crunchy butternut squash!
The recipe is lovely and loaded with parmesan cheese! Delectable and cozy, you must indulge in its blissful taste.
Now that you have tried potato hasselback, it is time for you to try out butternut squash in the same way.
Trust us, you will not get disappointed with the recipe at all. With the holidays around the corner, you must give it a try!
Drizzled with herbs, the dish is ready!
If you wish to indulge in a bowl of healthy veggies in a fun way then we have to suggest you the butternut squash and Brussels sprouts recipe!
Drizzled with pecan and tangy cranberries, the dish is ready!
Ah, what an incredible idea! Smothered with brown butter and topped with pomegranate, you will surely thank us later for the idea. Go for it already!
If you are in the mood for something cosy and comforting then the baked acorn squash is all that you need for the holidays!
Flavorful and lovely, you should definitely try it out! The presence of maple syrup and butter with a hint of spices, makes it so hard for you to resist.
6. Honey-roasted butternut squash
The honey-roasted butternut squash is indeed the treat of the fall season!
Delectable and cozy, every bite of it confers a sense of contentment for the taste buds. So shall we?
The roasted butternut squash with goat cheese is an amazing duo and will leave you tempted for more!
Served with pomegranate drizzled on top, this recipe turns out to be the best in fact!
This is a gorgeous holiday side dish that we are sure you will find fascinating too!
Whoever said veggies are boring will change their mind in a jiffy as they lay eyes on this creamy treat. Packed with spinach, this is healthy too!
With Thanksgiving around the corner, we can hardly wait for you to try out this amazing butternut squash casserole!
Creamy and topped with crunchy pecan, this idea is simply the best! So what are you waiting for? Make this one today!
The smoky and delicious butternut squash steak is exactly what you need for the holidays!
Flooded with a garlicky hint and the smoothness of butter, you must try it out!
Do not forget to convey your feedback!
The rich and cozy mashed butternut squash is exactly what you need as a treat.
Creamy, gooey, and yummy, you can serve this as a side to the main course. Everyone will surely appreciate your efforts! So shall we then?
If you wish to make your acorn squash interesting then here is a recipe meant for you!
The stuffing in the center makes them even more amazing and then serves it as a side dish for brunch!
And see how quickly everyone finishes up the stuffed acorn.
The roasted butternut squash is an all-time favorite! So if you are in the mood for something healthy but in a delectable style, then we can suggest this one. Nothing can go wrong with this dish either.
The combination of creamy butternut squash with gnocchi is the best thing that you can enjoy for a meal!
Served with thyme and sage to enhance its taste, you will definitely thank us later for the idea.
The sweet and savory honey-roasted butternut squash is exactly what you need as a healthy side dish!
Drizzled with cranberries and feta cheese, the dish tastes divine! You will agree with us too, once you try it out!
Ah, here is another delightful idea that you must try out! The recipe for stuffed squash is amazing and served with Italian sausage and spinach in the center!
Not to forget the contributions of cranberries and pecans too!
The roasted honey nut squash recipe is delicious and a great idea to cherish during the holidays!
Savory and yummy, you will definitely find this an excellent idea.
So what are you waiting for? Make this one right away and enjoy it to your fullest.
Finally, a healthy and refreshing salad to try out during the holidays!
Delectable and cozy, this crunchy treat is exactly what you need!
Flavorful and enriching, you must try it out for sure.
Ah, what an extraordinary creation! This recipe aims to make a comforting bowl of risotto with butternut squash and guess what, this is perfect for the little ones and toddlers as well.
Get it done today for dinner and enjoy it to your fullest.
Here is another delightful recipe that we had to add to the list! Savory and flavorful, you must give it a try for sure.
Packed with great taste, the double-roasted butternut squash is amazing and a must-have this season.
Other ideas you should check out: Last-Minute Thanksgiving Decoration Ideas, Delicious Thanksgiving Dessert Recipes, High-Fibre Foods You Should Eat,Halloween Drinks, Halloween Dessert Recipes, Christmas Side Dishes, Healthy Thanksgiving Recipes, Slow-Cooker Side Dish Recipes, Healthy Road Trip Snacks, Christmas Mashed Potatoes Recipes