Austin, Texas...the world's live music capital. There is always something going on in this city, with over 250 live music venues scattered throughout.
Apart from the legendary music scene, Austin offers a plethora of other interesting activities. Learn how to do the Texas Two-Step, queue for some of the country's finest barbeque, or watch millions of bats fly into the skies at twilight.
Jump to:
1. Take in the Live Music
If you come to Austin through the airport, you will get your first taste of live music immediately upon stepping off the aircraft. Yes, the Austin-Bergstrom International Airport has live music.
Additionally, live music may be found at restaurants and pubs, concert venues, and even supermarkets. If you visit the city at night, live music spills out into the streets from the city's pubs and clubs.
And if that isn't enough, Austin is home to a slew of music events. If you're a fan of music festivals, for example, you can get ACL tickets for Austin City Limits - a 2-week-long bonanza of live music and art. From rock, indie, and country to folk, electronic, and hip-hop, there's something for everyone. To see a calendar of upcoming events, click here.
2. Texas Two Step
Put on your cowboy boots and go out into town for an evening of dancing. There are many locations in town where the Texas Two-Step may be danced, including the White Horse and Poodies Roadhouse.
Are you unfamiliar with the Two-Step? There is no issue. Proceed to the Broken Spoke. Wednesday through Saturday, they provide classes between 8 and 9 p.m.
3. South Congress's Shops and Restaurants
This Austin neighborhood has a quirky feel. This is one of the trendiest, hippest areas in town, with boutique stores, nightclubs, and a few excellent restaurants.
Have a drink at Hotel San Jose, a burger at Hopdoddy, and don't forget to stop by Amy's Ice Cream. Our favorite shop was The Gypsy Wagon, an eclectic collection of one-of-a-kind gifts, home items, and apparel.
4. Kayak or Paddleboard on Lady Bird Lake
Lady Bird Lake is a reservoir on the Colorado River in the center of Austin. You can rent paddleboards, canoes, and kayaks from Zilker Metropolitan Park and spend several hours sailing up and down Lady Bird Lake. This is the ideal activity for an Austin summer day.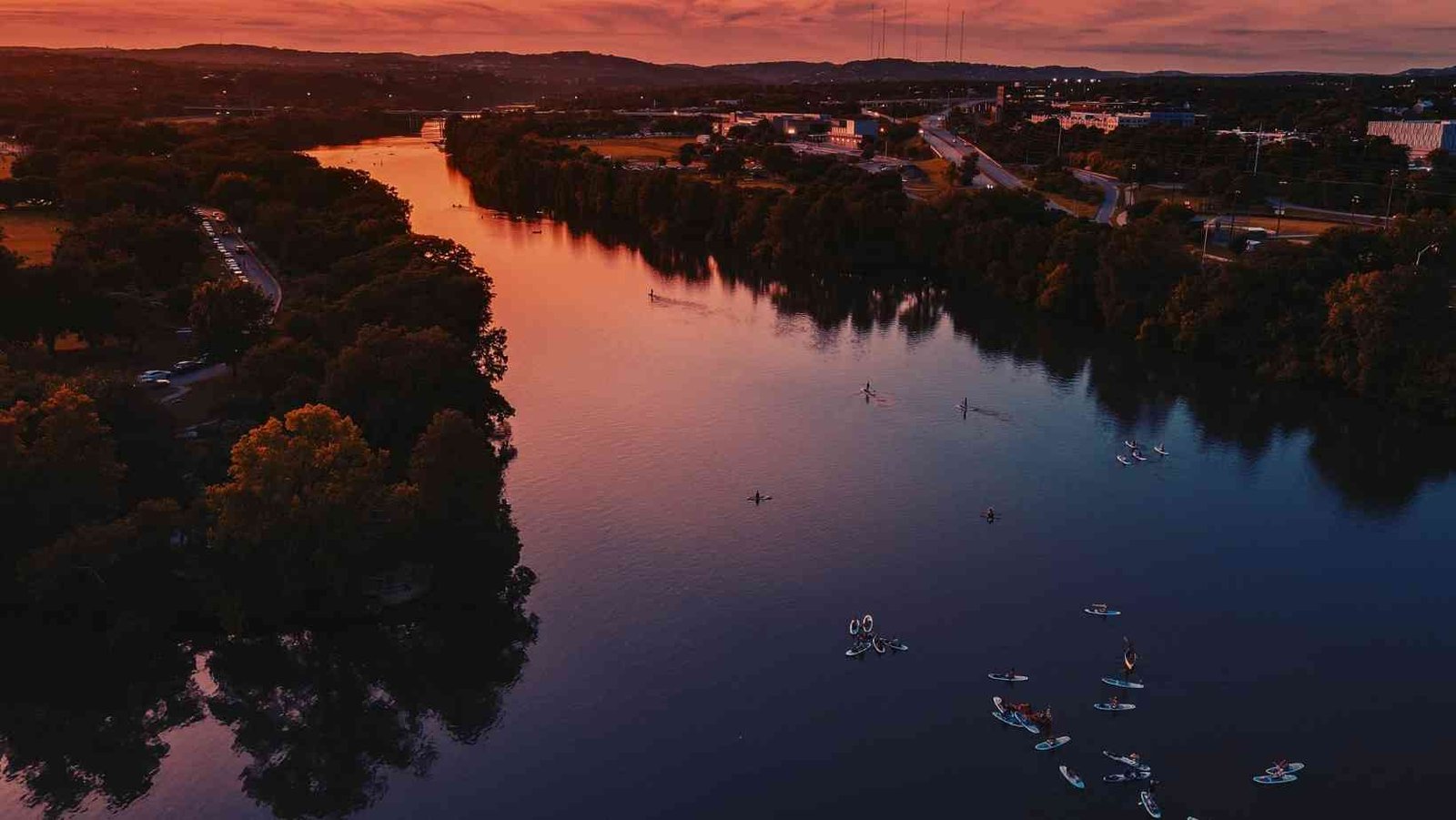 Additionally, there is a ten-mile path called the Hike-and-Bike Trail that is around Lady Bird Lake and is ideal for a walk, jog, or cycling ride.
5. Wait in Line at Franklin Barbecue in Lady Bird Lake
Franklin Barbecue has been named the finest barbecue in the United States by many reputable travel publications (Bon Appetit and others).
"It is superior. It's the most delicious brisket I've ever had." — Bourdain, Anthony
Anticipating Franklin Barbecue
Prepare to wait in line if you want a taste of this legendary barbeque.
How long will it take? Five hours or more on weekends. On weekdays, a bit less.
We just had to join the queue to see what all the buzz was about. Tim and I arrived at 9 a.m. on Saturday. The queue stretched around the block and into the parking lot. Individuals sat on fold-out chairs, drank beer, and played games. It seemed more like a tailgate party than a BBQ queue.
Mondays are closed at Franklin Barbecue. Additionally, they shut many times a year for vacation (August 1 to 10) and holidays. For more information, please visit their website.
6. Visit Austin's Swimming Holes
Summertime is a great time to cool down at one of Austin's swimming holes. There is a pool in a town called Barton Springs Pool, which is situated in Zilker Metropolitan Park. This big, natural pool has a diving board and enough room for sunbathing.
We've heard nothing but positive things about Hamilton Pool Preserve, but they only offer a limited amount of tickets in order to keep crowds manageable. They were sold out for the following two weeks in early June. This swimming hole may also shut due to excessive bacteria levels during very warm weather.
7. Consider the View from Mt. Bonnell
Mount Bonnell is Austin's highest peak. Ascend to this tiny park for a panoramic view of the city.
8. Austin Skyline Enjoy a beverage at the Driskill Bar
The Driskill is an Austin landmark. This hotel has a bar that is a popular place for guests to gather for a drink and live music.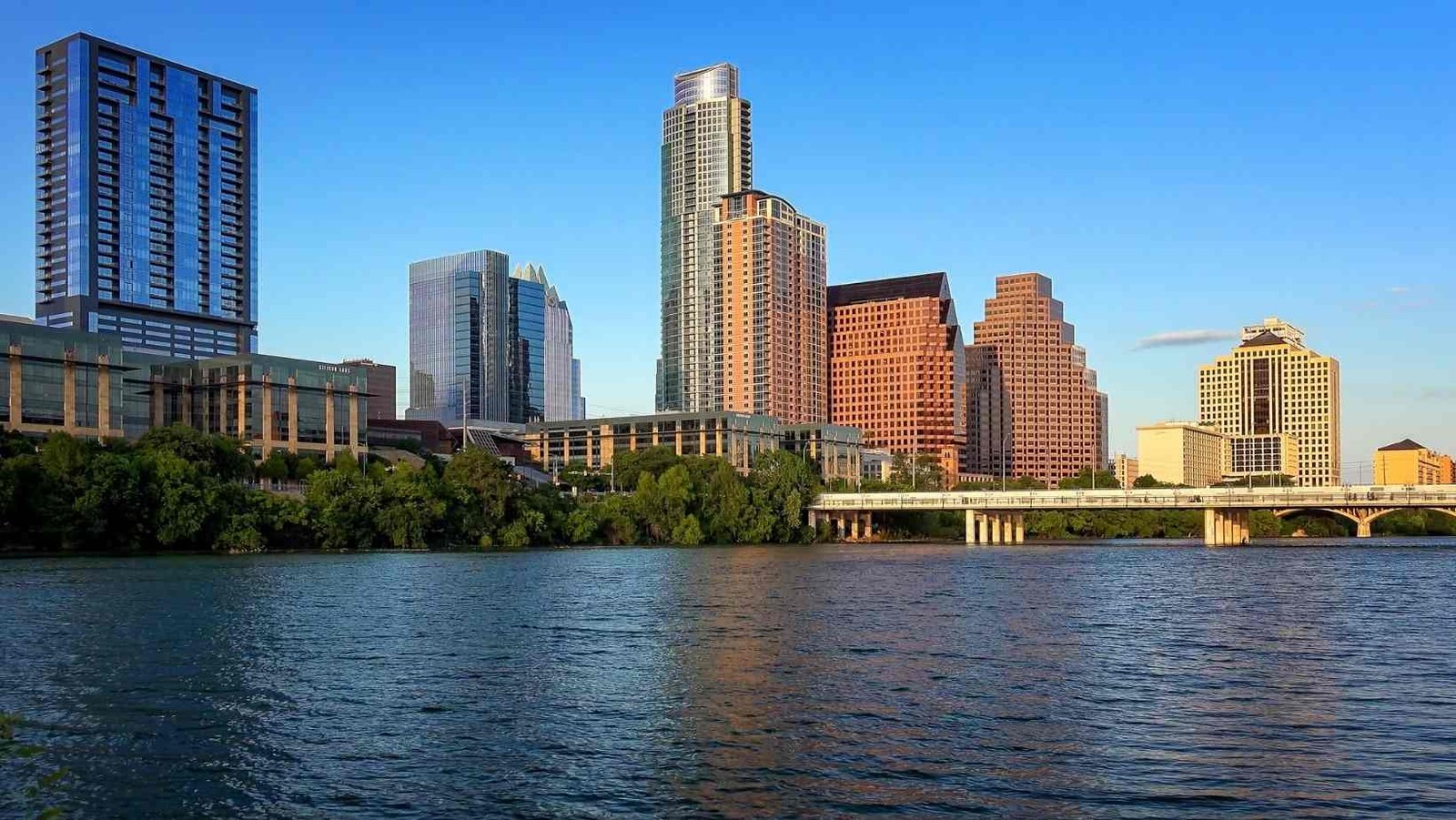 9. Observe the Bats Ascend to the Sky
Each night, nearly a million bats take flight from underneath the South Congress Bridge. This seems to be a must-see for hundreds of people gathering on the bridge, in parks along the river's edge, and on boats and kayaks on the river.
Early twilight on the South Congress Bridge. By the time the bats appeared, the crowds were four deep.
At 8 p.m., we arrived and took a position on the eastern side of the South Congress Bridge. The bridge filled up with inquisitive visitors like us over the next 45 minutes, as kayaks and small cruise boats made their way to Lady Bird Lake. Sunset occurred at 8:30 p.m., and the bats appeared around 8:50 p.m.
Tim and I envisioned tens of thousands of bats rushing out from the bridge's length, filling the sky. Rather than that, they all exited in a single stream at the bridge's far end. We could just make out their shadows in the far skies.
It was disappointing for us, but maybe our expectations were too high. I'm happy we did it, but it's a case of been there, done that. Perhaps the view is nicer from the water's edge, provided you don't mind getting air bombed by guano.
Bats are seen from early March to early November (in the winter they are in Mexico). Late July and August are the ideal months to view bats when both adults and young take to the skies.
10. Take a Bar Crawl
Austin is home to many areas that are well-known for their late-night nightlife.
Sixth Street has a similar vibe to New Orleans Bourbon Street. During the late-night hours, it is a pedestrian-only route that is popular with college students. Rainey Street is another unique Austin area. It still attracts a youthful population, but there are also more laid-back establishments and excellent restaurants if you're not into the noisy, dance club atmosphere. We adored Banger's, which served the finest sausages and had over a hundred beers on tap.
East Sixth Street is gaining traction. This was suggested to us by Austin locals we met while waiting in line at Franklin Barbecue, but Tim and I were pressed for time and never made it out this way.
Read also: