Europe is a treasure trove of exhilarating theme parks, promising unforgettable adventures for friends seeking an adrenaline rush and a memorable escape from the everyday. At the top of the list is the iconic Disneyland Paris, a dreamland where fantasy merges with reality, offering captivating castles, thrilling rides like Space Mountain, and the magic of parades and character meet-and-greets. For those craving heart-pounding excitement, Walibi Holland in the Netherlands stands as the ultimate paradise, featuring an array of pulse-pounding rides like the Goliath roller coaster.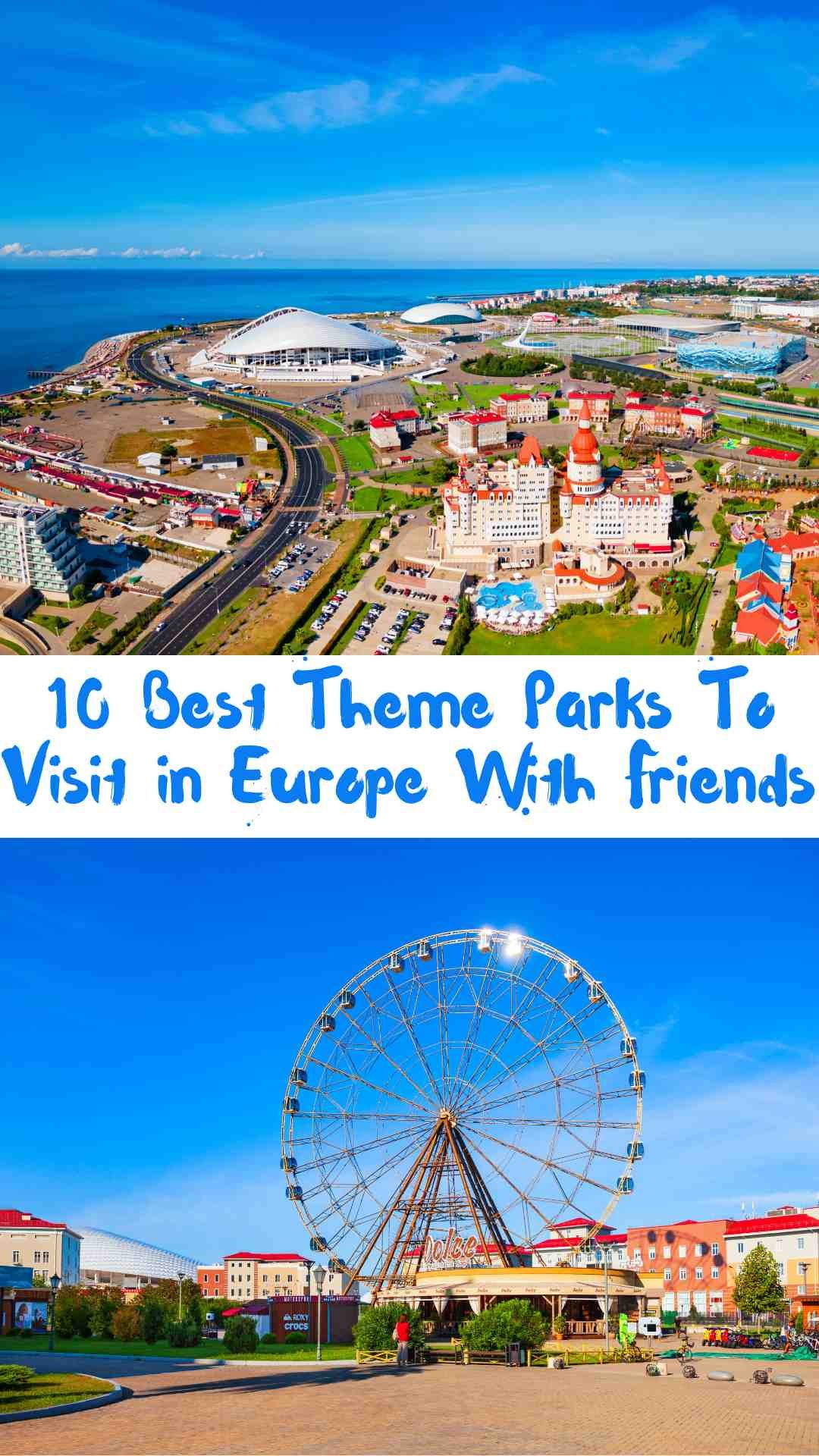 Meanwhile, Europa Park in Germany enchants with its diverse attractions based on European countries, and PortAventura Park in Spain entices with Mediterranean charm and adrenaline-pumping roller coasters like Red Force. Further thrilling experiences await at Alton Towers in England, Tivoli Gardens in Denmark, Efteling in the Netherlands, Liseberg in Sweden, Phantasialand in Germany, and Gardaland in Italy. These theme parks promise laughter, screams of delight, and lifelong memories, making them must-visit destinations for an adventure-filled journey with friends across Europe.
1. Disneyland Paris - Marne-la-Vallée, France
One cannot discuss European theme parks without spotlighting Disneyland Paris, a dreamland for Disney enthusiasts. This magical destination encompasses two parks: Disneyland Park and Walt Disney Studios Park, seamlessly blending fantasy and reality.
With captivating castles, thrilling attractions like Space Mountain and Indiana Jones, it enchants visitors of all ages. The added charm of parades, shows, and character meet-and-greets sprinkles an extra dose of magic. Consider booking Disneyland Paris day pass for a complete Disneyland Paris experience, as a day pass will allow you to experience unlimited fun for the entire day.
2. Walibi Holland - Biddinghuizen, Netherlands
Walibi Holland stands as an adrenaline junkie's utopia, celebrated for its pulse-pounding rides and lively ambiance. The park is cleverly sectioned into themed areas, each presenting one-of-a-kind attractions. Whether it's the Goliath roller coaster or the Xpress: Platform 13, the park hosts a striking range of exhilarating rides.
It's the ultimate choice for friends in pursuit of an adrenaline rush and an indelible adventure. Booking Walibi Holland Tickets unlocks the gateway to this heart-racing amusement, ensuring an electrifying escapade with friends and memories that echo the screams of delight on the thrilling rides.
3. Europa-Park - Rust, Germany
Europa-Park is one of Europe's largest and most popular theme parks. It's an all-encompassing destination with a diverse range of attractions based on different European countries. The park features thrilling rides, impressive shows, and delightful themed areas.
Highlights include the Silver Star roller coaster, the Europa-Park Dome, and the enchanting Europa-Park Parade. The attention to detail and variety of experiences make Europa-Park a must-visit for any theme park enthusiast.
4. PortAventura Park - Salou, Spain
PortAventura Park is a Mediterranean-themed amusement park located on the Costa Daurada. It offers a unique blend of entertainment, culture, and adrenaline-pumping rides. From the record-breaking roller coaster Red Force to the immersive Sesame Street themed area for a more family-friendly experience, there's something for everyone. The park's vibrant ambiance and variety of attractions make it a fantastic choice for a thrilling adventure with friends.
5. Alton Towers - Staffordshire, England
Alton Towers is renowned for its breathtaking rides and captivating attractions. Nestled in the Staffordshire countryside, this park offers a mix of thrill rides, family-friendly attractions, and mesmerizing gardens. Iconic rides like The Smiler, Oblivion, and Wicker Man draw adrenaline seekers from across the globe. The diverse range of attractions and stunning surroundings make Alton Towers a top pick for a day of excitement with friends.
6. Tivoli Gardens - Copenhagen, Denmark
Tivoli Gardens is a historic amusement park that exudes charm and nostalgia. It's one of the oldest operating theme parks in the world and offers a delightful mix of classic rides, beautiful gardens, and entertaining shows. The park's unique blend of tradition and modern attractions, like the thrilling roller coaster The Demon and the romantic Nimb Hotel, create an enchanting atmosphere for visitors seeking a memorable experience with friends.
7. Efteling - Kaatsheuvel, Netherlands
Efteling is a fairy tale-themed amusement park that transports visitors to a world of magic and wonder. It's renowned for its immersive storytelling, whimsical rides, and lush surroundings. The park features attractions like the enchanting dark ride Symbolica, the daring dive coaster Baron 1898, and the family-friendly Droomvlucht. Efteling is a captivating destination for friends seeking a blend of fantasy and excitement.
8. Liseberg - Gothenburg, Sweden
Liseberg is a lively amusement park located in the heart of Gothenburg. It's famous for its thrilling rides, beautiful gardens, and entertaining shows. The park offers a mix of adrenaline-pumping roller coasters like Helix and Balder, as well as family-friendly attractions like the fairy tale-inspired Kaninlandet. Liseberg's diverse range of rides and lively atmosphere make it an ideal spot for a day of adventure with friends.
9. Phantasialand - Brühl, Germany
Phantasialand is a gem among European theme parks, known for its immersive theming and exhilarating attractions. The park is divided into different themed areas, each with its own unique charm and experiences. From the breathtaking Taron roller coaster to the mystical Chiapas water ride, the park offers a blend of excitement and imagination. It's a fantastic choice for friends seeking an immersive and magical adventure.
10. Gardaland - Castelnuovo del Garda, Italy
Gardaland is Italy's largest amusement park and a fantastic destination for friends seeking fun and excitement. The park boasts a diverse array of attractions, from thrilling roller coasters like Oblivion: The Black Hole to the family-friendly Fantasy Kingdom. The park's beautifully landscaped areas and exciting shows add to the overall experience, making Gardaland a great option for a day of amusement with friends.
Read also: