Begin your search by deciding if you want to go on a family vacation, a romantic retreat, a solitary excursion, or something else. Next, choose your beginning point. Because you want to make the most of your weekend, the driving or flight time will affect how much time you have on the ground. Because Louisiana has such a wide footprint, your last decision should be deciding which area you wish to visit.
Cajun Country, in the state's southwest corner, is a famous destination for its cuisine and culture, but the Greater New Orleans Region is also a popular destination that will keep you occupied for a long weekend. If you're interested in the history of the Deep South and Louisiana's plantation scene, the Plantation Country area, which surrounds Baton Rouge, may be of interest.
If you want to go hiking, fishing, or bird-watching, the more northern areas, known as the Crossroads and Sportsman's Paradise, are the best places to go. With this list of the finest weekend getaways in Louisiana, you can start planning your next short trip.
Jump to:
1. The city of New Orleans
New Orleans is one of Louisiana's most popular vacation destinations because of its never-ending activities and more than 300 years of history, culture, unique experiences, and memorable cuisine. Explore the French Quarter and other districts of New Orleans by taking one of the city's streetcars. There are four streetcar lines, the oldest of which is the Saint Charles Streetcar Line, which has been in operation for more than 150 years.
Make a visit to Vieux Carre, where you can view some of the city's most famous monuments, such as Jackson Square, and see the St. Louis Cathedral, in addition to exploring the French Quarter.
A visit to the renowned Café du Monde for beignets, having your fortune told, and a trip to the French Market are just a few of the other must-do activities for your New Orleans weekend. This five-block open-air market, which includes specialized stores, a community flea market, restaurants, and music, is a New Orleans institution. If you have an afternoon free, go to one of New Orleans' unusual cemeteries or the National World War II Museum.
A trip to New Orleans wouldn't be complete without taking in some of the city's live music on Bourbon Street. At least one evening should be spent at Antoine's Restaurant, which has been operated by the same family for 179 years and serves delectable New Orleans food. The Hotel Monteleone, which has hosted renowned guests such as Ernest Hemingway, William Faulkner, Tennessee Williams, and John Grisham, is one of the most distinctive hotels in New Orleans.
2. Plantation Country 
Plantation Country, about an hour outside of New Orleans, is a peaceful retreat ideal for couples. This historic area is the origin of Louisiana's renowned andouille, a staple component in Southern cuisine, and it is home to hundreds of vast estates that you may visit.
The Houmas House Plantation and Gardens, the Laura Plantation, and the Oak Alley Plantation, which was the shooting setting for many feature films, are just a few of the noteworthy places to visit. If you wish to arrange an especially special stay, several of the estates, such as the Ormond Plantation, Houmas House, and Oak Alley, provide eating and lodging.
You may spend a day learning about the culture in addition to seeing the plantations. Learn about local animals and the Cajuns and Native Americans who formerly lived in the region by taking a swamp tour by kayak, pontoon, or airboat. Plan an afternoon to sample some of Plantation Country's Cajun food, or pay a visit to a smokehouse that produces fresh andouille for residents and restaurants to utilize in their recipes.
3. The city of Lafayette
Lafayette should be at the top of your list if you wish to spend your vacation in the heart of Louisiana's Cajun region. It's regarded as the "Happiest City in America," and it's where you can get a taste of Cajun culture, cuisine, and music in only a weekend. Learn about the McIlhenny Company, the McIlhenny family, and their renowned pepper sauce on a tour of the TABASCO® Pepper Sauce Factory. You'll learn how to cultivate pepper plants, how to mash them, and how to age them to make this popular American spicy sauce.
Stop for a bite to eat at "1868," the on-site restaurant where you may try a range of spicy sauces if your taste buds are tingling. You may explore the Jungle Gardens, a 170-acre semitropical park, before leaving the TABASCO facility. On a Saturday morning, wake up early for a trip to Mamou's renowned Fred's Lounge to kick off the day with some dancing. Then go to the Blue Moon Saloon for some of the finest live music in the area. It's a popular hangout place for locals, artists, and tourists.
The Atchafalaya Basin should be on the itinerary since the Lafayette region is close to it. With 850,000 acres of swamps, lakes, and water prairies, the basin is the biggest river-basin marsh in the world. Getting out on the water and taking a swamp tour is the greatest way to see the basin. The basin is just a short drive from Lafayette and is a fantastic day excursion.
The Mouton Plantation Bed & Breakfast and T'Frere's Bed & Breakfast, both of which are beautiful historic houses, are among the several bed-and-breakfasts in Lafayette.
4. Natchitoches, Louisiana
The tiny town of Natchitoches (pronounced Nack-a-tish), which is a pleasant and historic retreat, is Louisiana's oldest colony. The National Historic District, where you can spend a day strolling from the Kaffie-Frederick General Mercantile, an old-fashioned general store that opened in 1863, to the Louisiana Sports Hall of Fame & Northwest Louisiana History Museum, and finish at the popular Cane River Lake waterfront restaurant Maglieaux's on the Cane, is particularly interesting in this town. Head down a street to Cane River Paddle & Pedal Sports, which lends out equipment for floating on the Cane River after lunch or supper.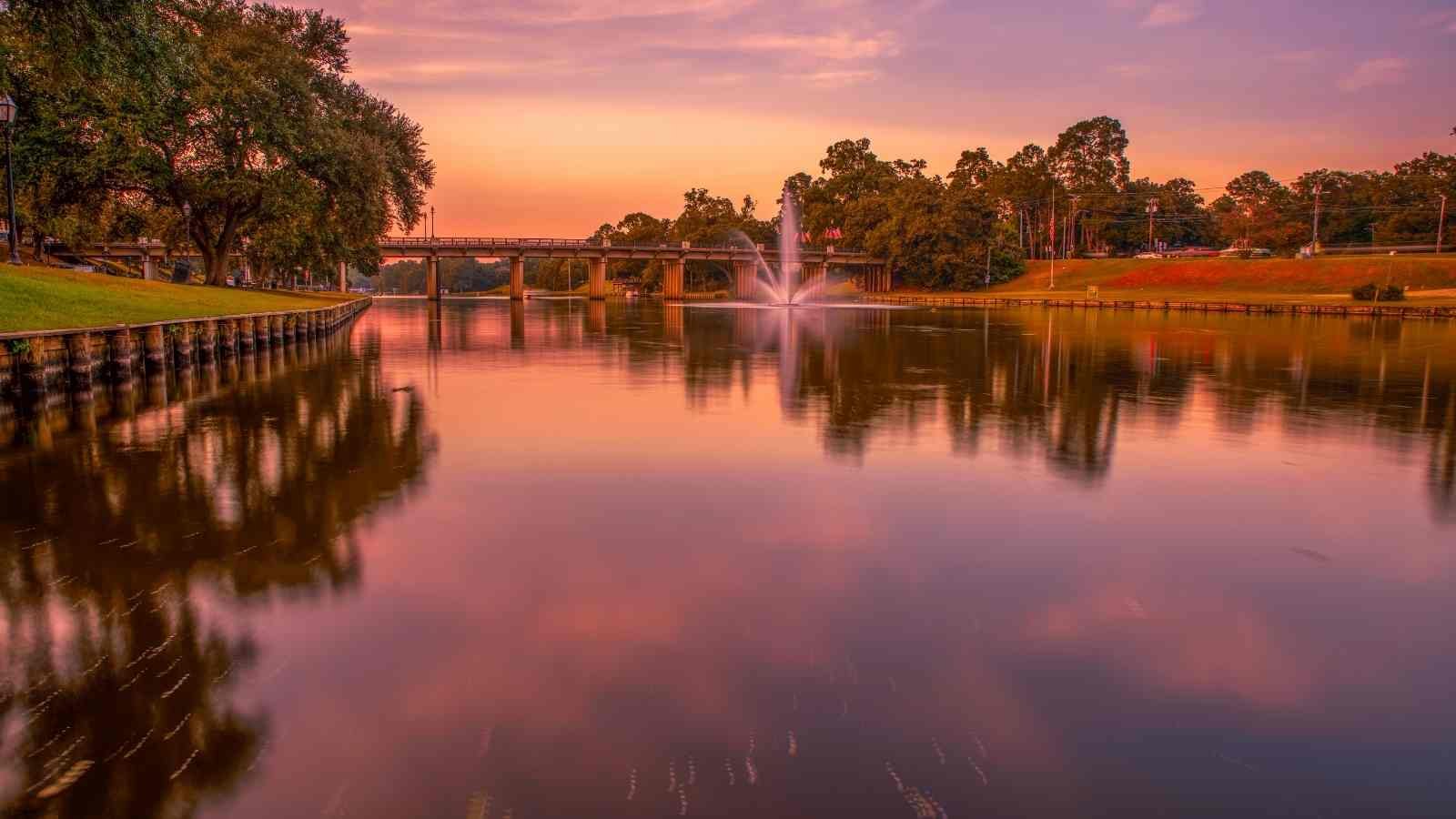 Do you recall the film Steel Magnolias? It was completely shot in Natchitoches, so you'll know many of the locations from the film, which starred Sally Field, Shirley MacLaine, Julia Roberts, Dolly Parton, and Olympia Dukakis, among others. Steel Magnolias excursions are offered, as well as overnight stays at the Steel Magnolias Bed & Breakfast, where a large part of the film was shot.
The Cane River Creole National Historical Park, which highlights area history, is one of the major attractions for tourists. Oakland and Magnolia Plantation Museums, both part of the Louisiana African American Heritage Trail, are worth seeing. There are numerous places to see around the Cane River National Heritage Area, including the Prudhomme-Rouquier House (accessible by appointment) and others, so plan early to make the most of your time.
5. Baton Rouge 
Consider visiting Baton Rouge, the capital of Louisiana, for a city break. Begin your tour with the Louisiana State Capitol, which stands 34 storeys tall and is the country's highest capital structure. The 27th-floor observation deck, which overlooks beautiful gardens, is a must-see.
Then pay a visit to Louisiana's Old State Capitol to discover why the city's castle-like Gothic architecture is one of the city's most photographed landmarks. This National Historic Landmark, which stands on a cliff above the Mississippi River, maybe toured.
Visit the Capitol Park Museum to round off your historic tour. It contains items ranging from Louis Armstrong's boyhood trumpet to a 48-foot shrimp trawler in its collection. After you've gotten a feel of Baton Rouge's history, explore the city's culture via its cuisine. The Cecelia Creole Bistro, Elsie's Plate & Pie, the White Star Market, a nine-vendor food hall, and The Gregory, an upmarket Southern cuisine restaurant within the luxury Watermark Baton Rouge, Autograph Collection hotel, are all worth a visit.
Your plan should include a day spent exploring the Mississippi River. For some of the finest views in the region, take a stroll up the 4.3-mile biking/walking path on top of the levee. The USS Kidd, a World War II-era warship, is also situated along the route and maybe toured.