Surprise your family and friends with the most delicious and spooky vegan Halloween cookies this holiday season! These unique recipes are easy to make and don't require any animal products.
More collections: Halloween Pumpkin Bars, Halloween Pumpkin Soup, Halloween Potluck, Halloween Whiskey Cocktails, Halloween Tequila Drinks, Halloween Cake Pops, No-Bake Halloween Treats, Halloween Milkshakes, Gluten-Free Halloween Treats, Vegan Halloween Recipes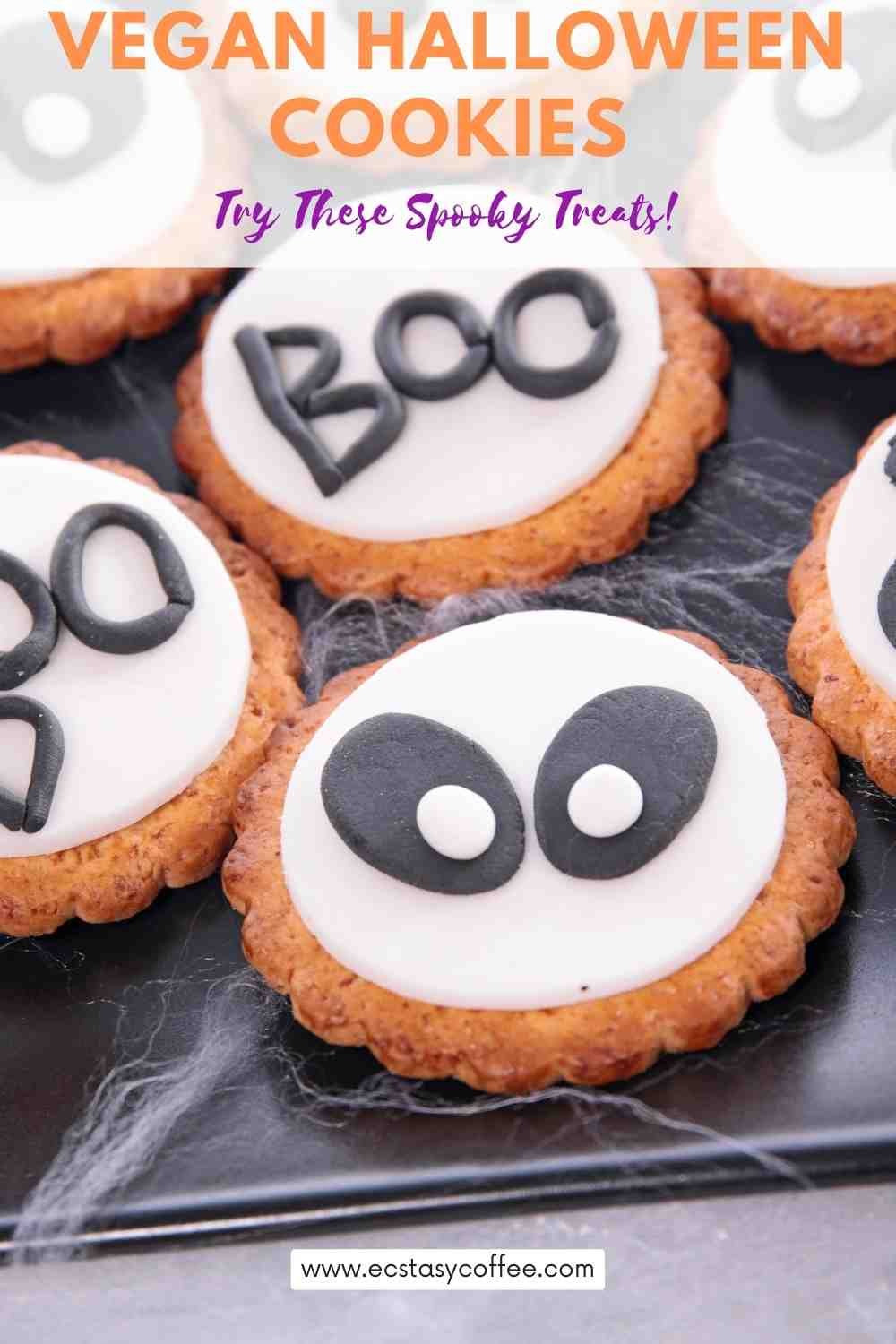 Ah, so Halloween is finally here! Amidst the joy and jubilance, we can also feel the sense of horror and macabre in the air! Well, that is Halloween! The only festival which combines both the emotions of fear and excitement and presents together as one! This time we are here to discuss cookies! Not just ordinary cookies that you bake all the time.
But gorgeous Halloween cookies! However, keep in mind that you will have all kinds of guests at the parties, and during the holidays, we have chosen to bake vegan cookies this time. Read on and find out more about how to bake vegan cookies.
What is the substitute for butter?
Butter is an essential component for making cookies! Without butter, you will never get the flaky and crunchy consistency! But when we are talking about vegan cookies, there is a substitute for butter that you need to find. Also, make sure that the fat component in this substitute is equivalent to that of butter to acquire the right texture and flavor for your cookies.
There are several dairy-free alternatives that you will come across! The options are simply endless! You just need to look around the supermarket and pick the best one.
What can you use as a substitute for milk?
Once you have embarked on this experiment to bake vegan cookies then even milk is what you need to cut out on. This is all about the fat! That is what we are aiming for! Hence you need to find a non-dairy milk substitute that can be used instead of dairy milk.
Almond and soy milk are often used as plant-based fat that can be added to your cookies! There are so many other options that have come up in the market as well. Again, you need to look around to find out the best!
Why is soy milk essential for vegan cookies
Now if you are planning to not add soy milk at all to your vegan cookies as you have found some other alternative milk substitute then we have to say that it is a blunder that you are going to make. It is plant-based milk and more reliable than any other when it comes to making vegan cookies at home.
The protein content allows for great structure and the consistency and texture of your cookies turn out to be so good. Soy milk also has a neutral taste as a result of which these do not have an overpowering effect on the taste buds.
What measures must be taken when you are using flax eggs?
If you are baking vegan cookies for the first time in your life then it will take you a couple of rounds to get accustomed to the vegan flax eggs! Since the cookies are vegan you can't add poultry eggs to make your cookies fluffy and light! So flax eggs to your rescue.
There is a ratio of flax and water that needs to be maintained when it comes to making flax eggs. You are expected to stir the mixture for ten to fifteen minutes to acquire the egg-like consistency.
Why should you start simple
It is the season of holidays and gatherings, there are too many things on your mind and sometimes the time crunch might prevent you from experimenting with new recipes! You should always go with a tested and reliable one when it comes to that. This way you minimize the chance of making a blunder too.
Here are some Halloween vegan cookies just for you!
Delicious & Spooky Vegan Halloween Cookies
If you are looking for something nice and crunchy with a rich layer of icing then you should go ahead with the vegan Halloween sugar cookies that we have got for you right here.
The pumpkin spice cookies are crumbly, crunchy, and extra thin!
Perfect to go with a cup of tea in the fall evening, do give it a try for sure. Shall we try it then?
Making the chocolate vegan hats are rich in flavor and packed with Hershey's Kisses!
Delectable and crunchy, this idea is brilliant and can be offered to kids who are trick or treating at the doorstep.
So what are you waiting for? Make them today!
The witch finger cookies are crunchy and chewy in every bite! Adorned as real fingers, you will hardly be able to distinguish between the two!
That is the charm of Halloween, everything is so scary and yummy at the same time.
The delectable and crunchy mummy rice crispers are flooded with rich icing on top!
Crunchy and gooey in every bite, you must try it out for sure. The poppy eyes on the treat make them even more irresistible, to be honest. Shall we?
Ah, how can we miss out on the shortbread cookies? These are simply the best!
The combination of texture and flavor makes these the best, not to forget the gorgeous looks that turn them tempting even as you catch a single glimpse.
Have you tried the vegan Twix bars before? If you haven't then you should with the crunchy layer outside and the rich frosting on top!
Delicious and tempting, do not miss out on this treat this holiday season.
The colorful and cozy monster eye cookies are rich in flavor and packed with treats!
The spooky eyes make the Halloween monster cookies so scary and perfectly suited to the season of holidays.
With the holidays around the corner, you must try it out!
The first thing that you will notice about these cookies is how colorful and cute they are!
So if you are looking for something easy and crunchy at the same time, this is what you should probably bake this season.
The spider cookies are topped with chocolate candies and while they have a proper crispy crust at the bottom, there is chocolate on top.
This is a gorgeous idea that you must try out this season! Shall we try it out then?
The vegan crunchy mummy cookies are delicious and packed with great flavors.
Seasonal and packed with rich icing, the crunchy mummy cookies are the best treat to opt for! Easy and tempting, do give it a try for sure.
The Halloween junk cookies are crunchy, crumbly, and rich all at once!
Delicious and adorned with all the add-ons, this recipe is perfect and renders you simply smitten after every bite.
This is an incredible idea we must admit. Shall we then?
Have you tried the pumpkin chocolate bars yet? If not then you have to indulge in the chocolatey presence of the treat during the holidays.
Delectable and chewy, this turns out to be the best! Shall we try it then?
The spooky vegan Halloween pinwheel cookies are so easy to make! Prepared in layers, this recipe is gorgeous and packed with treats!
If you are craving something nice to make your holidays special then go for this recipe right away!
If you are in the mood for something more detectable and crunchy then you should go ahead with the vegan baklava cookies right away!
They are best suited to the holidays and seem to vanish first from the table. So shall we?
The meltaway cookies are just the treat that you need! Delicious and tempting to look at, this one turns out to be the best in fact!
So what are you waiting for? Bake your sweet vegan treats right away! Let's go!
How can we miss out on the pinwheel cookies? Delectable, chewy, and packed with great flavors, the pinwheel cookies are indeed the highlights of the season!
What an incredible idea to relish during the holidays we must admit. Go for it today!
Cakey, crunchy, and packed with great flavors, the pumpkin chocolate chip cookies are the best thing that you can opt for!
Delicious, homemade, and dairy-free, this one turns out to be the best! Let's get our baking gloves ready then!
Vegan marshmallow ghost cookies are rich and cozy! Drizzled with chocolate chips, the combination of white and dark chocolate makes them so rich and yummy.
Delectable and chewy, this one is the best to opt for! Shall we then?
Topped with rich frosting, the pumpkin cookies are tempting and chewy! Best suited to the occasion of Halloween, this is yummy and one can experience the seasonal bliss.
Before the holidays run out, make sure, you try out these treats right away!
Other ideas you should check out: Vegan Ice Cream Recipes, Chicken Bacon Ranch Recipes, Sweet Vegan Treats for Valentine's Day, Coconut Dessert Recipes, Healthy Thanksgiving Recipes, Gluten-Free Breakfast Recipes, Gluten-Free Snacks, Oreo Cookie Dessert Recipes, Christmas Truffles Recipes, Spookiest Halloween Drinks