Get in the spooky spirit this Halloween with these delicious Halloween vegan recipes. From ghostly cupcakes to savory pumpkin soup - make your celebration cruelty-free and delicious with these easy plant-based ideas. Spice up your party with vegan Halloween recipes today!
More collections: Halloween Pumpkin Cheesecake, Halloween Pumpkin Bars, Halloween Pumpkin Soup, Halloween Potluck, Halloween Whiskey Cocktails, Halloween Tequila Drinks, Halloween Cake Pops, No-Bake Halloween Treats, Halloween Milkshakes, Gluten-Free Halloween Treats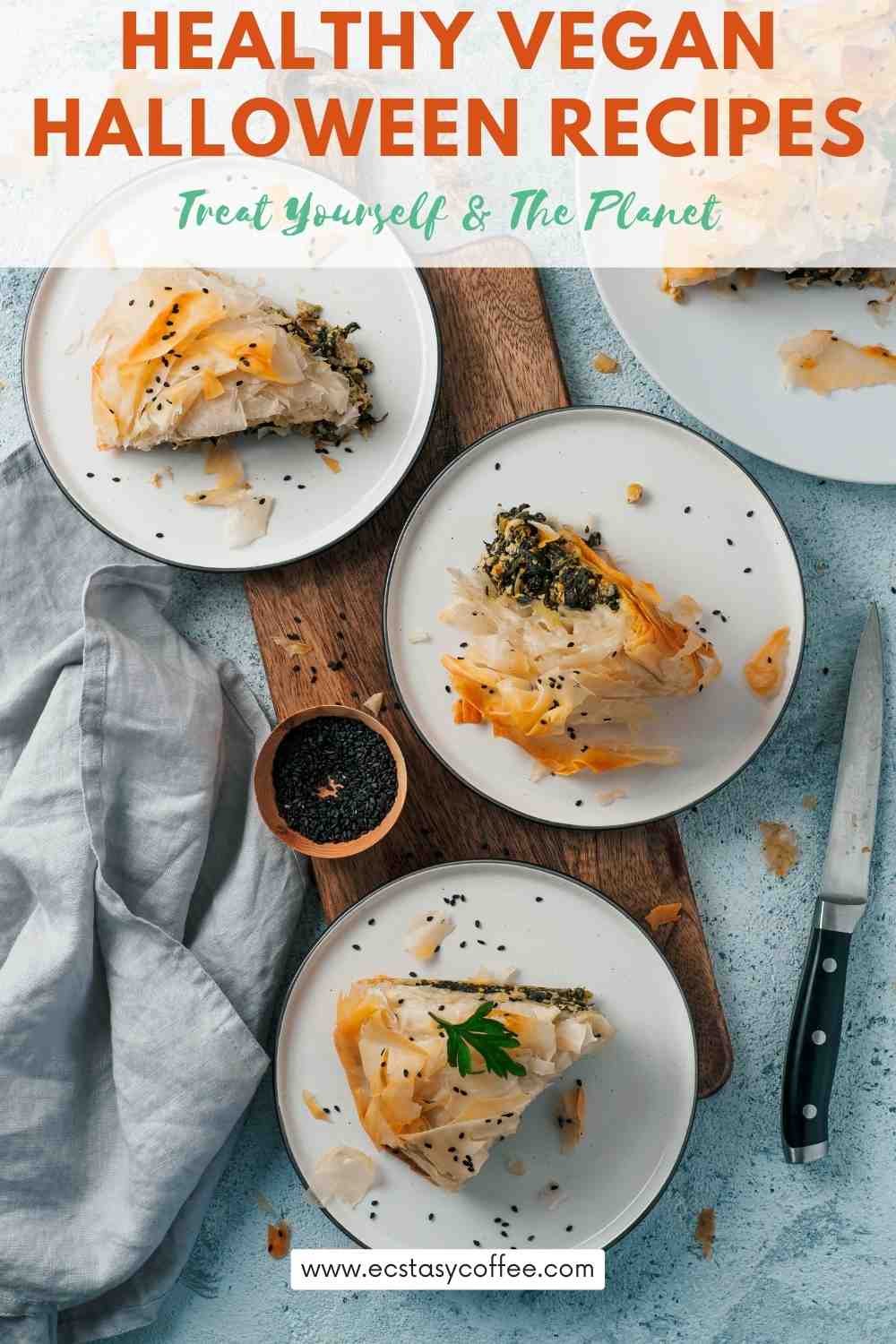 Halloween is the season of joy and jubilance! Gorgeous and tempting, there are so many treats that you can opt for! With holidays around the corner, we are super excited to indulge in wonderful dishes, recipes and so much more.
If you are a vegan dieter or have a couple of friends at home who are vegan, then here is all that you need to know! Some insights into a vegan meal will help you to make them even more interesting. Let's get started then!
What are some of the healthy fruits and veggies that you should include in your meal?
When you are preparing a vegan meal there is something that you need to understand! You need to add plant proteins to your food along with vitamins and essential minerals. To ensure that your meal is fulfilling and wholesome, you need loads of fruits and veggies into your meal! Salads are the best way to do so. Fresh products like greens are always better when it comes to vegan diets.
Always opt for seasonal veggies and fruits like carrots, pumpkins, and tomatoes which are of better quality during the season of falls. This will enhance the amount of antioxidants in your diet as well.
What are other essential nutrients to be added to your meal?
One must include fiber in their meal when it comes to a vegan diet. Fibers are mostly present in veggies and fruits, literally anywhere that you can think of! To maintain good gut health you have to include more and more roughage into your meal. Legumes, nuts, and seeds in your curries and rice are also good enough. So make sure you have enough of them in your meal.
What about the proteins
You are cutting out on meat and other fishes and seafood, but this does not mean that you are going to miss out on proteins! That is not right! Replacing animal-based proteins with plant-based proteins is the only option you have got.
You can include a whole lot of beans in your diet! Proteins take a longer time to get digested and hence keep you full for longer durations. This way you can keep a check on your consumption of extra snacks too! Proteins are essential and hence you cannot afford to skip them in your diet.
What are the kinds of fats that you can include in your meal
Fats can be good! It is the right kind of fat that you need to choose. Good sources of fat include nuts like walnuts, cashews, and so on. Hemp, sunflowers, and flax are good enough as seeds to include in your meal.
Omega-3 fatty acids are something that you need in your meal as well. These are required for the formation of cell membranes, regulating genetic functions, and the formation of hormones. Flax and hemp in your salad can help you to substitute this fat which is found in fish.
What are the supplements that you need to include in your meal
Even if you consume healthy food, there can be an absence of the right nutrients still in your meal! The only way you can substitute them is with the aid of supplements.
Now to understand which supplement is good for you, always take the advice of your doctor and make sure you consult him.
Now that's a lot of preaching on a vegan diet, let us find out some vegan recipes that you can cook during Halloween!
Delicious & Easy Vegan Halloween Recipes - The Perfect Treat!
If you wish to enjoy something nice and healthy then you must go for this customized appetizer for Halloween.
The vegan jack-o-lantern pepper is stuffed with beans and rice. So shall we try them out for tomorrow, during brunch?
The jalapeno poppers never go off the table when it is the season for Halloween celebrations!
Crunchy, crispy, and stuffed with cheese, these turn out to be a lovely creation! So what are you waiting for? Make this one right away! Shall we?
Perfect as crunchy appetizers with sweet jelly in the center, there is no way you can satisfy yourself with one.
The demand for these tarts on the table will be so high that you will find them gone in no time.
There is something spooky and ewwish about the truffles! The green slimy center makes them best suited for the occasion of Halloween.
If you do not believe us, then make for yourself and find out. So get started then?
If you are in the mood for something rich and creamy as your drink on the side then do not miss out on the scope to prepare the cookie shake!
The recipe is right here so you can enjoy a delightful sip with the appetizers during the holidays.
If you cannot make giant pizzas or are bored with the regular then the vegan spider pizza bites are exactly what you need!
These are small and easy to munch on as a light treat during the evening so you do not feel too full before the main course.
If you are craving cookies for a while then it is time for you to make vegan Halloween cookies!
These are crispy and loaded with M&Ms. Delectable and crunchy, these are perfect as treats for kids as well as adults to munch on.
Creative and perfect since you are on a vegan diet, the mini pumpkin bundt cakes are lovely and loaded with frosting!
These are spooky and adorable at the same time.
This soup somewhat looks sinister! If you do not believe in us then perhaps it is time for you to try out this soupy delight on your own!
You will regret not having them for so long.
The rich and luxurious zombie brain cupcakes are the highlights of the season!
Loaded with icing and tender crumb which melts in your mouth at every bite, do give this one a try for sure. Shall we then?
Did you try out the vegan cupcakes with pumpkin frosting yet? Both a delightful experience to bite and bake, you must give this one a try for sure.
Yummy and perfect as Halloween treats for parties. Let's try it then!
We are totally smitten by the gorgeous taste of the Halloween smoothies! Flooded with creamy froth, you are definitely going to fall in love with this idea!
So what are you waiting for? Make this one right away and enjoy it to your fullest.
Crispy outside and succulent inside, the vegan mummy dogs make sure that you do not miss out on the chance to munch on hot dogs!
Yup, that is right! What an incredible idea it is! Go for it today!
Coming up with a vegan pumpkin spice latte is the best treat ever! If you haven't tried them out yet, you must make the most of the holidays!
Such an incredible idea to make your holidays even more special and comforting if you are spending it away from your loved ones.
If you assume that you are going to miss out on hot pockets then let us tell you, not anymore!
The vegan treat with veggies filled inside the witch hats turns out to be an incredibly delicious creation.
The black bleeding vegan Halloween cupcakes are another awesome treat we must admit for the holidays!
Yummy and attractive at the same time, these never fail to steal the show every time they feature on the desserts counter.
The combination of sweet potato with garlic is an incredible idea, to be honest!
Smooth, savory, and comforting, this soup is gorgeous and renders you speechless in every sip! It is even an understatement to call them brilliant.
Can we ever miss out on Halloween candy corn parfait? Of course not! And hence here is the recipe for you!
Make your holidays special with this healthy and tasty drink to keep you company.
Who eats apples simply these days if not adorned in syrup and caramel sauce? Here is the recipe so you can make yourself these candy apples too!
Quickly grab your share before they are gone from the plates in no time.
Packed with pomegranates and adorned with a rich layer of chocolate on top, these Bloody cups are spooky, scary, and yummy all at once.
Delicious and chewy, you shall be smitten by the flavors of this amazing treat! So what are you waiting for?
Other ideas you should check out: Sweet Vegan Treats for Valentine's Day, Tips for Going Vegan, Vegan Asian Recipes, Is Vegan Chicken Healthy?, Vegan Ice Cream Recipes,  Coconut Dessert Recipes, Healthy Thanksgiving Recipes, Gluten-Free Breakfast Recipes, Gluten-Free Snacks, Oreo Cookie Dessert Recipes, Christmas Truffles Recipes, Spookiest Halloween Drinks