Satisfy your sweet tooth with these delicious vegan ice cream recipes made with plant-based dairy alternatives! Our recipes are easy to customize and take no time to make. Packed with flavor and nutrition, these vegan ice cream recipes are sure to satisfy your cravings!
More collections: Thanksgiving Potluck, Thanksgiving Cheesecake Recipes, Keto Thanksgiving Recipes, Thanksgiving Bread Recipes, Vegan Thanksgiving Recipes, Thanksgiving Cake Recipes, Thanksgiving Cupcakes, Thanksgiving Soups, Thanksgiving Salad Recipes, Meatball Sauce Recipes, Vegan Asian Recipes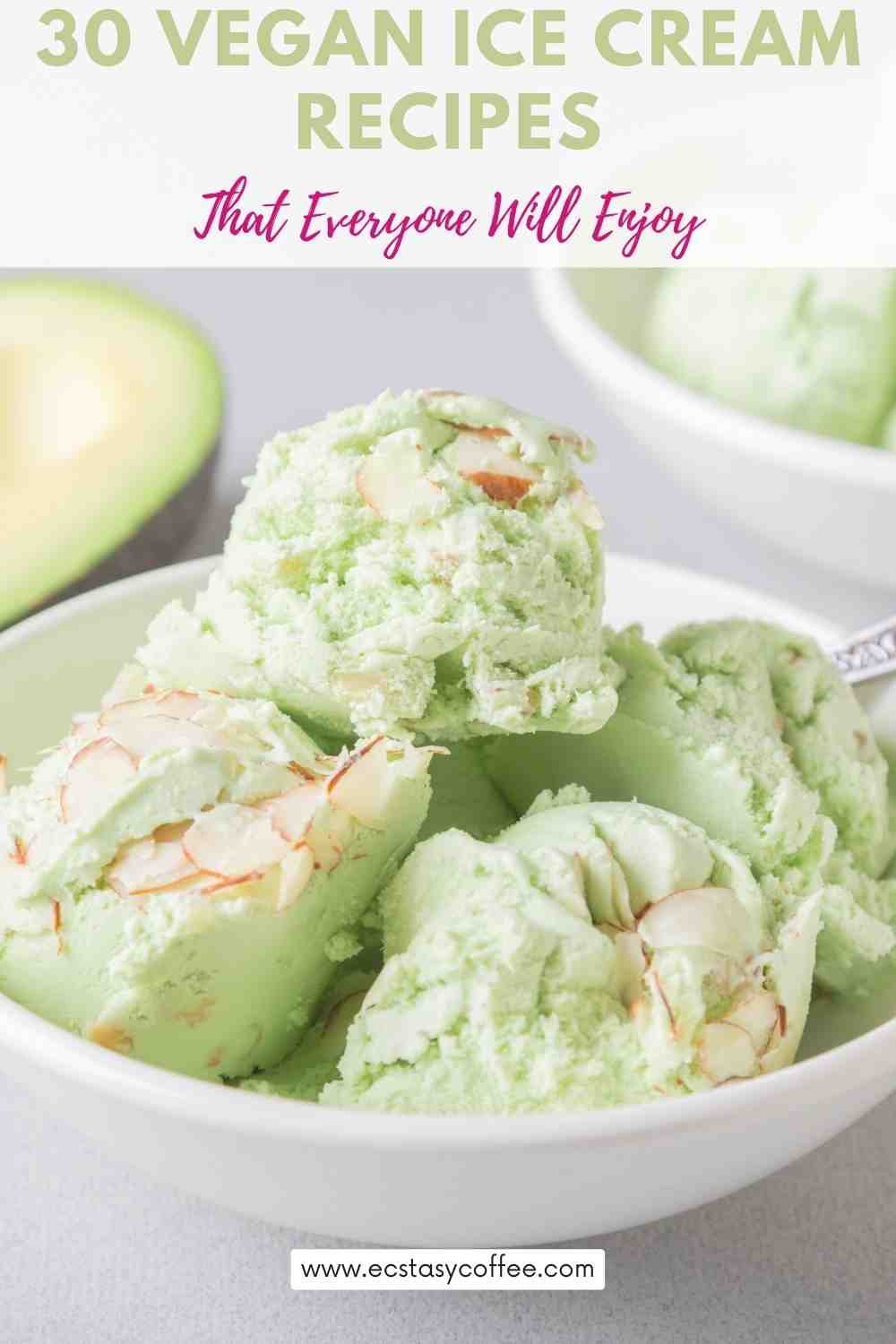 Well, amidst so many meat recipes, you might get bored and look for something hearty and vegan once in a while. If you are a vegan dieter and completely denounce meat, you have come to the right place. If we can make completely vegan dishes, why can't we also make vegan desserts? Ice creams are something that almost everyone likes, and you can prepare them at parties and gatherings! These recipes are all vegan, and you will find them attractive and ravenous to indulge in.
Delicious Vegan Ice Cream Recipes
At parties, different kinds of guests are invited to the house, and they might have different types of preferences! Some of them may be wholly vegan, and if you do not have some vegan dessert options at the end of the meal, then it might not be very courteous on your part! Making sure that the visitors are well entertained and comfortable at your place should be your prime lookout; thus, these are the times the vegan ice cream options come to your rescue. Let us have a look at the vegan ice cream options that are mentioned below!
1. Super Easy Vegan Oreo Ice Cream
Here is an easy-peasy no-churn ice cream topped with Oreo crumbs! The recipe is provided by Vegan Heaven and is so simple for anyone to try their hands at getting it done! Decadent and rich, the flavor of peanut butter is mind-blowing!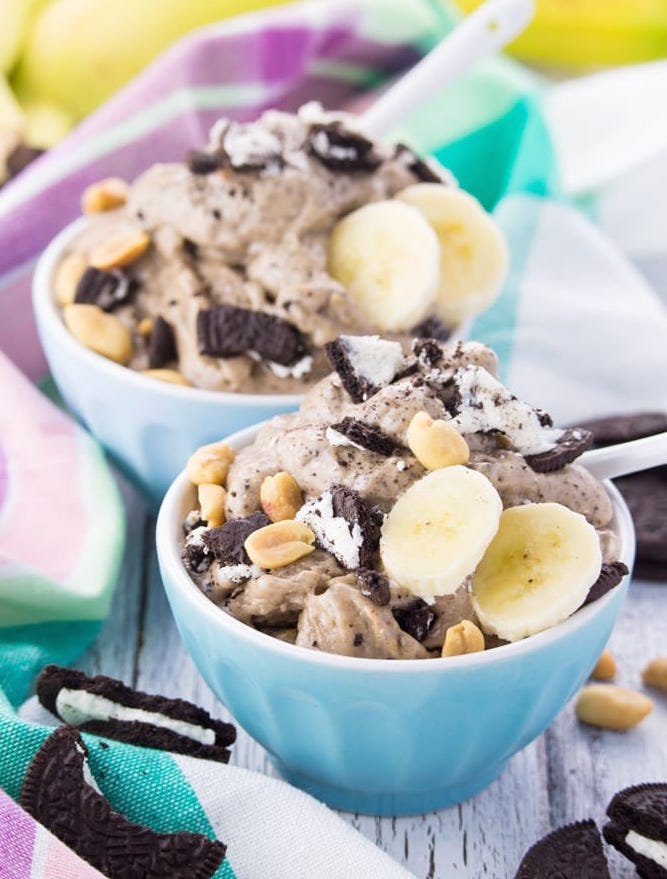 Recipe - Vegan Heaven
2. Blueberry Lemon Ice Cream Pie
The blueberry lemon ice cream pie combines two of our favorites! The recipe is suggested by EA Stewart and is a marvelous option when you are considering a dessert after the meal or have a sudden craving. Adorned with blueberries and the flavors of zesty lemon, the recipe is out of the world!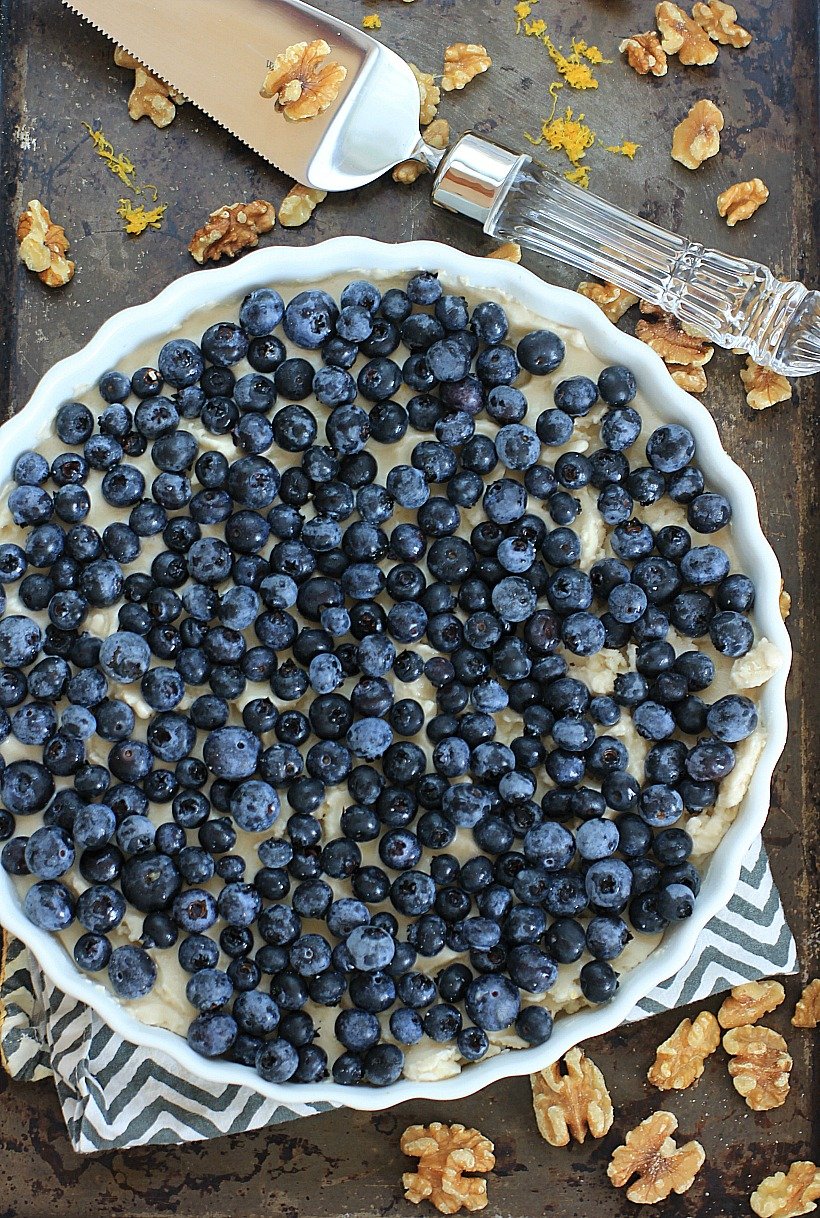 Recipe - EA Stewart
3. Vegan Fried Ice Cream Bombs
How delicious is a bowl of vegan fried ice cream bombs that will tempt everyone at the party to have more and more of this one?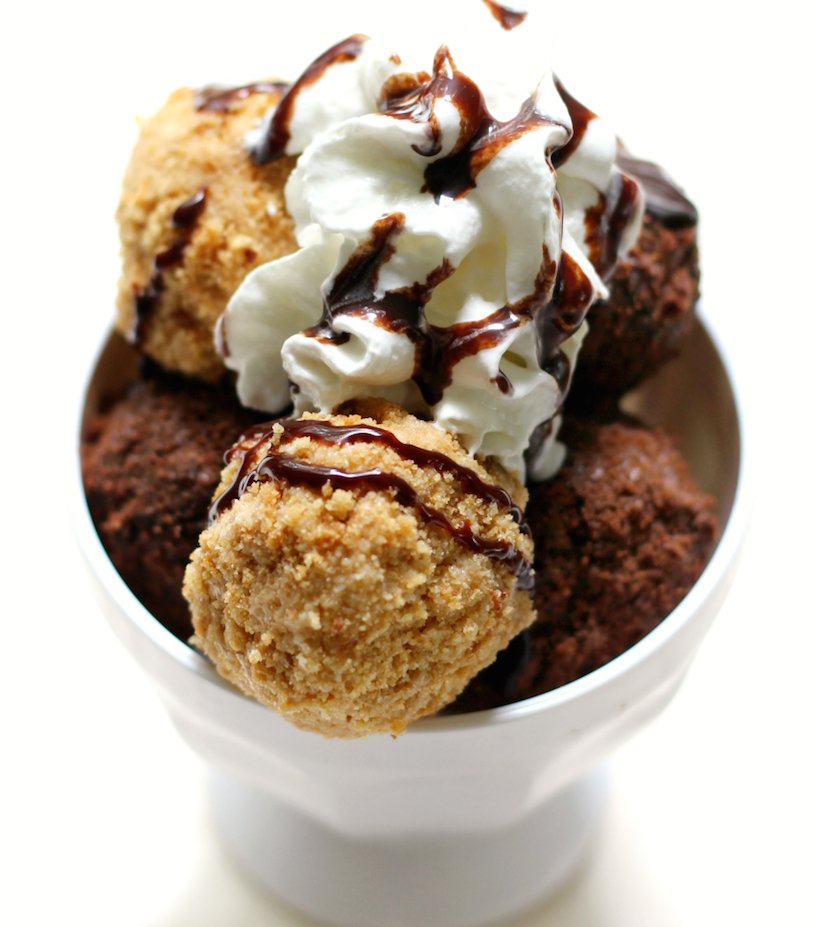 Recipe - Strength and Sunshine
4. Tropical Soft Serve
With summer just around the corner, the Tropical soft serve is the best option that you can opt for! The recipe is created by Vegetarian Gastronomy and bursts with the flavors of seasonal fruits that you will surely love to savor. And since it is vegan, you can serve the ice cream efficiently at parties.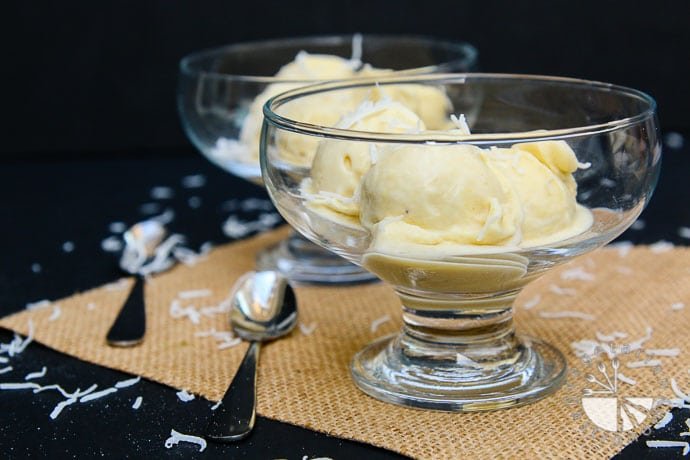 Recipe - Vegetarian Gastronomy
5. Chocolate No-Churn Vegan Ice Cream
You need four ingredients to make the vegan ice cream with rich chocolate flavor! The recipe is available at Trinity's Kitchen, and you do not have to churn it.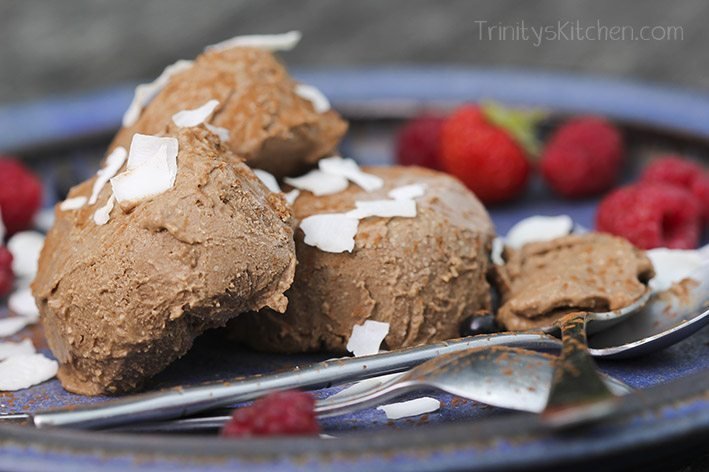 Recipe - Trinity's Kitchen
6. Chocolate Pecan Ice Cream
Chocolate pecan ice cream is another hearty option that you can make! The recipe is provided by Life Currents with a taste of richness and garnished with a pecan to add a crisp touch to the dish!
Recipe - Life Currents
7. Chocolate Chocolate Chip Protein Ice Cream
The creamy and rich chocolate chip ice cream is not only a tasty treat but also flooded with nutrients like proteins. The recipe is made by Lauren Kelly Nutrition, and you must try it out for the brilliant taste of the dish!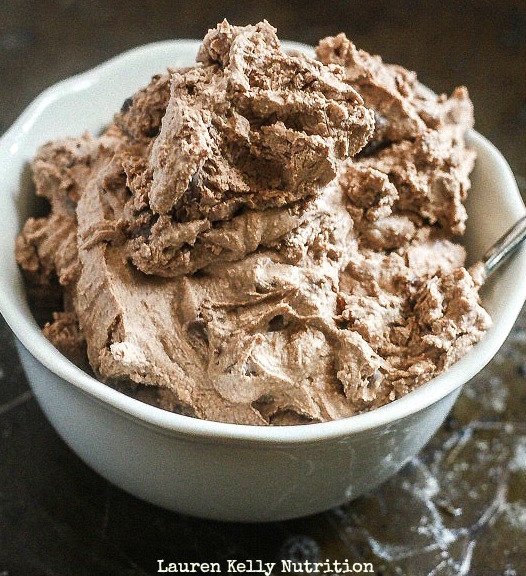 Recipe - Lauren Kelly Nutrition
8. Snickers Ice Cream Bites
You will need four ingredients, and that is all for the luxurious Snicker ice cream! The recipe is suggested by Rhian's Recipes, and we are sure you will find the flavor of the dish admirable.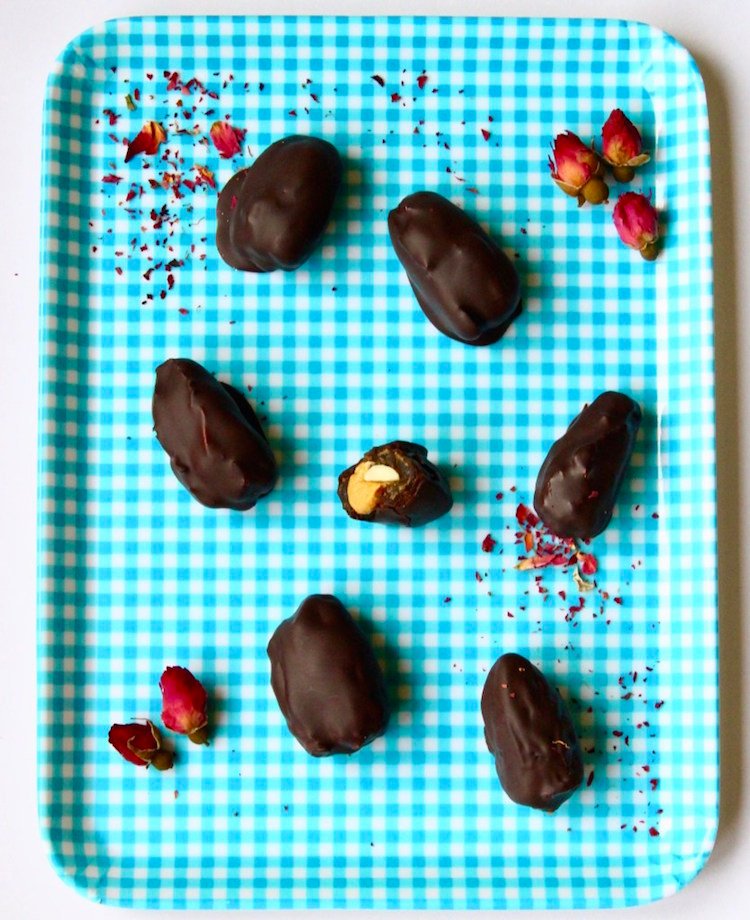 Recipe - Rhian's Recipes
9. Peanut Banana Chocolate Bars
The peanut and banana chocolate bars are delicious and a refreshing treat in the summer. Check out the recipe at, Occasionally Eggs which combines the extraordinary smoothness of peanut butter and the richness of chocolate cream topping on it!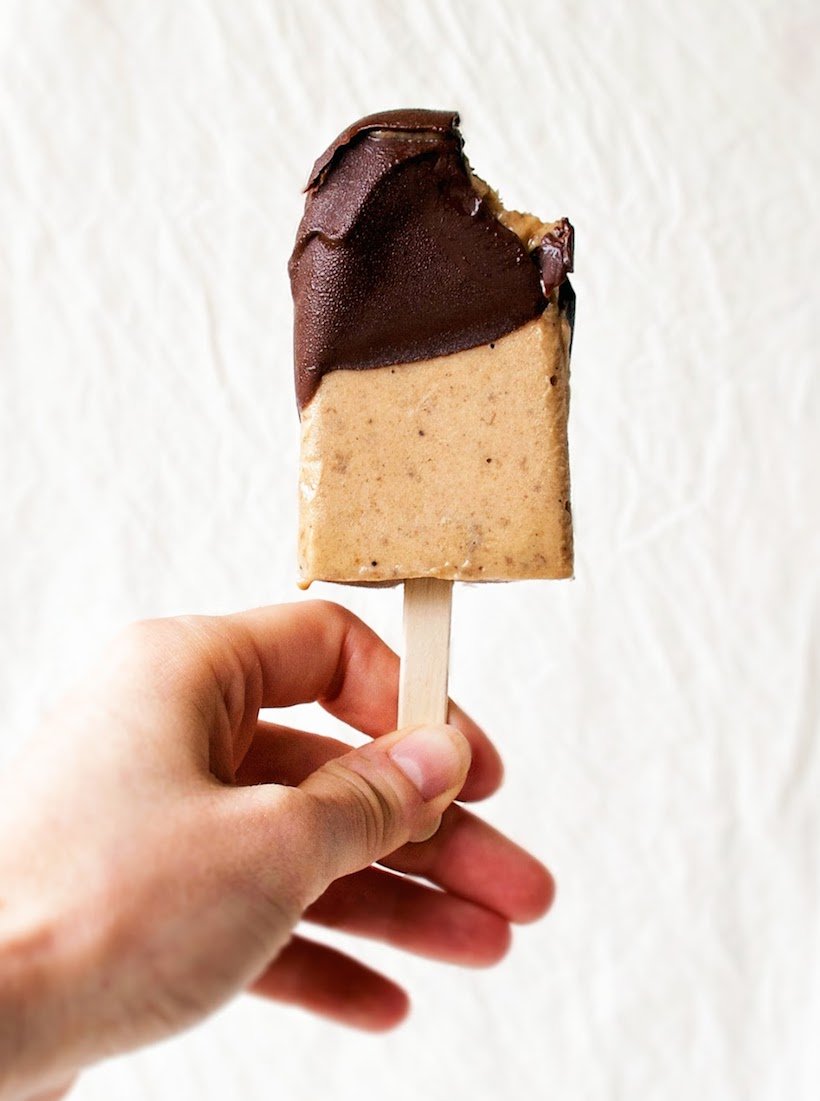 Recipe - Occasionally Eggs
10. Starbucks Copycat Mocha Ice Cream
Combining chocolate and espresso, the unique Starbucks copy of mocha ice cream lives up to its name! The recipe is provided by The Vegan 8 and is such an awesome option indeed! You must try out making the mocha ice cream for sure!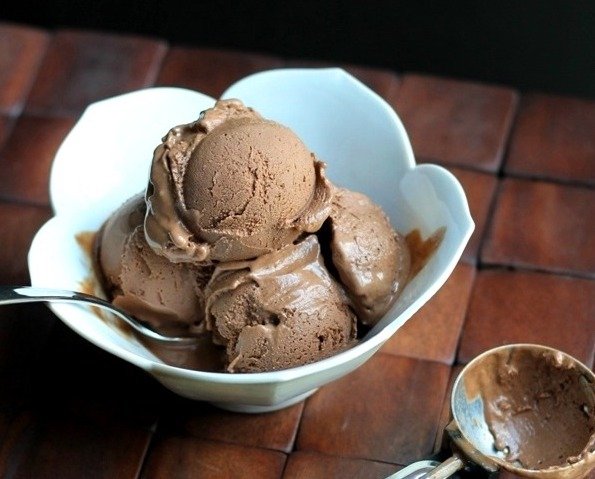 Recipe - The Vegan 8
11. Blueberry Lavender Ice Dream
The no-churn gluten-free blueberry lavender ice cream recipe is awesome and prepared by following the recipe only at Vegan Monster! Rich and gooey, the visitors will hardly be able to content themselves after the first time the blueberry lavender treats!
Recipe - Vegan Monster
12. Pumpkin Pie Ice Cream
Let us help you make the warm and seasonal pie ice cream which is splendid and flavored by the recipe followed by May I Have That Recipe. If you like ice cream then the vegan pumpkin flavour is ideal for everyone to indulge in.
Recipe - May I Have That Recipe
13. Tahini Ice Cream with pistachios and cardamom
Garnished with pistachio and cardamom, the milky and misty tahini ice cream is an authentic option provided by May I Have That Recipe! Let us help you to create this recipe which is flooded with flavors so divine. So what are you waiting for?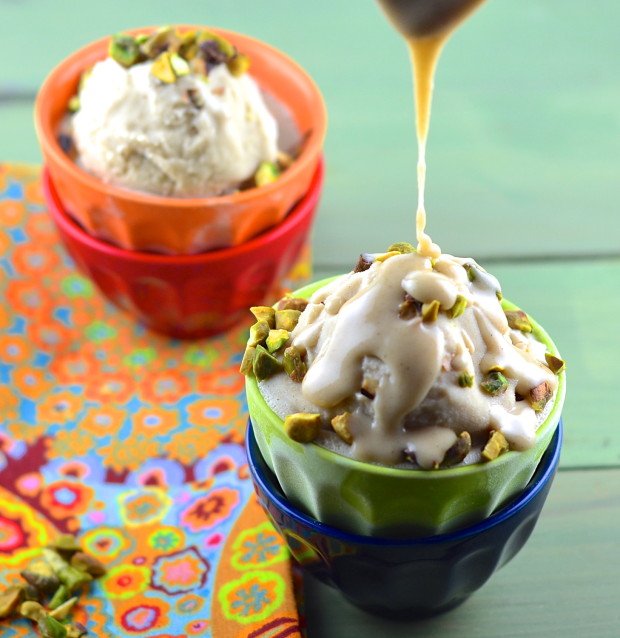 Recipe - May I Have That Recipe
14. Fresh Blueberry Ice Cream
The fresh and creamy blueberry flavor is a wonderful and creative idea by SunnysideHanne. Being a vegan option, you can introduce it to the table when the guests are coming over. Did we mention the presence of cherries and hazelnuts?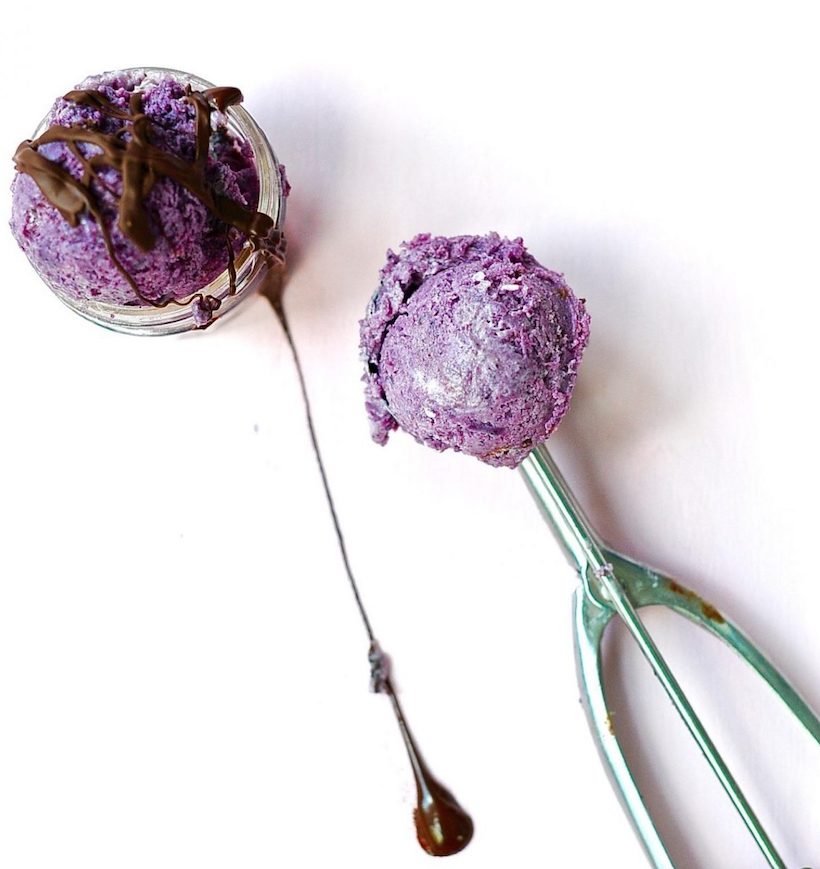 Recipe - SunnysideHanne
15. Mango Pineapple Ginger Turmeric Ice Cream
Here is an amalgam of different flavors you will certainly be delighted to relish! The recipe is provided by Unconventional Baker topped with the flavor of ginger and turmeric! Combining mango and pineapple with Indian spices to create this ice cream was a brilliant idea!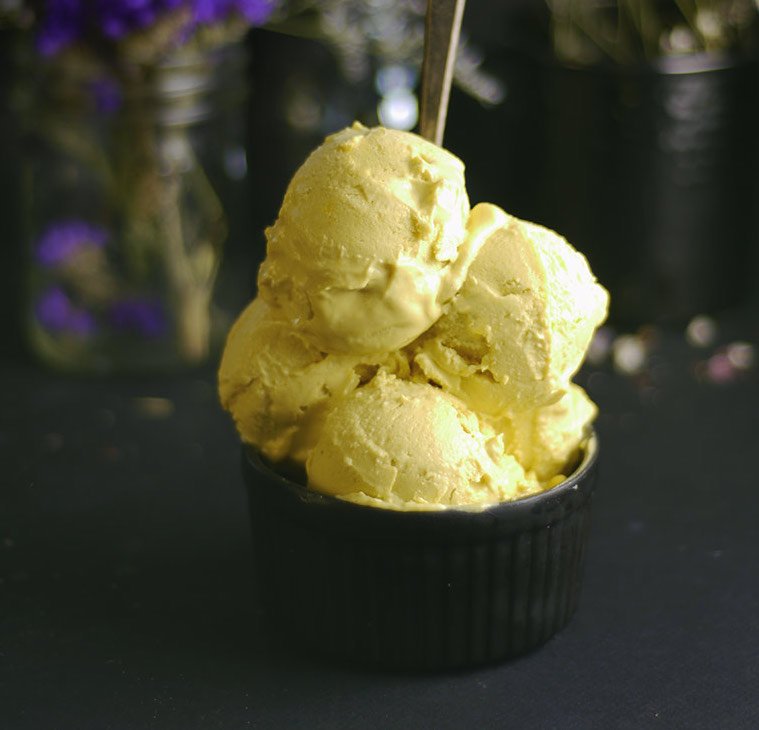 Recipe - Unconventional Baker
16. Maple Nut Royale Ice Cream
The juicy and syrupy royale ice cream is created by Bittersweet Blog and is a spectacular choice of dish you must try out! The recipe is ideal for a cozy dessert after finishing the main course.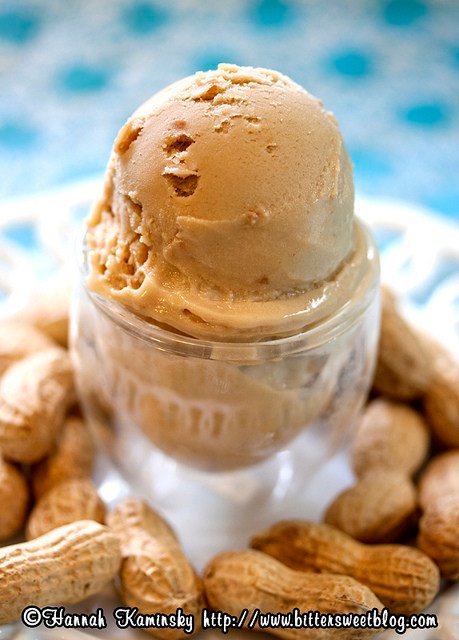 Recipe - Bittersweet Blog
17. Peanutty Coconut Vanilla Fudge Ice Cream
The creamy peanutty coconut ice cream with a fudgy consistency is something that you will surely love! The recipe is provided by Happy Food healthy life and rather a trending ice cream option that you will love to get done.
Recipe - Happy food healthy life
18. Vegan Churro Unfried Ice Cream
Yes, we are talking about the vegan churros unfried ice cream, which is prepared by following the recipe at Veggies Don't Bite you will surely find this idea quite a unique and easy one to emulate for the season.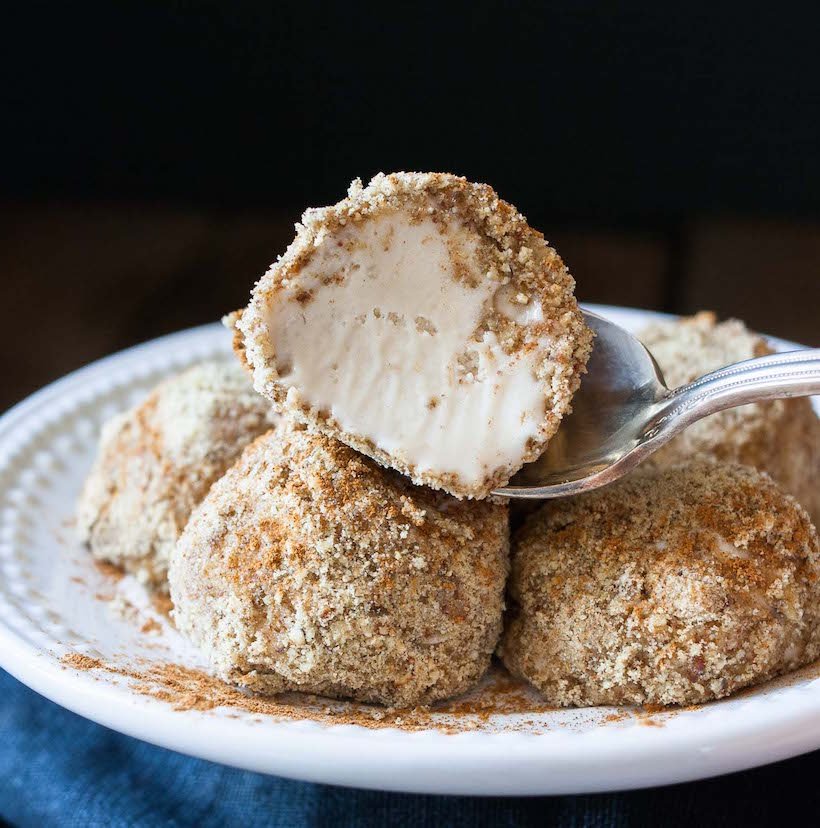 Recipe - Veggies Don't Bite
19. Chocolate Peanut Butter Ice Cream
The dairy-free recipe is splendid and created by Joy Food Sunshine. The rich chocolatey flavor with the peanut butter smoothness is brilliant, and you should try it out! Let us help you to make this incredible option for the sweet dish!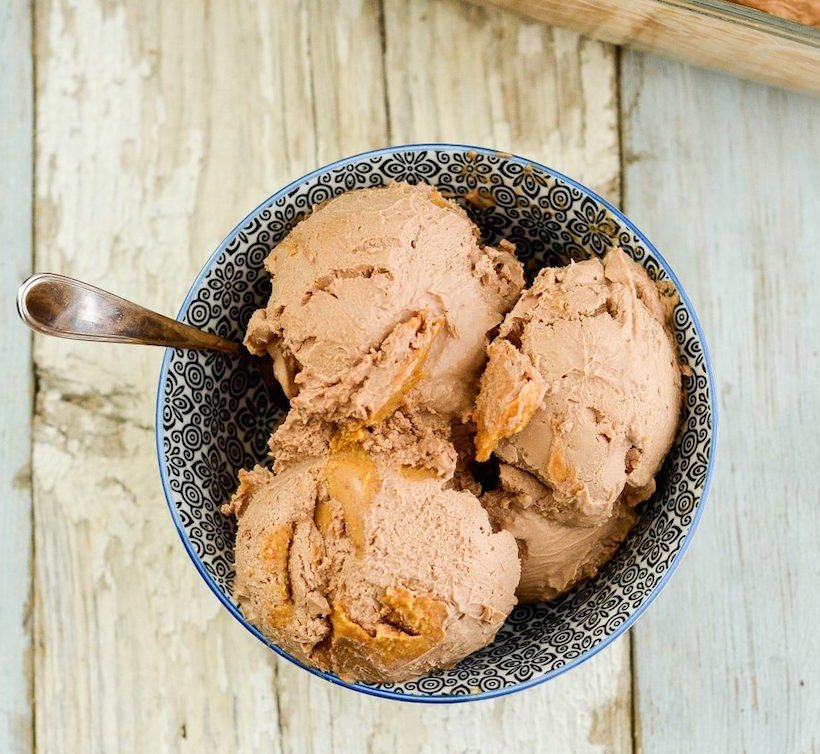 Recipe - Joy Food Sunshine
20. Cranberry Contreau Coconut Ice Cream
Topped with candied pistachio, you will hardly be able to resist yourself when you have a look at the cranberry Cointreau coconut ice cream! The idea is provided by Vegan Yack Attack and is a brilliant choice that you should try out!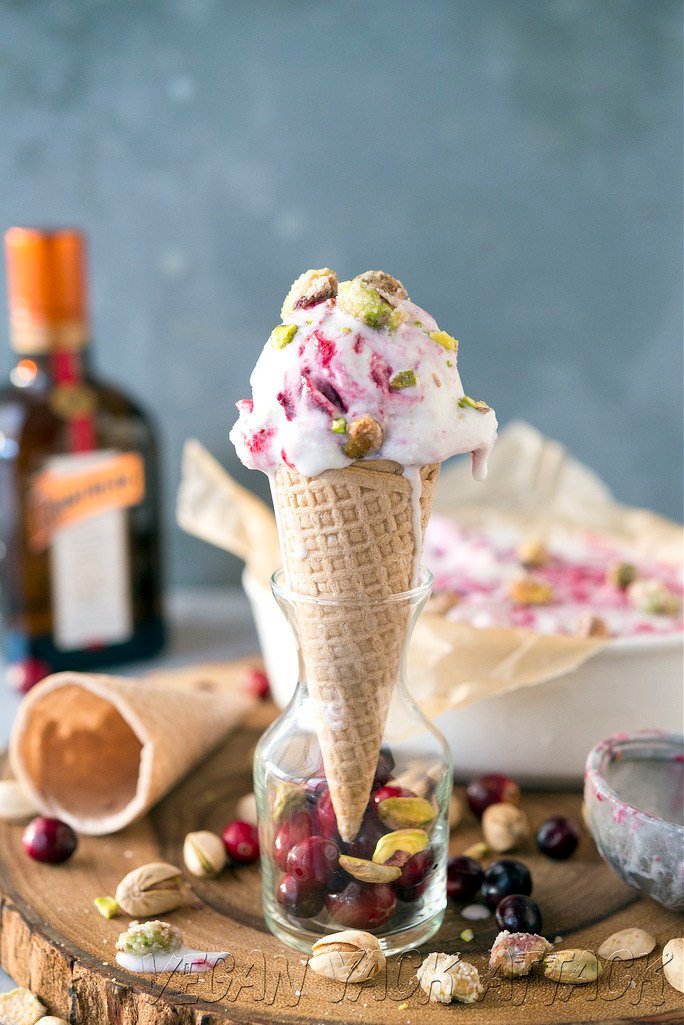 Recipe - Vegan Yack Attack
21. Strawberry Shortcake Ice Cream Bars
The refreshing and savory strawberry shortcake bars are delicious and created by Vegan Huggs! Crumbly and tart-like, the recipe for the sweet strawberry pops is so easy for you to emulate with perfection. Check out this recipe for sure if you wish to have something cold.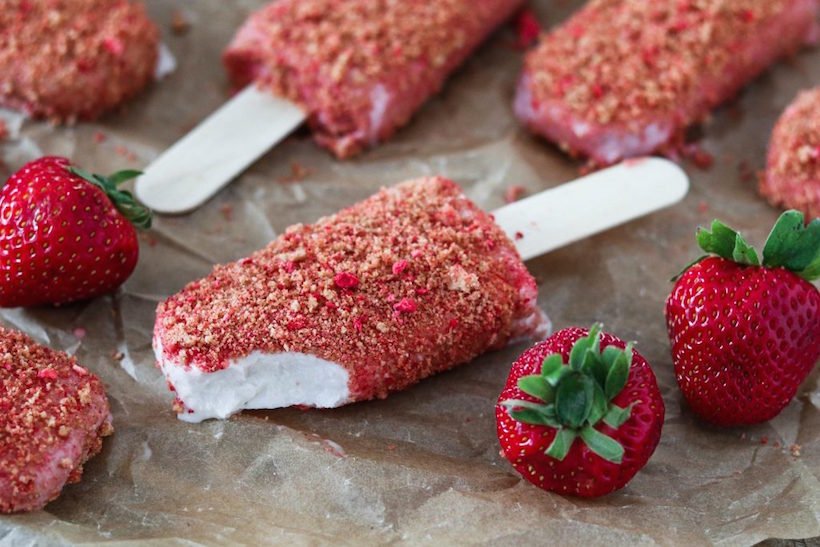 Recipe - VeganHuggs
22. Vegan + Gluten-Free Ice Cream Sandwiches
We have sandwiches with cold and cheesy ice cream sandwiched between the cookies! A box of vegan ice cream sandwiches is ideal for giving someone in the Christmas holidays!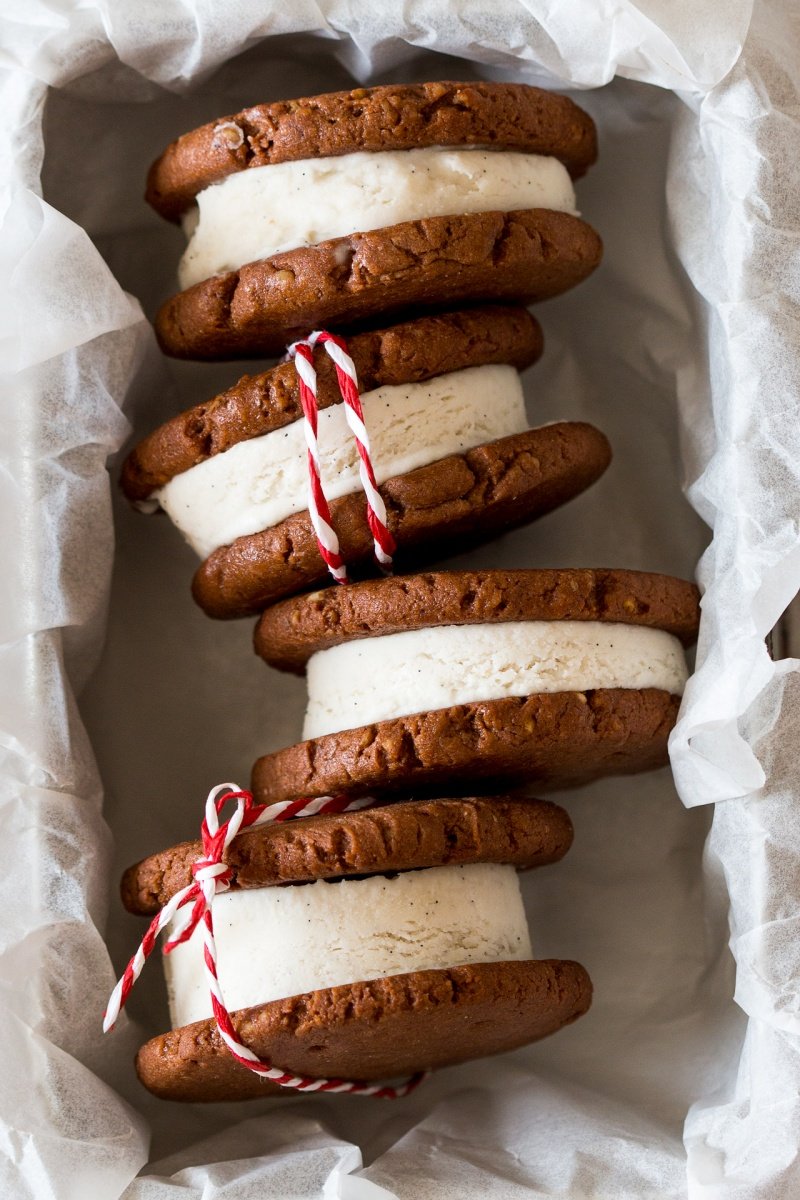 Recipe - Lazy Cat Kitchen
23. Pumpkin Ice Cream
The rich and sumptuous pumpkin ice cream is delectable and created by Plant Powered Kitchen! Ideal to experience the flavor of autumnal spirits, the dish is spectacular for you to ravish. You must indulge in the warm and refreshing pumpkin ice cream!
Recipe - Plant Powered Kitchen
24. Coconut Vanilla Ice Cream
The gluten-free and paleo-friendly recipe is made by Joy Food Sunshine and flavored with smooth vanilla essence. The flavor of coconut is pronounced in this dish! All you need are five ingredients to prepare this amazing recipe for summer! So what are you waiting for?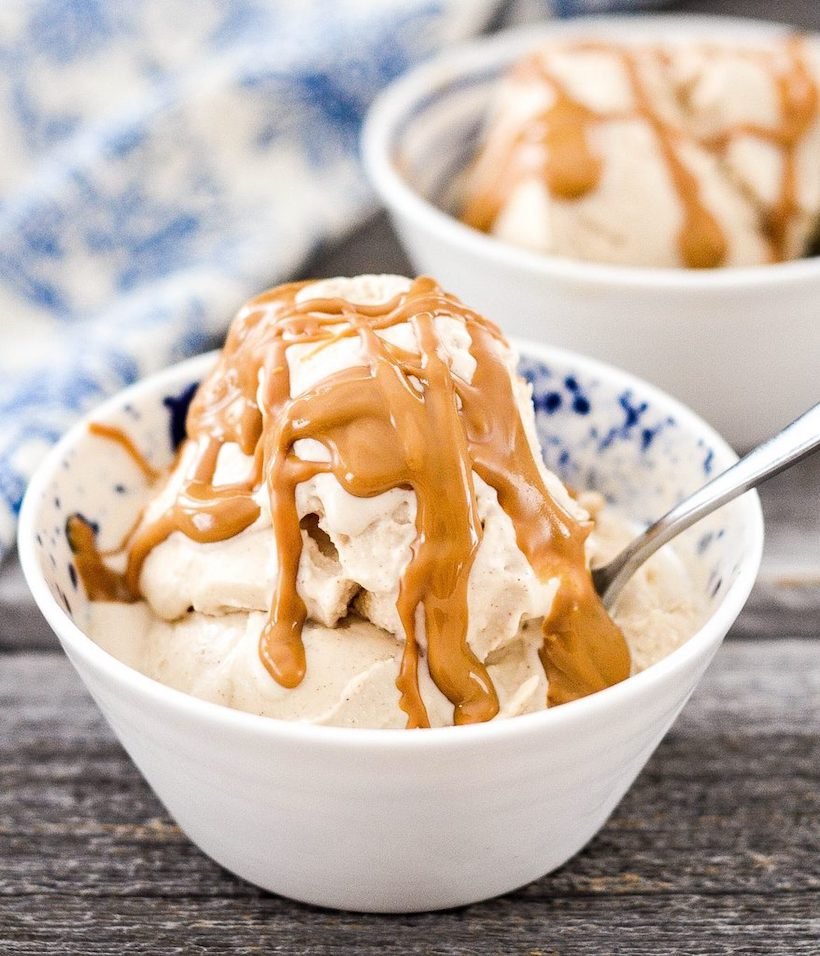 Recipe - Joy Food Sunshine
25. Strawberry Ice Cream
The coconut and milk-based ice cream with the flavor of strawberries are fascinating and was created by Welcoming Kitchen. Such a wonderful recipe of splendid smoothness that will melt in your mouth after every bite. Try it out for sure with coconut shavings on top!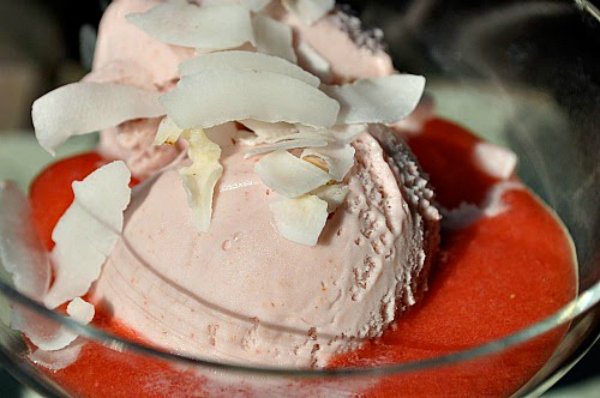 Recipe - Welcoming Kitchen
26. Ice Cream Cake
Here is a classic gluten-free dish that we have come up with! You can follow the steps of the recipe provided by Strength and Sunshine to experience the divine flavor of ice cream cake. Check it out this season.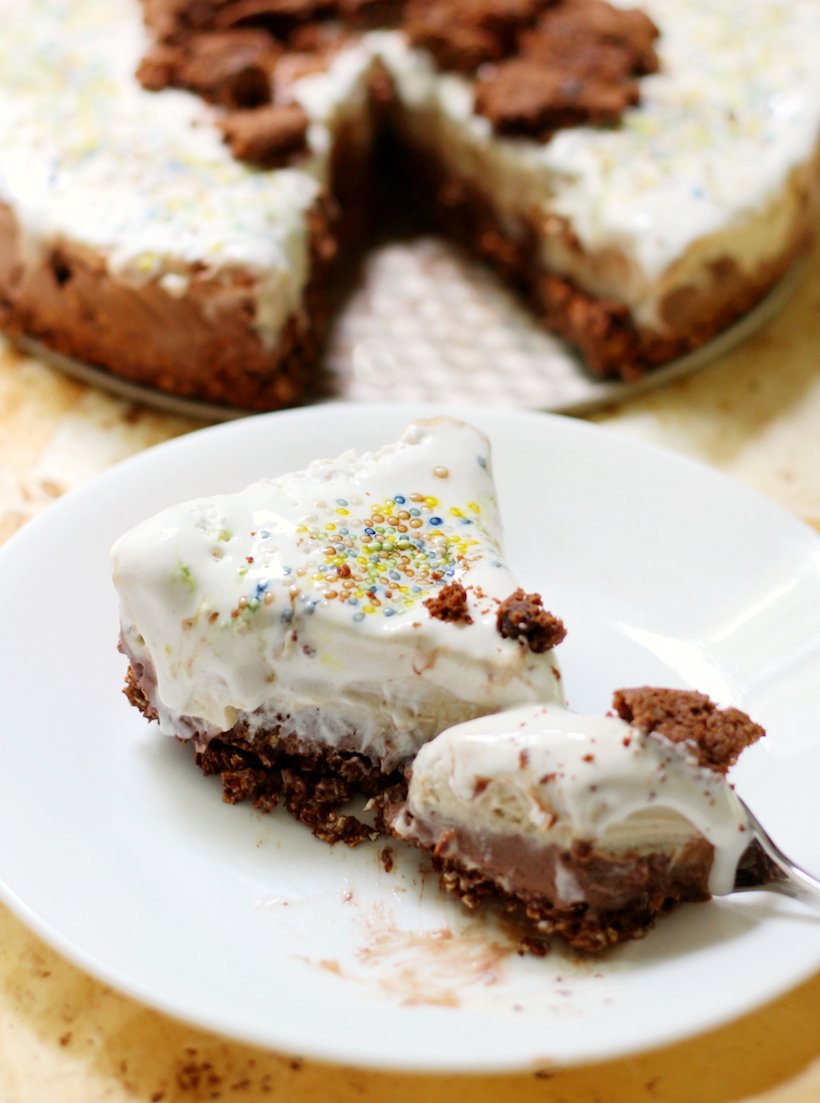 Recipe - Strength and Sunshine
27. Vegan Chocolate Ice Cream
A healthy vegan rich chocolate ice cream recipe is amazing and created only by Garden in the Kitchen. The recipe is completely vegan and gorgeous for you to enjoy. The dish is made with utmost smoothness and is so amazing for you to try out.
Recipe - Garden in the Kitchen
28. Vegan Cookie Dough Ice Cream
Coconut cream and cashew are splendid and flavored by Vanilla Crunnch. The recipe is made with cookie dough and the cashew-based ice cream is wonderful for you to enjoy and serve to the guests if they are invited over a meal.
Recipe - Vanilla Crunnch
29. Thai Basil Lemongrass Ice Cream
The refreshing basil lemongrass ice cream is a unique flavor we have tried out for ice cream! A complete vegan option, the recipe is provided by Circus Gardener and is a representation of Thai delicacy and its brilliance.
Recipe - Circus Gardener
30. Chunky Maple Peanut Butter Ice Cream
The chunky and rich ice cream with maple syrup is an ecstatic option that you can relish! The recipe is provided by Vegan in the Freezer and provided with crispy peanut nuts that escalate the flavor of the ice cream even further.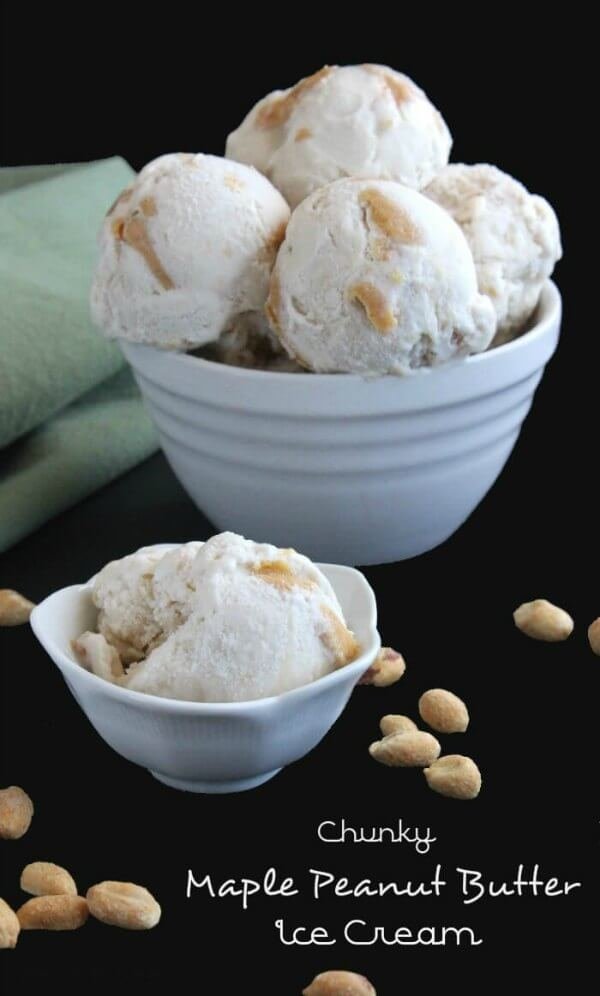 Recipe - Vegan in the Freezer
Conclusion:
Thanks to the 30 vegan ice cream recipes presented in this article, you now have countless possibilities for light and delicious desserts. Whether you are vegan, lactose intolerant, or just looking for something sweet and guilt-free, these recipes have you covered. And the best part is, they're easy to make and utterly delicious.
No one should have to miss out on enjoying a scoop of ice cream, and now everyone can do just that in a way that is healthier and kinder to our planet. So, go ahead and try these 30 simple yet delicious vegan ice cream recipes—you won't be disappointed. As Harvey Diamond said, "A vegan diet takes care of most of what we need to do."
Go ahead and cool off with a scoop of vegan ice cream today!
Read also: Buttercream Frosting Recipes, Vegan Potluck Recipes, Healthy Vegan Halloween Recipes, Vegan Thanksgiving Desserts, Vegan BBQ Recipes, Shrimp Recipes, Tips for Going Vegan