After a long, hectic day, there's nothing we crave more than a filling, comforting meal for dinner.  While the idea of a homecooked meal is tempting, not everyone wants to spend hours in the kitchen preparing just one meal. So, if you are running out of ideas for easy weeknight dinners, look no further, as this article brings you a variety of easy-to-cook dinner ideas.
What you can expect to learn from this article: Taking your bland chicken and rice to the next level, pairing up different foods together to make perfectly balanced meals, some cooking tips here and there, and, of course, some easy and simple dishes that are guaranteed to become a part of your weekly dinner rotations.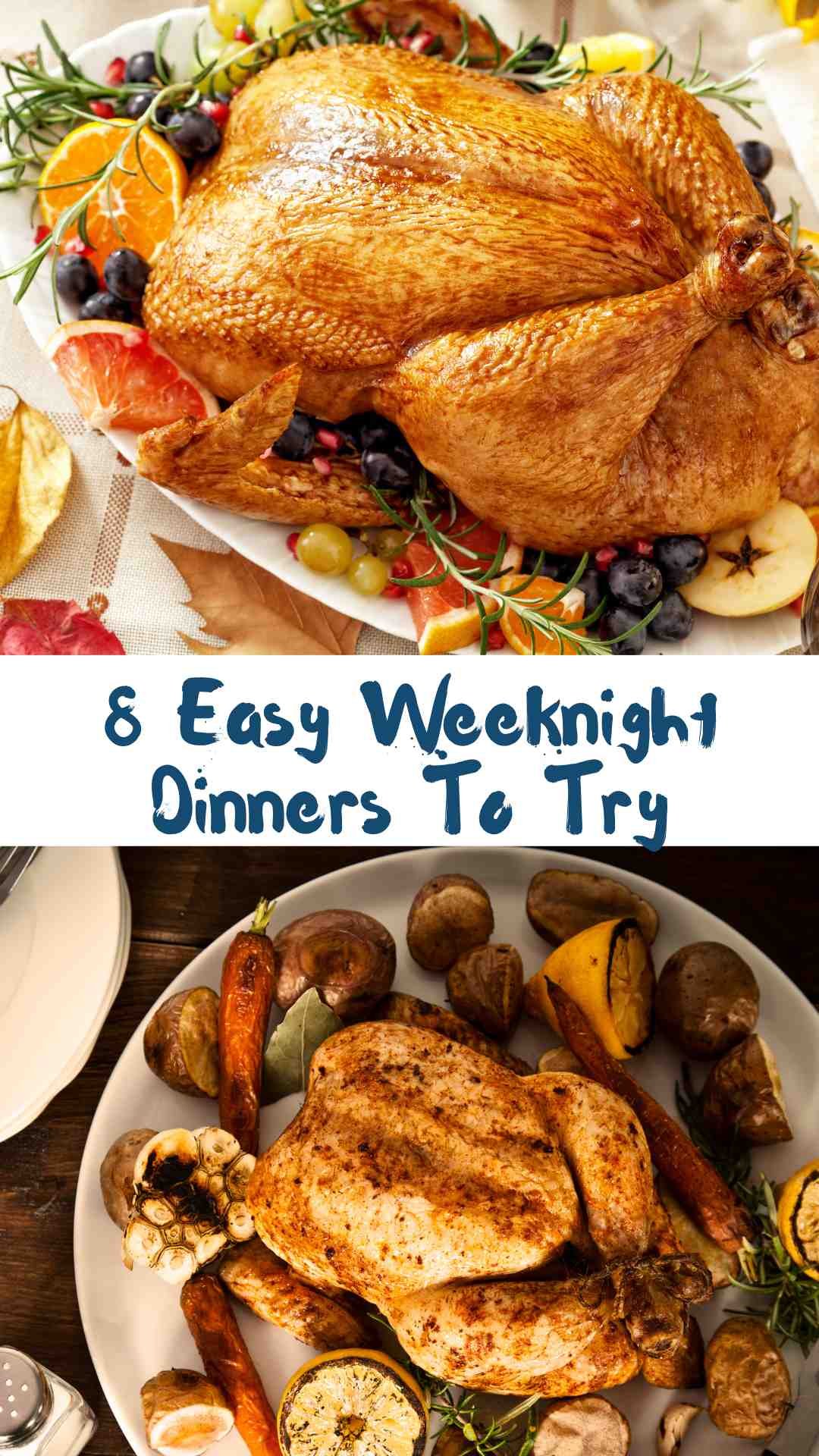 1. Lemon Garlic Salmon
Lemon garlic salmon, as the name suggests, is a salmon dish glazed with a fragrant lemon and garlic-infused sauce. The good thing about this dish is you have the choice of baking, air-frying, or pan-searing the salmon.
The sauce comes together in minutes, so you'll only need around 20 minutes to prepare this dish. For the sauce, the key ingredients are lemon juice, lemon zest, finely chopped garlic, and olive oil (you can use butter too). Topped with some lemon wedges, this salmon comes out of the oven tender and flaky.
2. Baked Rigatoni
How about some baked rigatoni for dinner this week? Baked rigatoni is a simple yet filling dinner. This pasta casserole dish is made with marinara sauce, ground beef, and cheese. The pasta is partially boiled and then added to the marinara sauce, ground beef, and cheese. After topping it off with some more shredded cheese, it's popped into the oven to bake.
The quantity of sauce is more in this pasta dish as compared to others, which makes it ideal for leftovers, as the pasta doesn't dry up on reheating.
3. Saucy Roasted Ribs
These are tender and juicy ribs smothered in a rich and thick sauce packed with flavorful spices. The sauce, with its collection of different spices, is a little sweet, tangy, and spicy. Now, for this recipe, you can either go for the traditional low-and-slow grilling or opt for the much faster option of air frying.
The catch with grilling your ribs is that you're left with tender, fall-of-the-bone meat, but it's time-consuming. With air frying, although the meat is not falling off the bone, it is still juicy and tender. Either way, don't be stingy with the dry-rub seasonings & apply generous amounts of your sweet and sticky barbecue sauce.
4. Ramen bowl
Everyone has those days when the packet of instant ramen is calling their name, and they can't do anything but just give in. Well, here's how you can turn your instant ramen into a whole meal.
Ditch the water and boil your noodles in beef or chicken broth. To account for the protein, add some boiled eggs. You can also top the ramen bowl off with some shredded chicken or steak (if you're feeling a little fancy).
Authentic ramen calls for baby corn, asparagus, bean sprouts, and shiitake mushrooms, but you can incorporate any vegetables you have on hand. Don't forget the green onions!
5. Pad Thai
Pad Thai is one of Thailand's most popular dishes, and for good reason. It's a delicious stir-fried noodle dish with a tangy, sweet, and savory sauce. Pad Thai is made with rice noodles, shrimp or chicken, eggs, tofu, and a variety of vegetables, including bean sprouts, carrots, and peanuts. The sauce is made with tamarind paste, fish sauce, palm sugar, and chili peppers.
6. Chicken Skewers
Chicken skewers is one of those dishes which is easy to follow and takes considerably less cooking time. The chicken thighs or chicken breast are cut into cubes, marinated for 1 hour, and then grilled. For the chicken cubes to be well-seasoned and tender, you will require the following ingredients for the marinade: olive oil, yogurt, smoked paprika, turmeric, black pepper, onion powder, and ginger and garlic paste.
While these chicken skewers are grilled, you don't have to go that extra mile, and you can simply pop them in the air fryer. Try to use chicken thighs when you're making these as they come off the grill juicier due to the higher fat content than the chicken breast.
7. Teriyaki Chicken
When you're craving something sweet and salty, you should try Teriyaki Chicken, as it ticks both of these boxes. Ideally, chicken thighs are used for this recipe as they don't dry out when pan-fried. For the sauce, there are four main ingredients: soy sauce, sake, mirin, and sugar. This flavorful sauce can be added to not only chicken but also salmon or tofu.
You can serve it on a bed of rice, topped with some toasted sesame seeds and finely chopped scallions. If you're into meal prepping, this dish also makes for an excellent option, as you can make the sauce in bulk quantity and store it in a container for next time.
8. Shrimp Tacos
Shrimp tacos are a delicious and easy weeknight dinner option that can be made in just 20-30 minutes. The shrimp are cooked in a zesty sauce and paired with a variety of vegetables, such as cabbage, cilantro, and red onion. The sauce is the key to this dish, so be sure to be generous with it.
To make the sauce, simply combine olive oil, lime juice, cilantro, chili powder, cumin, garlic powder, salt, and black pepper. Now marinate your shrimp in the sauce and cook in a skillet.
Once the shrimp are cooked, warm the tortillas and assemble the tacos. Fill the tortillas with shrimp, cabbage, cilantro, and red onion. Squeeze lime juice on top and serve.
Conclusion
Easy weeknight dinners don't have to be boring or bland. Many delicious and creative dishes can be made in just 20-30 minutes. So, don't be afraid to try out new recipes and experiment with different flavors and ingredients in your kitchen.
Next time the idea of preparing dinner sounds daunting, make sure to give these recipes a try.
Read also: